Nine entered. Three remain in contention for two spots!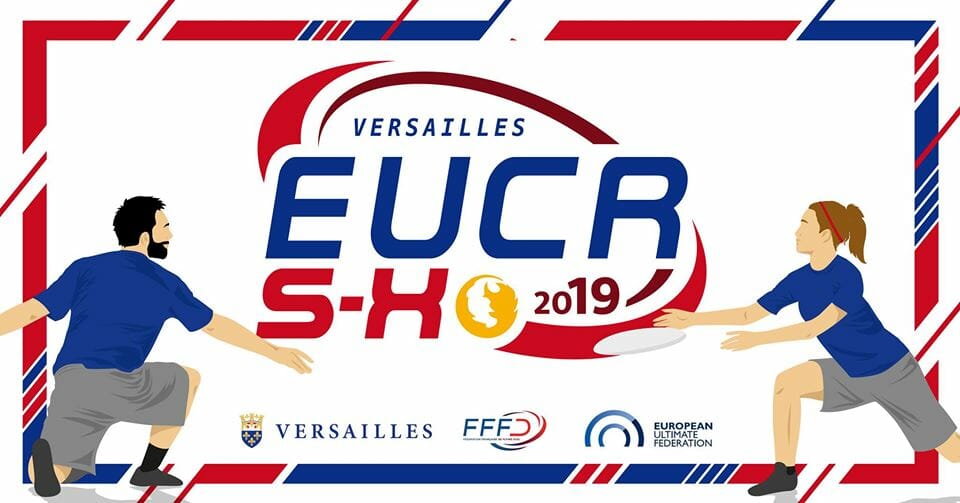 Saturday proved that the seedings, as well as the pre-tournament expectations showed little bearing on what was in store. There were "upsets" galore on day one, but in the end only Ah Ouh PUC, Disc'Over Lisboa and Sharks are still in the running for two spots in EUCF. They will start with a clean slate tomorrow and play a round robin between the three of them to see which two will be headed to Caorle in September. This is how we got there:
Pool Play
Pool A proved to be the strongest with an apparent upset of the top seed Disc'Over Lisboa as they dropped their first game 15-10 to Ultimate Bergamo from Italy. Ah Ouh PUC from Paris came out of the blocks strong with wins against Lisboa and Bergamo. In both games they shot out to big leads in the first half, but they allowed their opponents to have a sniff at spoiling in the second half. Most drastically against Bergamo, PUC were up as much as 9-3, and stayed in front by a big margin at 12-7. Bergamo turned it on as PUC let their foot off the gas. Bergamo held, and took four more breaks to eventually find themselves on double game point. The Parisiens finally held clean, and cashed in the final point to stay undefeated.
In Pool B the Sharks from Barcelona took a close win over Tsunamixte 13-11. The Sharks then took an easy win against the youthful CUSB Mixed by 10 points to comfortably claim the pool. Tsunamixte rebounded from their close contest against the Sharks and beat CUSB 12-10 to claim the second spot.
Pool C had the most dramatic results. Monkey from Grenoble were first to turn heads beating Discterics in the opening fixture by three, before facing off against their highly touted French counterparts Sesquidistus. It was evident that the Strasbourg squad were a mere shell of themselves, missing many key players on the weekend, as Monkey defeated them 13-8. Sesquidistus also lost to Discterics, this time by three points.
Cross-Overs:
Sharks, Ah Ouh PUC, and Monkey all took their 2-0 records into a bye round, they watched as the crossovers duked it out for a chance to shock their way into the 'qualifier' round.
Bergamo locked horns with Sesquidistus, and it became very clear that Sesqui were out matched. They were beat before they could realize what was happening, as Bergamo came out to a 5-0 lead and never looked back. The Italians looked strong, building on their second half momentum against Ah Ouh PUC, and tilted all the momentum in their favor as they closed out a 15-4 win. After the game Sesquidistus standout Pierre-Alexandre Monet explained that this was a mix of their Division 1 team and their Division 3 team. He didn't want to concede that they didn't have a chance, but said that if he were forced into prediction he believed "[Sesquidistus] would finish fifth or sixth." Now that their most favorable finish is seventh, he's a bit disappointed, but he's "not too surprised" considering there are eight or nine players that became unavailable for this campaign, "after long seasons training and competing at either EUC or U24's."
Disc'Over Lisboa rectified their winless pool play coming out to a 6-1 lead against Tsunamixte. The Portuguese deep game was too much for Tsunamixte. With the wind wreaking havoc by this stage of the day, the French side couldn't capitalize on any of the opportunities they were afforded. Disc'Over Lisboa seemed to get stronger with each point in this match, prying open the floodgates to a 14-6 lead and looking down the barrel of game point. Finally, the Tsunamixte found some fortune, and after a hold and a pair of breaks, Lisboa's Ricardo Patrao called a power line stating, "we need to finish this one now." A manifestation he took upon himself personally as he sent a big lefty flick from mid-field to Jhonny Zuleta for the game sealing score.
The longest lasting crossover gave CUSB Mixed a chance to spoil against Discterics Girona. CUSB started hot, and took a 2-0 lead. They stayed ahead and their youthful legs looked to be too much for Discterics who still appeared fatigued from their final pool play win versus Sesquidistus. The Italians were lead by their American import Keegan Butler as he took half with a monster huck, and then opened the scoring in the second half with a break throw that saw him finding full splits as CUSB took a 9-4 lead. The mettle that was in question with their youth was exposed in the second half as the Discterics zone, coupled with a penchant to beat the zone impatiently with big throws saw their lead evaporate. Slowly and steadily, Discterics continued to capitalize on their break chances, and CUSB kept affording them more. With time running out on a 10-10 score line, Discterics scored to make it a game to 12. Only 5 throws into what would be the final possession, Butler's blade throw over the cup found the turf. The Spanish side walked in a final point to move on to the qualifier.
Qualifiers
With CUSB, Sesquidistus, and Tsunamixte relegated to the bottom pool, it was all on the line to win in the 'qualifier round'. The winner of each of these qualifier games will play in the top power pool of three teams to contend for two spots to the EUCF.
The first qualifier was between Ah Ouh PUC and Discterics. Ah Ouh PUC looked like the strongest team on the day. They had a great full-team effort through each of their wins. They opened up on fire against a now very fatigued Discterics. The well rested Parisien squad made scoring look easy. Opening up a 5-0 lead, PUC were graced by strong play from Edwin Grappin, Nalini Gascon, and Manon Coyne in the early going, but the reality of the situation was that they were getting contributions from everyone on the team. They were dominant to a 9-1 scoreline. Discterics found some life in the late stages of the game, but it was a case of too little too late as the Parisiens were the first to confirm their power pool position with a 15-7 victory.
Monkey Grenoble and Disc'Over Lisboa traded from the opening pull to remain deadlocked at 5-5. Grenoble were not sharp in the wind, and Lisboa's deep game continued to improve. Maria Castillo was Lisboa's top contributor in this game laying herself out to an injury chasing a speculative trailing edge huck into traffic. Returning for the very next point her game only lifted. Castillo scored the next goal, and the Portuguese side maintained their lead taking half 8-7. Knowing they had already been through their tooth and nail scrapings they sharpened up, while Grenoble fell flat. Only conceding one second half point, Lisboa finished fittingly with a Zuleta huck connecting to a Castillo layout for the game winner. A 15-8 victory was a testament to Lisboa's reversal of fortunes winning their final two games after dropping their first two.
The last game to finish on Saturday provided the most drama, as Bergamo took their momentum to the rested and undefeated Sharks from Barcelona. The Sharks struck first, and went up 2-0, looking to have the edge. Sharks' Pedro Delgado Salazar was commanding play with a flurry of touches and impeccable distribution. An errant lead pass in his direction had him take flight in a huge possession saving layout. Salazar's contact with the ground was hard, and his neck flung back in apparent whiplash. He was helped off the field, and the on-field medic had him on his back with encouragement to remain motionless. Without consultation, the medic called in the ambulance because of the nature of the injury. After the immediate shock had set in, Salazaar and many of his now distracted teammates wanted the medic to give an onsite analysis before committing to the ambulance. The exchange was difficult with translations from Spanish to English to French and back again. Salazaar insisted he was not willing to foot the bill of an ambulance before having a proper on field assessment, while the on field medic and tournament director sighted protocol for anything to do with a spinal to be forwarded to the ambulance.
As the discussions continued, Bergamo had clawed their way back into the game, and had brought the score to level peggings at 8-8 after half, by this time the ambulance had arrived. The conversation got heated with neither side willing to back down their stance. The ambulance arrived and fitted a neck brace while Salazaar and his teammates continued to insist he would like a chance to stand up and feel his vitals before being taken in as a spinal assessment. Eventually, the paramedics removed the neck brace and Salazaar slowly got up on his own accord. Back on the field, the teams continued to trade, and though Salazaar never re-entered the game, he did move fine on the sideline and engaged his voice in the game. At 10-10 and time expired, and Bergamo's Enea Di Cristofaro sent a huck against a zone to David Barzasi who found space between two defenders and elevated for the goal. Pol Cobos was one of the Shark defenders involved and called a foul after some thought. Cobos claimed that he was pushed out of position before the jump, and he had no opportunity to go up. Cobos visualized his claim reenacting a forearm push off. Barzasi was gobsmacked, and Salazaar vocally injected his opinion from the sideline insisting Cobos maintain his foul call. With no options to change his opinion, Barzasi contested the foul and had the disc sent back.
The Italians faltered from there as Di Cristofaro's next pass hit the ground. As he hung his head in dismay the Sharks found Aina Perez between two male defenders grabbing a high disc for the go ahead score to make it 11-10, game to 12. Sharks were circling and their defense forced some unsteady throws, which eventually resulted in a Bergamo unforced error. The Sharks picked up the disc and marched in the game winner, 12-10.
Tomorrow's games begin at 9:30am again with Ah Ouh PUC, Disc'Over Lisboa, and Sharks fighting it out for the two elusive spots offered at EUCF.