It isn't just adding new tools to your defensive toolkit, but also deploying them effectively.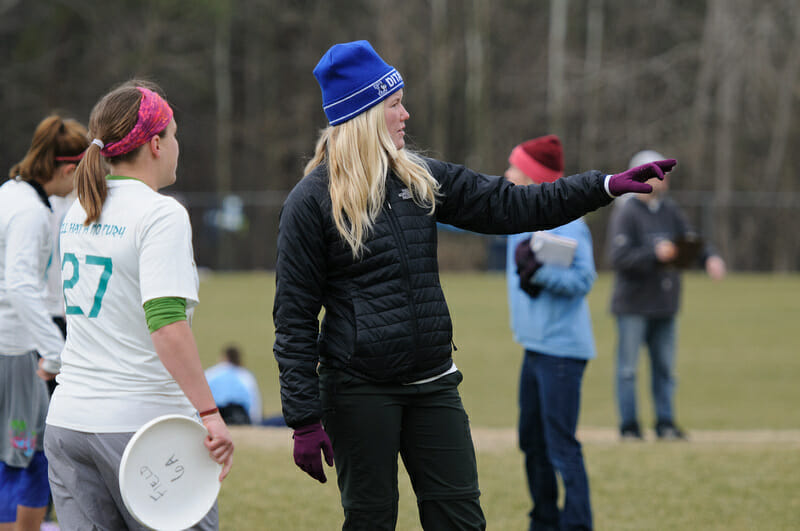 Tuesday Tips are presented by Spin Ultimate; all opinions are those of the author. Please support the brands that make Ultiworld possible and shop at Spin Ultimate! 
Are you part of a team who doesn't adapt your defense well mid-game? Do you keep trotting out the exact same force and defensive plan, only to find yourself constantly encouraging your team to just play harder? Sure, sometimes it really is as simple as effort and execution, but it's probably also time to learn some strategic methods for playing smarter.
Ultimate is a game designed to give offenses the advantage; it's on the defense to slow them down. Proactively responding to and limiting the offensive strengths of opponents is what separates good teams from great teams — and makes stagnant and frustrating games feel exciting and within your control.
So take back the initiative by learning how to call defensive strategy point-by-point to disrupt your opponent's best-laid plans.
Step 1: Recognize their rhythm
You can't design a defense until you understand and recognize how an offense achieves its goals. Each offense will have their particular plan for scoring, with their own structures, set plays, and key pieces they rely on to execute specific roles. If you can study these in advance by watching film or scouting in person, fantastic — you're ahead of the game. But if this prep work is unfortunately not an option, you still need to find a way to dissect an offense's plan so you can formulate a response.
To analyze an opponent's offense, you need to assign your team a brain. Appoint a strategic captain who takes the first few points of a game to specifically watch for patterns, both in personnel and in structure. If you're lucky enough to have a coach working with you, they are the clear choice to take on this role. Even if you don't, assign a player on the sideline to watch the whole field with a critical eye — no one player on the field can both perfectly execute their defensive role as well as fully absorb the systems developing around them.
This strategic captain should spend the first three points of a game asking these basic questions:
What structure does their offense take? — Watch the players, not the disc, to discover how the opponent likes to space the field and set up their offense for their Plan A attack. Observe where everyone moves as the offense initiates to see how many of their players are even involved.
Do they run disciplined, planned plays or are they opportunistic? — Some offenses want to run set patterns where every player has a prescribed movement while others put individual playmakers into space and have them react to what the defense is giving them. Watch to see if their motions are consistent as they move up the field and from point to point, or if their cuts and throwing choices appear more opportunistic.
What relationship do handlers and cutters have on the team? — You can learn a lot about where a team wants to concentrate their offensive attention by watching how the backfield interacts with the downfield. It is important to know what stall count the handlers look dump on. What about the cutters — do they look upfield for three stall counts or seven?
These questions are all geared towards finding out what works for the offense. The sooner you have an answer for that, the sooner you can tailor your responses. Your strategic captain can, and should, be practicing these skills outside of tournaments. Part of this role is watching a lot of games, in person or on film: start by watching organized, system-based teams who execute their offenses perfectly. Then move on to less structured and more opportunistic teams, and see if you can still pick up on their patterns.
Step 2: Disrupt that rhythm
Keep it simple.
Be realistic about the tools you have at your disposal and how much capacity your players have to keep defenses in their heads. In developing your tool box, start off one good person defense, one good junk defense, and one good zone. Once you have these down, you should be able to combat most offenses effectively. You don't need creative defensive sets for every situation, but you do need a defensive unit that works well together as a team. Take the simplest and most practiced route to that disruption: if all your team can manage to execute flawlessly is changing the force, do that. It may be enough to throw the offense off of their game.
Give them the opposite of what they want.
Instead of beating the offense at something they're already good at, focus on making different options available. Give 'em 'cheap pizza': an option they can't resist, but don't really want. This changes the conversation, lets you control the pace of the game, and disrupts their flow. Now they're playing the game you want to play, rather than the one they planned on playing.
Stick with it, but not too long.
It takes some time to get everyone on the same page. Stick to a three point rotation: after you've established their strength and made a plan, give it three points to see if your response is effective. Don't give up on that zone because they had a lucky look right away. Note that this isn't three points to learn a defense; it takes much longer than that to try a defense out for the first time, and you should be doing that legwork in practice beforehand.
Example Defensive Adjustments
How could these steps play out in a game? Here are some examples of common strengths and potential responses to help neutralize those strengths.
Strength: Their pull plays are killing us!
Response: Set a zone. You'll cause them to pause while they reorganize and make a new plan. If other conditions make the zone disadvantageous, plan to transition to person after a few throws. The offense will struggle to use the pull play once they've already changed course.
Strength: That one cutter is just getting to everything deep. We don't have an athletic enough defender to match up with them.
Response: A last back or a bracket is a pretty standard (and effective) response to this, but there's also a great opportunity to mix up your force and demand that the offense prove their throwing prowess on the opposite side. This easy adjustment can disrupt the flow enough to put a damper on those deep looks.
Strength: Their ripping us with very effective handler-dominated movement.
Response: If you have practiced switching, this is when you can use it effectively. But if you haven't perfected that method or don't have the communication down yet, any mix-up that disrupts the handler's goal of advancing the disc down the field can be effective. A handler sag will still give them a lot of touches, but can limit the yardage gain.
Strength: This team is completely disorganized, totally chaotic, throwing scoobers everywhere, but somehow it's working for them.
Response: They sound willing to take risks, but can they also be disciplined? Concede open side unders for the first few cuts and force them to run an organized, calm open side flow.
Strength: They're getting real gains on both the break and open side using a tight and organized vert stack.
Response: So many teams depend on a vert stack, so you can learn where those cutters are looking to go. Practice a junk defense. Put person defense on their handlers, and design a zone defense downfield. Your best defenders should be placed in the spaces the cutters have been making the most significant gains.
Defense isn't just an opportunity to show off athleticism. It's a conversation with an offense. Learning how to respond properly and control the pace of play will bring your team to the next level. The more you practice picking up on systems and developing responses to them, the more natural the process becomes.