Top-seeded Rival looked like the best team on the fields all weekend in Columbus, claiming a TCT tournament title near home.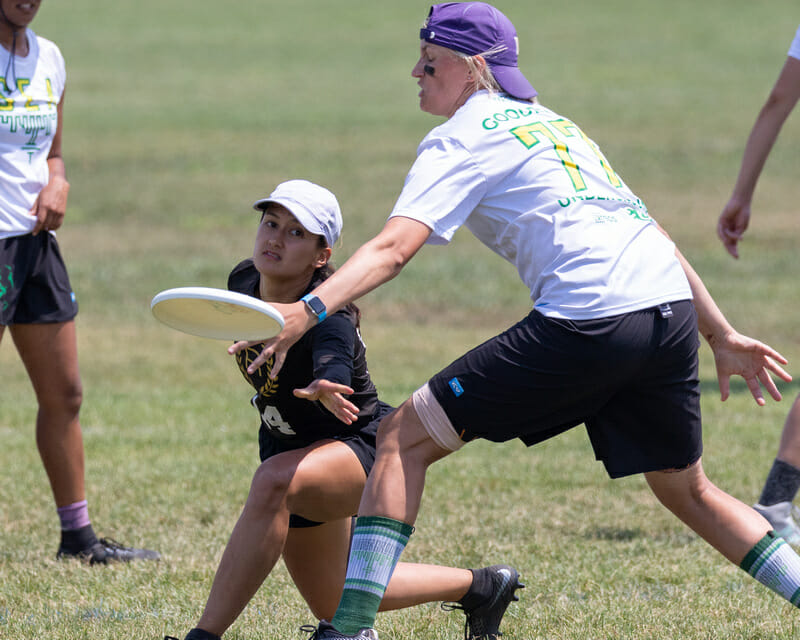 COLUMBUS, Ohio — The sun beat down and the wind wasn't always ideal for clean ultimate, but players pushed through two days of Midwestern summer heat and some challenging games at Select Flight Invite East 2019 to set the tone for what to expect the rest of the season.
Top seeds pretty easily made their way to and through the bracket, as #9 Columbus Rival stormed to a tournament title with a victory over #19 Seattle Underground. But not all of the proceedings in Columbus were straightforward, as upsets and tenacious double game pointers elsewhere gave some bid hopefuls and newcomers plenty to think about and build on moving into August.
Favorites Dominated
After a decent showing at Pro Elite Challenge a few weeks ago, we expected Rival to make a strong push to win SFI — and boy, did they. Columbus coasted to the final without batting an eye. Rival didn't break a sweat against any of their Saturday opponents, with their closest game a 13-5 drubbing of Indianapolis Rogue. As the top of their pool, they went straight into the quarterfinals on Sunday, easily brushing aside #21 New York BENT and going on to see #25 Minneapolis Pop in their semifinal. Rival went 10 for 11 on break chances against BENT, missing one very early on, but their first break got the ball rolling. Once BENT gave Columbus the disc, it wasn't coming back. Pop put up more of a fight than BENT, but it still wasn't enough. Although Pop managed to get a break on the first point of the game, Rival shrugged that off, held, and broke right back. That dictated the rest of the game. Pop's offense was greatly pressured to hold onto the disc as Rival relentlessly hounded their downfield marks, and though plays from Makella Daley and Rose Gruenhagen kept Pop alive, there just seemed to be more energy from the Rival side to earn them a 13-8 win.
Seattle Underground, on the other hand, had a tougher road to their spot in the final after. Standing in their way in the bracket were Halifax Salty and Virginia Rebellion, two scrappy newcomers looking to make their mark in the TCT. Neither went down without a fight. Salty kept it pretty even with Underground in the first half of their quarterfinal, until Underground's zone really started to pressure them. Seattle forced turnovers from Salty's handlers, and did not give up any breaks in the second half. This result brought Underground to a semifinal against Rebellion, who turned a few heads as they pushed this game to double game point. Underground relied on their zone again to pressure Rebellion, but the latter responded with big fakes and hucks to challenge them back. Jillian Goodreau managed to win some blocks for Underground though, allowing Nora Landri and Jessica Spaulding to go to work on offense. Double game point saw turns from both teams, but in the end Underground's zone forced a turfed disc near their end zone, resulting in quick and easy work downfield (and a little tumble in the end zone) to break for game, 11-10.
A scheduled bye after the women's semis gave both finalists a chance to collect themselves and breathe before the title tilt. Tasked with facing an elite opponent in the final, Underground stuck to its team mission statement to dig deep. They used their zone to slow down Rival's offense and gave Columbus their toughest game of the weekend. But Rival remained in the driver's seat, with Iris Javersak getting blocks for their D-line, Paige Soper dictating play, and Sara Scott streaking deep. Soft cap cut the final short, but Underground fought hard to almost push for double game point. In the end, Rival's patient offense and finessed throws in the wind stopped Underground short of their needed breaks, winning SFI East 12-10.
Mixed Results From Bid Hopefuls
#18 Boston Siege's goal heading into the weekend was — and still is — to earn a bid for the Northeast. Coach Rosie Ano was determined to drive her players to that level of success. On Saturday, Boston executed a straightforward pool win. Siege never let up, play intensely against all their opponents; even when up a few breaks, no player ever relaxed, instead running down the disc every point. But a stunning quarterfinal upset at the hands of a hot Rebellion squad on Sunday morning foiled any designs to win the tournament, shunting Siege to the fifth-place bracket. There they met long-time regional rival BENT, falling behind 5-1 early before turning things to end the weekend on a high note with a 13-8 victory over the New Yorkers. Falling short to Rebellion in quarterfinals might have set Siege back a bit in their quest for a bid, but maybe they needed that reminder not to take any challenger lightly. They will be going to Elite-Select Challenge next month where they get another shot at some top teams and will need to be ready to maintain a hold on their current position inside the bid-cutoff.
On the other hand, the North Central has all but condemned themselves to a sure one-bid reality. After a devastating weekend at Pro-Elite Challenge, the region needed a big bounceback from both Minneapolis Pop and Madison Heist in Columbus. On Saturday, Pop was moving the disc around quickly and focused on keeping their energy up, taking their PEC rematch against an injury-depleted #24 Denver Small Batch to stay atop their pool. Pop's third-place finish was a solid result that saw them climb in the algorithm, but a short performance from Heist effectively sealed the North Central as a one-bid region. After a weekend-opening double game point upset at the hands of Salt Lake City Elevate and a brutal seven-point loss to Siege in pool play, Heist ultimately fell to BENT in a one-sided prequarters matchup. In a story that resonates across many other teams in this tournament, roster turnover and missing players hurt Heist, as the absent Margaret Walker likely would have made a difference for Madison this weekend. They need not be too concerned about rankings anymore, and can now focus exclusively on getting all their new players adjusted to the team and prepared for the battle at Regionals.
Newcomers Seized Their Opportunities
The new faces at this tournament truly showed they could compete at this level. Virginia Rebellion, finally able to attend this event after having to turn down invitations the past few years, were the surprise of the weekend. Not only was it their first time at an event of this caliber, it was also their first time playing any of their opponents on the weekend. For a program that has spent most of their existence repeatedly playing a similar set of Regional-level opponents on the East Coast, they matched up very well against new ones. This impressively athletic (and definitely underseeded) team first took out Small Batch in prequarters, then surprised Siege in the quarterfinals, who were not prepared for Rebellion to come out this strong. Virginia played Underground to within one point of a trip to the final, but exhausted their forces in their run to semis and Pop took advantage in the third-place game, 13-7. Talking to Rebellion, playmaker Allison Wallace and captain Hana Choi asserted that their underdog mindset, as well as their aim to play games point-by-point led them this far. As the last seed in their pool, they came into the weekend with nothing to lose, but something to prove, and it seemed like that mentality paid off.
Halifax Salty also showed some fire, taking advantage of their unknown status to go on a run at their first TCT event as a Select Flight program. They knocked off Rebellion in a double game point Saturday morning matchup, then followed it up with a second DGP win over Indy Rogue to finish second in their pool and earn a clash with familiar Canadian foe in Ottawa Stella in the prequarters. Although Stella put up the first break, Salty came back with two breaks of their own to take half, completely energizing the team to eventually earn their spot in the quarterfinal against Underground. However, like Rebellion, Salty too suffered from fatigue from their losses, ending the weekend in eighth place to maintain their initial seed. Stella has lost some players from years past, but Salty has also been getting better every year and they are looking to convert their success this weekend into upsetting the pecking order within Canada — or perhaps even in the competitive Northeast.
All-Tournament Team
Paige Soper (Columbus Rival)
Iris Javersak (Columbus Rival)
Allison Wallace (Virginia Rebellion)
Jessica Spaulding (Seattle Underground)
Jillian Goodreau (Seattle Underground)
Rose Gruenhagen (Minneapolis Pop)
Abby Cheng (New York BENT)