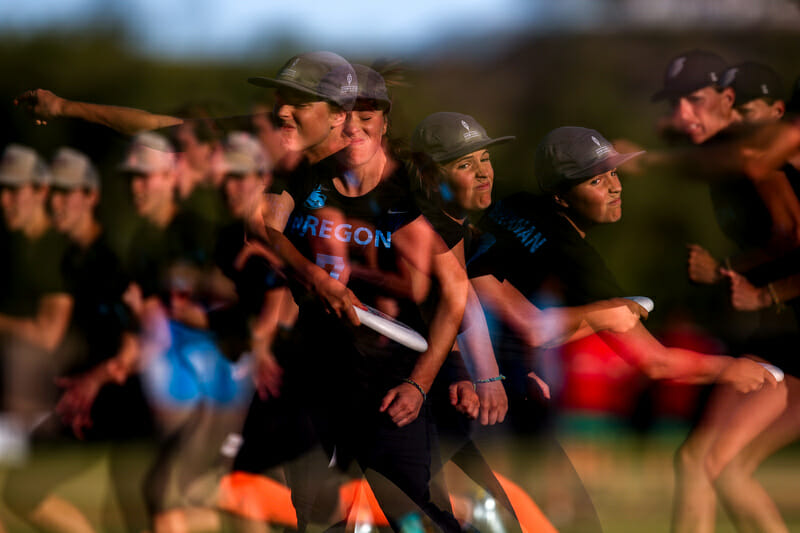 2018 Nationals prequarters. Double game point. Schwa pulls to Wildfire, applying defensive pressure to momentarily keep Wildfire stuck in the backfield trading the disc between handlers. A huck goes up, San Diego's Ronnie Eder lays out, securing the disc for a Wildfire goal. The home team cheers with the mania of a club headed to quarters. Schwa's players congregate, too, discouraged but not inconsolable.
Last year's Nationals wasn't the first time #7 Portland Schwa lost in prequarters. The same fate befell them in 2017. And 2016. And 2015. And yes, also in 2014. It's been more than half a decade since Schwa has last missed the bracket at Nationals, but even longer since they progressed to the next level.
One of the division's oldest and proudest programs — they were a three-time national finalist in the late 1990s — Portland's top women's team has enjoyed a return to national prominence over the last decade. Some of ultimate's biggest names have come and gone from the program in that time. Jesse Shofner, Bethany Kaylor, Kristina Snodgrass, and Sophie Darch to name just a few. And yet, even as these players earned their stripes in a Schwa uniform, quarters continued to elude the team. Always the bridesmaid, never the bride.
It'd be reductive to call the string of Schwa's losses a trend, but it has been an unfortunate reality of the team's otherwise prestigious lineage. Whether the team deserved it or not, Oregon's brand has become synonymous with a team that always hovers around the level of prequarters — in the top 12 best teams in the nation, just probably not the top 8.
And then came 2019's Pro-Elite Challenge.
On Pace for Success: How Schwa's Increased Speed Has Them on the Cusp of Greatness is only available to Ultiworld Subscribers
Already have a subscription? Log in
Whether you visit Ultiworld for our reporting, our podcasts, or our video coverage, you can help us continue to provide high quality content with a subscription. By becoming a subscriber, not only do you receive benefits like exclusive articles and full article RSS feeds, you also help fund all of Ultiworld's coverage in general. We appreciate your support!