Former US Open champions to meet in the final.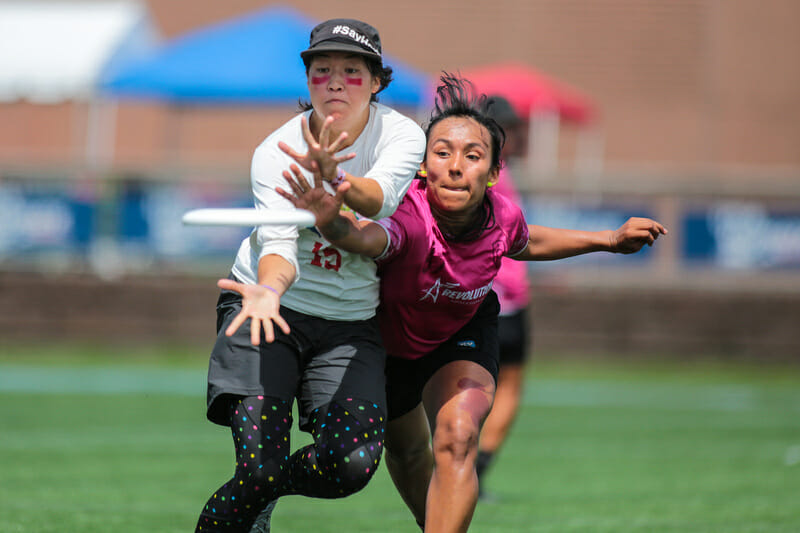 BLAINE, Minn. — The women's U.S. Open final is set after two thrilling rounds of quarters and semis play on Saturday. Wild comebacks and surprising upset bids defined the second day of action north of Minneapolis. But after all the chaos, it was the last two U.S. Open champs, Boston Brute Squad and Medellin Revolution, left standing.
Quarterfinals Recaps
Seattle Riot 15-12 Tokyo HUCK
Riot advanced comfortably on the back of their 15-12 win over Japan's HUCK. The game opened up early when Riot ran off three breaks to transform a 3-3 tie into a 6-3 lead. HUCK rallied to convert a pair of breaks to tie the game at 11 but Riot found their footing to hold and immediately scored a pair of breaks to reassert their command of the game. HUCK effectively slowed down the Riot attack and made their passes uncomfortable with their array of junk defenses. They paired that with offense that was largely crisp outside the two break runs. Reona Oshima continued her red-hot run with a four goal showing that helped her take the tournament lead in goals. 
Boston Brute Squad 15-12 German National Team
Brute Squad got a real test from the German National team, and in fact trailed 8-6 at the half. It wasn't until a 4-1 run at the very end of the game that they were able to put the European side away. Germany was at their best when Vera Forsch was at hers, and she finished the game with three goals and two assists for a game high five points. Brute's defense, as it often does, earned them the win with their late breaks, and Claire Trop and Kami Groom each finished the game with two goals and two assists. Jessie Grignon Tomas was the gem of the team's offensive unit, putting up three goals and an assist on zero turnovers.
Medellin Revolution 15-13 Denver Molly Brown
In the Manuela Cardenas Bowl, Revolution overcame Molly Brown to advance with a 15-13 win. Molly Brown started off hot, taking half 8-5, up two breaks on the reigning world runners-up. The Denver offense looked strong all game, handling Revolution's side stack poaches cleverly and parlaying their counter into further attacks. At the end of the game, one could objectively say that Denver played well enough to close out most games, particularly when spotted an 8-5 lead, were it not for the outstanding second half that Revolution turned in.
Revolution went the entire second half of the game without turning the disc over (on either line) and converted the paltry four Molly turnovers into a two break lead with brutal efficiency. It started when Molly switched the field to set up a Lisa Pitcaithley huck, which seemed as though it would land until Ximena Montaña elevated for the deep block. A fast break the other way led to a Montaña bookend score to cut the lead to one. 
A few traded holds later, with the score at 10-9, Molly Brown was effectively working up the field with uplines until the final pass was a bit too far for Paige Applegate, who dropped what would have been a layout score. Revolution called a timeout and set up a play to get Manuela Cardenas the disc, which she promptly hucked deep to Elizabeth Mosquera who posterized her defender to tie the game at 11.
Revolution finally took the lead on the ensuing point. Molly again made it to the Revolution goal line, but a huge layout block on a swing pass by 18-year-old Maria Paola Santos got Medellin the turn that they converted to make it 12-11. Denver stayed calm in spite of the pressure and again flowed smoothly up the field. They appeared to score on an assist from Lisa Pitcaithley down the trap sideline, but the goal was eventually disallowed as Revolution called her out of bounds (despite the observer initially ruling in). Perfect D-line offense made the score 13-11, and the teams traded out to 15-13 with clean possessions.
Yina Cartagena was a rock for the Revolution offense all game and finished with three goals, four assists, and countless field-opening throws. Downfield and on defense, Mosquera (2G/3A) was a force in the deep space and, importantly, ground out gainers underneath. Molly Brown's offense–which, again, looked quite good–relied on Claire Chastain (1G/5A) to initiate the offense and benefited from the powerful cutting of Liza Minor (2G/2A). 
Washington DC Scandal 16-15 San Francisco Fury
Washington DC Scandal showed just enough resolve in the second half to hold on for a 16-15 double game point win over Fury. Fury's defense left a lot to be desired in the early going, giving up early holds, while offensive miscues presented Scandal with plenty of break opportunities of their own.
Scandal jumped out to a two break, 4-1 lead before Fury was able to get their footing. They ramped up the defensive pressure, but by that point, the Scandal offense was rolling and able to continue to fight their way for their holds. Kath Ratcliff was metronomic in the central handler role, while Robyn Fennig and Carolyn Normile took turns making the flashier plays, and Scandal broke once more to take half 8-4.
Fury finally got their first break at 10-7 to get within one, as the Scandal offense finally began to succumb to the improved defensive effort from Fury. But when Scandal broke again for 13-9 on a backhand huck from Fennig to Austin Prucha, it seemed like they'd hold on for the easy victory their first half performance had seemingly promised.
Fury did break for 13-11, but Scandal then held for 14-11, but with enough time still left on the clock, Fury needed just two breaks to force overtime. Fury got their hold for 14-12 and then the Scandal offense suffered its first significant ebb of the game. Nada Tramonte dropped an under, which led to a Jessie O'Connor to Marika Austin score for a break.
Fennig then had a throwaway near midfield that led to a beautiful Claire Desmond backhand to Opi Payne to tie the game at 14. 
A bending backhand to the endzone from Fennig was swatted by a bidding Julia Butterfield, but she could only knock it up in the air for Lauren Allen to catch for the Scandal hold. Scandal was wasteful with a couple of break opportunities to ice it, allowing Fury to force double game point.
A high stall huck from Normile to Keila Strick was bailed out when a contested foul call on Beth Kaylor was ruled a foul, putting Scandal on the goalline. Strick initiated a give and go with Lauren Allen for the goal to send Scandal to semis.
Semifinals Recaps
Brute Squad Ends Scandal's Run On DGP
Boston Brute Squad won a double game point thriller over Washington DC Scandal, 15-14, in a wild semifinal. After a sloppy first half from Scandal, they stormed back at the start of the second half to get back in the game, setting up a furious exchange of breaks down the stretch, culminating in the break on the final point of the game to send Boston to the final.
Brute Squad scored the first three points of the game, two of which were breaks, as Scandal struggled to find any success in the deep game. Brute didn't get any more breaks for the rest of the half as Scandal was able to tidy things up offensively, but their D-line offense was unable to get any of the breaks back before the half.
They got one on their first D point of the second, however, when Lauren Allen footblocked Amber Sinicrope, and Austin Prucha made an unbelievable catch on a huge forehand blade from Robyn Fennig. The play turned into a wave of momentum for Scandal, as they took three of the next four points to go up 10-9. The 5-1 run to start came out of nowhere for Scandal and completely changed the dynamic of the game.
From that point on, chaos defined the play. Neither team was able to put consecutive holds together the rest of the way, as both defenses ramped up the pressure and playmaking. 
The teams traded in that way until double game point at 14-14, with Scandal on offense. They didn't put Fennig or Prucha, two of the most instrumental players in Scandal's second half surge, on the line after they were both on the field for the previous D point. Brute Squad had a loaded D-line on the field, but they did little to earn the disc. Katey Forth, who'd been so consistent for the Scandal offense for most of the game, chucked a backhand turnover on the pull play. Brute Squad was able to work it the length of the field, and Sinicrope broke the mark to hit Kami Groom for the game winning score.
Scandal couldn't hang on for their second straight upset win of the day, but their turnaround from the first half to the second was impressive. It wasn't really any strategic adjustments they made that changed the game for them, they simply started making the plays they didn't make in the first half. 
"We tweaked a little bit of our defense but I just wanted to stick with what we were doing and do it a little bit better. I didn't want to go back and make big changes at that time. I wanted us to commit to the things we've been working on in our systems," said Scandal head coach Alex Ghesquiere. "While we were mediocre at improving that, the thing we were definitely good at was playing with heart and intensity. I think having that hunger all the way through and not fading was more the reason why we kept it close and got back in it than because we did something special with our systems."
Scandal did miss an opportunity to finish off the comeback with what would have gone down as a season defining win, but they did prove their worth as a national championship contender in the loss.
Another 2nd Half Surge Sends Revo To Final 
Not to be outdone by the Scandal/Brute semi on the adjacent field, Riot and Revolution produced a classic of their own in the National Sports Center Stadium.
After putting together a zero-turn second half to complete their a come from behind victory in the quarterfinals, Revolution was broken three times in a row to begin the semis, leaving them in a 4-0 hole. The deficit got as far as 6-2 after Medellin yielded another break, but the Colombian ladies were able to get it back to end the half down just three at 8-5. Riot did well to limit Revolution's attacking spaces–Riot coach Rohre Titcomb noted the familiarity Riot had with their opponents from Worlds and trip to TEP in Colombia–but Revolution's troubles were largely self-inflicted. Short field turns on throwing and catching miscues often led to shorter fields, which Riot efficiently capitalized on. Riot newcomer Kaede Yoshida stood out from the crowd, laying out frequently on both sides of the disc and throwing with precision. Jack Verzuh and Bailey Zahniser also were highly influential contributors, though it didn't necessarily show on the stat sheet–that accolade belonged to Hana Kawai who posted a 1G/4A/3D stat line.
Revolution began to steady themselves at the beginning of the second half, holding twice to start, but they conceded another break to bring the deficit back to four at 11-7, with the soft cap applied to make it a game to 13. In a show of extreme poise, Revolution brought out their most impressive mental strength of the weekend and doubled down to make a final run. They held their O point and broke twice to push it to 11-10 before Riot punched in a hold for 12-10. Then Revolution held and broke two more times to close out the 13-12 victory. Yina Cartagena (8A) and Manuela Cardenas (5G) were huge for the Colombians down the stretch, and the game fittingly ended on a break throw from Cartagena to Cardenas.
Revolution coach Mauricio Moore stressed that the second half turnaround was largely about a mentality shift. He described the necessary adjustment by saying "it's not whether you go backhand or flick or anything like that, it's more about what's your goal…if you trust that we're going to win, then to get there you just need to be happy and do what you know you need to do."