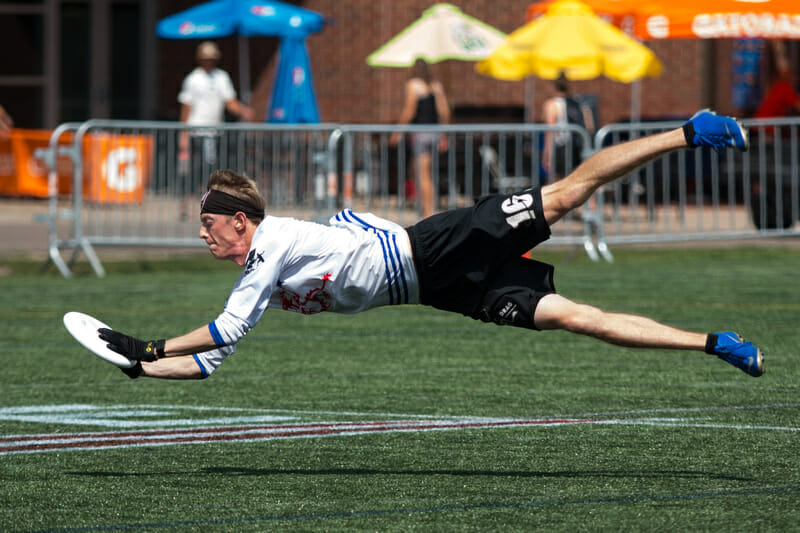 Ultiworld's reporting on the Club Mixed division is presented by Universe Point cleats. All opinions are those of the authors. Please support the brands that make Ultiworld possible and shop at Universe Point!
BLAINE, Minn. — On a hot afternoon after two days of competition, Minneapolis Drag'N Thrust overcame a disastrous start to top Seattle Mixtape 14-13 on double game point and win their first-ever US Open title.
The game was a roller coaster, with both teams fighting through a rash of execution and decision-making errors that piled up turnovers. Drag'n Thrust's ability to adjust and work through the peaks and valleys was enough for them to claw back from a five break hole and secure the first leg of the Triple Crown.
Mixtape came out looking like their polished, system-based selves, with a D-line that immediately put Drag'N on their back foot. The established power players, Evan Kline and Jen Cogburn, consistently made big offensive gains. Cogburn scored the first break and generated the second turn. Emily "Smitty" Smith-Wilson continued her undeniable impact finding the endzone at this tournament. Drag'N couldn't do anything right, it seemed, and Mixtape cruised out to a 5-0 lead as the game teetered towards becoming a laugher.
Perhaps it was the large lead that caused Mixtape to relax a little. They started to allow themselves more risk and less focus. Just like the semifinals, when Drag'n Thrust came out with several execution errors and throwaways to start, a shaky Minneapolis start lulled Mixtape into a false sense of security.
Finally, Drag'N got their offense off the field: the deep chemistry they had been relying on all weekend came together. Kat Ritzmann took a break from dominating the backfield and busted deep for the team's first score. Then, the Drag'n D-line came out with heavy pressure and forced Mixtape into tight throws and rushed offense, resulting in a turn. Becca Ludford pulled in the first break. Mixtape received again, but a turn early gave Drag'n the disc near the endzone, and Blake Trantina scored a break almost immediately.
The balance in the powerhouse one-on-one match-ups may have contributed to those turns. Kieran Kelly, used to being able to easily find separation, found maybe his hardest match-up of the tournament in Brian "Strings" Schoenrock, and dominant midfield and deep cutters Jen Cogburn and Emily Smith-Wilson had the same problem getting open on Sarah Meckstroth, Becca Ludford, and Claire Thallon. Kelly's dominance in the air to return possession after another throwaway gave hope that Mixtape was about to stop the Drag'N run, but a crossfield blade to the back corner drew both Smith-Wilson and Kelly into each other's way, and Drag'N capitalized on the turnover. It was one more overthrow by Mixtape looking for Cogburn that set Drag'n up for a fourth straight break and a tie game.
Schoenrock, who had an outstanding tournament for Drag'n Thrust, knew that his team could win, even when they were five breaks behind.They had the mindset that, against this particular team, they just tend to play streaky. The leadership framed it well for the team ahead of time. "We had the mentality of, 'this isn't going to be the streak that gets them to 15,'" said Schoenrock.
A series of traded points followed the two giant runs, and the teams found themselves tied up at seven apiece. When Mixtape dropped an easy under, Leo Sovell-Fernandez and Schoenrock showed off their ability to find each other in the endzone twice (due to a pick call). After a nightmare start, the hometown team took their first lead and took half.
Early in the second half, Drag'n Thrust quickly established themselves another run. The back and forth of unforced turns that defined the marathon points before slowed down a little, and Drag'n started to convert quicker when Mixtape made mistakes. Three breaks right out of half put Drag'n up comfortably. They traded points again before Mixtape rallied late to bring the game to 13-13 with Drag'n Thrust on offense. It was a great comeback, but quick and risky offensive movement followed by a timeout resulted in an opportunity for Erica Baken to cut in endzone isolation. Baken did work all weekend for her team, putting her name on the stats sheet in every category. It just seemed fitting that she would beat her defender and lay out massively to win the tournament.
Mixtape's Jen Cogburn was proud of the work her team did in the challenging conditions. "Obviously, it sucks to lose," she said. "But we were working with only six healthy women, and we didn't let it get us down." Since Drag'n Thrust designs their plays around the talent of their women, they have a tendency to run lines with four women and have them control the field. Mixtape's inability to match the energy of Drag'N's women had an outsized impact on the outcome of the game, though it may not be a weakness Drag'n can exploit as much when Mixtape is at full strength.
Despite the ugly game, both teams looked polished during the tournament, especially during earlier phases of the bracket. Mixtape flashed flawless defense during their quarterfinal against BFG, and Drag'N was completing all their hucks in their semis against Snake Country. At the US Open, both teams showed that their ceilings are championship level this year.
Drag'N has reached at least the semifinals of every US Open since the 2012 inaugural event, but this is their first-ever win.
All-Tournament Line
Lexi Zalk (San Francisco Mischief)
Alan Kolick (Washington DC Space Heater)
Emily Smith-Wilson (Seattle Mixtape)
Tom Tullett (Melbourne Ellipsis)
Erica Baken (Minneapolis Drag'n Thrust)
Jake Taylor (Boston Snake Country)
Anna Thompson (Philadelphia AMP)