A rundown of how all six U20 co-champions earned their spot in the truncated finals.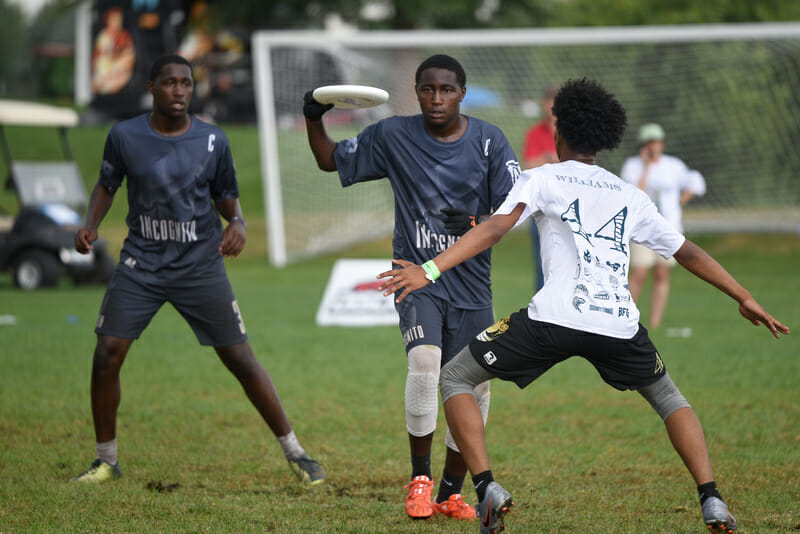 BLAINE, Minn. — With weather halting play on Monday afternoon at the 2019 Youth Club Championships, all divisions finished with co-champions. It wasn't known at the time, but the semifinal round held earlier in the day ultimately decided this year's title winners. Here's a rundown of all the U20 semifinal action from Monday morning, which featured both impressive dominance from some squads and tightly contested elsewhere.
U20 Boys
Atlanta ATLiens 13-10 Bay Area Red Dawn
In a matchup filled with players who won the last two High School National Invite titles (Berkeley '19, Grady '18), the Atlanta ATLiens' athleticism was the difference-maker in their 13-10 win over Bay Area Red Dawn in the U20 Boys semifinals.
Atlanta's Adam Miller had four assists and a goal, Aidan Downey had three assists, and the high-flying Justin Burnett had three goals and some incredible defensive efforts to lead the way.
The ATLiens staked out an early lead after Red Dawn star Leo Gordon mistimed a jump in the endzone that gave away a sure score. Franky Fernandez leapt high for a floating hammer in the opposite endzone to put Atlanta up two.
The lead became three when a soaring Atlanta pull landed deep in the Bay Area endzone, eventually forcing a goal-line turnover. Downey hit Ben Dameron with a quick pass to make it 6-3.
Teetering, Red Dawn answered with a run of their own. They held their next O point, then switched to a zone to try to neutralize the downfield athleticism of Atlanta. The defensive adjustment yielded turns on two straight Atlanta possessions and Red Dawn punched in two breaks to tie the game at 6-6.
Atlanta started to get more patient against the zone and traded out to half, up 8-7 with a break in hand. They pushed the lead back to three at 11-8 after an early second-half break before Red Dawn again chipped back into the game. After a hold, the game's wildest point unfolded. Atlanta threw hundreds of passes against the Bay Area zone, working methodically up the field. Once they reached the red zone, they hurried one pass and all their work was undone. It looked like Red Dawn had a break in hand, but Burnett made one of the wildest layout block attempts you'll ever see, going over the outside shoulder of the cutter going upline while making minimal contact.
After a long discussion, the disc went back on a contested foul.
Atlanta stayed strong in the red zone and forced a turn, but Itay Cheng laid out on the mark to point block a Downey huck, and this time Red Dawn punched in the break to get back within one at 11-10.
That was a close as they would get. Atlanta got a no-nonsense hold and then broke to win.
Colorado commit Danny Landesman was excellent in the loss, posting three goals and an assist; Zachary Rosner matched his stat line. Gordon had two assists and a goal.
Atlanta's defensive unit, like it did all tournament, kept the pressure high, posting five breaks and never letting Red Dawn get comfortable in their sets. Atlanta's depth of both skill and athleticism gave the team an advantage, especially at spots five through seven on the line.
Boston BUDA 14-13 Triangle Triforce
In a clash of perennial powerhouse U20 Boys programs, Boston BUDA outlasted North Carolina's Triforce in their semifinal to notch a 14-13 double game point victory. With their victory, BUDA not only booked a place in the tournament final, but also snapped a three-game losing streak against Triforce that included a heartbreaking DGP loss in the 2017 final and a tight 11-9 loss in the 2018 semifinals.
The 2019 edition of the rivalry delivered a spectacle befitting a clash of two of the titans of the youth division, a contest where the differential never stretched further than two and the lead changed hands four times. To boot, it also featured a singular 8G, 1A performance from BUDA's Orion Cable— arguably the most dominant player in the division — and standout efforts from Triforce's Ramzi Cope-Musleh (7 goals) and Josh Singleton (5 assists).
In still conditions, Triforce received the pull to start and the teams traded holds to a count of 3-2. Both teams worked their isolation sets effectively to eat up long yardage, with Triforce favoring a split stack that initiated through Chris Walsh versus BUDA's more traditional side stack strings that let combinations of Cable, Luca Harwood, and Nathan Buchholz go to work in isolation space.
BUDA experimented with transition junk and last-back help to slow down the Triforce attack, but the Carolina boys were unfazed and adeptly forced transitions. Triforce's holds were largely quick and clean, with a few in cuts taking them into their endzone set. BUDA's O-line was no less efficient with their holds, but always seemed to require a little bit of an extra effort from Cable, be it a big sky, a layout grab, or hitting a key continuation shot.
The first break of the game came after a pair of deep turnovers from Cable that Triforce converted into their break, with the help of a little hustle and luck. The D-line offense that had so far been (unsuccessfully) shooting deep went back to the well, and though BUDA blocked the initial pass, Matti Lee came up with a hustle-play, second-effort catch for the goal. BUDA closed the gap almost immediately, however, breaking on Triforce's next O-point when Zach Riley picked up Triforce's overthrown huck and launched a 70-yard flick bomb of his own back the other way for the break, tying the game at 5-5.
The two squads traded to 7-7, with both sides trying a few defensive curveballs to no avail. Triforce leaned on Josh Singleton to carry them through BUDA's zone looks while BUDA rode the efforts of Cole Davis-Brand as well as the throwing depth of their O-line. Receiving to take half and working to the red zone in a few passes, Triforce seemed as though they would end things smoothly but things took a turn toward chaos after a goal-line stand from BUDA forced a miscue on an open upline pass. The BUDA D-line technically converted the ensuing possession cleanly for the break and half, but it was a wild one. A possession full of contested foul calls, controversial in/outs, late stall blades, and hammers ended, ironically, with Harwood scoring open side.
The flow and cadence of the game out of after half stayed consistent with the beginning of the match, with both sides showcasing well-coached offenses with consistent execution, even in the face of high-pressure defense. When BUDA held to make the count 11-9 off of an incredible line-toeing layout from Cable at the back of the end zone, it felt as though the momentum had swung their way, but it was at that moment that Triforce started their run. After a clinically efficient hold, Triforce got their first break of the half on a block by Tobias Brooks that they cleanly converted. BUDA held on their next possession — albeit on another great layout from Cable — but the Triforce offense continued to roll and tied the game at 12-12, with the cap making it a game to 14.
By this time the wind had picked up slightly and a stacked Triforce D-line pulled downwind to BUDA, knowing they would need a break to win the game and at most two chances to do it. The Boston offense moved to the attacking brick, but as the flow ebbed and the shift to their endzone set began, Albert Yuan got a huge layout block on an open-side dump. Carolina quickly set up a side stack on the turnover and Cope-Musleh caught his seventh goal of the game for the break to give Triforce at 13-12 lead.
With the momentum against them, the BUDA offense returned to the line, knowing their backs were against the wall. The Triforce defensive pressure had hit its apex, and it seemed as though Carolina was destined for the final after Yuan again shut down his handler and Boston turned a reset. But Triforce couldn't convert the upwind break and BUDA's took possession back after a big Davis-Brand layout block on Yuan cutting under. Wyatt Kellman flipped in the downwind hold to Cable to make it 13-13, double game point.
On the final point, Triforce received going downwind. The initiation was smooth, but Walsh's continuation huck off the pull play overshot his receiver and gave BUDA a chance, with 70 upwind yards between them and the final. The nerves of the DGP situation were clear, and the possession was frenetic at times. BUDA nearly turned an under but saved possession on an athletic grab by Kellman. To add to the moment, the adjacent field— BUDA U20 Girls and Triangle Warhawks— had just finished, and the girls' teams rushed over to pack the sideline.
Boston worked the disc to the attacking brick and called a timeout about 10 yards off the trap sideline. When play resumed, the Triforce downfield defense was stout, and forced BUDA into a reset. BUDA swung the disc all the way across the field to Cable, sending Triforce defenders scrambling to cover the weak side options. They denied an immediate continuation, but after four counts of surveying the field, the 6'5'' Cable stepped out and used his long frame to deliver an around backhand to space. The pass found a horizontal Jae Lee who managed to complete the catch and stay in bounds to seal the victory for BUDA.
U20 Girls
Maine Rip Tide 15-8 Washington DC Rogue
Thanks to tremendous performances from their stars, Maine Rip Tide soundly defeated Washington DC Rogue 15-8 to advance to the U20 Girls division final. Maine's surprise run through the bracket produced the program's best-ever result in this division — matching the feat accomplished two years ago by the Rip Tide U17 squad that featured several of the same players — and prevented a third straight finals appearance for Rogue.
The teams traded a series of sloppy execution turns on the opening point, as both squads worked through some early semis jitters. As would become a theme quickly in the game, Rip Tide's Kennedy McCarthy eventually broke free in the end zone for a Maine hold as Emily Pozzy tossed her first assist. On their first defensive point, Rip Tide employed a zone and McCarthy produced an incredible reach-around handblock in the cup, allowing her team to punch in the game's first break with a quick short-field goal.
The pressure from Rip Tide's defense continued to suffocate Rogue early, generating turns out of a DC O-line that had been rock solid to this point in the tournament. On the third point, McCarthy snagged another block before going every other pass, eventually shaping a gorgeous forehand into the end zone where Pozzy skied for another break. Another missed connection for Rogue and Maggie Pierce shot deep to McCarthy for a 4-0 Rip Tide lead. After DC finally got on the board through a goal to the tireless Emma Salafsky, Maine answered right back with an assist from, who else, McCarthy.
Rogue eventually stabilized their offense and settled into the game, as the teams traded a series of holds. With a chance to break again for half, Rip Tide's Maya Ragucci took over with a beautiful 60-yard huck, then sprinting up the field to collect the goal that sent Maine into the break up 8-3.
While Rip Tide gave Rogue some break chances in the second half, Maine successfully snuffed out any comeback attempts from DC. With the wind picking up as the second half progressed, simple throwing and catching errors piled up for each side. Olivia Arellano did her best to fire Rogue back into the game, continuing to send forehand hucks into the wind in an attempt to steal an upwind break, but even her brilliance wasn't enough to drag DC back.
McCarthy and Pozzy were everywhere for Rip Tide, racking up matching 3G, 4A stat lines — for the indomitable McCarthy, extending her tournament-leading goal tally — to go along with several big blocks. Devin Quinn also got in on the action for Maine, reeling in four goals of her own. By the time Pozzy laid out huge to snag Rip Tide's 14th goal, the game was already well decided.
Rogue managed a break after the soft cap went on, but the 15-8 scoreline fairly reflected the dominant performance by the tournament's inspiring no.14 seed. Maine headed to the final to take on two-time defending champs Triangle Warhawks, having already earned the respect of the crowd in Blaine as well as commenters on ultimate Twitter. For DC, their run of consecutive finals appearances comes to a close, as they'll look to reload for future years.
Triangle Warhawks 15-10 Boston BUDA
In a rematch of an exciting 2017 semifinal, Triangle Warhawks once again dispatched Boston BUDA and advanced to continue their quest for a third consecutive U20 Girls title. Fantastic performances from Alyssa Erhardt and Grace Conerly along with a ruthlessly efficient D-line offense early saw Warhawks through their tightest match of the weekend, once again flexing the incredible depth of talent cultivated in the Triangle.
Echoing what Rip Tide was doing a field over, the Warhawks jumped out to a big lead early by giving Boston fits with a combination of junk and matchup defensive looks. While the Boston offense was spacing the field well, the variety of defenses presented by the Triangle D-line baited BUDA handlers into squeezing passes into tight windows. Every small Boston error was quickly punished by the Warhawks and BUDA found themselves down 5-1.
Boston finally steadied themselves and began moving the disc cleanly up the field to open players, thanks to patient handling from Keziah Wilde and Alexis Hecht, as Gigi Downey crushed the downfield cutting lanes. Meanwhile, the Warhawks pushed the pace offensively, outrunning Boston defenders and allowing Erhardt and Conerly to keep tossing open passes into the goal for their receivers. The Triangle O-line was all business in converting their holds, seemingly oblivious to the BUDA defense.
The two talented teams traded clean holds to 7-3 before a point that finally saw a fair share of turns. Eventually, Wilde slung a nice IO flick into the end zone for a BUDA goal to extend the half, but a long shot from Triangle's Erhardt — one of her six assists in the game — brought on the break with the Warhawks leading 8-4.
The second half started with a hold from Warhawks that threatened to put the game out of reach early, but Boston kept their energy up to try to fight back into the contest. After a shaky hold from their O-line, BUDA finally got a block and a chance for a break. On a hanging pass into the end zone, Boston's leading scorer Adrena Seferian called foul and the disc was sent back. BUDA dialed up the same exact pass and this time Seferian skied two defenders for a Boston break. They quickly followed with another and suddenly the lead was cut to two, 9-7 in favor of Warhawks.
The ensuing point was an absolute battle. Triangle's Grace Conerly tried to squeeze a high-release break into the end zone, but it was bobbled by her receiver. Conerly got it back by skying a pile at the other end, but a Warhawks turn gave BUDA another shot at a break, which they spurned. Both teams burned a timeout as possession went back and forth, each squad desperate to capture the crucial point. Eventually, the Warhawks marched it 70 yards to earn their hold and stop the Boston run. It was as close as BUDA would ever get.
The Warhawks' pressure defense hounded tired BUDA legs throughout the rest of the second half and kept producing turns. The Triangle squad got a break back when a well-run end zone set ended with one of Jessica Wu's team-leading three goals on a seven cut. Seferian answered with a goal for BUDA through the North Carolina zone. Coming out of a heat break, the cap horn sounded shortly before Warhawks punched in a hold and took a commanding 13-8 lead. With BUDA in need of quick goals to close the gap, Triangle reverted to their zone to control the pace of the game. The teams traded out to 15-10, with Warhawks earning their opportunity at a third straight title game.
As soon as game ended, both teams sprinted to the next field over, where the same two programs were at double game point in the Boys division.
U20 Mixed
Indianapolis INcognito 15-13 Connecticut Harpoon
The No. 16 seed Indianapolis INcognito continued their Cinderella run all the way to the U20 Mixed final, with a 15-13 win over fellow surprise semifinalists Connecticut Harpoon. In a game that was overflowing with moments of individual brilliance, Indianapolis were able to come up with a couple more of those big, decisive plays and come out on top.
Indianapolis' Darren Smith and Connecticut's John Clyde began putting on a show from the very beginning of the game. Smith quickly exhibited his overwhelming offensive skillset as a thrower and downfield playmaker, while Clyde showed off his full-field throwing ability on his first throw of the game. Those two went back-and-forth with the big plays in the early going, with Smith getting contributions from his INcognito teammate Nick Phillips, and John Elston deputizing Clyde for Harpoon. The play of those four, really, defined the entirety of the game.
It was Harpoon who got the first break, oddly without Clyde on the field, after a downfield miscommunication on an INcognito huck led to an Elston assist the other direction to make it 3-2. It didn't take long for Indianapolis to get the game back on serve though, breaking on their next D point after a Theresa Yu turnover for Harpoon and a big lefty forehand huck from Smith to Rachel Moore for the INcognito goal.
Indy broke again at 5-4 when Logan Lauer threw too far in front of a wide-open Zachary Corvo downfield and Smith snapped another forehand to Rose Malinoski. INcognito's one break lead didn't last much longer than Harpoon's did, though. Again it was a Harpoon break without Clyde on the field — Elizabeth Traun-Baker got a poach block to save a goal, Owen Cordes slipped past the last line of Indy's defense, and redzone give-and-gos between Ethan Lavallee and David Vega got the goal. A back-and-forth point eventually sent the game to half on serve.
Indianapolis was the first team to go on a real run. If Smith was special in the first half, he was scintillating in the first few points of the second. A gravity-defying, second effort grab for a break on the first point out of halftime was followed by a layout grab in the opposite endzone for Indy's third straight goal. After an evenly contested first half, all of a sudden, Indianapolis was up 10-7.
INcognito was able to hold onto that advantage until 13-10, when Harpoon manufactured a run of their own. Clyde got a nice grab from Cordes in the back of the end zone for the hold to make it 13-11. Harpoon then finally adjusted to Smith's forehand, which had hurt them all game long to that point, and forced him to throw backhand. Smith turned it over on back-to-back points, and Harpoon took advantage of both, tying the game back up at 13-13.
It was another back-and-forth point, with Harpoon in particular wasteful with a couple of good scoring chances. After an errant hammer from Clyde, Smith's brother Devonte picked up and called timeout on the goal line of his own end zone. On the other side of the stoppage, he launched a full-field forehand to Phillips, who chased it down and hauled it in with a massive layout clap catch to make it 14-13.
The point not only meant Harpoon had missed out on a glorious chance to take a late lead, but it wore down their top performers as well. Elston had to come off the field for the following point, and Clyde eventually had to come off during the next point, seemingly having to tap out due to pure exhaustion. It was Elston who came on for his depleted teammate.
A layout grab from Logan Williams, who had himself had gotten banged up earlier in the point, earned the break goal for Indianapolis to end it. Williams caught the final goal, but the performances from Phillips and Darren Smith were what got INcognito to that point in the game. Smith finished with three goals and seven assists, while Phillips finished with seven goals and two assists. Those two were able to outduel Clyde's six assists and Elston's two goals and three assists. As a result, it was Indy who was able to keep their Cinderella run alive.
Seattle Bankroll 15-8 Madison MUFAbots
The tournament's most prohibitive favorite, Seattle Bankroll, continued their dominant run through YCCs with an easy 15-8 win over a talented Madison MUFAbots side.
After scoring the game's first point, Madison's offense could not withstand the immense defensive pressure that Bankroll brought and yielded four straight breaks to go down 5-1, effectively sealing the game right then and there.
The talent of Bankroll's female players was once again overwhelming for their opposition. Abby Hecko posted three assists, Sophia Palmer had three goals and an assist, and Hazel Ostrowski had two assists and a goal. But, true to the team's ethos, the total stats were split evenly between the boys and girls on the roster.
Bankroll took half 8-4, scored twice out of the break to push the lead to six, and cruised out to the win.
For Madison, a semifinals appearance was an achievement. They topped another semifinalist, Connecticut Harpoon, in pool play, and only lost to Bankroll. They, too, featured a balanced attack, with no player totaling more than six points through their five games. 21 of their 24 players recorded at least one goal or assist.
Despite finishing as co-champions after the cancellation of the final, Seattle clearly appeared to be the best team in the division. They defeated Indianapolis INcognito, their opponent in the final, 15-5 during pool play and led by three when USA Ultimate called off the tournament.