Three spots to EUCF available. How many will Germany take?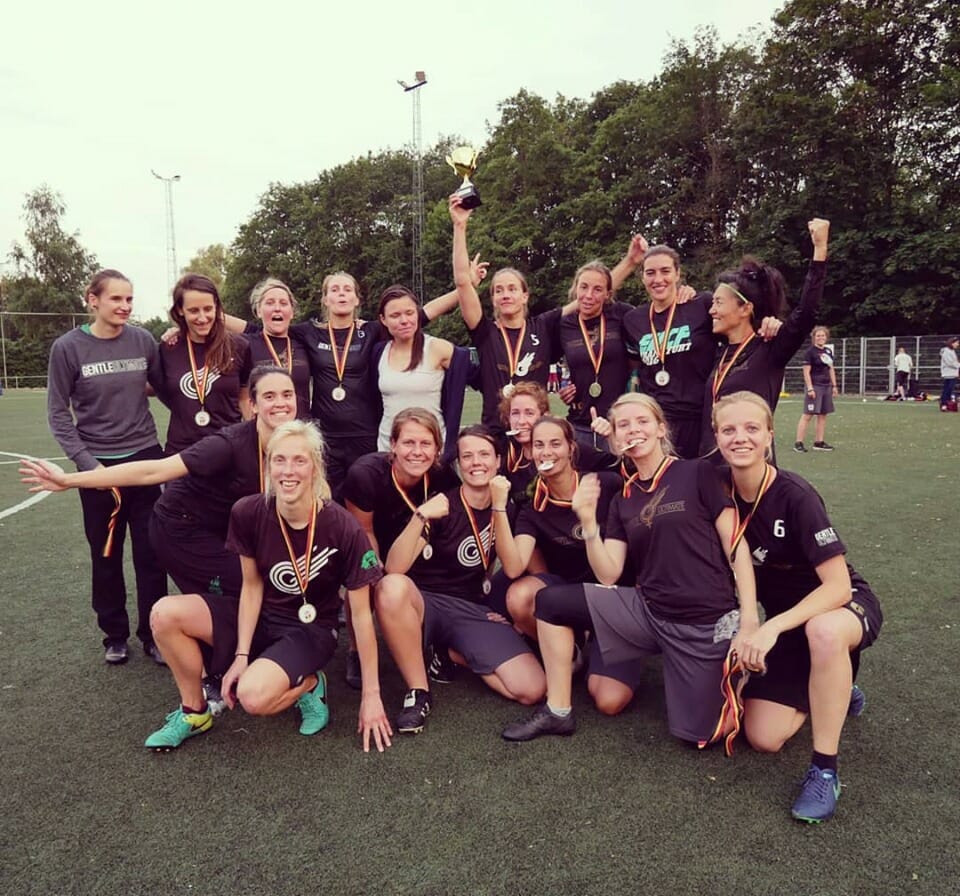 This weekend, teams from Germany, the Netherlands, Belgium and Denmark will be pitting it out to fight for 3 coveted spots in the women's division for EUCF. Last year was an unusual year for the Central region as many of the established women's teams decided to take a break after WUCC, which paved the way for Mainzelmädchen and Seagulls to take the bids to the EUCF where they finished 6th and 7th respectively. Both Mainzelmädchen and Seagulls will once again be fighting for these EUCF spots, but there are a few other teams in this division who will be looking to throw a spanner in the works.
Tournament Profile
City: Amsterdam, The Netherlands
Total Teams: 8
Bids to EUCF: 3
Team Breakdown: Germany-4, Denmark-2, Belgium-1, Netherlands-1
Weather: Partly Cloudy, 21-29 C, 8-13 km/hr wind
Format
| Pool A | Pool B |
| --- | --- |
| Mainzelmädchen | Woodchicas |
| Amsterdam Ultimate Club | Seagulls |
| Aarhus | Gentle Ladies |
| Heidelbärchen | DUCs |
First place of each pool moves straight to semis. 2 and 3 of each pool goes to a pre-semi. If pre-semis go to seed, 1E plays 2F and 1F plays 2E in semis. Semis winners advance and the losers play a game to go.
Top Contenders
Although they decided to skip the 2018 cycle after their WUCC campaign, Gentle Ladies (Gent, Belgium) have always been a strong opponent in this region. Many of the Gent women were on the combo Gentle/LUV team G-LUV that qualified for the EUCF in 2014. Since then, Gentle, as their own club, have won the EUCR Central in 2015, 2016 and 20171. Led by Charlotte Bruns, Gentle has several members of the Belgium Women's team, who finished in 7th at EUC earlier this year. Lisa Celis has had a fantastic season so far, having dominated in the women's final at Toms Tourney against Deskeagh. Celis can place the disc wherever she wants on the field and is one of the best deep defenders in Europe, so other teams will need to think long and hard about how to contain her. Celis is also joined by the speedy Ine Lanckriet and Willemien van Damme who will be looking to run Gentle's offense. Gentle look strong and also have a strong training program in place for newcomers to the sport. If things go their way this weekend, they could be looking at nabbing one of the bids off the strong German contingents also in attendance.
Germany is sending four women's teams to EUCR Central and having looked at all the rosters one can honestly say that any of these teams have a chance at making the top three. Many members of both the German Women's and Mixed national teams are spread across all rosters making quite difficult to predict which team is the strongest. It's hard to count out Mainzelmädchen (Mainz, Germany) given the fact that have constantly done well at regional tournaments and are also very familiar with the venue, having won the 2018 Women's final of Windmill on the same fields. There are not many people who can successfully shut down Kyoko Hosowaka, and with the likes of Melina Koschnitzki2 and captain Helen Grosse-Brauckmann, Mainzelmädchen have several star players to rely on. That is not to discredit the rest of their roster, as they are also incredibly strong and have experience in tight games at this level.
Looking to spoil the party are Heidelbärchen (Heidelberg-Karlsruhe, Germany). Whilst relatively unknown outside of Germany, Heidelbarchen hail from the same area as the German mixed team Colorado, who have chosen not to attend EUCR this year. Colorado's women are known to be good, so having players like Dorothea Stein, Sabine Mannherz and Cordula Utsch make the switch to Women's, you know that this team isn't going to be bad either. Add players such as Caroline Tisson (Germany Women, U24's, U20 Coach) and Martine Ballinger (GB U24's) then you're getting yourself quite a team. Whilst they may find it tough at the top, there's a also a chance of Heidelbärchen sneaking through the back door.
Seagulls (Hamburg, Germany) will be looking to replicate several good seasons by qualifying for EUCF and their roster is also looking steady, albeit with a few key players missing. EuroStar Levke Walczak will not be there3 and Nici Prien is not currently playing. Having said that, the Seagulls' roster is still pretty stacked with the likes of Danish import and U24 coach Ellen Jakobsen, as well as Svenja Pruns, who is one of their main handlers. Seagulls ended up in an exciting game to go versus Amsterdam Ultimate Club in 2018 which ended in a break on double game point, so will we be seeing a similar route to EUCF this year?
Woodchicas (Munich, Germany) have been absent from the EUCF scene for a few years now and have also not attended EUCR in recent years, but that's not to say that this team lacks the depth to go all the way. Nora Poel (Germany Women, Germany Beach) had a commanding game against Finland in the final of Windmill this year and was able to battle the pesky wind conditions that this venue often throws at teams. She will be a key cog in their offense. Ronja Wöstheinrich is also not a stranger to the big stage, with experience from GB U24's and Germany Mixed, she will be readily available for her teammates. How the Woodchicas fare in the early stages of the tournament will be telling of the depth of this team, as they face Seagulls and Gentle in the early pools.
Outside Chance
Amsterdam Ultimate Club (Amsterdam, The Netherlands) are the home team of this tournament, plucking the women's bid from Dutch women's champions, UFO (Utrecht, The Netherlands) after UFO decided to decline their bid to focus on the mixed division at EUCR this season. Unfortunately AUC are losing star players Floor Keulartz, Lola Dam, Janne Jansen and Anne Minnaard to Grut. To add to those loses, captain Isa Monkau will not be in attendance. AUC will have it tough against these top teams. AUC train regularly and will be well-oiled as a team, with additions of Tess van Middelaar and Eline Wilhelm from the Dutch Women's team. AUC are also giving their star youth players Franke ten Cate, Esme Shipanz and Veerle Jansen their first taste of the European senior division. Whilst they may be under 17, teams shouldn't rest on their laurels with these girls. All have a huge amount of potential and could each even be seen as the next Floor Keulartz. AUC will be using this opportunity to develop as a club and will take every win in their stride.
Aarhus Ultimate (Aarhus, Denmark) are the current champions of the Danish women's division and will be looking to make their mark in Amsterdam. Their main aim of EUCR is to introduce their newer players to high level European Ultimate and to play against very skilled teams. Having said this, only three of their players haven't played on the Danish National team before, so even though they haven't had much time to train together their is great depth in this team. Look out for Rikke Rørvang, a rapid handler with sneaky break throws, Helle Rørvang who isn't afraid to put her body on the line, and Helle Trinderup, affectionately known as Helle 'Handblock'. Aarhus will be attending with Danish counterpart DUCS (Copenhagen, Denmark). DUCS is a relatively new team from Copenhagen who will be looking to build on their team foundations and cause a surprise here or there.
For the first time in quite a few years, I can't actually call who is going to qualify. With Germany being so dominant over the last year and Gentle proving their worth on several occasions this is going to go down to the wire. If the wind picks up like it's supposed to this weekend, expect tight games, big upsets and a nail-biting game to go.
---
Though they won the region in all three years, they only took one trip to the EUCF in this time. In 2015 and 2017 they declined their bids to EUCF ↩

who had a dominant season as well on the German Mixed Beach team ↩

She is busy in the States. Walczak is also currently rostered with Freespeed women at the EUCR-South happening a week from this tournament ↩