With many top players missing, will there be some surprises in EUCR-C X?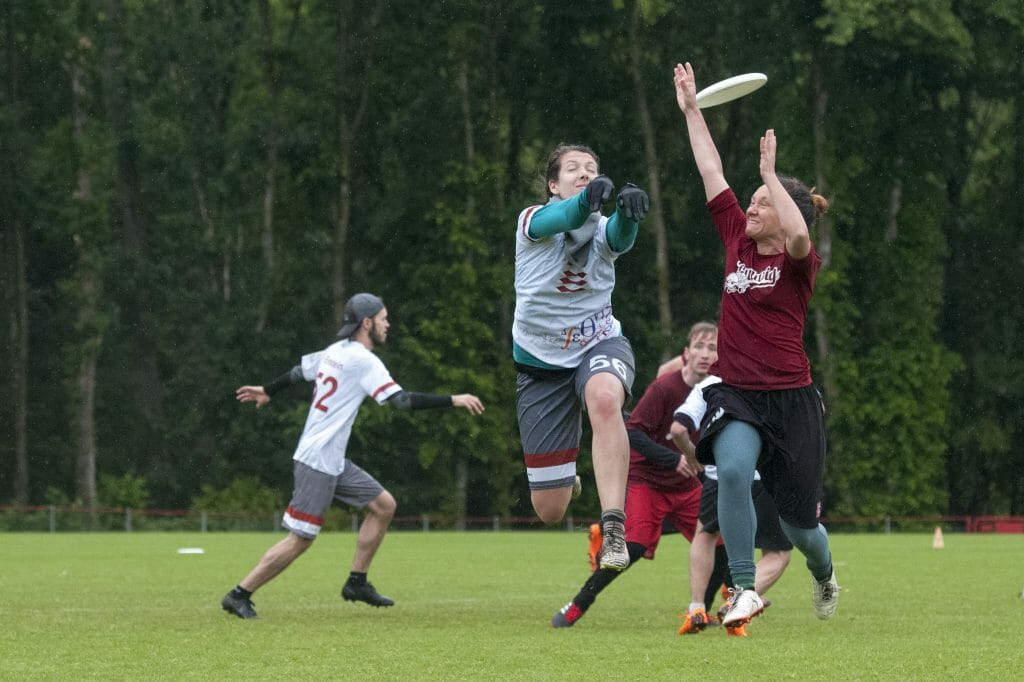 The Central mixed region is usually one of the strongest in Europe. In 2017, three of the top four teams at the EUCF came out of the central region. In 2018, Hässliche Erdferkel put notched a silver medal at the EUCF as well. Nine teams will take the fields in Amsterdam to compete for three spots in the EUCF this weekend. Some traditional powerhouses in the region are going to be significantly reduced in strength leaving room for some new comers to take some spots.
Tournament Profile
City: Amsterdam, The Netherlands
Total Teams: 9
Bids to EUCF: 3
Team Breakdown: Germany-3, Netherlands-3, Belgium-2, Denmark-1
Weather: Partly Cloudy, 21-29 C, 8-13 km/hr wind
Format
| Pool G | Pool H | Pool J |
| --- | --- | --- |
| Hässliche Erdferkel | Die 7 Todsünden | Frau Rauscher & the Bembelboys |
| UFO | Grut | Jet Set |
| DTU | Glory Owls | Gronical Dizziness |
Pool winners move straight to power pools while 2nd and 3rd place finishers have to play a prequarter to make it in.
| Pool K | Pool L |
| --- | --- |
| 1G | 1H |
| 2J vs H3 | 1J |
| 2H vs 3G | 2G vs 3J |
Winners of each power pool directly qualify and play for seeding. Second place of each power pool play in a game to go to EUCF for the third spot.
The Contenders
Grut (Amsterdam, The Netherlands) are favorites to win the region, but it will not be that easy for them with some significant absences. Benjamin Oort is still out after an ACL injury earlier this season and they will be missing 2018 European mixed player of the year, Floor Keulartz to a back injury as well. Janne Jansen may also be missing this weekend and Lawko Van Der Weiden has taken his talents down under. However, they still have the likes of Lola Dam, Anne Minnaard, Walt Jansen and Basten De Jongh for star-power and the rest of their roster is still scary. Since the Amsterdam Ultimate Club men's team failed to qualify for the EUCR this season, Tjeerd Ates will be joining the team at the EUCR1 and will be definitely needed in the handlers space with Oort, Van Der Weiden and Jansen missing.
UFO (Utrecht, The Netherlands) is looking to return to the mixed division at the EUCF for the first time since 2014. They have a very formidable roster on Ultimate Central, but will be missing a few key players at the EUCR. Justine van der Meulen is not available this weekend and Sanne Leufkens will likely still be in injury rehab. On the male side Foeke Schaap will not make it either. However, they have David and Sarah Sparks, who will look to ignite Utrecht's play with fiery handler play. Joram Mossink and Christoph Harris will make huge athletic plays along with star handler pickups Marieke Buijs and Will Martin.
DTU (Copenhagen, Denmark) have a lot of the Danish mixed players that had a very good 6th place showing at the EUC earlier this season. Star player Mads Jensen will be hard for anyone to stop and he is joined by Anders Theusen and Rikke Anderson. However, depth is the question mark for this team. While they are Danish mixed champions, Denmark doesn't focus too much on the mixed division compared to some of the other countries in attendance here. However, with a weakened field this year, they may just have enough to qualify for the EUCF.
Hässliche Erdferkel (Marburg, Germany) have been one of the most dominant mixed teams in Europe in the past years and placed top 8 at WUCC last year. Why then, are they being mentioned so late on this list? Well they are coming to EUCR with a slightly different roster this year. A team that is known for running through its stars will be missing Christian Hamann, Nora Wilkening and Stef Döscher who are three of the main contributors. Germany Men's player Lasse Hoogen will need to step up big time if Erdferkel want to qualify this year. While they certainly have a shot, their traditionally less involved players will have to prove it in Amsterdam.
Die 7 Todsünden (Paderborn, Germany) qualified for the EUCF last year when teams like Grut were taking a year off after worlds. This year's EUCR will be tougher to qualify but this team has been to the show before and that can instill a lot of confidence. They do not have many quality wins from the first stage of German Mixed Nationals but have played close games against strong teams like Colorado who are opting out of the European series this year.
Potential Upsets
Jet Set (Leuven, Belgium) and Gronical Dizziness (Grongingen, The Netherlands) both boast some strength. The Belgians are bringing the experienced Claida Anuar and are also bolstered by Belgian Women's player Floor Van Damme on their women's side. The northern Dutch have a lot of players who played on the Dutch Mixed Masters beach team but also have the rapid Erik Verhaar on the team. Both of these teams have some top level players and if things go their way, they may even find themselves fighting for a qualifying spot this weekend.
It has been a while since Frau Rauscher & the Bembelboys (Frankfurt, Germany) qualified for the EUCF in 2013 and they are currently sitting fairly low in the German table. However, they are fairly consistently competing at the EUCR level and if they come in full force they may be able to snag a win against some of the qualifiers above. The Glory Owls (Brussels, Belgium) are a bit unknown on the European level. They are often seen at party tournaments and the like, but have rarely been to the more competitive events like EUCR. Brussels has a strong ultimate scene though, so the Owls may look to surprise a team or two in Amsterdam.
---
Ates normally prioritizes AUC Men for the EUCR and only joins Grut at the EUCF if the AUC Men fail to qualify. Since AUC lost to Force Elektro at Dutch Nationals this year, Ates is able to join Grut at the EUCR. ↩