The men and women of the East will meet up in Slovakia!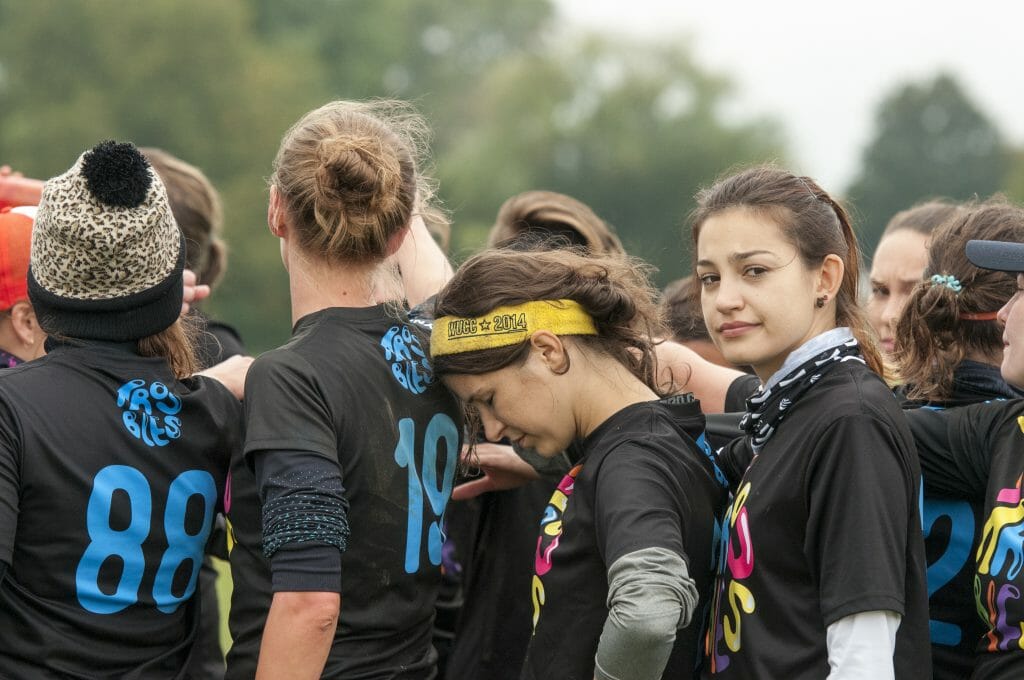 For the first time in years, the Eastern Regionals will move from Vienna a bit further east, to the Slovakian small town of Trnava. The hot sunny weekend promises to bring some tight match-ups as some teams are determined to make history.
Tournament Profile
Date: August 23 – 25th, 2019
Location: Trnava, Slovakia
Weather: 30°C, sunny
8 teams in the Women's Division, 12 teams in the Open Division
Bids to EUCF: 3 (Women's), 4 (Open)
Countries Represented: Poland, Czech Republic, Austria, Slovenia, Ukraine
Women's Division
The top two Austrian teams will be joined by the Ukrainian national champions and five teams qualified from EUCQ-E, which took place in May in Šardice (CZ). Many of the top teams are missing a EuroStars player who can't make the EUCR East for obvious reasons.
Format
| Pool A | Pool B |
| --- | --- |
| Cosmo | 3SB |
| Mantis | box |
| Troubles | Yellow FUJever |
| Dyki Krali | Flowers |
Top two from each pool move to semis. Bronze medal game (semis losers) is the game to go.
3SB (České Budějovice, Czech Republic)
For the past two years the 3sbeauties have established themselves on the European scene as an opponent to fear. They finished 9th both times they participated at EUCF in 2017 and 2018. This year, they will be missing Sarah Tošnerová, who is busy beating US teams on the other side of the world as a part of the EuroStars team. That will not stop the team from using the rest of their star power like Anna Dvořáková, Eliška Zikešová, and Tereza Burešová, all members of the Czech national team from EUC. Also watch out for Denisa Havlová, a current U17 European Champion!
Box (Vienna, Austria)
A staggering 15 players on this team's roster were on the Austrian women's national team at EUC this year. This additional playtime could potentially help the Viennese club come back strong after losing their games to go at EUCR East closely in the past years. They might finally make their way to the EUCF. Lots of young talent like Flora Scala and Vicky Leskoschek together will complement the experience of Eva Chuchma and Annika Wolfsteiner will try to make up for their own missing EuroStar Betty Schnedl.
Cosmo (Maribor, Slovenia)
The young Slovenian squad showed they have what it takes to compete at the elite level. They took their first important win in the final of EUCQ-E beating 3sb on universe. Then, Cosmo youngsters inspired all of Europe at EYUC in the U20 women's division with their level of play and spirit. They made top four and Aurora Lešnik and Luna Petrovič became heroes and trendsetters across the entire women's division. This will be the team to watch as this year they look to have their momentum to bring them among the top 12 teams in Europe.
Dyki Krali (Kiev, Ukraine)
This Ukrainian team is also well established in the region. There has been a lot of improvement in the past years, maybe due to the overall level of Ukrainian ultimate being on the rise, however, so far it has never been quite enough to make it to EUCF. The captain Valeriya Strelchina will be sure to show off her great handling skills and use her experience from various international tournaments to give her team a chance for a spot in the finals.
Flowers (Wrocław, Poland)
This young Polish team from Wrocław was thrilled to qualify from EUCQ-E to the EUCR. For them this accomplishment was long overdue. They have worked tirelessly during the past seasons to create a team, which could challenge the traditional Polish club – Troubles, as well as earn a spot among the European elite. Without their leader and coach Paulina "Patra" Lewandovska who is currently making a brand for herself as another member of this year's EuroStar squad, they might have to wait another year to get where they want.
Mantis (Vienna, Austria)
The other team from Vienna is actually looking to use this tournament only for collecting experience with some of their newer players. Big playmakers on the team such as Silke Delafotrie, Carmen Krail, Kathi Riga are not returning to the team this season.They are also still on a bit of a burn-out from last year's busy campaign (WUCC, 4th place at EUCF). This will most likely be a recovery year for Mantis. A few Catchup players actually helped out to make the team happen this year for EUCS. Still, Mantis have a bright future to look toward to with Sofie Bretschko, the star player of the Austrian U20 women's team at EYUC, moving to Vienna for school this September.
Troubles (Warsaw, Poland)
Troubles brought home a bronze medal from Wrocław last year, possibly causing some of the players to celebrate the accomplishment with pregnancies. Only 12 players from EUCQ will be joined by 3 more in Trnava, forming the shortest roster in the women's division. They will be missing a EuroStar of their own, Grazyna Chlebicka, but the cumulative experience of this team and excellent handling skills of Ewa Bańbuła-Dyda, all under the driven captain Kasia Podpora, are still a proven recipe for stealing a spot for Caorle.
Yellow FUJever (Prague, Czech Republic)
This team was originally formed to give the two Czech teams, Yellow Fever and FUJ, the opportunity to play at EUCS. Ever since it has become the go-to team for other players from other Czech teams (Terrible Monkeys, Atruc, Východní blok) forming an inconsistent mixture. However, they do not lack talent. A few players were also members of the EUC women's national team – the fans will surely enjoy the defensive pressure of Ivana Sartoriusová and the receiving skills of Tereza Švubová.
Men's Division
The men's division in Trnava will feature four Czech teams, one Slovenian and one Ukrainian team. Poland and Austria will be represented by three teams each.
Format
| Pool A | Pool B |
| --- | --- |
| FUJ | Uprising |
| FWD>> | The Bridge |
| Cosmo | Yellow Block |
| Terrible Monkeys | thebigEZ |
| Prague Devils | Catchup |
| Mojra | Gigolo |
Top two from each pool move to semis. Semis winners and bronze medal winner advance to EUCF. Loser of the bronze medal match plays a game to go against the winner of the 5-8 semis. Those are made up of the 3 and 4 from each pool.
Czech Republic
The top Czech players from 3sb and FUJ (Prague, Czech Republic) will merge their forces as well as include other elite players from smaller clubs such as David "Dave" Novák and Kryštof "Tofa" Holeček trying to make their mark against the traditional titans. Their spot in Caorle is practically guaranteed as they're looking better than ever after the new leadership made sure the team gets enough training camps together and even squeezed in a preparation tournament in Munich.
Terrible Monkeys (Prague, Czech Republic) will be the ones who stole Ondřej "Čégo" Rýdlo from FUJ this year. The Monkeys are concentrating on getting more international experience for their young players. They will be more than well taken care of by Jaromír Jáchym, the coach of the the U17 women's European champions.
Yellow Block (Prague, Czech Republic) will see Tomáš Klacek, the hero of the CZE vs CAN mixed game at WUGC 20161, return after his injury, and is sure to impress. The young Patrik Novák will join Klacek and both will be ready to make a difference for their team in a tight game.
Austria
Looking at the Austrian side of the men's division, one can see the legs of FWD>> and thebigEZ out of Vienna and Catchup from Graz. The fourth big team, Innsiders from Kundl will be represented in the mixed division this year.
FWD>> (Vienna, Austria) are currently the reigning Austrian champions and looking for another title this year. EUCR will be a part of the preparation for this big club. After losing the strength of Jakob Taubald and Moritz Zellinger, the team looks a little unstructured, even suffering a loss to their Viennese rival thebigEZ during the Munich tournament "Modus". On the other hand, thebigEZ (Vienna, Austria) look better than ever after their WUCC appearance last year. Their young talent has grown into mature roles on the field with Alexander Spahlholz, Adrian Collantes and Maximilian Obermayer working well in their system after their first proper test at the international club level.
Catchup Graz (Graz, Austria) did not qualify for WUCC. Catchup had a couple of tough losses, are trying to stay on top internationally. Felix Mehsner, who took on the coaching role for this season, is working very hard to reestablish the team's position on the international stage.
Poland
For those wondering, the mysterious The Bridge (Wroclaw, Poland) is none other than the former Girls Stay Home in a new, polished (no pun intended) coat. The new identity seems to suit the team well as they finished second in Šardice. The captain Filip Dobranowski has smelled international success way too close at EBUC this year to let the chance to play in Caorle slip away easily.
Only thirteen players will represent the dark horse of the region, Uprising (Poznań), in Slovakia. This team is well known for their velcro wristbands covering the secret of their set plays but also for the huge win over Prague Devils last year at EUCR. Uprising made their way to EUCF for the first time in the history of the club in 2018. Now that they know they can, they expect to do it again.
Mojra (Warsaw, Poland) are the last Polish team at the EUCR. They will need to improve on their 16th place finish at Windmill earlier this season if they want to qualify but they are a team who has been to the EUCF before. They come in with a low seed but could surprise some teams if their opponents take them lightly.
The Rest
Rounding out the tournament are Cosmo (Maribor, Slovenia) and Gigolo (Kiev, Ukraine). Gigolo has had a lot of success on beach but will probably be a bit outclassed here in the EUCR. Cosmo have been a team on the come-up and will look to bring Slovenian ultimate to the next level at this tournament.
---
The Czechs had a huge upset beating the Canadians there ↩