See which teams made it out of Russia!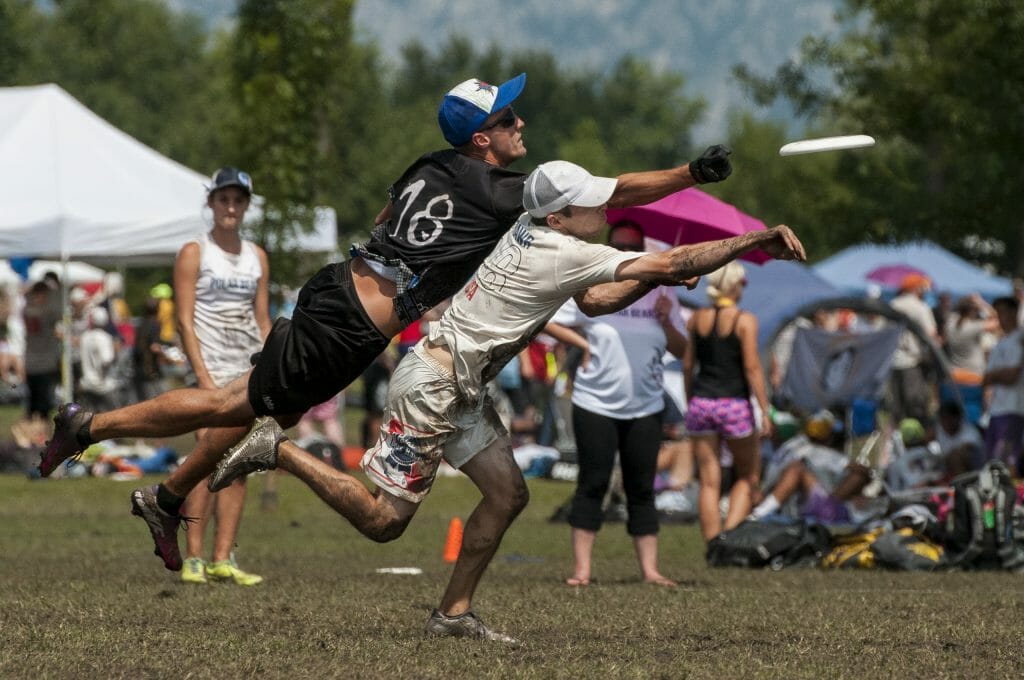 ST. PETERSBURG, RUSSIA – Earlier this month, North regionals went mostly according to plan, in a very mercurial St. Petersburg climate. There was sun, rain, and wind in a weekend with very few surprises.
Mixed: Salaspils and PuTi split their games
Three teams fought for two EUCF spots in the mixed division. PuTi (Helsinki, Finland) and Salaspils (Salaspils, Latvia) snagged the two spots leaving Union (Moscow, Russia) as the only team to not qualify. The teams played in a double round robin format.
Saturday in the mixed division started with Union losing to PuTi 15-0, and Salaspils 15-3. This set up the most anticipated matchup of the day between the Finns and Latvians. Before the game, Salaspils player Roberts Apinis mentioned that having watched PuTi warm up, Salaspils didn't want to expend too much energy. The Latvians brought ten players to St. Petersburg, and none of their young players. That said, they were able to take half 8-3. The second half started more evenly, with the teams getting to 14-9 before PuTi were able to make some headway back into the game. Salaspils won 15-12. Those extra points from the Finns would prove to be crucial on Sunday.
Sunday started much the same way as Saturday, with Salaspils beating Union 15-3, and PuTi taking them down 15-6. In the second matchup between PuTi and Salaspils, PuTi were able to put together a more complete performance against a fatigued Salaspils side. This time, PuTi took a 15-9 win. With the games split 1-1 between the two, PuTi go to EUCF as the first seed with the better point differential; Salaspils take the second bid. Interestingly, because they teams from the North region finished first and last in 2018, Salaspils will be in the lowest pot at EUCF, while PuTi will get the first seed at EUCF.
Qualifiers: PuTi and Salaspils
Women's: Cosmic Girls cruise through qualifying, Brilliance and Southwest battle for second
In the women's division, five teams battled for two qualifying spots to the EUCF. The format was a single round robin where the winner of the round robin qualified, and the second and third place teams played in a game to go.
Cosmic Girls (St. Petersburg, Russia) managed to get through the weekend without ever being tested. They won their games 15-11, 15-7, 15-4, 15-10. Cosmic Girls player Yulya Akramova was much more measured in her assessment of the tournament. She said, "In general the games weren't as the score showed. There were a lot of turnovers, throws, and great defensive plays (from both sides)." She also lamented the team's inability to close out some of their games, noting that Brilliance (Moscow, Russia) and Southwest (Moscow, Russia) were able to go on scoring runs. Despite the results, they know they have things to work on before the EUCF in Italy.
As for the rest of the division, Elvis Presley (St. Petersburg Russia) and Lemongrass (Moscow, Russia) were both hurt by the absence of key players. They finished fourth and fifth, respectively. Despite the disappointing results, Lemongrass remained positive about the experience. Captain Kristina Mikhailova said, "We lost all of our games, although we could have played better. We made too many errors. After the games, we went to an amusement park and rode roller-coasters to improve our mood."
Sunday finished with the game-to-go between Brilliance and Southwest. Brilliance won the game 12-10, in a hotly-contested affair. Brilliance started the game very confidently on defense, and took half 8-4. At halftime, coach Vladimir Kochkin could be seen willing Southwest back into the game. Southwest came out of half fired up, and they took advantage of some Brilliance errors to bring the game back to 8-8. To get Brilliance back on the scoreboard, captain Inga Sulimova punched the disc into the endzone with a breakside hammer. She started the subsequent point with a great layout block, but Brilliance were unable to convert the break opportunity, and Southwest scored with a layout from Aytadzh Babaeva to toe the line and tie the game again. At 9-9, Southwest's Anna Stukalina denied Brilliance a goal with a tremendous layout in the endzone, but they too were unable to convert on their break opportunity. They traded until 11-10, when time ran out, meaning the game would be played to 12. On the next point, Southwest were unable to put the disc in the endzone, and Brilliance converted with a huck into coverage that was brought down by Adelina Korolkova. The game ended 12-10 to Brilliance.
Qualifiers: Cosmic Girls and Brilliance
Men's: Real Five win confidently while Rampage, Jupiter, and PirU are the best of the rest
Real Five (Dzerzhinsk, Russia) topped their group on Saturday, beating Shadows (St. Petersburg, Rusia) 15-5, Rampage (Moscow, Russia) 15-11, and Sokol (Moscow, Russia) 12-10. Of their game with Sokol, Mikhail 'bif' Khudobin admitted that the game was quite difficult for both teams, and that there were a lot of mistakes on both sides. As for the rest of Pool A, Rampage managed a win over city rivals Sokol 10-7 to book a place in the semifinals. Sokol then finished the day with a 15-12 win over Shadows.
In Pool B, Jupiter (St. Petersburg, Russia) emerged top of the pack. They started the day with a close call against Flying Steps (St. Petersburg, Russia), managing a 9-8 victory, before two relatively comfortable wins against Me & My Monkey (Moscow, Russia) and PirU (Pirkanmaa, Finland).
On Sunday morning Real Five faced PirU, who they beat 15-7. In the other semi-final, Rampage took down Jupiter 11-8, to set up a Saturday rematch. Incredibly, Real Five crushed Rampage 15-1. Khudobin thanked their defense for the performance, noting that the game against PirU helped them to get their defense playing correctly.
With the first two spots locked up, that left Jupiter and PirU to fight it out for third and fourth place. On Saturday, Jupiter were able to beat PirU comfortably, but they knew that Sunday would provide a greater challenge, with more on the line. This time, Jupiter escaped with a much closer margin of victory, winning 10-9. The result left the Finns open to a potential recovery game against the winner of the fifth place bracket. Many were expecting this to be Sokol, but Flying Steps had already beaten Sokol to get the fifth place spot. Since Flying Steps lost to PirU on Saturday, the game to go was not played, as the format stipulated that the recovery game would only be played if the fifth place team wanted to and the fifth place team had not already lost to the fourth place team.
Qualifiers: Real Five, Rampage, Jupiter, PirU
Note: Since this tournament, Jupiter and PirU have both declined their bids to the EUCF. This granted Flying Steps a spot and the other bid went to the Central region as they were on the waiting list.