Time to crown the queens and kings in the north!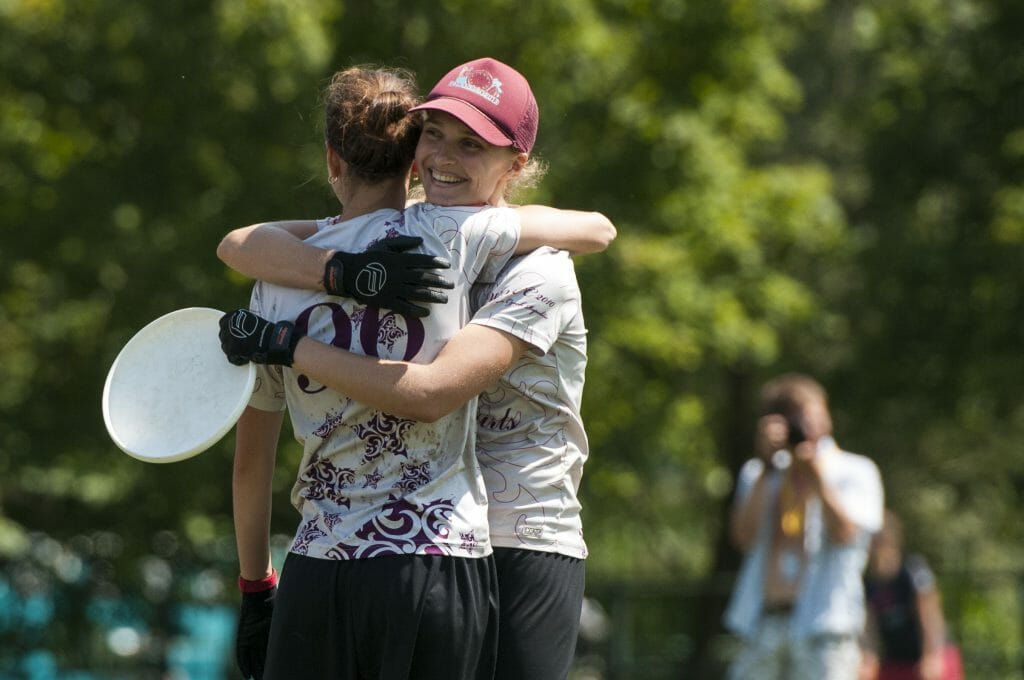 The EUCR-North kicks off this weekend in St. Petersburg. As the tournament is in Russia, the list of teams is very Russian-heavy. The forecast looks rainy on Saturday and cloudy on Sunday, with temperatures between 7 and 15 degrees Celsius. The Women's division features five teams competing for two qualifying spots to the EUCF. The Men's division has eight teams competing for four spots. The mixed division has three teams competing for two spots.
Women's
The Women's division is composed of the five strongest teams from Russia. In fact, this may as well just be the Russian National Championship. The division promises to be interesting, as every single team has a chance of qualifying.
Cosmic Girls (St. Petersburg, Russia) will be the favorites. They've been absolutely dominant in Russia over the last few years, and have started to add European success to their resume recently. In the last twelve months they've won all three Russian National Championships (outdoor, indoor, and beach), finished second at the European Beach Ultimate Club Championships, and took third at Windmill against a field of competitive national teams. On offense, they're led by Sasha Pustovaya and Dina Dumanskaya, two of the best throwers in Europe. Downfield, Yulya Akramova and Liza Voronkova are tall tasks for any defenders to guard. On defense, Anna Pustovaya can be expected to make plenty of big plays. Cosmic Girls are helped by Latvian pickups Santa Siņica and Jūlija Arefjeva, as well as Estonian pickup Helen Tera. Anything less than a first place finish will be disappointing for them.
The second spot is up for grabs, and any of the remaining four have a great chance to qualify.
Brilliance (Moscow, Russia) qualified for the EUCF last year, and were the highest European finishers at WUCC 2018.1 They're led by a talented and experienced core of players in Inga Sulimova, Margarita Parshukova, and Anastasia Kochenova. Beyond that, their roster is filled with players who have represented Russia at the international level. They might have the best defense in the women's division. Brilliance are a challenge for anyone to get past, but they struggle to put the disc in the endzone at times. If they do manage to qualify for EUCF, they'll be boosted by the addition of former EuroStar Francesca Scarampi, who has played with Brilliance in recent years.
Southwest (Moscow, Russia) also qualified for EUCF 2018, placing fifth. They're the youngest of the teams in the division, but they're motivated,  hungry for success, and well coached by perennial European villain, Vladimir Kochkin. Southwest have a core of talented young players that have already achieved some European pedigree. Alyona Vinogradova are Anna Stukalina are all stars in the making, and they're helped out by a supporting cast of players like Ksenia Yasalova (who is injured this weekend), Olga Barsukova, and Aytadzh Babaeva. Their top seven players are a match for just about any team in the tournament, but they may struggle late in the tournament as fatigue sets in.
Lemon Grass (Moscow, Russia) finished second at the Russian National Championship in 2018. They're led by EuroStar Alisa Tizik and standout cutter Katya Badyagina. Unfortunately for them, Tizik will not be playing at EUCR, which will make the weekend much more difficult for them. With Tizik on the team, they would have a good shot at qualification, but it's hard to imagine them getting top two without her offensive contribution. The tournament will provide an opportunity for other players to step up in her absence.
Elvis Presley (St. Petersburg, Russia) have the smallest roster with only seventeen players, but they have arguably the best player in Europe on their team, in Olga Kochenova. For that reason, anything is possible for them. Shutting down Kochenova is the key to beating Elvis, but there aren't many players capable of doing so. She's also aided by Estonian pickup Virge Andre and young defensive star Ksenia Sheikina.
Predicted Qualifiers: Cosmic Girls and Brilliance
Men's
The men's division features seven Russian teams and one Finnish team. It will likely be a contest between five teams for the four spots, barring any big surprises.
Real Five (Dzerzhinsk, Russia) have been a dominant force in Russian ultimate in recent years, winning three of the last five outdoor national titles. They also took home gold at the European Beach Ultimate Club Championships in 2018. Their roster boasts the best thrower and the best cutter in Russia in Anton Butikov and Mikhail 'Bif' Khudobin. In addition, they have experienced players like Vladimir Kochkin, Vladimir Ivanov, and Andrei Butikov to rely on. Real Five have also added some of the top players from neighboring city Nizhny Novgorod, and Sokol captain Ilya Dannenberg. They are the favorites to take the top spot in the men's division.
PirU (Pirkanmaa, Finland) is the sole non-Russian team in the men's division this year. They are a young and explosive team with a small roster (15 people). They play high-octane ultimate, relying on their athleticism to beat other teams. When it works for them, they can be difficult to contain, kind of like watching the Czech Republic's national team play. They started the outdoor season strongly, winning the first stage of the Finnish league. They defeated a weakened Latvian National Team and two split Otso squads.
Jupiter (St. Petersburg, Russia) is one of the most historically successful clubs in Russia, but has been just outside of it for the past few years. They've finished third in the past two outdoor Russian national championships, though they finished second among Russian teams in 2018 (Latvian team Salaspils Wild Things finished first). They'll hope that this is the year that they can finally put the pieces together correctly. Russian National Team coach and captain Nikolay Nikolaev has spent a lot of time developing this Jupiter team. He's aided by experienced players like Konstantin Basos, defensive standout Artemy Churakov, and Pavel Arkhipov. They also have a strong young players like Nikolay Smirnov and Leonid Tumanov who have come on leaps and bounds in recent years.
Rampage (Moscow, Russia) are one of the newest clubs in Russia, formed from and indoor team and the ashes of Dolgorukiy. They've had a lot of success indoors, winning the Russian National Championship in 2018, and placing second in Lord Novgorod 2019. Much like PirU, they are an explosive and athletic team, and rely on big plays to win games. They qualified for EUCF 2018, but failed to make the top four at the Russian National Championship. Their roster boasts great athletes like Aleksandr Rudometkin, Ruslan Tursunbaev, Sergey Zakladnoy, and Yuriy Ivaikin. At their best, they should qualify for EUCF. However, they can be inconsistent outdoors at times.
Sokol (Moscow, Russia) won the Russian National Championship in 2017 and finished fourth in 2018. They're an experienced team, and probably have the oldest average age of any of the teams in the tournament. This comes with its blessings and its curses. Players like Anatoly Nazarov, Boris Novikov, and Sergey Barkin all have years of experience. They're complemented by athletes like Vitaly Naulko and Andrey Soprunov. However, they may find themselves athletically outmatched in some games. In addition, there are some noticeable absences from their roster, in Ilya Dannenberg (playing for Real Five), Nikita Kovshov, and Roman Federov.
Me & My Monkey (Moscow, Russia), Shadows (St. Petersburg, Russia), and Flying Steps (St. Petersburg, Russia) all have standout players in their own right. However, it's difficult to see any of them putting together enough complete performances to qualify for EUCF.
Predicted Qualifiers: Real Five, PirU, Jupiter, and Rampage
Mixed
The mixed division features three teams, with two tickets to EUCF available. Qualification looks a foregone conclusion, with only the order to be determined through round robin play. However, that order could have huge ramifications for seeding in the finals, as teams from the North region took first and last place at EUCF in 2018
Salaspils FK (Salaspils, Latvia) features almost the entire roster of the Salaspils Wild Things (Salaspils, Latvia) team that came sixth in the men's division in 2018. They also have six women from the Latvian National Team that took third place at the European Beach Ultimate Championships this year. Players like Arvīds Žanis Orlovskis, Lāsma Kublicka, Toms Ābeltiņš, Santa Možeika, and many others are all capable of making big plays. The team features the core of the team that took second at Windmill 2018, which should provide an idea of what they're capable of. Unfortunately, Salaspils will be without more than fifty percent of their roster this weekend for a variety of reasons.
PuTi (Helsinki, Finland) is a pickup team, featuring a variety of players from Atletico (Espoo, Finland), Otso (Espoo, Finland), and Helsinki Ultimate (Helsinki, Finland). It's hard to know how they'll play, but there's plenty of talent on the roster. They feature players like Essi Inkinen, Tomi Sandberg, Inka Wessman, and Jarno Sihvo. Against a weakened Salaspils side, they might be favorites to take the top spot in St. Petersburg.
UNION (Moscow, Russia) are a team composed mostly of students. It will be a good experience for them to play against two experienced and talented teams, but they will struggle to get wins against the two giants of this region.
Predicted Qualifiers: Salaspils FK and PuTi
---
Though it has to be said that at WUCC they took top players from just about every Russian club on this list. ↩