A final pre-Series clash for the top teams in the division.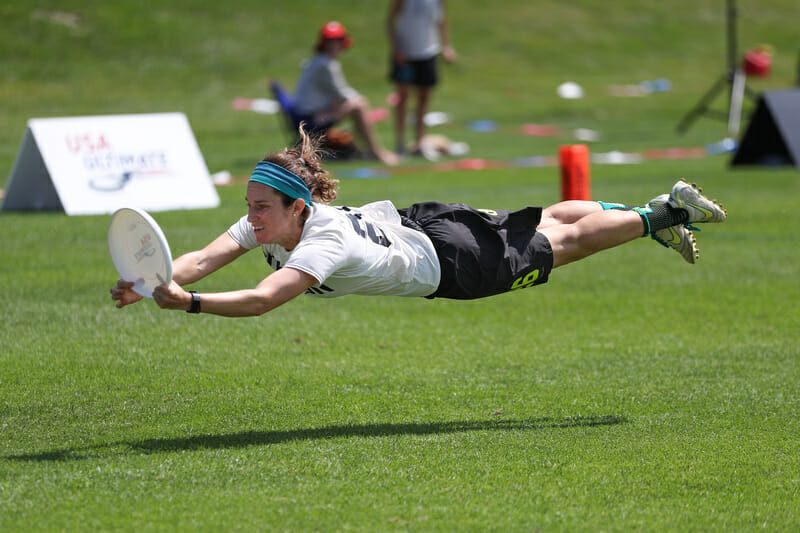 With ten of Ultiworld's top 12 teams in attendance, the Pro Championships promise to be a thrilling punctuation to the regular season. It's the last weekend for teams to prepare for the postseason, and with every team in attendance hopeful of at least making quarterfinals at Nationals, we're looking at a big preview of what to expect in San Diego this October.
The teams' expectations are high across the board, but everyone enters the weekend with their stock in different places. Here's our run-down on where every team stands, and what they'll be hoping to get out of this final weekend of the regular season.
Tournament Profile
Date: August 31 – September 2
Location: Royersford, PA
Weather: Clear and sunny, with highs in the low 80s. A chance of showers on Sunday night and Monday morning
Top 25 teams: 10
Return of the West
The story a season ago was that all of the West Coast powers skipped Pro Champs in favor of a "staycation." San Francisco Fury hosted Seattle Riot and Denver Molly Brown at the Bay Area Invite and left Boston Brute Squad as the only club from the top four in attendance.
But this year, the gang is back together again. #2 Riot, #4 Fury, and #5 Molly Brown all make the trip to Philly to ensure that this year's Pro Champs will be a Nationals dress rehearsal.
Despite their proximity in the rankings, each team comes into the final weekend in a different place. Riot have a couple of wins over Fury this season, and a 15-11 win over Scandal in consolation at the U.S. Open. But their season-defining result thus far is their late-game meltdown against Medellín Revolution in the U.S. Open semifinals.
The Riot offense has looked unstoppable at times, particularly when Jack Verzuh has been in takeover mode. But they've also had issues coughing up big runs of breaks. Such offensive cold streaks have played a big role in their championship drought, so finding that offensive consistency should be a priority this weekend.
Fury had the opposite problem at the U.S. Open, at times looking disinterested defensively. They lacked the necessary defensive intensity in the biggest games of the weekend, particularly early in games. They were consequently sent packing in the quarterfinals, the earliest they'd exited the tournament since 2016.
Fury often plays with less urgency during the regular season, though, and it rarely portends similar struggles at Nationals. Still, head coach Matty Tsang was clearly frustrated with the defensive performance in Minneapolis, and it'll be interesting to see what level of intensity the team brings on that side of the disc this weekend.
Despite their weaknesses, Riot and Fury still feel relatively safe as semis teams at Nationals. Molly Brown, on the other hand, may be the odd team out in San Diego. They currently sit sixth in the algorithm, a dangerous spot to be heading into Nationals.
Molly Brown played only one game against an American team at the U.S. Open — a 15-10 loss to Fury — and they lost on double game point in a roller coaster of a game against Scandal in the Pro-Elite Challenge final. But they otherwise haven't played any games against the teams they'll be vying for a championship against this season. As such, they're the hardest team of the traditional top five to have a read on.
Denver came into this season as one of the division's biggest and most pivotal question marks. This weekend we should finally get a real sense of where they are in relation to a potential championship run, or even a return to semifinals.
Brute To Finally Get Reps Against Rivals
With the return of the top West Coast teams, a repeat of their 2018 Pro Champs title becomes much tougher for #1 Boston Brute Squad. But they will likely be just fine with that. In fact, there is surely no team happier than Brute that the tournament field is so tough this year.
The U.S. Open champs have had some rough luck lately when it comes to getting reps against their championship rivals. They, of course, got none at this tournament a year ago, and at the U.S. Open this year, they ended up playing Scandal and Revolution twice each, while never seeing any of Riot, Fury, or Molly Brown. With Scandal having the look of a semis team this season, those reps against the D.C. squad are valuable. But more games against the teams they'll play in the latter stages of Nationals can only help Boston.
It's hard to pick out an area where Brute Squad needs to improve. They didn't put up any overwhelming score lines at the U.S. Open, but they were still the best team in attendance all weekend. They might be a little concerned about their spot in the algorithm, as they currently sit fifth. But that will almost certainly rise to one of the top two to three spots by the end of the weekend, and the Northeast is looking like it will be loaded with bids regardless.
The primary focus for Brute Squad should be to hone the small details against their primary title rivals to give themselves the best chance at ending their title drought come October.
Scandal, 6ixers Confirming Themselves As Contenders?
Looking at #3 Washington D.C. Scandal, you couldn't tell that they started off the season as a "new" team trying to find their identity. Their positive and trusting team culture has helped them deal with big roster turnover and still challenge other elite teams. Most recently, they put up a tremendous quarterfinal against Fury at the U.S. Open, taking down the defending national champions on double game point. So far they've only fallen to Brute Squad and Riot; they'll need to start games stronger if they want a solid chance of beating these top two seeds. Scandal struggled to gain footing at the start of both their semifinal and their third place games in Blaine as they gave up early breaks, which set the work they had to do to get back on track. We saw Scandal play Brute Squad in last year's Pro Champs final, but we'll also have a much different playing field with Fury, Riot, and Molly Brown back in the mix this time. But as they now carry more experience in high pressure games, as well as a win against Fury, they should charge into Pro Champs as a team mentally prepared to take a top six spot, at least.
Similarly riding a high is #6 Toronto 6ixers, who recently won the 2019 Canadian Ultimate Championships. They breezed past teams all the way to the final against #14 Quebec Iris, who challenged Toronto with their offensive grit. The 6ixers stepped up their defense in the second half though, utilizing their depth and pressuring Iris with their zone to win 15-11. Toronto's third place finish at the Pro-Elite Challenge earlier this season (containing close games against Scandal and Schwa) also shows they can hang with these Pro Flight teams.
It will have been about a month since the U.S. Open for Scandal, and the 6ixers lack reps against these other Pro teams. But a little extra work, paired with confidence boosts from their recent tournaments, might be enough to take these teams to the quarterfinals, and possibly onward.
Schwa's and Phoenix's Quarters Status
At the moment, #7 Portland Schwa and #10 Raleigh Phoenix round out the top eight in USAU's algorithm, and they have a pretty sizable cushion over ninth. A couple of weeks ago, both teams were headed towards being prohibitive favorites to make quarterfinals at Nationals, but Phoenix's let down against #9 San Diego Wildfire in the Elite-Select Challenge semifinals disrupted that expectation.
Phoenix played with a bizarre lack of urgency down the stretch against Wildfire, and didn't seem bothered that a chance at winning a major tournament was slipping away from them. Phoenix's highs at ESC were also the highest of any team in the field, as they blew out every other team they'd played to that point. But their lack of visible hunger was perplexing from a young team that hasn't proven itself as a quarters-caliber team yet.
Schwa, meanwhile, hasn't played since the U.S. Open, but they've been consistent in every tournament they've played this year. Their only losses to American competition1 are to San Francisco Nightlock — who they've since beaten twice — Riot, Molly Brown, and 6ixers. Mariel Hammond, Julia Sherwood, and company have played well all season, and they'll simply be looking to keep things rolling this weekend.
It'll be difficult for either club to make the bracket, with only the top three in each pool doing so. But both can still lock up spots as national quarterfinals favorites. Avoiding upsets to the bottom two seeds will be key, but for a truly strong weekend, they'll need to be competitive late against one or two of the teams seeded above them. If they manage that, we could be headed for a Nationals with the clearest stratification of top eight teams in recent memory.
Rival, Nightlock Looking to Right the Ship Before Postseason
Looking to move back up the ranks as quarterfinal contenders are #11 San Francisco Nightlock and #12 Columbus Rival. Neither team made it past the prequarters at Club Nationals last year and both are determined to rectify that result. We've seen them multiple times already in this round of the Triple Crown Tour — both teams seemed to do reasonably well at the opening Pro-Elite Challenge, but while Rival took it all at Select Flight Invite East, Nightlock fell flat at the U.S. Open.
Nightlock faced some tough competition in Blaine, Minnesota. They came up against a fiery Revolution in their first game of the tournament, followed by an impressive Schwa. Their only win of the tournament was against Nemesis, although they did put up some close games against Uno, Scandal, and Schwa (in a double game point rematch). If they struggled at the U.S. Open, they might at Pro Champs too, as the bottom seed in their pool and the last seed in this tournament.
Although Rival stepped it up in the absence of Sophia Knowles at Elite-Select Challenge, it wasn't enough for the Columbus team to advance past the quarterfinals. The start of the tournament saw a turn of events as #16 New York BENT upset Rival in their first pool play game 13-12. This game looked drastically different from the last time these teams faced off — Columbusl stomped on BENT 13-2 in their Select Flight Invite East quarterfinal, not once giving the disc back on a turn. Rival only narrowly advanced to the quarterfinals in another double game point result against #18 Chicago Nemesis before being halted by Phoenix during their tournament run. Similar to Nightlock, Rival will face some tough competition as the bottom seed of their pool. Hopefully they'll have used the time in between Elite-Select and Pro Champs to further adjust their cutting group and figure out how they can step up against these Pro flight teams.
Rival and Nightlock both have this tournament as their last chance to really up their game. They'll need all the reps they can get against these top-tier teams if they want to make strides in the postseason.
---
They lost to Revolution and Tokyo Huck at the U.S. Open ↩