Even with seven bids, Tchac can't find their way to the EUCF!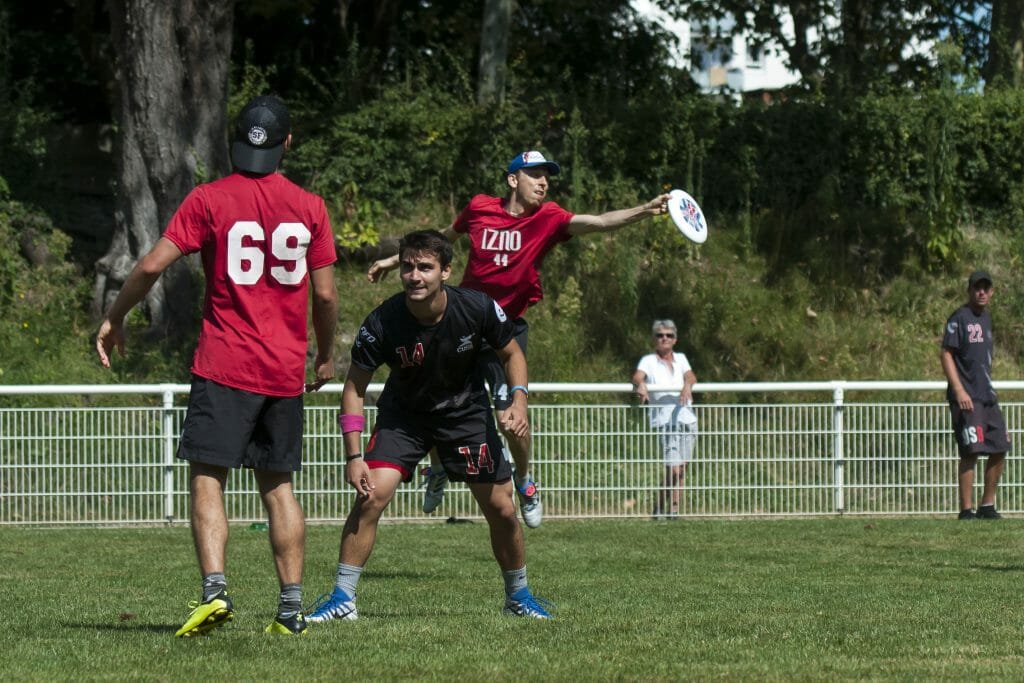 The men's division from the EUCR South was a bit less stressful for teams than the women's division. Ten teams fought for seven spots to the EUCF. While many teams cruised their way to Caorle, there were a few surprises along the way. Most notably, Tchac (Pornichet, France) was knocked out in pool play and will not be sending a team to the EUCF despite their top eight finish at WUCC last year. The qualifying teams were:
CUSB La Fotta (Bologna, Italy)
Iznogood (Noisy-le-Sec, France)
Freespeed (Basel, Switzerland)
Flying Angels Bern (Bern, Switzerland)
CUSB Red Bulls (Bologna, Italy)
Crazy Dogs (Stans, Switzerland)
Cotarica (Rimini, Italy)
La Fotta lead the pack
As will likely come as little surprise to anyone, CUSB La Fotta (Bologna, Italy) rolled through competition in the south. No team put up double digits against La Fotta, with their closest games being 15-8 against both the Crazy Dogs and FAB. Watching them in the final against Iznogood, they played a stifling defense that pressured every single throw. La Fotta was absolutely punishing once they forced a turn as they would pick up the disc and give-and-go their way to the endzone before the frustrated opposition even processed the fact that there was a turnover.
There are a few new pieces on this team as Tobias Mine has finally moved away from his Fano club to join La Fotta. The Irishman, Pádraig Sweeney, stepped onto the field and is slotting in well on the D-line. Stefan Rekitt, the coach of Germany Men, also had his first outing with the Italian club as they try to use his help to earn themselves their first EUCF title. Rekitt said he learned a lot coaching this team over the weekend but saw areas where the team could improve. He was seen trying to focus the team's energy, and pointed out on Saturday that while the team was winning, they were having trouble finding good connections among themselves after the summer break. Rekitt was much happier by the end of the weekend as La Fotta seemed to play more consistently and will continue to coach this team in a preparation weekend in Milan where a few teams from around Europe will come for a final preparation ahead of EUCF.
La Fotta cruised through the region with the largest number of bids1 and they were missing key players like Giovanni Santucci, Andrea Mastroianni and Simone Gasperini, who should all be present at the EUCF. This team is out for one thing, and one thing only: a gold in Caorle. When I asked Davide Morri if he was worried about handing the German coach Bologna's playbook he responded confidently, "If he helps us win a championship, he can keep the playbook."
Iznogood surprise at second place
While La Fotta sitting at first surprised exactly zero people at this tournament, home team, Iznogood (Noisy-le-Sec, France) getting second was certainly a surprise. Iznogood ground through tough competition on Saturday beating teams like CUSB Red Bulls (Bologna, Italy) along the way. One of their toughest games was against French rivals Tchac (Pornichet, France).
Tchac brought a skeleton of a squad to the EUCF. Perhaps they thought that seven bids would mean easy qualifying as many top players such as Ronan Bichon and Vincent Lepagnol did not make the trip over from the coast to Paris. However, Tchac found themselves out of contention by the end, but not before challenging Iznogood. Quentin Roger, who is back from his first season with Montreal in the AUDL, was easily the best player in this game. He did everything from saving a garbage throw by Maxime Garros to lasering a scoober to bring the game to double game point. That's right, the team that finished bottom in this pool, actually took the pool winner to sudden death. However, Iznogood stayed clean at the end as the 19 year old Mathieu Demeaux found the athletic stalwart Benjamin Fenrich for the final score.
Iznogood had another tough game against Freespeed (Basel, Switzerland) in a match where many would have favored the Swiss, but that Iznogood took 14-13. Eric Becker says that the game was close the whole way with a lot of zone. Both teams turned a lot early, but neither team could convert on breaks. Izno was able to find some breaks at the end of the first half to take it 7-5, but Freespeed answered with three in a row in the second half to bring it to 8-7 in their favor. Freespeed eventually took the lead 13-11 but Iznogood played a force middle that gave Freespeed trouble and put a stop to Freespeed's previously successful deep game. Khoa-Vu Nguyen stepped up big for Izno this game2 as well as the young Demeaux. Iznogood were missing key players Francois Zoubir, Fred Maire, Juan Amado and Mael Morice, so they hope to be even stronger when they bring their full, recovered, squad to Caorle later this year.
Freespeed would bounce back from this loss to defeat Swiss rivals Flying Angels Bern (Bern, Switzerland) in a tight double game point thriller for third. While there was amazing play throughout the game here, the story of these two teams this year is the spirit. While the rivalry has gotten in the way of respectful play between these two sides before, apparently this year at the Swiss championships and here at the EUCR there were no spirit issues and both teams said that both games were a pleasure.3
Cotarica's youth impress and earn a spot
With a seventh bid available, and Tchac out of contention, a spot was opened up and the game to go was between Cotarica (Rimini, Italy) and Panthers (Bern, Switzerland). Cotarica brought a young team, but added the experience of Italian national team member Fabio Galli. The Panthers were up for a lot of the first half, but late in the second half the intensity of the fiery young Italians was too much for Bern to handle. The 16 year old Matteo Paradisi was unstoppable in the air throughout this tournament and in this game. He was aided by the rapid handling of Tommaso Cesari and Francesco Sbrighi who were both instrumental in the victory over the Panthers. Cotarica has been to the EUCF before and will be delighted to make the short trip from Rimini to Caorle to show Europe that they are more than just the Paganello organizers.
---
The South has 7 bids, making it the strongest region in Europe ↩

He was also playing double duty as tournament director ↩

Even Flying Angels Bern seemed happy with the games though they lost them both! ↩