Here's who qualified for Regionals!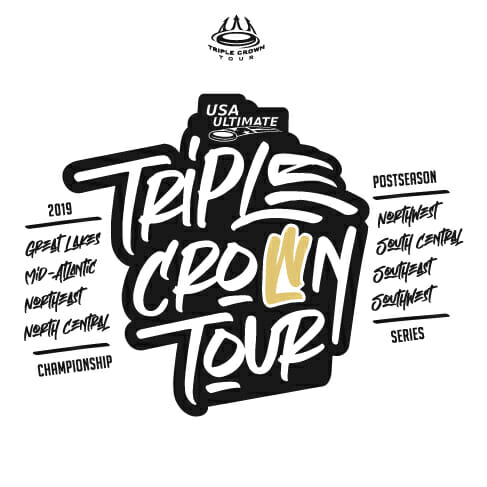 The first weekend of the 2019 Club Series is now complete as teams from around the country earned spots at Regionals with their performance at qualifying Sectionals tournaments. Here's a look at the teams that qualified.
Results will be updated here as they are reported. Want more information on your Sectional tournament listed on this page? Submit a recap of what happened right here. 
Great Lakes
Men's
Regionals size: 12 teams
Bye: #5 Chicago Machine
1. #24 Indianapolis Brickyard
2. Lombard Black Market
3. Chicago Haymaker
4. Lombard Black Market II
5. Gary Ditto A
1. Michigan Nain Rouge
2. #19 Cleveland Smokestack
3. Cincinnati Omen
4. Lexington Black Lung
5. Kentucky Flying Circus
6. Dayton Enigma
Mixed
Regionals size: 16 teams
1. Chicago U54 Ultimate
2. Chicago Shakedown
3. Chicago Nothing's Great Again
4. Chicago Stripes
5. Chicago Tequila Mockingbird
T6. Indianapolis Liquid Hustle
T6. Bloomington Los Heros
8. Evanston EMU
Bye: #17 Columbus Cocktails
1. #18 Cincinnati Steamboat
2. #21 Ann Arbor Hybrid
3. Grand Rapids Toast
4. Columbus Petey's Pirates
5. Lexington Moonshine
6. Dayton Thunderpants the Magic Dragon
7. Cincinnati Goose Lee
Women's
Regionals size: 9 teams
Bye: #18 Chicago Nemesis
1. Indianapolis Rogue
2. Chicago Dish
3. Chicago Helix
4. Chicago Frenzy
Bye: #12 Columbus Rival
1. Cleveland Notorious CLE
2. Cincinnati Sureshot
3. Ann Arbor Autonomous
Mid-Atlantic
Men's
Regionals size: 16 teams
Bye: #7 Washington DC Truck Stop
1. #23 Virginia Vault
2. Richmond Floodwall
3. Washington DC John Doe
4. College Park  Town Hall Stars
5. Bethesda Watchdogs
T6. Arlington Oakgrove Boys
T6. Baltimore Medicine Men
8. Fort Monroe Fathom
Bye: #14 Pittsburgh Temper
1. #16 Philadelphia Patrol
2. Philadelphia Citywide Special
3. Princeton Garden State Ultimate
4. Virginville Rumspringa
5. Pittsburgh Slag Dump
6. Philadelphia JAWN
The top seeds at the event cleaned up their pools. The first upset came in quarters where pickup-team Virginville Rumspringa beat Garden State Ultimate (GSU) for the second year in a row at sectionals, sending them to the second-place bracket. Philly Open Program teams Patrol and Citywide Special took care of business in semis to create an all-POP final. Citywide took two breaks right off the bat to mount a 2-0 lead, but Patrol chipped their way back to an eventual 10-9 lead before finishing off the game 12-9. GSU tore through the second-place bracket to meet Citywide for second. Citywide had an 11-8 lead as GSU mounted a comeback to bring it to 11s. A double game point hold for Citywide gave them the second place finish for the first time in team history. Rumspringa, Pittsburgh Slag Dump, and Philadelphia Jawn — a Temple University team — round out the regionals qualifiers. Philly Padawans, a PADA U17 YCC boys team, put up an admirable fight and even picked up a win over Axial Tilt.
– Recap contributed by Joel Prushan, a player from Citywide Special.
Mixed
Regionals size: 16 teams
Bye: #8 Washington DC Space Heater
1. Washington DC Rally
2. Rockville Sparkle Ponies
3. Frederick 8 Bit Heroes
4. Arlington Ant Madness
5. Baltimore Fleet
6. Washington DC HVAC
7. Baltimore Rat City
8. Washington DC Fireball
Bye: #2 Philadelphia AMP, Princeton Jughandle
1. #16 West Chester Loco
2. #23 Pittsburgh Alloy
3. West Chester Stoke
4. Delaware Blowing Heat 3.0
5. Philadelphia Soft Boiled
Women's
Regionals size: 11 teams
Bye: #6 Washington DC Scandal
1. #21 Washington DC Grit
2. #24 Virginia Rebellion
3. Washington DC Agency
4. Washington DC Suffrage
5. Washington DC Pickup Lines
6. Newport News Oligarchy
1. Princeton Pine Baroness
2. Pittsburgh Eliza Furnace
3. Pittsburgh Hot Metal
4. Philadephia Broad City
North Central
Men's
Regionals size: 12 teams
Byes: #6 Minneapolis Sub Zero
1. #22 Madison Yogosbo
2. Madison Mad Men
3. #20 Winnipeg General Strike
4. Milwaukee MKE
5. St. Paul Swans
6. Minneapolis Mallard
7. Appleton Timber
1. Kansas City Prairie Fire
2. Iowa City Cryptic
3. Omaha Scythe
4. Des Moines DeMo
Mixed
Regionals size: 16 teams
Byes: #1 Minneapolis Drag'N Thrust, Minneapolis No Touching!
1. Madison NOISE
2. Minnesota Star Power
3. Milwaukee Northern Comfort
4. St. Paul Pandamonium
5. Minneapolis Mojo Jojo
6. Minneapolis Bird
7. Madison Mad Udderburn
8. Madison Mousetrap
1. #24 Iowa Chad Larson Experience
2. #22 St. Louis Chalice
3. Omaha Woodwork
4. Iowa City PanIC
5. Kansas City 7 Sins
6. Witchita Impact
Women's
Regionals size: 10 teams
Bye: #22 Minneapolis Pop, Madison Heist
1. Winnipeg Fusion
2. Minneapolis Crackle
3. Madison Lady Forward
4. Minneapolis Cold Cuts
5. Milwaukee MystiKuE
1. Kansas City Wicked
2. St. Louis Stellar
3. Iowa Wild Rose
Northeast
Men's
Regionals size: 16 teams
Bye: #12 Boston DiG
1. Boston Lantern
2. Halifax Red Circus
3. Somerville Big Wrench
4. Needham Deathsquad
5. Somerville BAG
Bye: #1 New York PoNY
1. Brooklyn Blueprint
2. New York Shade
3. New York Magma Bears
4. Hyde Park Log Jam
5. Southington Colt
Bye: #9 Toronto GOAT
1. Ottawa Phoenix
2. Syracuse Overcast
1. #18 Amherst Sprout
WNE Sectionals were originally scheduled to take place in Granby, MA, which is currently under "critical" risk for EEE. When it was proposed that the tournament move to the fields at Devens1 to avoid the threat, all but one team decided not to attend, meaning Sprout advanced to Regionals by default.
Mixed
Regionals size: 16 teams
Bye: #6 Boston Snake Country and #7 Boston Slow White
1. #5 Boston Wild Card
2. Mansfield Darkwing
3. Boston League of Shadows
4. Cambridge Chaotic Good
5. Manchester Scarecrow
Bye: New York XIST
1. Brooklyn Grand Army
2. New York The Feminists
3. Connecticut Metro North
4. New York Eat Lightning
5. Long Island Birds
1. Rochester Garbage Plates
2. Buffalo Lake Effect
1. Amherst Happy Valley
Women's
Regionals size: 16 teams
Bye: #5 Boston Brute Squad
1. #10 Boston Siege
2. Halifax Salty
3. Cambridge Vice
4. Portland Frolic
5. Watertown Versa
1. #16 New York BENT
2. Brooklyn Book Club
3. Oceanside Rush Hour
4. Hartford Ignite
Bye: #4 Toronto 6ixers
1. Ottawa Stella
2. Albany Rebel Rebel
3. Toronto Tox6ix
1. #14 Quebec Iris
2. Montreal V Squad
Northwest
Men's
Regionals size: 16 teams
*Alaska2
1. Orem The Killjoys
2. Salt Lake City Powderhogs
3. Boise Sawtooth
On Saturday, everything went to seed in the single six-team pool, aside from the no.5 seed Low Point defeating the no.4 seed Sandbaggers. Sunday is where everything got exciting. The final round of pool play scheduled for that morning was pushed back due to lightning and weather. This forced a change in schedule and eliminated the 4/5 game to advance to game-to-go to regionals, and the Sandbaggers declared that they would not play Sunday. Instead, with only three bids, there would only be two placement games after pool play: 1v2 and 3v4 as the game-to-go.
Going into the final pool play game (which was played to 11), the Powderhogs could win the pool by beating the Killjoys by at least four. This did not happen, as the Killjoys won 11-9. In the other pool play game, Sawtooth could move into second place in the pool by beating Low Point. If Low Point won, the Powderhogs would retain second in a three-way tie — unless Low Point beat Sawtooth by eight or more. And they almost did. Low Point — a Salt Lake City pickup team — took an 8-1 lead on Sawtooth and received the disc with hard cap on up 10-3. However, Sawtooth scored a break to make the final score 10-4 and just preventing Low Point to climb to the top of the three-way tie. With that backdoor cover, the Powderhogs finished second in the pool and avoided a game-to-go. The placements were rematches of the final pool play games. In the final, the Killjoys beat the Powderhogs 15-14 and Sawtooth bounced back from their defeat to win 13-9 and advance to Regionals.
There always seems to be some sort of weird point differential thing in the Big Sky and this year was no different.
– Recap contributed by Alex Walker, a player from Powderhogs.
Bye: #15 Portland Rhino Slam!
1. Eugene Dark Star
2. Portland Rip City
Bye: #2 Seattle Sockeye
1. #21 Seattle Voodoo
2. #8 Vancouver Furious George
3. Seattle SOUF
Mixed
Regionals size: 16 teams
*Alaska3
1. #13 Boise Lochsa
2. Saskatoon Bunnies
Saskatoon upset #25 Montana MOONDOG in the game-to-go, meaning the ranked squad will miss out on Regionals, unless bids are declined elsewhere.
1. Eugene Garage Sale
2. Portland The Administrators
3. McMinnville Happy Hour
4. Portland Choco Ghost House
5. Portland Breakers Mark
6. Portland Hive
7. Bend Igneous Ultimate
Bye: #3 Seattle BFG, #4 Seattle Mixtape
1. Seattle Lights Out
2. Seattle Birdfruit
3. Seattle Pegasus
4. Seattle Garbage
5. Spokane Surge
Women's
Regionals size: 11 teams
*Alaska4
1. #25 Salt Lake City Elevate
2. Boise Seven Devils
*Oregon5
Bye: #9 Portland Schwa
1. Portland Ivy6
Bye: #3 Seattle Riot
1. #15 Vancouver Traffic
2. #17 Seattle Underground
3. Vancouver Sneaky House Hippos
4. Seattle Soul
5. Vancouver Koi
6. Seattle Sizzle
South Central
Men's
Regionals size: 16 teams
1. Fayetteville Dreadnought
2. Oklahoma City Supercell
Bye: #11 Denver Johnny Bravo
1. Denver Inception
2. Boulder ISO Atmo
3. Fort Collins Choice City Hops
4. Boulder United Flatiron Hammers
Bye: #13 Austin Doublewide
1. Houston H.I.P.
2. Austin Gamble
3. #25 Dallas Nitro
4. Houston Clutch
5. Austin Gaucho
6. Austin Riverside
7. Houston Harvey Cats
8. Houston Papa Bear
Mixed
Regionals size: 16 teams
1. Tulsa Boomtown
2. Oklahoma City blOKC Party
Bye: #10 Fort Collins shame.
1. #9 Denver Love Tractor
2. Denver Flight Club
3. Fort Collins Ouzel
4. Denver Mesteño
5. Denver Vendetta
6. Fort Collins Mixed Signals
7. Colorado Springs SMUT
1. Dallas Public Enemy
2. Austin Waterloo
3. San Antonio Bexar
4. Dallas Risky Business
5. Austin Moontower
6. Dallas Tex Mix
Women's
Regionals size: 11 teams
*Ozarks7
Bye: #2 Denver Molly Brown
1. Colorado Small Batch
2. Fort Collins Trainwreck
3. Boulder Jackwagon
4. Colorado Springs COSMOS
1. #19 Austin Showdown
2. Houston Crush City
3. Houston Inferno
4. Austin Hex
5. Dallas Maeve
6. Austin Cazadora
Southeast
Men's
Regionals size: 16 teams
Bye: #17 Atlanta Chain Lightning
1. Tennessee Tanasi
2. Macon H.O.G. Ultimate
3. Columbia Lost Boys
4. Charleston Heat Stroke
5. Atlanta Bullet
6. Atlanta Rush Hour ATL
1. Tampa Bay Uproar
2. Oakland Park El Nino
3. Florida Swamp Horse
1. Huntsville Freaks
2. Birmingham Ironmen
Bye: #3 Raleigh Ring of Fire
1. Durham Brickhouse
2. Durham Turbine
3. Cary Bash Bros
Mixed
Regionals size: 16 teams
1. Athens Murmur
2. Nashville 'Shine
3. Atlanta JLP
T4. #19 Atlanta Bucket
T4. Nashville Trash Pandas
6. Knoxville sKNO cone
1. #15 Florida Weird
2. St. Petersburg Mutiny
1. Huntsville Outlaws
2. Memphis STAX
3. Auburn HeyDay
Bye: #14 Durham Toro
1. Charlotte Storm
2. Raleigh Malice in Wonderland
3. Asheville Superlame
4. Wilmington Fly Trap
Women's
Regionals size: 10 teams
Bye: #13 Atlanta Ozone
1. Atlanta Outbreak
2. Chattanooga Honey Pot
1. #23 Gainesville Tabby Rosa
2. Fort Lauderdale Fiasco
1. New Orleans Queen Cake
2. Birmingham Steel
3. Hunstville Laika
1. #7 Raleigh Phoenix
2. Triangle Taco Truck
Southwest
Men's
Regionals size: 10 teams
*Hawaii8
Bye: #4 San Francisco Revolver
1. Livermore OAT
2. San Francisco Battery
3. Oakland Guerrilla
4. Green River Swordfish
1. #10 SoCal Condors
2. Santa Barbara Sundowners
3. San Diego Streetgang
4. Los Angeles DOGGPOUND
5. Orange County OC Crows
Mixed
Regionals size: 16 teams
*Hawaii9
Bye: #11 San Francisco Mischief
1. #12 San Francisco Blackbird
2. #20 San Francisco Polar Bears
3. Bay Area Donuts
4. Sunnyvale BW Ultimate
5. San Francisco Classy
6. Reno Cutthroat
7. Chico Platypi
8. San Francisco American Barbecue
9. San Francisco Firefly
10. San Francisco Alchemy
1. Los Angeles Lotus
2. Phoenix Pivot
3. Phoenix Rubix
4. San Diego California Burrito
5. Tucson Instant Karma
Women's
Regionals size: 11 teams
*Hawaii10
Bye: #1 San Francisco Fury, #8 San Francisco Nightlock
1. #20 Oakland LOL
2. Bay Area FAB
3. Bay Area 2nd Wave
4. Bay Area Ultraviolet
5. Bay Area Tempo
1. #11 San Diego Wildfire
2. Tuscon Venom
3. Los Angeles Rampage
4. Los Angeles Viva
---