Space Heater had to fend off a tough challenge from Loco.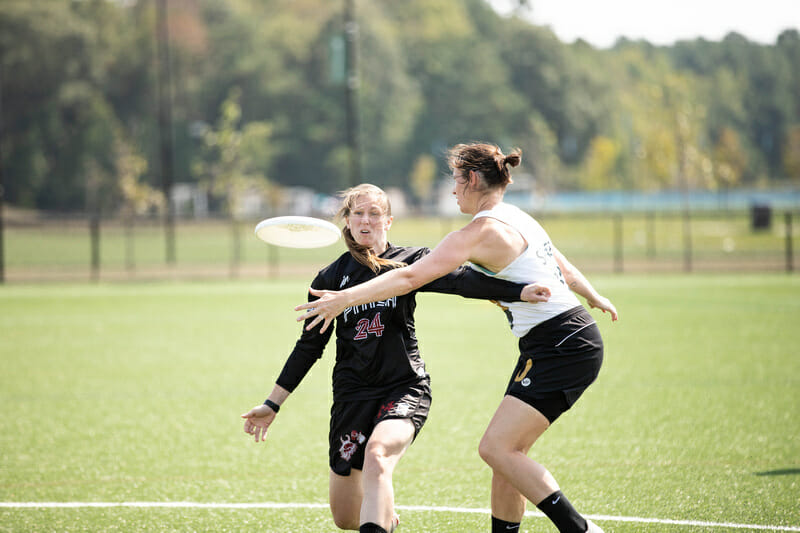 Ultiworld's reporting on the Club Mixed division is presented by Universe Point cleats. All opinions are those of the authors. Please support the brands that make Ultiworld possible and shop at Universe Point!
MILFORD, DE — Mid-Atlantic Mixed Club Regionals had its share of exciting moments, but ultimately went as expected as top-seeded #2 Philadelphia AMP went undefeated to win the region while the second seed Washington DC Space Heater defeated West Chester Loco to earn the second and final bid to Nationals.
Day one was relatively uneventful, save for a 13-11 upset win by no. 5 seed Washington DC Rally over no. 4 seed Pittsburgh Alloy in pool play. AMP, Space Heater, and Loco all won their pools with ease, with none of them yielding more than seven points to any opponents. The semifinals were similarly lopsided, with AMP and Space Heater defeating Rally and Loco by scores of 15-8 and 15-7, respectively.
The final matchup between AMP and #8 Washington D.C. Space Heater had been long anticipated by both teams. The two squads faced off in a national semifinal last year which AMP won on double game point before going on to win their first ever national title. After losing centerpiece players like Carolyn Normile, Nicky Spiva, and Calvin Trisolini, there were questions as to whether Philadelphia could retain their regional dominance. AMP quickly answered those questions as they stormed out to earn breaks on the first three points of the final and held that initial lead for the rest of the game as they went on to win 15-11.
Veterans Anna Thompson, Emily Shields, and Sean Mott did a lot of heavy lifting for the Philadelphia offense, but got big contributions from rookies Liz Hart and Paul Owens as well. Meanwhile, Space Heater's offense revolved around Jenny Fey and Zach Norrbom, who were breaking marks at will and seemed impossible to guard in the reset space. Georgia Bosscher kept the AMP defense honest with her big throws while Anthony McLean and rookie Ella Juengst were impressive in the cutting space.
The two teams were arguably on par in terms of ability, but what ultimately gave Philadelphia the edge was their versatility, as they were able to switch up their defensive looks enough to trick Space Heater into throwing into coverage on multiple occasions. On the other side of the disc, Space Heater combined athleticism with a savvy veteran presence to force AMP into some long possessions, but AMP's small ball game was on point as they were more than happy to grind out hold after hold.
After cruising through the second place bracket, #16 West Chester Loco earned themselves a rematch with Space Heater for the final bid to Nationals out of the region. They came out with a bang, nearly earning a break on the first point of the game and capitalizing on the next two opportunities to take a 3-1 lead. This set the tone for a game of runs, where both teams combined offensive efficiency was a mere 50% (11 of 22) points. One of the more memorable moments of the game came at 6-6, when both teams traded deep turnovers three times before Loco managed to stall out Space Heater on their own front cone and set up a quick goal for a break. With the soft cap already not too far away, Space Heater managed a quick hold and then put out a kill line to win back a break as Bosscher led McLean into the end zone with a beautiful forehand strike.
The game seemed all but over when Space Heater broke twice out of half to take a 10-7 lead, especially with the soft cap going on to make it a game to 12. Loco refused to go quietly, managing a hold and two breaks of their own to tie the game at 10-10. The ensuing point, however, is one that will haunt them for the entire offseason. Loco rookie Rob Robinson baited a strike cut perfectly for a layout catch block to set up a redzone possession and eventually a timeout two yards away from reclaiming the lead. But a puzzling throw into traffic was batted away by a Space Heater defender. Loco earned another chance to score as stifling defense forced a punt, and this time put out a perfect huck to space, yet an untimely misread by the receiver left the disc sailing to the turf untouched. Space Heater did not commit another turnover, working the disc the length of the field to score and then capitalizing on a quick turnover from Loco to break for the win, 12-10.
Loco retains their Top Select status, while Rally, Alloy, Princeton Jughandle, and Arlington Ant Madness round out the field of Select Flight qualifiers for 2020.