How a team that didn't qualify for Regionals finished second, and other tales of Northwest mixed.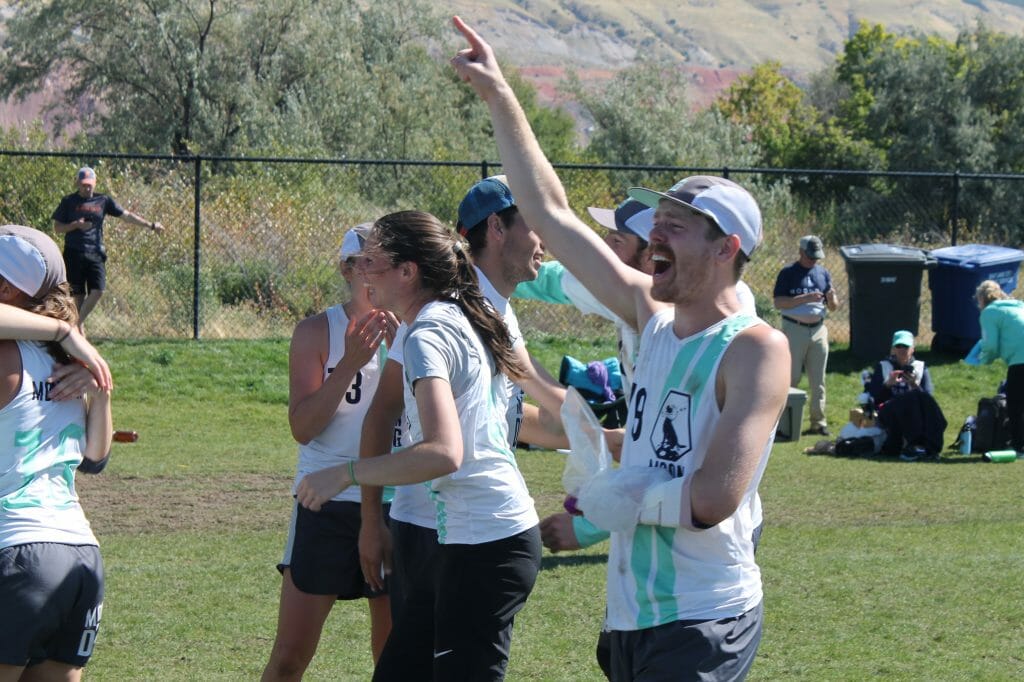 Ultiworld's reporting on the Club Mixed division is presented by Universe Point cleats. All opinions are those of the authors. Please support the brands that make Ultiworld possible and shop at Universe Point!
Contributed by Alexander Cramer
SALT LAKE CITY, UT – For the first time since 2012, the Big Sky Section is going to have a representative at Nationals. But it's not the team that earned the third bid for the region — and it's not a team that was even qualified for Regionals in the first place.
Montana MOONDOG beat #13 Boise Lochsa 14-13 on double game point Sunday morning to take the bid Lochsa had earned for the region. MOONDOG was able to join the fun in Salt Lake City only after a team from another section chose not to attend. Members of the Montana squad could often be heard throughout the weekend shouting, "We're not supposed be here!"1
The other two bids went to the top two teams in the region, as expected: Mixtape and BFG. The latter had to earn it the hard way, battling through the backdoor bracket after a loss to Mixtape in the semifinals. An upset win by MOONDOG over BFG the evening before meant the two Seattle heavyweights landed on the same side of the championship bracket, with Mixtape winning handily, 15-8.
Saskatoon Bunnies were the no. 4 seed in the division by virtue of their upset of MOONDOG at Sectionals, but were eliminated from Nationals contention early after finishing bottom in a three-way tie at 1-2 in pool play and losing on goal differential. MOONDOG, Lochsa, BFG, and Mixtape all finished pool play undefeated.
Over The Moon
Despite ice and a wrap on a likely fractured wrist, Montana MOONDOG captain Ethan Yourd was all smiles after his team clinched their bid to Nationals.
"We continued to give ourselves permission to play without consequences," Yourd said. "I feel ecstatic; I've never felt this way before."
MOONDOG formed this year from the cores of teams from Bozeman, Missoula, and players from around the state. Five months after their tryout was scheduled, the team was in a game-to-go to Nationals.
Standing in their way was Lochsa, a team known for having fast and dynamic downfield female threats, according to Yourd. The Big Sky teams know each other well. Lochsa captains Paige Kercher and Sarah Staller and others like Cori Bigham had been giving opponents fits throughout the tournament with their speed and savvy. Yourd said his team tried to minimize their impact by switching matchups using a deep and under 'lady bracket' and other tactics.
"We made an adjustment on them to allow our ladies to have a rest and make [Lochsa] not take their first option," said Yourd. "Change up their gameplan in the game-to-go: that's what we were trying to do."
It's a strategy MOONDOG used with success the day before against BFG, with Lucy Williams often standing in the open-side lane facing downfield, ready to take under cuts. It led to confusion and turnovers for BFG, and Williams explained that the defense continued to get stronger as the day went on. "Everyone really bought in and felt more and more confident," Williams said.
Lochsa captains Kercher and Staller stated that, although they were familiar with many members of MOONDOG, the Williams-led bracket defense gave them pause and helped slow down their attack. Toward the end of the game, Staller in particular found space to attack between the bracketing defenders, often getting open by a wide margin. But it wasn't enough.
Montana was, in a sense, playing with house money throughout the weekend; after getting knocked off by the Saskatoon Bunnies at Sectionals, the players thought their season was done. They also lost twice to Lochsa in that tournament.
A former Mixtape captain, Williams was active on both sides of the disc, throwing the winning goal against Lochsa to earn the Nationals bid and getting a crucial late-game block against BFG. On that block, Williams said her Seattle roots paid off when they called a play for "Sweets" and she knew who they would target. She added that she was surprised to get the win against BFG, and was excited for a potential matchup with Mixtape. "We're such underdogs, I don't feel any pressure," Williams said after the upset win over BFG.
Moondog ended up dropping the championship game against Mixtape, though both teams had already secured their place in the Nationals field.
Yourd said their points of focus — playing loose and with a lot of heart — and having confidence in each other were what made the difference. The trip to Nationals is the first for many players, the captain said, and the sweetest for many others. "To grow Montana ultimate at the same time has been everything we've wanted to do with this team and more," Yourd said.
Up And Down Weekend For BFG
Before Saturday, #3 Seattle BFG hadn't lost since the U.S. Open Aug. 3. In the intervening weeks, they'd won the Northwest Fruit Bowl and picked up a victory over Mixtape along the way. Heading into Regionals, the two Seattle teams seemed destined to cruise to Nationals. But that almost came undone starting in the second half of BFG's crossover match against MOONDOG Saturday afternoon. The loser of that game would draw a semifinal date with Mixtape, with a bid to Nationals on the line.
BFG bookended halftime with a run of breaks, taking a 9-6 lead. Montana stepped it up and put together some breaks of their own, capitalizing on BFG overthrows and mistakes to bring the score to 11-9 in a game to 12. BFG didn't score again, as Williams' prescient run-through block was a turning point.
Afterward, Yourd said pressure was a factor, saying it was BFG's "game to lose."
BFG captain Lili Gu downplayed the loss, though she acknowledged the outside perception was that BFG "should win." She added that, while no competitive person wants to lose, BFG was trying out different combinations of personnel and tactics, and that the Seattle club still had an opportunity to compete. "We learn something from each game we play," Gu said.
BFG showed flashes of dominance during the tournament, and their pieces might be enough to take them far in October. Mario O'Brien remains a problem for opponents, frequently getting open in the backfield; Tommy Li is bringing his hyper-athleticism to the offensive line more often and showing deft touch on throws; and Reid Koss showed off his extensive throwing range for the D-line. Koss at one point had a nearly full-field flick huck goal called back because of a pick and then a few throws later put a same-third flat flick on a platter for a teammate in the back of the end zone.
But BFG's inconsistency got them in trouble. The team needed some heroics from Alissa Soo and Kerry Chang to force a turn on double game point against Seattle Lights Out to even make it to the semifinals against Mixtape. Chang in particular came up with clutch plays in big moments.
Against Mixtape, BFG gave up four breaks to start the game and it was downhill from there. They called timeouts and switched up lines but nothing seemed to work. Li and O'Brien were bright spots; it was O'Brien's steadying attitude that appeared to right the ship to get BFG on the board at 4-1. That's when the intensity kicked up, the matchups got tighter and the pressure seemed to rise. No one told Mixtape's Jesse Bolton, who released a casual goal-line high-release flick over a defender, who watched it fade in for a score.
But BFG responded with a run, pushing the score to 6-4 before Mixtape's Evan Klein got bookends on a dime from Henry Phan to take half 8-4. That was the closest BFG got. "It was disappointing to lose that game as it was disappointing to lose [to MOONDOG]," Gu said. "We kind of had to accept that we didn't earn that game. I definitely believe that we can earn that game, but there's no, 'We should've won that game' because we didn't do it."
After the loss to Mixtape, BFG won out with a couple three-point victories to earn the bid to Nationals in relative ease. In the game-to-go, it was Lochsa that appeared to tighten up, putting up some loose throws and giving up a break to go down three late. BFG relied on more handler movement and stack discipline as the game got more intense toward the end and were able to grind out the 15-12 win. It was the third straight year BFG knocked a team from Boise out of contention to go to Nationals.
Gu stressed the team's strength is when it plays within its system. She said the team's work with a mental-training coach "levels us up."
"I think we did a really good job moving forward [after the loss] and controlling controllables," Gu said.
Mixtape Meets Expectations
#4 Seattle Mixtape came in to Regionals as one of the top-ranked teams in the nation and was expected to easily earn a trip to Nationals. And that's exactly what they did. Mixtape appeared loose and confident and never really pressured on the weekend. Their most competitive games were against MOONDOG in the final after both teams had already secured their bids and in a crossover game against Lochsa on Saturday afternoon; both never felt in doubt for the 2017 national champs.
It's tough to point to one difference-maker on a team so loaded with talent, but early in the semifinal against BFG, Khalif El-Salaam had a pair of perfect throws that led to scores. One came in the third point while pinned on the sideline near midfield after a turn — El-Salaam sent a rising forehand that sat up around eye level for his teammate to run on to, giving Mixtape another break and a commanding 3-0 lead. Had BFG been able to recover their hold and get on track early, it could have been a different game.
Captain Ari Lozano said the result against BFG was expected, and lauded her team's execution and energy. Late in the first half of their semifinal, Mixtape had given up a break and after opening up a 4-0 lead, BFG had made a run to bring it to 6-4. The game had settled in and momentum was up for grabs. After a multi-turnover hold to bring it to 7-4, Mixtape could break to take half. Evan Klein was guarding Tommy Li and got a relatively easy block on a poorly thrown huck. Li paused for a split second — just enough to surrender position — and Phan picked up and put a same-third flick huck in a window that only Klein could get to.
It was a confident throw against one of the most athletic players in the division, the kind of throw Mixtape made a few times in the first half. Phan looked around with arms outstretched in mock confusion while being carried by his teammates toward the halftime circle. "Wait, was that good?" he joked.
Mixtape's swagger will get put to the test in San Diego, where Drag'N Thrust, AMP, and the other top-ranked mixed clubs will be waiting. Seattle's game — both mental and physical — looked unassailable this weekend. But the true test will be how the team responds to adversity at Nationals.
---
Correction: An earlier version of this article stated the team was shouting "We weren't even invited!" ↩