Cocktails were again a step above the rest of the Great Lakes.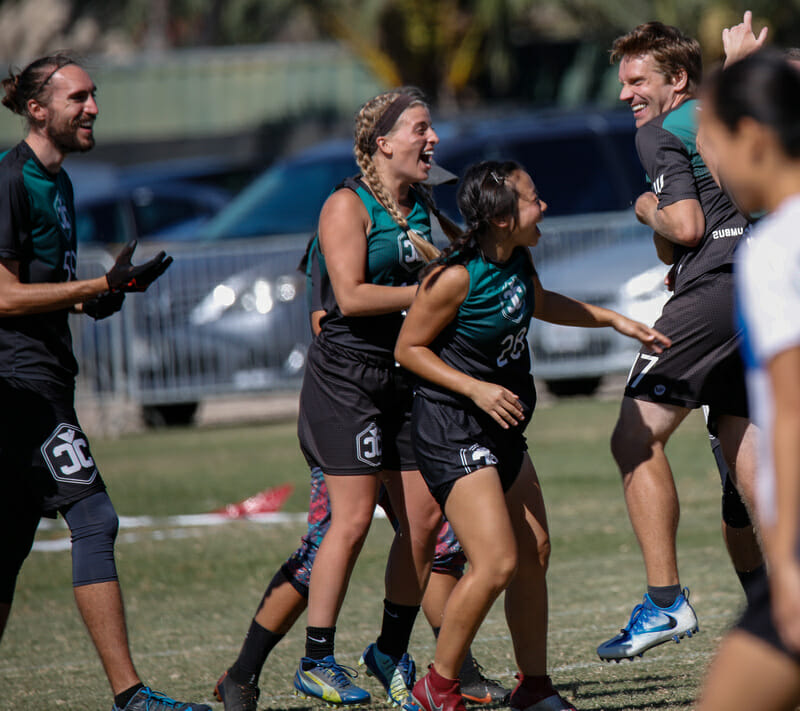 Ultiworld's reporting on the Club Mixed division is presented by Universe Point cleats. All opinions are those of the authors. Please support the brands that make Ultiworld possible and shop at Universe Point!
Disclosure: The author is a captain for Ann Arbor Hybrid.
Columbus Cocktails proved to be the best team at the 2019 Great Lakes Mixed Regional Championships, winning all of their games and only really facing tests in the semis and finals. In a region with more uncertainty than any other coming into the tournament, the reigning champions proved that their talent and experience were the class of the Great Lakes. Ann Arbor Hybrid was the other finalist, earning Top Select status for the 2020 Triple Crown Tour as the second-place team in a one-bid region. The other select flight teams were Cincinnati Steamboat, Chicago U54 Ultimate, and Columbus Petey's Pirates.
Cocktails Served Up Neat Performance
Cocktails defeated Hybrid in the tournament final, 13-8, in a game that was never really close. Hybrid failed to complete their run toward making good on being chosen as the top sleeper choice on Deep Look's subscribers only regional preview but capped a solid season with a convincing win 12-8 win over Cincinnati Steamboat in the semifinals and secured Top Select status.
The Cocktails offense was led by Jordan O'Neill, who was extremely effective all weekend. He was consistently open and provided the right cut at the right time for a Cocktails team that always looked pretty comfortable. The Columbus crew also had very strong performances from Emily Barrett, Cara Sieber, and the Agami brothers, Sion and Axel, in the final.
Cocktails ripped off four straight scores in the final, a hold followed by three breaks, that clearly set the tone. They got another break on the way to taking half 7-2 and the game was all but over. Hybrid did manage to earn a break back in the second half but it was too little, too late. Cocktails were definitively the better team throughout the game, getting easy turnovers from Hybrid drops and taking the disc with run-through blocks. Cocktails returns to San Diego in hopes of improving on last year's 15th place finish at Nationals.
Cocktails reached the final by defeating the Chicago U54 team that had opted out of the regular season and steamrolled through Sectionals and Regionals up to their semifinal match. U54 provided the best matchup on paper with Cocktails, with a roster that was equally deep and featured several players with recent experience at the Club Nationals level. Cocktails was able to stake out a lead early in the first half, going up by a couple of breaks, and managed to hold off any late push from U54, winning 12-10.
The U54 squad also struggled to contain O'Neill, who is easily Columbus' most exciting player to watch.
Best of the Rest
Ann Arbor Hybrid earned their spot in the final with a sound 12-8 win in semifinals over Cincinnati Steamboat, the tournament's top seed. Hybrid looked like the more athletic, deeper team in the matchup, able to put out a variety of defensive lines and looks that generated turns and breaks. Steamboat saw success with their zone defense off and on throughout the game, but Hybrid converted holds going upwind thanks to the throwing savvy of Connor Lukas and Dan Donovan. A Steamboat squad that was often carried by Brittany Winner and Ryan Gorman struggled to make plays as Hybrid defenders like Mark Whitton and Amanda Decker were able to contain the Steamboat stars.
The third-place game between Cincinnati Steamboat and Chicago U54 was not played: Steamboat won by forfeit. Although U54 opted not to play the placement game for third, they did give eventual winner Columbus Cocktails a better fight in semis than Hybrid did in finals, and the third-place game could have been very exciting.
These results also highlight a potential area for improvement in the formats of these tournaments as the value of Top Select status increases — the second-best team doesn't always finish in second place without a back-door game. It seems entirely possible that Chicago U54 was the second-best team in the region but is forced to settle for Select status — which, to be fair, they may not even want, based on their lack of regular season play in 2019.
In a region that was expected to have four teams battling for the top spot, the results were more or less to expectations — none of the quarter-finals games were close, and the semifinal games were both exciting. The quality of the four teams represents an increasing chance that we'll see more than one bid earned by Great Lakes mixed teams for the first time ever in 2020.
D-EEE-T
At a tournament that could have been overshadowed by weather — with midweek forecasts that predicted a lot of rain on Sunday — or by a viral outbreak, it was a pleasant surprise that neither seemed to figure too much in the outcomes. There was some drizzle on Sunday, and many teams embraced the fervor over concerns about Eastern Equine Encephalitis in the form of clever cheers throughout the tournament, but neither one seemed to impact play on the field.
Great Lakes Riding a Wave
The dominance of Columbus Cocktails with a roster chock full of Ohio State players, and the rising talent of Ann Arbor Hybrid with several Michigan, Michigan State, and Grand Valley players, demonstrates once again that a robust college scene can fuel local club teams to the top of their regions. In particular, the run that Cocktails has started seems likely to continue as their roster is young, talented, and gaining more experience every year. The other Great Lakes mixed teams have some work to do to catch up if they hope to knock off the two-time regional champions in 2020.