24 entered and 16 remain to battle it out to be crowned lord of the flies!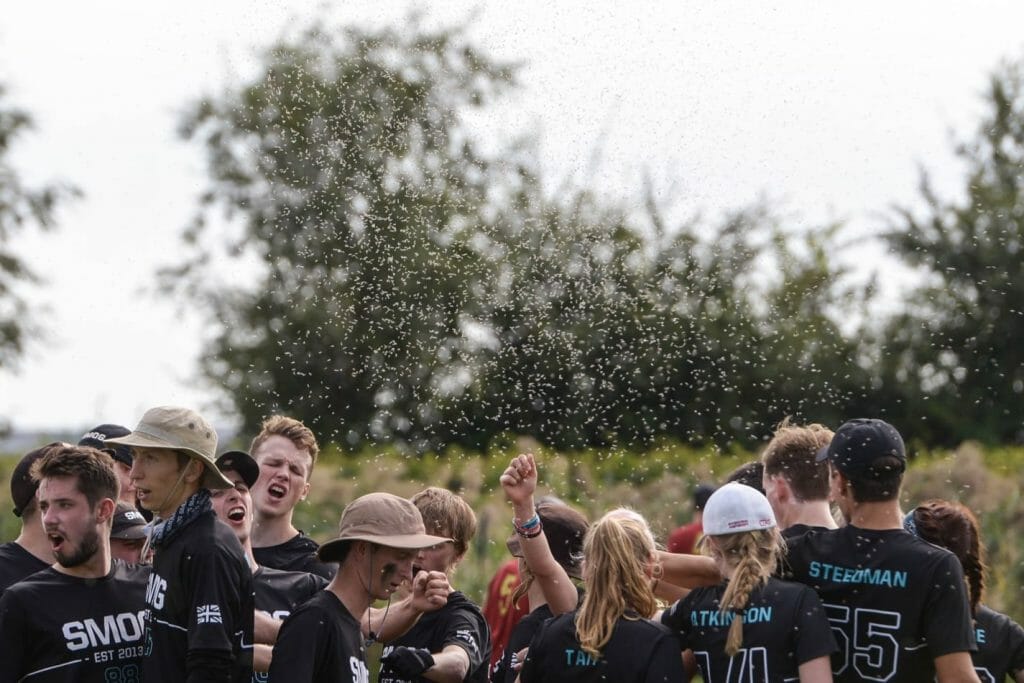 EUCF Coverage is sponsored by Tokay Ultimate cleats. Please support Ultiworld Sponsors!
Day one kicked off today at the airport fields in Caorle. However, it was neither airplanes nor ultimate players owning the skies in Italy but swarms of winged insects. You haven't lived until you've seen people call injury because they have swallowed a dozen flies cutting deep. Players were eating more bugs than a venus flytrap with the munchies. The cloud of flies was of biblical proportion. You might be led to believe that the almighty was smiting the EUF with a plague for not having equal sized divisions. Let's hope that the EUF change to more equitable divisions soon before our first born are taken from us by the powers above. Here is how things panned out on day one in the men's division.
Championship Bracket
The bracket is now set as 16 teams head into prequarters tomorrow. We will see the initial 4th and 5th seeds of MUC and RealFive going head to head a little earlier than expected. Freespeed and Iznogood switch spots as the format doesn't allow for a repeat of pool games which is what would have happened if Freespeed played Clapham.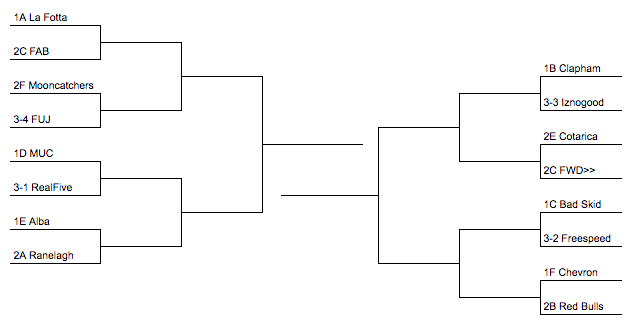 Pool A
CUSB La Fotta (Bologna) was in cruise control on opening day. Giovanni Santucci made massive defensive plays in every game, sending a statement to the other big dogs in the division. 7 Schwaben (Stuttgart) kicked off their campaign with a one point win over 12-man KFK (Copenhagen).1 Losing on double game point then became a trend for the Danish side. They came out all guns blazing against Ranelagh (Dublin), going up 8-3 against the lads. KFK didn't turn over once in the first half. Kristjan Loorits was launching hucks from all corners of the field.
Eventually, Ranelagh adjusted to stop their game and brought it back to 10-8 after a second half rally. Hard cutting from Stephen Jones and Niall McCarney showed the Irish were never going to give up. KFK were eventually ground down like fine Italian garlic. Captain Ferdia Rogers secured his team their first ever victory at EUCF with a break to win 15-14. They then followed this with another win, 15-11 over 7 Schwaben to take the second spot in the pool.
Pool B
Clapham (London) steamed through the pool stages with just Freespeed testing them as they were tied at 12-12 before the reigning champs pulled away. They didn't lose a game in the groupm but they did lose a European Defensive Player of the Year in Will Rowledge, who picked up a wrist injury on a layout grab. Rowledge was monumental in last year's final and, according to Rowledge himself, "it would be better to lose Justin Foord."
The battle for second place in the pool was a hotly contested one as CUSB Red Bulls (Bologna) took down Freespeed (Basel) 15-10 on the YouTube livestream. The young Italians were throwing themselves around like a sack of spuds, putting Freespeed under a lot of pressure. Pieterjan De Meulenaere's injury-free spell was short lived as he pulled his hamstring early on the game after getting a run through block on the Red Bulls' first offensive point.
That was the last time the Red Bulls' offensive line would turn over the disc. With Robin Brüderlin and Tobias Van Baarsen already missing in action, the Swiss champions were running short of stars. Allesandro De Luca made an incredible block against Freespeed's David Moser who is twice his age and they were able to convert. Freespeed answered back with some one pass offense with Luca Miglioretto hitting Busch deep but it was too little, too late. Quentin Roger finished the game with a cross-field scoober gaining his 4th assist of the game.
Mojra (Warsaw) actually had a lead against Clapham early on in an inconsequential game, but that was the only joy they had in this tough group.
Pool C
Like many of the top seeds, Bad Skid (Heilbronn) made it through Friday without any hiccups. In contrast, Flying Steps (St. Petersburg) look unlikely to pickup a win all weekend looking at today's scores. FWD>> (Vienna) beating Flying Angels Bern (Bern) 15-13 was the only close game of the pool. Supposedly the Austrian team is taking this year as a development season but that doesn't seem to be the case. According to FWD>> captain Lorenz Zerlauth, it was "the best offense we played all season" and D-line star David Doppelbauer helped convert breaks. For FAB, Jan Schmidt kept the game close but it wasn't enough.
Pool D
The Crazy Dogs (Stans) had to be put down after their performance in Pool D. They got taken to the metaphorical farm far away known as the bottom bracket to live out the remainder of their lives. It was Rampage (Moscow) who sent the Crazy Dogs to the pet cemetery with a brilliant showing in their final game of the day. At the top of the pool, MUC (Munich) proved to be the kryptonite for FUJ (Prague) yet again. MUC won 15-14 with both teams having opportunities to win on double game point. MUC started the game well going on an 8-4 run to take half. Nick Smith led the charge showcasing some classic small offense. FUJ went on a run of their own in the second half. Some great pulls pinned MUC back and all of a sudden FUJ were up 12-10. FUJ couldn't hold their nerve but David Novak and Ondrej Rydlo are legitimate candidates for the All-Europe Team 2019. They were the best players on the field, but MUC had enough experience to keep hold of their 4th seed.
Pool E
Pool E had more twists and turns than the Nuremberg Ring. No team finished where they were seeded. The day started off quite chilly as Alba (Scotland) enjoyed the morning dew against RealFive (Dzerzhinsk), winning 15-14. They forced turns on the Russians every single O point and capitalized twice just before half. Captains Cameron Agnew and Cameron Mackie were leading by example, getting goals and assists every which way. Things heated up as RealFive broke back with Mikhail Khudobin playing every point in the later stages. He got a layout D on Agnew to send the game to double game point but the Scots converted cleanly. RealFive carried that losing momentum into another 15-14 loss against Cotarica (Rimini), who have the perfect blend of youth and experience. Heidees (Eppelheim) finished bottom of their pool for the 3rd year running. They got dealt a tough group, but I'm sure the lads will enjoy the rest of their holiday in the bottom bracket.
Pool F
Matt Beaven and Mark Penny are the last two remaining EUCF winners on Chevron Action Flash (Nuneaton) from many moons ago. The newer sleeker Chevy are looking like title contenders walking through their pool. It was the hammer hungry Mooncatchers (Brussels) who took the second seed in the group beating Iznogood (Noisy-le-Sec) 15-11 in a good showdown. John Beeckmans continued his great form from U24s catching hammers and scoobers all over the shop. Eric Becker, Francois Zoubir and Kevin Ou ran the show for Iznogood but when the French O-line turned they could never get it back off the clinical and aggressive Mooncatchers D-line. ThebigEZ (Vienna) kept the score a respectable 15-13 in their stadium game loss against Mooncatchers.
---
Two KFK players missed their flight connections ↩