PuTi and Salaspils lead the tables after Day 1!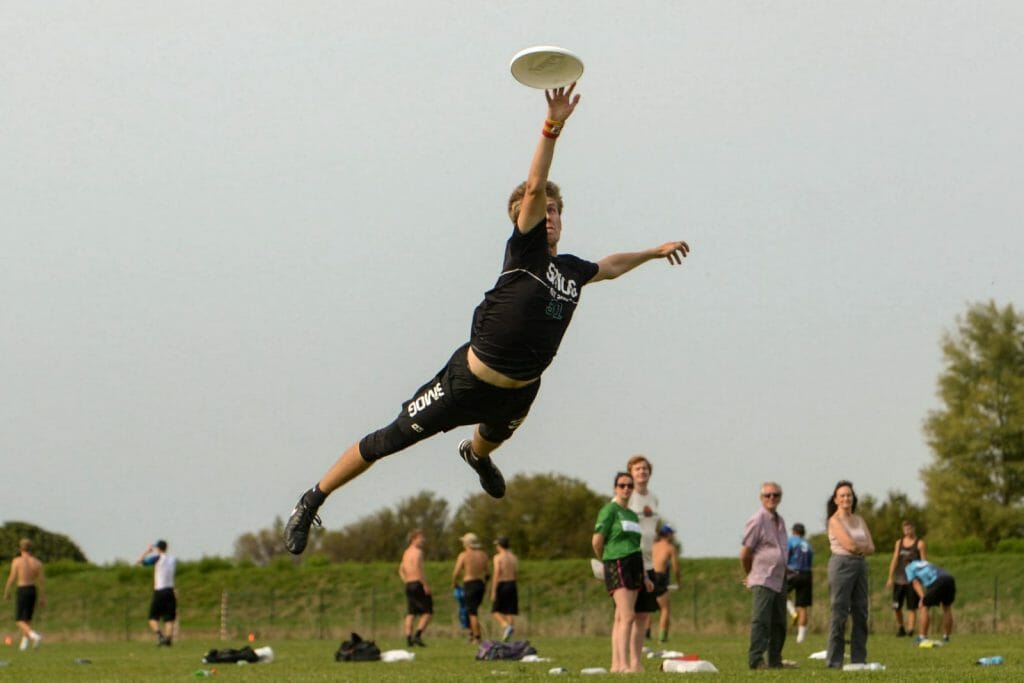 EUCF coverage is presented by Tokay Ultimate cleats. Support Ultiworld Sponsors!
Editor's Note: A previous version of this article incorrectly labeled SMOG 2 as SMOG 1. The articles has since been restructured to reflect the proper team names.
With the first day of games at EUCF 2019 over its time to take a look back and see who's coming out on top after the first three games of pool play. Here are the current pool standings:
Pool M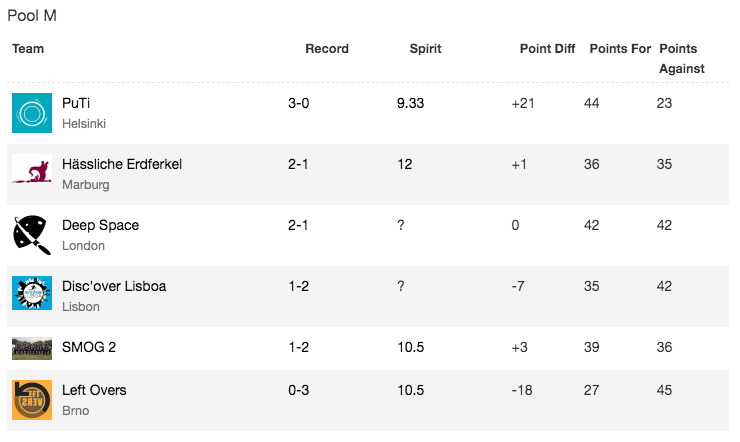 PuTi (Finland) played up to expectations by winning all three of their match ups without too much of a struggle. Their final game of the day against Smog 2 (Northern England) "was a bit of a roller coaster" but they were able to get them under control and finished with a two point lead. Unfortunately the rollercoaster never ended for Smog 1 who had a difficult day of losses. They took a two point lead against Flow (Wroclaw, Poland) in their first game of the day but the Polish team caught up to them by half time and they soon began to fall behind. Despite stellar performances from Rachel Turton, Ivan Mladjenovic, and Rachel Naden, the theme continued for the rest of the day as they lost twice more. It seems the pressure of great expectations may have been too much for this English team who seemed a little stuck in their own heads.
Smog 2 started the tournament on a good note with a strong win over LeftOvers (Brno, Czech Republic) followed by narrow losses in their final games of the day. The Czech team also had a tough day with three losses. Their closest game of the day was against Deep Space (London, England), however some offensive mistakes left them two points shy of the win against the Londoners who were fired up after two hard fought games earlier in the day. Deep Space began the day with a universe point win over Disc'Over Lisboa (Lisbon, Portugal) in a fast-paced and hard fought game. They started off trading points with the Portuguese squad who eventually won the first half and started to pull away with four breaks in a row. Deep Space managed to check back in to the airport fields with some exciting plays featuring a hammer from Conor Hogan over Disc'Over's heads' to an open Nikita Kovshov and a greatest from Sam Vile.
Disc'Over, with only five women, continued to battle hard throughout the rest of the day. Their second game, another universe point finish, ended in their favor but left them tired due to their small roster. Hässliche Erdferkel (Marburg, Germany) took advantage of their exhaustion to claim an easy win over Disc'Over in their last game of the day with impressive offensive and defensive plays by Lasse Hoogen with Julia Wenrich and Ulla Prechel catching some impressive goals. Erdferkel proved they were not to be underestimated by also coming out on top in a tough fight against Deep Space. Though they lost to PuTi, they are certainly in the running to make it to the semi finals if they keep up the intensity, clinical offense and tight defense they brought to the pitches today.
Pool N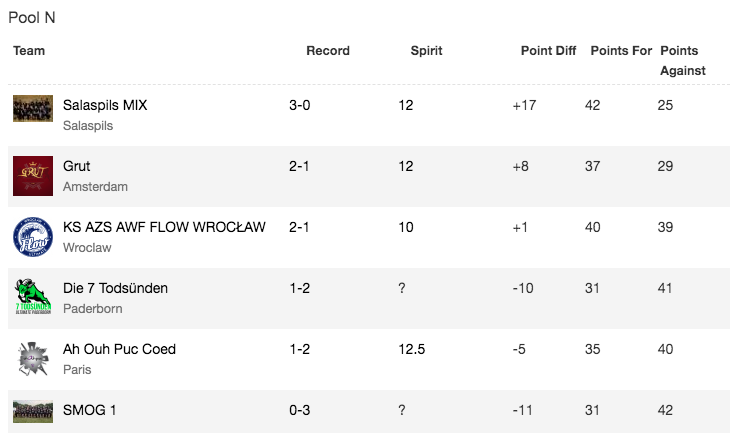 A level of ferocity was brought to Caorle by Flow (Wroclaw, Poland). A variety of hard and poachy person defense led them to strong wins at the beginning of the day against Smog 1 and Ah Ouh Puc. They faced Die 7 Todsünden in the last match and began sluggishly due to fatigue. They were unable to come back from this while the Germans set a quick pace that they just weren't able to match. Flow still have a chance to make the semis but the road has become significantly more challenging due to this loss. Their first game of day two will be against Salaspils (Salaspils, Latvia), a team who have had a relatively easy ride in what was predicted to be a tight pool. Their quick offense and versatile defense led them to three dominant wins over their opponents. If they keep this pace up we will likely see them in Sunday's final as they haven't even flinched yet.
One team that faced a tough loss against a relentless Salaspils are Grut (Amsterdam, The Netherlands). One of the strongest teams in this pool they reached points cap quickly and efficiently against Die 7 Todsunden (Paderborn, Germany) and Ah Ouh Puc. Even in face of their loss to Salapils they have a strong chance at coming second in Pool N.
Die 7 Todsünden may have lost to Grut but they seem to be the only team that came close to touching Salaspils. Todsünden took an early lead against the Latvians and managed to hold it until half time when the Germans took the foot off the accelerator and seemed to fall asleep at the wheel. They came out with a loss but succeeded in shaking up expectations by beating Flow and have a sure chance at winning both their upcoming games against Smog 1 and Ah Ouh Puc.
Ah Ouh Puc began the day with a tough test against Grut which threw them into the high level competition with a bang. Two hard losses helped them build momentum and collect a final win against Smog 1, which they happily scooped up with their giant portable spoon. They will face Die 7 Todsünden tomorrow morning in what is bound to be a close, exciting game.