Shout have a shot to repeat! Cosmic Girls look for their first title!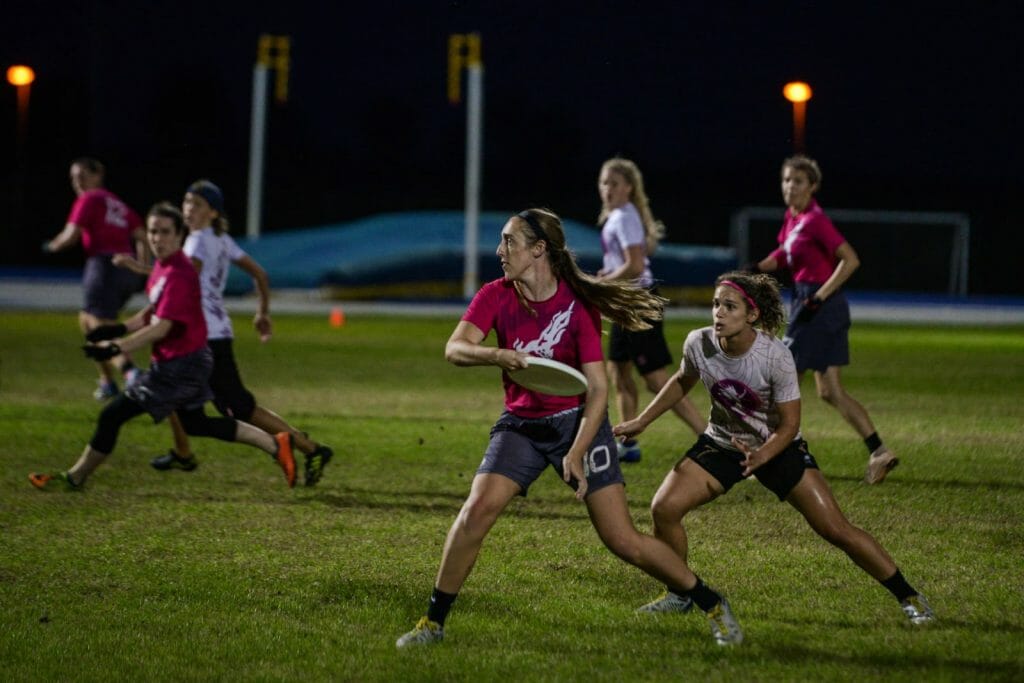 EUCF coverage is presented by Tokay Ultimate cleats. Support Ultiworld Sponsors, and check out Tokay, the cleats you were looking for.
The last of the pool games and the semifinals were played today. Both semifinals were hard fought and CUSB Shout and Cosmic Girls were the two winners who will face off against each other on Sunday.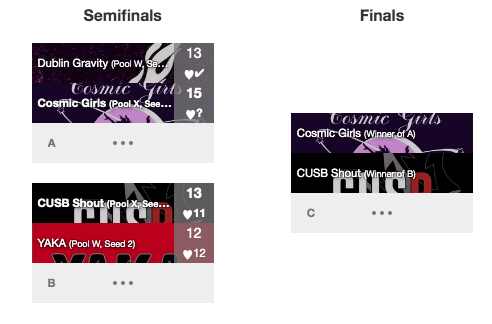 Pool W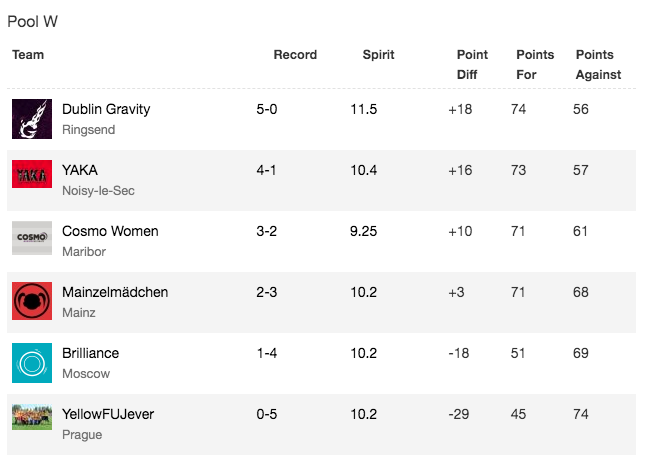 Gravity (Dublin, Ireland) crept closer to securing their place in the semifinals early in the morning with a win over Brilliance (Moscow, Russia). The Russians went on a three-point run at the beginning of the match however gravity's defensive line decided to step it up at that point and scored numerous breaks. Cosmo (Maribor, Slovenia) were the next team to fall to the strong Irish side, which sent Gravity them to the semifinals. The only loss Gravity had to deal with in the tournament at that point, was the loss of one of their key players, Fiona Mernagh, who has been ruled out of playing due to an injury sustained on double game point during the Cosmo Maribor game.
Cosmo entered their game against Gravity on a high from winning their intense match against Mainzelmädchen (Mainz, Germany). Cosmo and Mainz traded with both sides scoring breaks. Cosmo's Levke Walczak matched up against Mainzelmädchen's Kyoko Hosokawa. Walczak played a risky poachy defense strategy which paid off and she managed to intercept a goal intended for Hosokawa. The match went to double game point and Cosmo finished it off with a swift full field forehand huck from Walczak to fellow EuroStar, Paulina Dul, who was a welcome addition to Cosmo on Saturday.1
YAKA (Noisy-Le-Sec, France) won with relative ease over YellowFUJever (Prague, Czech Republic) and then Brilliance to make their way into the semis. They were hopeful that having two comfortable wins would help them going into semifinals.
Pool X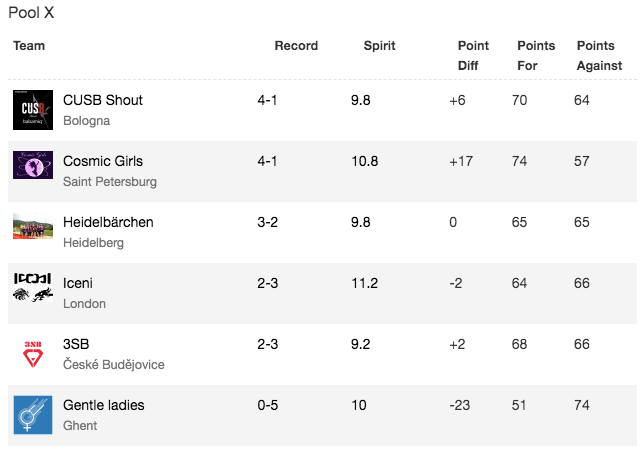 Cosmic Girls (St. Petersburg, Russia) began the day with a win over 3SB (České Budějovice, Czech Republic). The Russians were initially caught off guard by the tight Czech defense but in time, they brought the game back with EuroStar, Dina Dumanskaia, assisting in a number of goals. Their next game against Heidelbärchen (Heidelburg & Karlsruhe, Germany) proved critical as both teams went into it with three wins and one loss under their belts. The teams battled it out, but Cosmic Girls proved themselves as the stronger team in the end. The Germans matched their tallest player, Sabine Mannherz, against Dumanskaia to try to shut her down however it wasn't enough to take her out of the game and she still led the team to a 15-11 victory.
CUSB Shout (Bologna, Italy) defeated Gentle (Ghent, Belgium) 14-12 early in the morning even after the Belgians scored five consecutive points in a great display of passion and determination. CUSB did not let this phase them and kept playing their quick give and go offense with every second pass going through the safe hands of two-time EuroStar Laura Farolfi. The whole Italian side erupted in a cheer when the final goal was caught by Giulia Borghi as the pressure which had been building throughout the final three points was released. They then went on to beat 3SB, destroying their dreams of making the semifinals.
After all five pool games this meant that CUSB Shout and Cosmic girls finished top of Pool X with four wins and one loss each.
Semifinals
YAKA vs Shout
The first semifinal that took place was YAKA vs CUSB Shout. These two teams played against each other previously at EUCR-S and in that instance CUSB Shout won on double game point with YAKA being ahead for most of the game. Once again, the teams faced off in a double game point thriller and CUSB reigned in the victory even though YAKA had not fallen behind for the entire game. The match began as excitingly as it finished with a huge handblock from YAKA's Aline Mondiot. A few turns by both teams later and YAKA had scored the first point and break of the game. YAKA looked confident and went on a three-point scoring run where a big block by Annika Wolfsteiner and execution errors denied CUSB of some smooth offensive points. With the score at 7-4 to YAKA, players tried their best to keep every disc alive and in the gusty evening wind it paid off for both sides.
By half time the sideline was electric. Urged on by the band of Italian supporters, the CUSB side, who were down 8-6, came back after half time with a new energy. They played a zone defense which forced YAKA to throw the disc backwards more often than forwards. YAKA was lacking upfield options and the handlers looked tired of swinging the disc but not gaining any real yards. Robyn Fennig was a key player against this seemingly impenetrable zone, placing herself where she could receive a longer pass and throwing some floaty backhands over the heads of the CUSB defense. When YAKA did manage to get the disc to the endzone the CUSB defense were ruthless and Laura Niederhauser got a huge block in the endzone which the Italians converted into a break, putting them at 10-10 with the French.
The teams went back to trading points but YAKA were still slow to move the disc on offense while CUSB with their large squad used their fresh legs to play very fast paced and efficient offense. A massive layout block by Laura Farolfi gave CUSB and one score later brought things to double game point at 12-12. YAKA came out on offense for the final point, hands chalked and raring to go. The pressure of this final point was perhaps somewhat overwhelming for the French side and they made an uncharacteristic drop. The slick Italian side needed no prompting and they slotted the disc into the hands of Cecilia Scagliarini and locked down their spot in the EUCF final for the second year in a row.
Gravity vs Cosmic Girls
The highly entertaining semifinal between Gravity and Cosmic Girls was out of this world. This game was the only game of the day showcased in the Caorle stadium. Over the buzz of mosquitos and a drone, the rowdy Irish and Russian spectators chanted, sang and, tried to lift the teams' spirits. Both teams were missing a key player as Sasha Pustovaya missed her flight to the EUCF and Fiona Mernagh was still out of competition from the injury she sustained during the Cosmo Maribor game. Cosmic Girls once again proved their strength and served up Gravity their first defeat of the weekend, winning the game at 15-13.
The game took many turns and both teams got their chances to be in the lead. Gravity's offense was variable and while the full pitch hucks from Áine Gilheany were received with ease, they also worked the disc up the pitch with cutters only coming under and up the line. The Gravity zone defense put pressure on the Russians and Gravity's Sophie Farnan intercepted a pass which allowed them to score their second break in a row. They were visibly pumped up over their two-point lead, 9-7. The Cosmic Girls did not worry over this and maintained their composed offense, gradually working the disc through Gravity's zone. Anna Pustovaya collected a break point goal for Cosmic Girls which began the takeover of the scoreboard beginning with the scores tied up at 9-9. A three-point scoring run ensued, which gave the Russians more confidence while the Irish were concerned and found it hard to reset the disc. The final point began at 14-13 to Cosmic Girls. The crowd erupted as Dina Dumanskaia threw an inside break to Yuliya Akramova for the win, an impressive duo that have been racking up the stats together in every game so far.
Final Preview
Tomorrow's final will see Cosmic Girls play CUSB Shout for the second time this weekend. Their first meeting ended in a double-game point win for CUSB, however there's no doubt that Cosmic Girls will step up their game and give the current European Champions a good run for their money. Both teams are highly skilled and athletic and the women's final of EUCF 2019 could go either way.
---
Paulina is a pickup from Troubles (Warsaw, Poland) and was not able to attend the tournament on Friday ↩