Get set for a major showdown at the top of the pool.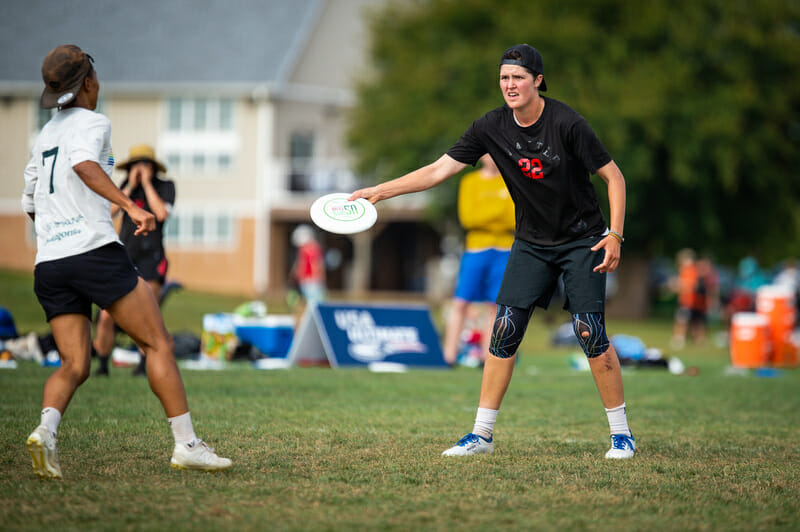 Our coverage of the women's division at the Club Championships is presented by Breakside Strength and Conditioning. Check out Breakside to find out how you can unlock your athletic potential for just $10 a month.
Pool A Preview — Pool B Preview — Pool D Preview — Competition Schedule
When have we ever had a Pool C that felt this strong? Thanks to the parity that teams like Scandal have brought to the women's division, we're looking at a pool that has two teams with very legitimate shots at a national title. And even if we aren't looking that far ahead, only one team is leaving at the top and skipping prequarters, meaning that the other will have to grind their way through an early game on Friday and then likely face another elite opponent in quarters, too. Yikes. Pool C isn't only dominated by Scandal and Riot, though. Nightlock and Iris provide some intrigue of their own, and there's little certainty as to how this pool will play out. This should provide a harrowing experience for the teams, but an exhilarating one for the fans.
Seattle Riot
Seeding: Overall No. 3 seed, C1
Power Ranking: #3
Overall Record: 23-31
Against the Nationals Field: 11-2
Against the Pool: 2-0 vs. Scandal
Barring a few hiccups along the way, this season has largely gone according to plan for Seattle Riot. The reigning World Champions have lost only three games all season, and haven't dropped a game to a team seeded below them. Only Fury, Molly Brown, and Revolution have been able to crack Riot's impenetrable game plan, and they likely won't have to face any of those teams until semis. If Seattle can play at the level they've been maintaining all season, they should have no problem playing their way into the final four — as long as they win their pool.
The good news for Riot is that they hold every advantage for clinching the top spot in Pool C. Their closest competition is Scandal, a team that they have dispatched twice this season already, even if only by a slim margin at Pro Champs. They haven't had the opportunity to play either Iris or Nightlock this year, but the way they've dealt with other mid-level teams has provided no cause for concern.
It helps that they have a potential POTY contender on the team in Jack Verzuh. After cementing themselves as perhaps the best college player ever, Verzuh seems determined to do the same to the club division. When you have a player who can get open most any way they'd like, you may as well utilize them in their fullest capacity, and Riot certainly seems to be doing that with Verzuh. Granted, they're not alone on this team. Hana Kawai, Alyssa Weatherford, and Kelly Johnson all have played superb ultimate this season, and Riot's new additions have been equally as exciting. It's a true shame that Valeria Cardenas is out for the postseason with her ACL tear, but Kaede Yoshida remains one of the most exciting players to grace the women's division this season.
Last year, Riot barely lost out on a shot at the title, losing to Fury in semis on double game point. The two teams make up one of the best rivalries this sport has to offer and have yet to disappoint in the games they play. This year, the path is set for Seattle to avoid Fury en route to the final, which doesn't mean that they'll have too easy a path. Beating Scandal is no small task, and even if they do, they'll likely have to face either the 6ixers or Brute Squad in quarters. Nothing is coming easy for Riot at this tournament, but they have what it takes to get past these teams. If they can make it to the final, they have just as much of a right as any team this season to bring home the gold — a reward long in the making for Seattle.
Likely Ceiling: National champions
Likely Floor: Semifinals
Washington DC Scandal
Seeding: Overall No. 6, C2
Power Ranking: #6
Overall Record: 17-7
Against the Nationals Field: 8-7
Against the Pool: 0-2 vs. Riot, 1-0 vs. Nightlock
It may seem strange that a No.6 seeded team with seven losses on the season is a legitimate contender for the national title, but that's only if you haven't seen Washington D.C. Scandal play. D.C. has put together a strong and physical team that plays without fear and can score points in droves. An influx of new players has provided an appropriate amount of growing pains for this elite team, but they also have shown that they are just as fearsome as the teams seeded above them, and have the highest overall ceiling D.C. has seen since their championship years.
Last year's Scandal was already one of the best-coached squads at Nationals, and now they've added two or three more of the top 30 women in the nation for good measure. Robyn Fennig is undoubtedly their biggest pickup. For the better part of the last decade, she's been a game-changer in a mid-level program. She knows put a team on her back and still run hill sprints while carrying them. By herself, Fennig would have been enough to change Scandal's prospects, but she was joined by Carolyn Normile, Caroline Tornquist, and Austin Prucha, who have all matched the expectations set on them when joining this team. Scandal's season has been one of the true watching pleasures this year – even in their losses, the team remains a force.
Scandal hasn't actually lost to too many teams this season, and they've kept those close for the most part, too. Flaming out twice against Riot isn't ideal when they're in a pool together, but they were within a single point of Seattle the last time they played, and they've surely sensed their chances to win. "We have a good idea of what to expect against Riot after having played them twice this season," said the team's captains. "We're hoping to put on a good show for the livestream."
They also have a solid win over Nightlock which should keep their confidence high in their pool play games. Winning the pool may be crucial to avoiding a rematch with Brute Squad – a team that they haven't had much success against in recent years – but they shouldn't be counted out even if they can't eke out a win against Riot initially. This is a resilient team, and they're known for having more to show by the time Nationals rolls around.
To hear Scandal's leadership tell it, they're aware of their potential, and also the pressure that comes with those expectations: "We truly believe that our team is good enough to win Nationals this year… not every team can say that they can realistically win the whole thing, so to even have that as a possibility is super exciting." They also noted the flip side to that same coin – how a title is a hefty team goal to hit. "It's tough if that is our only team goal," they said. "In the end, if we can play our game at Nationals (running the systems and trusting ourselves and our teammates), we will have achieved our season goal."
The biggest concern for Scandal has to be their streaky style of play. Scandal has a habit of going on big runs and equally long dry patches in games. Too often, they seem poised to pitch a shutout against their opponents, only to have it taken away from them in a handful of points. Scandal's offensive consistency is still suspect, which wasn't even completely solved by Regionals, where they allowed Grit to play them tight right until the end. If this is fixed by the time they land in San Diego, though, good luck trying to stop D.C. when they have the momentum behind them.
Likely Ceiling: National Champions
Likely Floor: Quarterfinals
San Francisco Nightlock
Seeding: Overall No. 10, C3
Power Ranking: #8
Overall Record: 17-13
Against the Nationals Field: 7-11
Against the Pool: 0-1 vs. Scandal
It's been a rollercoaster ride of a season for San Francisco Nightlock, with plenty of ups and downs. For every respectable finish at a tournament – such as placing third at Summer Solstice — there's an equally rough result at another to temper it.2 Nightlock has shown a lot of growth throughout the season and even could make a decent run at quarters, but first they'll have to prove they can make it out of their pool.
If Nightlock's going to make the bracket, it will come as a complete team effort. There's no one player on their roster that jumps out as the focal point of their team, and the eye-test confirms that they preferred a balanced offense when they have the disc in hand. That said, the team definitely performs better when Iris Leung, Lexi Hasan, and Adrienne Lemberger are having a good game. Nightlock's greatest strength is their bench, and while they'll be fighting an uphill battle to take out Scandal or Riot, they cannot be underestimated. Thanks to how deep this team runs, they could be a pest to any squad on day two if they make prequarters.
Trouble arises for Nightlock when they're out of sync. Without a single star to rely on when the gameplan breaks down, Nightlock often sees a string of bad decisions before righting the ship, and at Nationals those mistakes could be too costly for them. The team will be tested by Iris, and overcoming the Canadians may just be a matter of grit at the end of the day.
Likely Ceiling: Quarterfinals
Likely Floor: Done on Day One
Quebec Iris
Seeding: Overall No. 15, C4
Power Ranking: #16
Overall Record: 16-4
Against the Nationals Field: 0-3
Against the Pool: N/A
After an extended absence dating back to 2016, Quebec Iris is returning to the national stage. Thanks to playing almost exclusively in the Northeast, Quebec still has a lot of question marks surrounding the team, and could be the spoiler of the tournament itself. That said, their best wins during the USAU regular season were both over New York BENT, and most of their other victories have been over teams well outside contention for nationals. It's safe to say that Iris is not underseeded.
The one result that may suggest otherwise is Quebec's startling win over Vancouver Traffic at the Canadian Ultimate Championships this year. Their surprise victory over Vancouver brought them to the final against the Toronto 6ixers, where they had a respectable loss to earn silver. In that result alone, Iris proved that they should not be underestimated, and also that they know what it takes to compete on the biggest stage. Getting to prequarters will be a challenge, but Iris has just as strong a chance as any pool fourth seed to make the bracket.
For Iris to make it out of pool play, it'll require a herculean effort from their offensive core. Iris' D-line can earn breaks, but they need Melissa Dunbar, Nyna Prevost, and Penelope Robert on the field as much as possible to make magic happen. That's not to say that they are a shallow team by any means – Marie-Ève Beauchemin and Diana Trinh are testaments to that – but the rest of Iris' offensive unit play more conservatively than their top players.
Iris has yet to face any of the opponents in their pool, and it's hard to see them making it out of prequarters if they survive Pool C. Still, Quebec shocked the rest of Canada with their run to the final at CUC – they have every opportunity to do the same in San Diego.
Likely Ceiling: Prequarters
Likely Floor: Done on Day One
---
2-1 against international competition ↩

Granted, they played all three of the toughest tournaments this season in Pro-Elite Challenge, U.S. Open, and Pro Championships ↩