Recent history implies Pool B is unlikely to go to seed.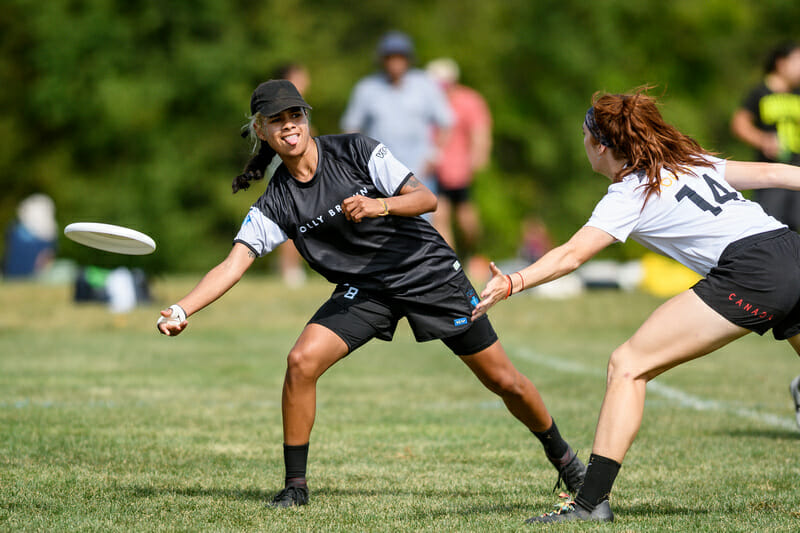 Our coverage of the women's division at the Club Championships is presented by Breakside Strength and Conditioning. Check out Breakside to find out how you can unlock your athletic potential for just $10 a month.
Pool A Preview — Pool C Preview — Pool D Preview — Competition Schedule
Molly Brown has the look of a conqueror in Pool B, which is stocked with a trio of connected teams below them that all have to feel like they could finish second. While Denver can't afford to overlook their pool play competition, each of the other teams will know their results against one another are likely to define what they could do at Nationals. Newcomer Siege is not the type of new kid to pick on after a strong regular season, but Wildfire's win over Phoenix and subsequent loss to Siege looms large.
Denver Molly Brown
Seeding: Overall No. 2, B1
Power Ranking: #2
Record: 21-3
Against the Nationals Field: 7-3
Against the Pool: 1-0 vs. Phoenix
For the past few seasons, Denver Molly Brown has been the new kid in the oft-discussed top tier of the women's division. But a few years have passed since they started sitting around the big kids' table, and during that time, they've built a profile in line with the other clubs. They've advanced to the semifinals at Nationals for four straight seasons. And, this year, they had their most successful regular season yet and enter the tournament with the highest seed in team history.
On their way to that fateful four-pack of Saturday games, Denver claimed the top spot in their pool all four times. This is a club with plenty of experience handling their business at Nationals, despite being shoved into the pit in the Pool D matchup between no. 4 and no. 5 multiple times. And while Phoenix is the only Pool B neighbor they've seen this season, they comfortably dispatched the most threatening team they'll see prior to the bracket, 13-7.
The truth is that all of the questions we harbor for Molly Brown revolve around what happens in the final two rounds of play of the club season. The semifinals roadblock — famously in the form of Brute Squad for each of the past four seasons — has held up Denver's progress. "It's frustrating and it is disappointing, but that doesn't keep us from wanting to try," said Molly Brown captain Claire Chastain following their 2018 semifinal loss. "We just have to figure out an approach that works for us, and go back to the drawing board."
Related: Et Tu? The Molly Brown Story
Nearly one year later, what did they design on their prescribed tabula rasa? "We overhauled a lot of our offensive and defensive systems during the offseason, keeping a few of the structural aspects but diving into both the bigger picture and the minutiae," said the captains. And the results? They've earned victories over Riot, Scandal, 6ixers, and Phoenix this season, and what felt like a win in their rain-soaked comeback against Fury in the Pro Championships final that was cut short due to the downpour.
While there were some notable roster changes — Bert Abbott and Ronnie Eder in, veteran tone-setters Dena Slattery and Maggie Chen out — the core of this team remains and will likely decide their fate. Claire Chastain is still a Player of the Year candidate, flanked by the offensive force of Manuela Cardenas and D-line starter Lisa Pitcaithley. Paige Applegate and Alika Johnston steady the backfield, while Liza Minor provides relentless cutting. Coach Joe Durst and the captains may have cooked up new formations and tactics, but the palette is mostly the same. After years of seeing the same picture, Molly Brown is hoping to finally produce a masterpiece, in gold.
Likely Ceiling: National Champions
Likely Floor: Quarterfinals
Raleigh Phoenix
Seeding: Overall No. 7, B2
Power Ranking: #7
Record: 20-6
Against the Nationals Field: 6-6
Against the Pool: 0-1 vs. Molly Brown, 1-1 vs. Wildfire
Raleigh Phoenix entered the year considered a potential challenger, a team that might fight their way into the hallowed top tier of the division. That was always going to be a tough fight, a constant battle, and ultimately, a 90th percentile outcome. The team would truly have to be their best.
In the context of a team with a lot of youth trying to establish themselves as top 10 team, they had a solid regular season. But as a team trying to break into the division's elite, the season was filled with more stumbles than triumphs. Their 6-6 mark against the field shows that, and of those losses, four came against teams seeded above them, while five were by three or more goals. They had a very real chance to upset Brute Squad at the Pro Championships, but came up just short, 14-13.
Their loss to Wildfire was a team-wide collapse, perhaps their worst result of the season. A 5-2 lead evaporated against San Diego's zone, and in its place was a 10-7 loss. While they beat Wildfire comfortably earlier in the season, that the home team will be their first opponent at Nationals is a potential pitfall.
"We came out really strong in that game, but it wasn't enough to ride that momentum. We know ourselves better now and how to get out of ruts like that," said captain Lindsay Soo of the loss at ESC.
The mental game seems to be the key to unlocking Phoenix's potential. Peering through the keyhole, one can see a win against 6ixers, a nearly even weigh-in with Brute Squad, and wins over good teams by comfortable margins that implicate an elite squad. It's hard to overlook the tremendous talent along their roster. Jenny Wei is a voracious scorer, but Jessi Jones, Ashley Powell, Claire Revere, Anne Worth, and Soo give their offense plenty of avenues to the end zone.
Soo sees it, too, but recognizes that their mindset has to be healthy in order for them to tap into their roster's strengths. She expressed pride in their depth and placed a high value on the team's trust in one another. But she warned of being too reserved. "There's a big difference in trusting each other and waiting for someone else to make a play," she said.
In perhaps the most open year anyone can remember in the women's division, why not Phoenix? How far can this team go? "The division has more parity than there probably has ever been and we are excited to see that," said Soo. "I think Phoenix is in one of the best positions to pull off that kind of upset and that would lead us to a pretty clear path to semis."
Likely Ceiling: Quarterfinals
Likely Floor: Prequarters
Boston Siege
Seeding: Overall no. 11, B3
Power Ranking: #11
Record: 29-4
Against the Nationals Field: 5-3
Against the Pool: 1-0 vs. Wildfire
As the lone first-time qualifier in the women's division, Boston Siege is in a unique position in the Nationals field. For many of the teams they'll face in San Diego, reaching the Club Championships was a bullet point beneath their season's goals; for Siege, it was the headline. After a couple of years as a young program on the outskirts, they've finally found a lot in the city. Now, they have to keep up in that fast-paced elite club environment.
"About half the team was thinking about Nationals and other half was thinking about having a good time," said new head coach Rosalyn Ano of her first huddle with the team. "From the get go, I said, 'Let's get this straight: we're going to Nationals.' Those were the first words they heard from me."
With the tone set from those early huddles, Siege set out to earn their position. The Boston club knew they'd have to set themselves up for success in a deep Northeast region. Ano said the team practiced with that in mind, creating a lot of scenarios where the team had to come back from a deficit or win a game by a large margin, as they'd have to do during the regular season to earn a bid. And those tactics paid off.
"It was about building confidence," said Ano.
Siege pushed through the season with just two losses. But they really announced themselves by winning the Elite-Select Challenge, pushing themselves up to an all-time high #8 in the Power Rankings. Victories over fellow Nationals qualifiers like Ozone and Nemesis showed Siege can overcome more well-established programs. And their hard fought triumph over Wildfire in the final solidified their position.
Skepticism is warranted. The club has just two players who have Club Nationals experience. The aforementioned pair of regular season losses came to Pop and Virginia Rebellion, teams ranked well below them. Names like Ross and Huysentruyt aren't nationally-acclaimed, although breakout youngster Kennedy McCarthy is beginning to pick up buzz. But the cliche question remains: will they just be happy to be there? But even Ano admits the team has nothing to lose. After all, they've done a lot more than anyone outside of that early summer huddle would have expected.
Likely Ceiling: Quarterfinals
Likely Floor: Out on Day One
San Diego Wildfire
Seeding: Overall no. 14, B4
Power Ranking: #12
Record: 15-7
Against the Nationals Field: 2-6
Against the Pool: 1-1 vs. Phoenix, 0-1 vs. Siege
Watching San Diego Wildfire in competition, you can see a strong team with a clear plan. The roster's strengths in the backfield, along with the a young core of playmaking cutters, makes them formidable. They have a strong enough defensive gameplan to make up for a lack of elite shut down defenders. When the pieces come together, as they did for much the Elite-Select Challenge, Wildfire looks like a quarterfinals quality team. Their UCSD cohort, led by Kelli Iwamoto, Dena Elimelech, and Alexandra Diaz,1 gives them pop to go with the skill of Lindsay Lang and Melissa Dunn. The team is excited to have Laura Wehlitz back on the field, as well.
But yet, it's tough to create a bright outlook for Wildfire, given their results up to this point. ESC was their best showing, where they went to the final and were defeated on double game point by the team seeded above them in Pool B, Boston Siege. In semifinals, they came back to overtake the team seeded two spots above them in Pool B, Raleigh Phoenix, their marquee win of the season. But earlier in the weekend, they struggled to narrowly edge Ozone and Underground. And they wilted at Pro-Elite Challenge, landing at a 2-4 record with losses to Grit and Ozone. At Southwest Regionals, they were well-handled by Fury and Nightlock, putting out whatever flames had been lit that they could upset the region's balance of power.
"As in any tournament, we had moments of greatness and moments of learning," said Lang, a team captain, of their Regionals performance. "I've been impressed by our team's ability to apply pressure throughout a game. Some of our best moments as a team this season have come late in games when our sideline is highly engaged and our team defenses just click."
Creating pressure, and thriving under it, will likely decide Wildfire's fate.
Likely Ceiling: Prequarters
Likely Floor: Out on Day One
---
Diaz is coming back from Costa Rica, where she is studying abroad, for Nationals. ↩