How for real is Traffic? Are Ozone or Nemesis ready to play their best?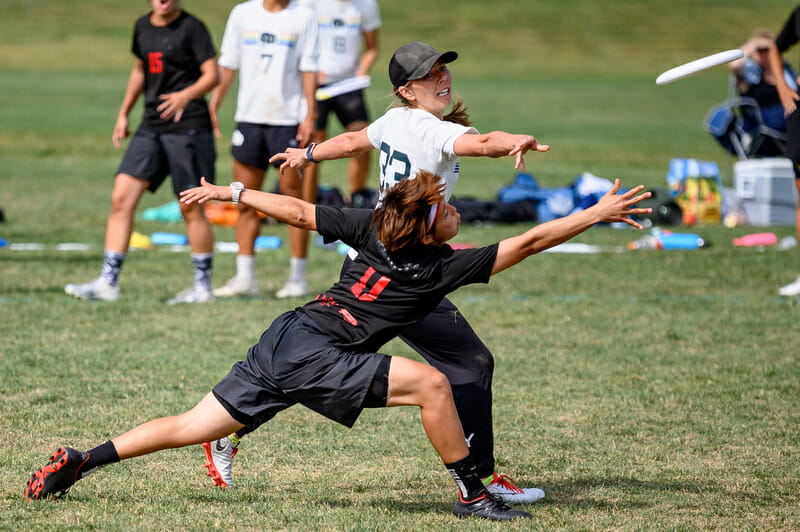 Our coverage of the women's division at the Club Championships is presented by Breakside Strength and Conditioning. Check out Breakside to find out how you can unlock your athletic potential for just $10 a month.
Pool B Preview — Pool C Preview — Pool D Preview — Competition Schedule
The number one seed hasn't won Nationals since 2015, but don't think that means you can skip over Pool A. San Francisco Fury had as impressive a regular as they've had in years, and enter as deserved favorites. Beyond them, there's three teams that could all conceivably finish second through fourth in the pool. It should be one of the most fun pools of the tournament. Here's everything you need to know about each team before the action gets started on Thursday.
San Francisco Fury
Seeding: Overall No. 1 seed, A1
Power Ranking: #1
Overall Record: 19-31
Against the Nationals Field: 12-3
Against the Pool: 1-0 vs. Traffic
The two-time defending champs enter Nationals with their strongest regular season resume in years. San Francisco Fury were absolutely dominant at the Pro Championships, putting together a complete offensive and defensive performance en route to their first regular season tournament win since 2015. That tournament ended on a sour note, though, as star Claire Desmond went down with injury. She'll be in San Diego to give it a go, but she hadn't been able to practice until last Sunday, so it's unlikely she'll be her world-class best.
For Fury, this weekend will be all about making sure Pro Champs wasn't their peak. They've already drastically improved the weak defensive effort that limited them at the U.S. Open, and they have no real weaknesses. Missing out on semifinals is virtually impossible, and once there, the games usually come down to a couple of breaks one way or the other. They're the favorites to win it all for a third consecutive season, and the only that doesn't really have any obvious flaws.
They should barely break a sweat through pool play, which should be an advantage with some of the other top seeds not being so fortunate, and they'll most likely avoid having to play any of the other top six seeds until semis. Once they have to take it off cruise control, though, expect to see the same clutch, high-level play we've seen from Fury for the majority of the millennium.
Likely Ceiling: National champions
Likely Floor: Semifinals
Vancouver Traffic
Seeding: Overall No. 8, A2
Power Ranking: #9
Overall Record: 21-5
Against the Nationals Field: 2-4
Against the Pool: 0-1 vs. Fury
Only two teams played fewer games against the Nationals field than Vancouver Traffic. The two teams with fewer, Quebec Iris and Minneapolis Pop, are the bottom two seeds. As a result, Traffic is a no. 8 seed without a particularly strong resume,2 and are largely an unknown commodity.
They still have one of the best players in the world in Catherine Hui, and a few other longtime members like Terri Whitehead and Laura Mason. But they have a lot of new faces as well, and with so few games against the Nationals field, they're headed to San Diego shrouded in mystery, despite their high seed. Their paucity of high-profile games will limit opponents' abilities to gameplan for them, but head coach Matt Doyle would have preferred more games against elite competition.
"We definitely had an odd season, which was a result of our finish at Nationals last year, and the team's desire to compete in the Canadian Ultimate Championship tournament," he said. "The requirements of the USAU Triple Crown Tour, timing of the WFDF U24 tournament, general season costs, and a scheduling conflict with Canadian Nationals limited our tourney options. We would have much preferred to get more reps against other elite teams, primarily for our own development, but also because those games are what push us to get better."
Traffic did get some reps against Nationals teams at the Canadian Ultimate Championships, where they lost to Toronto 6ixers in semifinals, and their win over Schwa to take second place in the Northwest is a genuinely impressive result. They certainly seem to be a team that will better than 16th place finish from a year ago.3 But based on their regular season, it's difficult to know exactly how much better they are than Ozone or Nemesis, if at all. Truthfully, it's Traffic's wild card status that sets this pool up to be such a fun one.
Likely Ceiling: Quarterfinals
Likely Floor: Done on Day One
Atlanta Ozone
Seeding: Overall No. 12, A3
Power Ranking: #13
Overall Record: 11-8
Against the Nationals Field: 1-6
Against the Pool: N/A
It's been a rebuilding year for Atlanta Ozone, after losing some of the team's heaviest hitters from the rosters that made back-to-back quarterfinals4 the last two seasons. A lot of the club's most important players are seasoned veterans like Maddy Frey, India Stubbs, and Katherine Wooten, but the back end of the roster is awfully green.
They attended only two regular season tournaments — Pro-Elite Challenge and Elite-Select Challenge — but their results over those two weekends reflect their rebuilding status. Ozone put up a number of losses in those two tournaments, but a lot of them were close. They've suffered three one-point losses and, prior to their 13-8 loss to Raleigh Phoenix in the Southeast Regional final, none of their losses were by more than three goals. That seems to indicate a team that is capable of hanging with some of the top teams, but doesn't quite have the depth of firepower to knock them off.
One reason for optimism is the return of Mira Walker, who put up a 10-6-5-11 line the last time she suited up at Nationals in 2017. If she's near her best, she's absolutely the type of player who can flip a close loss into a close win. Otherwise, Ozone will need to step up their performance if they are to break seed and keep their quarterfinals streak alive. They'll have their work cut out for them just trying to make it out of the pool.
Likely Ceiling: Prequarters
Likely Floor: Done on Day One
Chicago Nemesis (No. 13 Seed, A4)
Seeding: Overall No. 13, A4
Power Ranking: #14
Overall Record: 13-95
Against the Nationals Field: 1-7
Against the Pool: N/A
The only team in the field to have neither earned a bid nor been the automatic bid in their region, Chicago Nemesis was a disappointment during the regular season. After some exciting offseason additions, Nemesis looked to be a borderline top eight team in the preseason, but after a solid performance at the Pro-Elite Challenge to start their season, they slogged their way through two rough outings at the U.S. Open and Elite-Select Challenge. They found themselves on the bubble at the end of the season and hoping for results beyond their control to go their way.
In the end they just missed getting a strength bid, and left with a do-or-die game against #15 Columbus Rival in the Great Lakes final. The offense still gave up some breaks, something that's been a suffocating issue at times this season, but they still played one of their best games of the year to steal the bid and make the trip back to Nationals for the third straight year.
Nemesis is a mercurial group, and if talented handlers Jenni Corcoran and Sarah Davis are clicking, they could finish as high as second in this pool. That hasn't happened consistently enough for Nemesis this year, but perhaps the big win over Rival will be a true turning point for the team, and not just a season-extender.
They'll be without Anna Thorn, who's provided reliability to the team's D-line handler rotation, but Nemesis will otherwise have their full roster at their disposal. Even if Nemesis does play to their best and earns a spot in the bracket, though, it's difficult to see them knocking off any of the top three teams out of a very tough Pool D to keep it going into quarters.
Likely Ceiling: Prequarters
Likely Floor: Done on Day One
---