Adjusting to elite ultimate in the United States, on and off the field.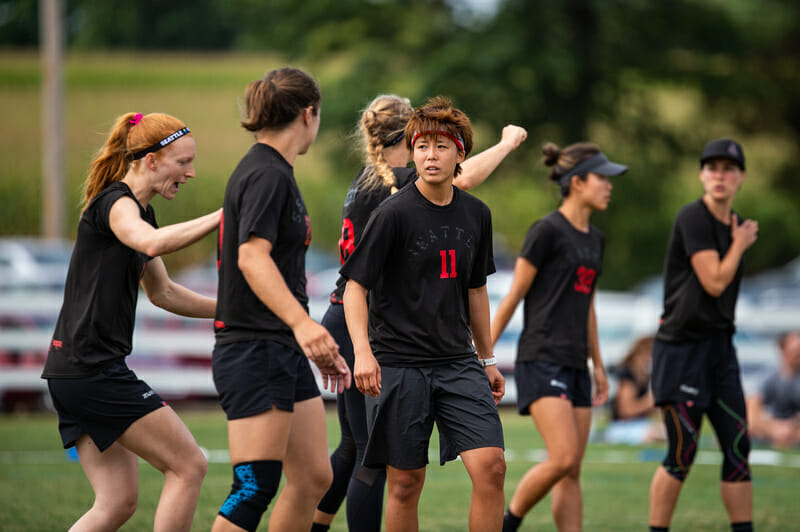 High-profile players tend to make headlines when they change teams. Think Robyn Fennig joining Scandal, Becca Ludford joining Drag'n Thrust, and Grant Lindsley joining PoNY. When #3 Seattle Riot announced they were adding Japan's Kaede Yoshida to the team this season, it may not have had the same effect.
If you weren't tuned in and paying close attention to the 2018 U24 World Championships, you may have missed Yoshida's breakout performance in Perth — including a 'Block of the Year' entry. If you missed the Asian-Oceanic All-Star Tour that same year, you might not know Yoshida at all. But that doesn't change that Yoshida has been one of the most impactful imports of the season.
During her time with the AO All-Stars, Kaede was coached by Seattle's Alyssa Weatherford, which started Yoshida on the path towards playing in North America. She had plans to be in the U.S. again in 2019, specifically Seattle, and was looking to play. Riot was certainly a consideration, but so was Seattle Underground and Boston Brute Squad. With no spot assured, Kaede started trying out and spending time with Riot, and, according to coach Andy Lovseth, made it through tryouts "with flying colors."
After a full regular season with her new team, Kaede has shown herself to be a special player with skills and abilities that raise both Seattle's floor and ceiling. Though she may not do it the way you'd think.
Poise And Exploration: Kaede Yoshida Grows Her Game With Seattle Riot is only available to Ultiworld Subscribers
Already have a subscription? Log in
Whether you visit Ultiworld for our reporting, our podcasts, or our video coverage, you can help us continue to provide high quality content with a subscription. By becoming a subscriber, not only do you receive benefits like exclusive articles and full article RSS feeds, you also help fund all of Ultiworld's coverage in general. We appreciate your support!