Which squad of women's Nationals players is superior?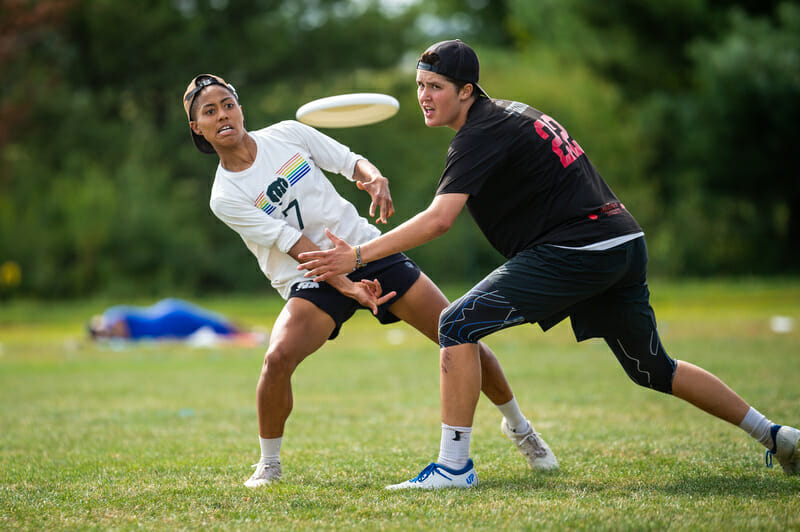 Our coverage of the women's division at the Club Championships is presented by Breakside Strength and Conditioning. Check out Breakside to find out how you can unlock your athletic potential for just $10 a month.
We've had so much fun with the college fantasy drafts the last few years, we finally brought them over to the club level. The basic idea is the same as the college draft: four GMs trying to draft the best team to win a championship right now made up of players attending Nationals. So it's more than simply picking the players who will put up the most impressive stat line, and you probably wouldn't want to draft a team of nothing but deep cutters, no matter how dominant they may be.
Since this is a first time for us with the club division, though, we decided to add an exciting twist: This year, our loyal subscribers got to join in on the fun! For the women's draft, Kristin Franke, of Washington DC Scandal fame, joined Ultiworld staffers Daniel Prentice, Keith Raynor, and Kelsey Hayden on this noble venture. Just as with the college drafts, your job as readers are to vote for the team you think is best, and let us know where we went wrong in the comments.
Be sure to check out our drafts of the men's and mixed divisions as well!
Rules
Snake draft. Daniel, Franke, Kelsey, and Keith pick 1-4, respectively, in odd rounds, and then in reverse order for even rounds.
12 players per team
A pair of two-way players who will be on both offensive and defensive lines per team, and ten line-specific players (five O-liners, five D-liners)
Assemble the best possible team that would beat the three others if they were to play an actual game of ultimate
The Draft
| | Daniel | Franke | Kelsey | Keith |
| --- | --- | --- | --- | --- |
| Round 1 | (1) Robyn Fennig, Washington DC Scandal | (2) Jack Verzuh, Seattle Riot | (3) Catherine Hui, Vancouver Traffic | (4) Claire Chastain, Denver Molly Brown |
| Round 2 | (8) Jessie Grignon Tomas, Boston Brute Squad | (7) Carolyn Normile, Washington DC Scandal | (6) Lauren Kimura, Toronto 6ixers | (5) Kami Groom, Boston Brute Squad |
| Round 3 | (9) Claire Desmond, San Francisco Fury | (10) Amber Sinicrope, Boston Brute Squad | (11) Brittney Dos Santos, Toronto 6ixers | (12) Carolyn Finney, San Francisco Fury |
| Round 4 | (16) Alyssa Weatherford, Seattle Riot | (15) Lien Hoffmann, Boston Brute Squad | (14) Anouchka Beaudry | (13) Manuela Cardenas, Denver Molly Brown |
| Round 5 | (17) Kaede Yoshida, Seattle Riot | (18) Sarah Griffith, San Francisco Fury | (19) Nyna Prevost, Quebec Iris | (20) Cat Phillips, Toronto 6ixers |
| Round 6 | (24) Angela Zhu, Boston Brute Squad | (23) Jessie O'Connor, San Francisco Fury | (22) Sarah Bobak, Toronto 6ixers | (21) Opi Payne, San Francisco Fury |
| Round 7 | (25) Anne Worth, Raleigh Phoenix | (26) Anna Nazarov, San Francisco Fury | (27) Marie-Eve Beauchemin | (28) Jenny Wei, Raleigh Phoenix |
| Round 8 | (32) Amy Zhou, Washington DC Scandal | (31) Cassie Wong, Boston Brute Squad | (30) Alyssa Mason, Toronto 6ixers | (29) Beth Kaylor, San Francisco Fury |
| Round 9 | (33) Dena Elimelech, San Diego Wildfire | (34) Lisa Pitcaithley, Denver Molly Brown | (35) Penelope Robert, Quebec Iris | (36) Mariel Hammond, Portland Schwa |
| Round 10 | (40) Maggie Ruden, San Francisco Fury | (39) Katey Forth, Washington DC Scandal | (38) Terri Whitehead, Vancouver Traffic | (37) Liza Minor, Denver Molly Brown |
| Round 11 | (41) Claudia Tajima, Boston Brute Squad | (42) Nikki Ross, Boston Siege | (43) Cindy Truong, Toronto 6ixers | (44) Calise Cardenas, Seattle Riot |
| Round 12 | (48) Hana Kawai, Seattle Riot | (47) Nada Tramonte, Washington DC Scandal | (46) Lauren Kinoshita, Toronto 6ixers | (45) Lindsay Soo, Raleigh Phoenix |
Highlights:
Well, some obvious trends emerged as the draft wore on: Kelsey picking only Canadians, Franke showing a lot of Scandal love, Daniel full on panicking about halfway through and taking way too long to make each pick, and Keith just absolutely cleaning up amongst all the chaos.
Anna Thorn, the subscriber picker for the mixed draft, hung around and observed the women's draft. Each draft was allowed to use her expertise of the women's division via a phone-a-friend lifeline. Even that couldn't save Daniel's draft.
The saddest moment came when Daniel selected Claire Desmond and then learned about five minutes later that she hasn't practiced or drilled since her knee injury in the Pro Championships final. It helped when he added Hana Kawai in the final round, after Keith nearly selected her a couple of rounds earlier, decided on another player, and then forgot to come back to get the Seattle facilitator.
Four teams had no players selected (San Francisco Nightlock, Atlanta Ozone, Chicago Nemesis, and Minneapolis Pop) while Fury and 6ixers led the way with eight players selected from each. Brute Squad was just behind with seven.
Perhaps the biggest takeaway was how many top end players weren't selected. Kelly Johnson, Jessi Jones, Maddy Frey, Jenni Corcoran, among many others, all went undrafted. We all agreed that we should increase the club draft to 14 players next year, and do away with the two-way players. There's simply too much talent in the division to limit the draft to 48 players.
The Teams
Two-way players in bold
Daniel's
O-line: Alyssa Weatherford, Kaede Yoshida, Hana Kawai, Robyn Fennig, Anne Worth, Jessie Grignon Tomas, Maggie Ruden
D-line: Angela Zhu, Claudia Tajima, Fennig, Claire Desmond, Amy Zhou, Grignon Tomas, Dena Elimelech
Daniel: Now that I've written it out, this team isn't as bad as I felt during the draft. I mean, it's really difficult to not have a great team when you're picking from the best players in the division. If Desmond were fully healthy, I'd play her both ways, and her being full strength would make a big difference for the outlook of my whole team, but I think this squad is still very competitive. I love the Riot synergy on my offense and the Brute synergy on my D-line. My plan is to let Fennig rove around wherever she sees fit, picking her spots to send huge hucks to Grignon Tomas and Ruden, or do her own damage deep. Hana Kawai is a great glue piece for my offense that allows a versatile player like Fennig that freedom.
Defensively, I have some real pests coupled with some of the most athletic playmakers in the division. I feel good about at least making it to the final of our fictional tournament.
Keith: There's definitely some synergy on both lines, and I bet Weatherford, Yoshida, and Kawai are quite comfortable together. This is a nice, diverse, skilled offensive line that won't be stymied by one tactic coming up short; they can easily pivot into another mode. The offense could use someone in the big athletic receiver role, as the other teams all have some size.
A healthy Desmond really completes a defensive line that has shown chops. I'm very high on the defensive capabilities of Amy Zhou, and even though Elimelech and Tajima have been on O-lines this year, they probably are even better on the D-line. This team came together way better than expected.
Franke's
O-line: Amber Sinicrope, Jessie O'Connor, Lisa Pitcaithley, Anna Nazarov, Nada Tramonte, Lien Hoffmann, Jack Verzuh
D-line: O'Connor, Carolyn Normile, Nikki Ross, Sarah Griffith, Pitcaithley, Cassie Wong, Katey Forth
Keith: Oh man, who wants to get on the line getting ready to pull and see Lisa P., Lien Hoffmann, and Jack Verzuh on the other side? Your third best downfield defender is on one of them? That's a recipe for disaster. O'Connor has looked strong for Fury, Sinicrope is a rock, and Tramonte and Nazarov make it all fit together.
When your D-line starts with Surge and Cassie Wong, you know you're building around a good core. Normile can play both ways, as can Katey Forth, and Ross has long been a great grinder. Pitcaithley's someone I consider an offense-first player, but she's fit in nicely with Molly's defense this season. If it were me, though, and I had two-way dominators like Hoffmann, Verzuh, and the versatile Nazarov or Griffith to pick from, I'd want them out there. Feels like a missed opportunity, especially in the case of Verzuh.
Daniel: I think my only real complaint here is the choice of two-way players. I would absolutely have Verzuh on every possible point, and I'd probably rather have Sinicrope, Hoffmann, or Griffith playing both ways than O'Connor or Pitcaithley, as good as they've both been this year. Beyond that, though, I love Franke's O-line. Verzuh and Hoffmann cutting together feels like the perfect complement of two of the best skillsets in the division. Hoffmann has been banged up this season, and that was the cause for her fall in the draft. She could easily go out at Nationals and be one of the best four or five players in the division. This is a great collection of talent that I would have lined up a little bit differently.
Kelsey's
O-line: Lauren Kimura, Nina Prevost, Catherine Hui, Lauren Kinoshita, Cindy Truong, Penelope Robert, Sarah Bobak
D-line: Anuchka Beaudry, Alyssa Mason, Marie-Eve Beauchemin, Hui, Terri Whitehead, Britt Dos Santos, Bobak
Daniel: Well, I applaud Kelsey for her patriotism. But this team is not as good as it could have been. Even with the Canadian exclusivity, I think she left some talent undrafted. Players like 6ixers' Jordan Meron or Traffic's Laura Mason would have made this cadre of Canucks a little bit more competitive with the other drafters' teams. I also would have had Kimura as my second two-way player. She's a block machine, and one of Kelsey's best defensive talents. I'd have her out there on the D-line too. But you know? Kelsey is not only a Canadian homer, but a Northeast homer as well, and I think you just have to respect that. And hey, there's likely no other team that would have more chemistry than this one.
Keith: Here's a picture of PM Justin Trudeau wearing an Ultimate Canada jersey.
Keith's
O-line: Claire Chastain, Carolyn Finney, Manuela Cardenas, Kami Groom, Calise Cardenas, Liza Minor, Jenny Wei
D-line: Cat Phillips, Chastain, Mariel Hammond, Beth Kaylor, Groom, Opi Payne, Lindsay Soo
Keith: By the seventh day God had finished the work he had been doing; so on the seventh day he rested from all his work.
Does my team have the last three Players of the Year? Why yes, yes it does. Six 2018 All-Club selections? Also true. Probably even more in 2019. And those accolades don't include perhaps the most fierce defender in the division (Payne), the hyper-productive Minor, super speedster Calise Cardenas, international superstar Cat Phillips, PUL Championship Weekend MVP Lindsay Soo, or your favorite players' favorite players, playmakers Hammond and Kaylor. This team is the alpha and the omega.
Daniel: Yeah, I'm not sure how this happened. Kelsey going all Canada right before your picks definitely helped, but we all let way too many other players fall to you. Chastain, Finney, and Cardenas in a backfield together, are you kidding me? Would any mark get set, ever? Your downfield defense is also unbelievable. Who's getting open against Groom, Payne, or Soo? I really loved my men's draft, but this is the best team across all three drafts.
Who would win?
Daniel: Kelsey, obviously. Just kidding. There's really nothing that Keith's team doesn't have. That defensive unit is positively fearsome, and there's so much quickness on his offense. It pains me to say it, but he has to be the pick here. I'll give myself second place, followed by Franke, and then Kelsey, who will surely take home the trophy for best spirit score. The Canadian politeness does carry over to spirit of the game, right?
Keith: A Canadian team has not finished with the highest spirit score since Traffic in 2009, although they finished second once since then. Meanwhile, Traffic and 6ixers have been both been in the bottom three in the past four years, and 6ixers predecessor Capitals was a frequently presence at the bottom of the spirit rankings. Sorry, pronounced Canadian-style, Kelsey.
I feel confident my team is the top dog, so it comes down to Daniel versus Franke. The former has the stronger handler group, but the latter has feisty defenders. After D-I Nationals, are we ready to say Elimelech can limit Verzuh? If so, I think the matchup between Franke's O and Daniel's D is pretty even, but I'd favor Daniel's offense ever-so-slightly over Franke's D-line. Really close call.