We picked the best players at Nationals; you pick the winner.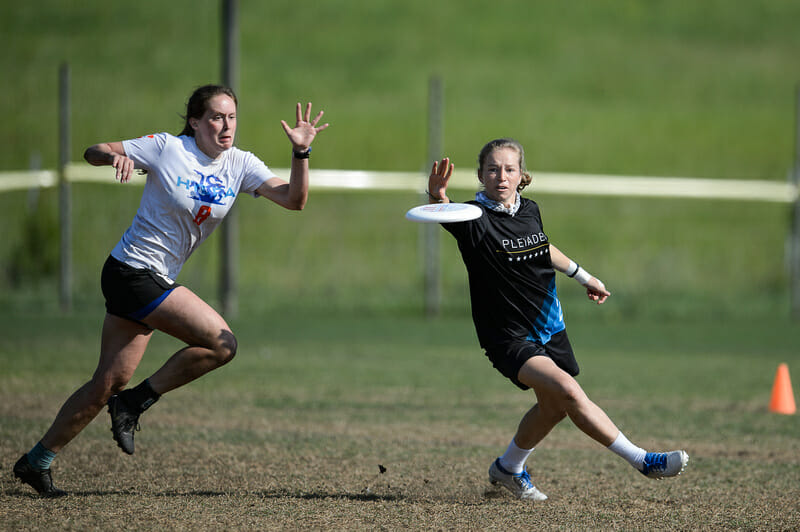 The Ultiworld College Nationals Fantasy Draft is back and better than ever! The core idea of Ultiworld's most fun (and most superfluous?) piece of Nationals coverage is still the same as in years past: draft from the pool of players attending the D-I College Championships in an attempt to form the best functioning team. That means drafting nothing but handlers, no matter how good they are, probably isn't the best strategy.
But we have a slightly different group of GMs picking teams this year. Charlie Eisenhood, Daniel Prentice, and Keith Raynor are all back, but Alix Robbins joins as our fourth this season to put the guys to shame. Just like in previous years, the readers' job is to chop it up in the comments and tell us why everyone's team is terrible, and vote for which drafter you think selected the best team. Oh, and be sure to check out the draft for the men's division we did,1 as well.
Rules
Snake draft. Daniel, Keith, Charlie, and Alix pick 1-4, respectively, in odd rounds, and then the order reverses for even rounds.
12 players per team
Two players that will play both offense and defense per team, and ten line-specific players (five O-liners, five D-liners)
Assemble the best possible team that would beat the three others if they were to play an actual game of ultimate
The Draft
| | Daniel | Keith | Charlie | Alix |
| --- | --- | --- | --- | --- |
| Round 1 | (1) Jack Verzuh, Dartmouth | (2) Dena Elimelech, UCSD | (3) Sadie Jezierski, Ohio State | (4) Claire Trop, Dartmouth |
| Round 2 | (8) Ari Nelson, Northeastern | (7) Caitlyn Lee, Dartmouth | (6) Julia Kwasnick, UC Santa Barbara | (5) Anne Worth, North Carolina |
| Round 3 | (9) Margo Urheim, Tufts | (10) Ella Hansen, Oregon | (11) Domenica Sutherland, Texas | (12) Audrey Brown, UC Santa Barbara |
| Round 4 | (16) Bridget Mizener, North Carolina | (15) Kate Lanier, Carleton | (14) Maddie Gilbert, Western Washington | (13) Emily Barrett, Ohio State |
| Round 5 | (17) Karen Ehrhardt, Carleton | (18) Dawn Culton, North Carolina | (19) Brittney Kokinos, Wisconsin | (20) Nariah-Belle Sims, Carleton |
| Round 6 | (24) Cara Sieber, Ohio State | (23) Kelli Iwamoto, UCSD | (22) Ella Juengst, North Carolina | (21) Mary Rippe, North Carolina |
| Round 7 | (25) Rebecca Fagan, North Carolina | (26) Sarah Kim, Northwestern | (27) Kayla Blanek, Minnesota | (28) Carly Campana, Carleton |
| Round 8 | (32) Steph Phillips, Washington | (31) Isabel Arevalo, Carleton | (30) Maya Powell, Carleton | (29) Leanna Go, UCSD |
| Round 9 | (33) Meg Henderson, Colorado | (34) Bailey Shigley, Colorado | (35) Samiya Ismail, Western Washington | (36) Marie Perivier, Georgia |
| Round 10 | (40) Jessie Sun, Pittsburgh | (39) Louise Beck, Minnesota | (38) Haley Lescinsky, Washington | (37) Maddy Boyle, Oregon |
| Round 11 | (41) Katherine Jordak, UCLA | (42) Emma Capra, Colorado | (43) Claire Dunn, Tufts | (44) Sydney Rehder, North Carolina |
| Round 12 | (48) Rachel Elbing, Minnesota | (47) Morgan Caldwell, Oregon | (46) Sarah Gnolek, Northwestern | (45) Cameron Bryan, Texas |
Highlights:
Daniel's second round pick of Ari Nelson over players that fit a similar role like Ella Hansen and Domenica Sutherland was met with a fair amount of skepticism and a healthy dose of criticism. But was it the biggest reach of the draft?
Alix, after it was pointed out that she'd taken several physical, gritty players to fill out her ranks: "I have a type."
The biggest outburst came when Charlie took Maya Powell in the eighth round. Daniel had planned on taking her and thought she'd fall to him at the end of the round, and when his plan was ruined by Charlie's pick, he loudly, but eloquently, voiced his displeasure.
Much has been made of this year's highly talented rookie class, and Keith and Alix both ended up with three first-year players on their rosters (Lanier, Culton, and Shigley for Keith; Campana, Perivier, Rehder for Alix). Charlie and Daniel each had one. The eight total rookies selected significantly eclipses the two that were taken last year — Dartmouth's Claire Trop and Carleton's Isabel Arevalo — both of whom were also drafted again this year.
Charlie taking Sara Gnolek with his last pick was a calculated risk in his mind. Gnolek has missed almost all of the season with an ACL injury, but as Charlie said, "at this point in the draft, the upside is too high to ignore. If she can't play then I'll just go out there with 11 players."
The Teams
Two-way players in bold
Daniel's
O-line: Ari Nelson (Handler), Steph Phillips (H), Jack Verzuh (Mid), Cara Sieber (M), Margo Urheim (Cutter), Bridget Mizener (C), Karen Ehrhardt (C)
D-line: Nelson (H), Verzuh (H), Rebecca Fagan (C), Meg Henderson (C), Jessie Sun (C), Katherine Jordak (C), Rachel Elbing (C)
Daniel: This is the most I've ever liked any of my teams in my three years of doing these drafts. Getting the best women's division player of all time in Verzuh goes a long way in that. But I also love the balance of both of my lines. So many of my O-line players can hurt you in different ways. They're all comfortable and dangerous with the disc in their hands, and they create some real matchup problems downfield, too. Defensively, I have layout blocks across the board and weapons to get breaks when we get it back — which will happen quickly. Special shout out to Elbing, who, at 33 years old, is going to bring some legit veteran presence on the field.
Keith: I like this O-line a lot, although I wonder if you'd want a third thrower. The five downfield players all can throw, but I don't think any will dominate you with space. Also, no handlers with college Nationals experience, eh? On defense, having to put Verzuh behind the disc — although Sun could help a lot — is going to rob you of having any real big downfield. Do Fagan and Henderson fill that?
Keith's
O-line: Kate Lanier (H), Kelli Iwamoto (H), Louise Beck (H), Dena Elimelech (C), Caitlyn Lee (C), Bailey Shigley (C), Morgan Caldwell (C)
D-line: Lee (H), Ella Hansen (H), Isabel Arevalo (H), Elimelech (C), Dawn Culton (C), Sarah Kim (C), Emma Capra (C)
Keith: What I really like about my team is a clear identity of playing with pace. Lee, Elimelech, and Shigley can all hurt you in space as cutters and throwers. Beck and Lanier can hit targets accurately, and Iwamoto helps push that pace. The same is true on defense, where I have a host of block-getters and a lot of versatility. Plus, I get Ella Hansen's pulls. I also think the Elimelech-Lee combo is the best 1-2 that any roster has.
Daniel: The Elimilech-Lee combo is a seriously strong start to the team. I think you're asking an awful lot of rookies, especially considering you criticized my team for being light on Nationals experience in my handler spot. I'm also not sure I agree with putting Hansen on the D-line. She's got great pulls for sure, but I don't think the defensive aspects of the game are where her biggest strengths lie. Otherwise, it's a very well put together squad.
Charlie's
O-line: Sadie Jezierski (H), Maya Powell (H), Sarah Gnolek (H), Maddie Gilbert (C), Ella Juengst (C), Haley Lescinsky (C), Claire Dunn (C)
D-line: Domenica Sutherland (H), Brittney Kokinos (H), Samiya Ismail (H), Jezierski (C), Julia Kwasnick (D), Gilbert (H), Kayla Blanek (C)
Daniel: Charlie has to be worried about turnovers here. He's got a ton of talent, but he's also filled with shooters who are going to cough up the rock a fair amount. I think he could have better complemented throwers like Jerzierski, Powell, Sutherland, and Kokinos with handlers that better fit a support, possession handler role better than Ismail and Gnolek do. As good as all those players are, it just feel like there isn't enough balance of offensive style here. Still, if you're going to be a team of huckers, it's probably not a bad idea to also load up on players like Gilbert, Kwasnick, and Blanek to go get the disc.
Keith: To Charlie's credit, he has some players who can get the disc back for him given how aggressive his offense seems. Gilbert, Blanek, Sutherland, and of course, Kwasnick, are all real threats to yank possession away when his squad coughs it up. Now that Sadie Jezierski has morphed into some sort of deep cutter — at least if the Northwest Challenge footage is to be believed — he has a lot of ability to win jump balls. He's got a game plan, that's for sure.
Alix's
O-line: Claire Trop (H), Leanne Go (H), Marie Perivier (H), Anne Worth (C), Emily Barrett (C), Nariah-Belle Sims (C), Cameron Bryan (C)
D-line: Audrey Brown (H), Sydney Rehder (H), Worth (C), Sims (C), Mary Rippe (C), Carly Campana (C), Maddy Boyle (C)
Keith: Holy defense, Batman. No easy buckets against this squad, with Sims, Rippe, Campana, and Brown all ready to steal the rock. And this team has some real grit to it, too. There's a lack of elite experience that makes me a bit nervous. But my biggest concern is Alix's backfield. There's no true center handler to be the center of her offense. Perivier and Brown are the closest to it, and I think both of those players feel more comfortable on the move. Perhaps Perivier is ready for the big time, though.
Daniel: The handler spot is definitely a worry for Alix's team. I'm also surprised to see Trop not playing both ways. She's the only first round pick to not be on both lines and one of only two picks in first two rounds to be just a one-line specialist. Worth and Sims are certainly both very valuable as two-way players, but I don't think either of them bring the two-way potency of Trop.
Who would win?
Daniel: The depth of stars in the division makes every team feel so loaded with talent. The difference between Verzuh and the other star bigs in the division feels less extreme than it did a year ago, when it felt like have Verzuh was an insurmountable advantage. Elimelech has been the best player in the division this season, and Caitlyn Lee falling to seventh gives Keith what I think is the strongest top two of any of the teams.
Beyond the top two, though, I just love the balance of my team so much. I think my squad is the most balanced and features the most versatile players, and we still haven't seen anyone be able to stop Verzuh when it's mattered most. I think my O-line is the best line of anyone's team, and my D-line is more than capable of getting the necessary breaks while my O goes out and gets holds with a breeze.
I know I'm biased, but I do believe I have the best team here. And, for the record, I didn't think that last year, so I do feel capable of looking at the teams relatively objectively.
Keith: Alright, Mr. Objectively My Team Is The Best, let's just relax. You're correct that you have the best O-line, I think. Charlie's late Gnolek pick, combined with the oft-injured Maddie Gilbert, could really explode as the best unit if those two are ready to go. Or it could collapse a bit by relying so much on the deep game. Alix has the best defense, that's clear. I think my team is very balanced.
I guess it's probably between Daniel and Charlie, and depends mostly how you see Charlie's high-risk strategy playing out. With all of that experience, maybe that shifts the percentages slightly Charlie's way, making it a little more likely he gets the optimized version of his club.
---
Coming soon! ↩