Miss any of the action from Day 2's quarterfinal round? Our reporting team has you covered.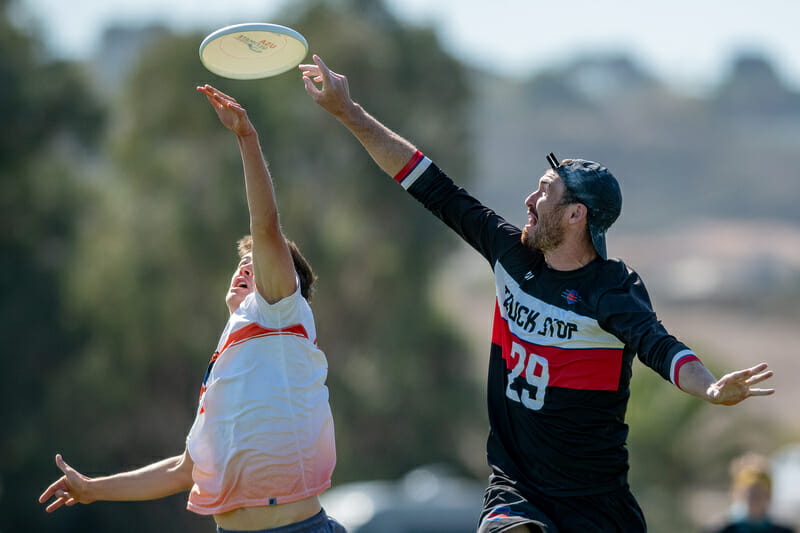 Ultiworld's club men's postseason coverage is presented by Spin Ultimate; all opinions are those of the author. Gear up for your big games, your tournament parties, and everything in between at Spin Ultimate!
Catch up on all the action from the quarterfinal round on the second day of the 2019 Club Championships.
Raleigh Ring of Fire 15 – 12 Washington D.C. Truck Stop
Ring of Fire Staves Off A Late Run From Truck 
Ring of Fire knocked Truck Stop off their game early, built up a 13 – 6 lead, and came dangerously close to coughing up the game in their quarterfinal this afternoon. A flurry of breaks brought Truck Stop to within two points by the time Ring finally scored the winning goal.
Ring's offense showcased a wide array of weapons in their first handful of looks. They established a break-side attack against both of Truck's forces, with handlers Noah Saul and Elijah Long particularly effective in attacking the inside lanes. The real key for their offense, however, was Henry Fisher.
Fisher definitely benefits from playing alongside a host of shooters. Long, Dillon Lanier, Liam Searles-Bohs, Eric Taylor, and Allan Laviolette all play offense like they have a huck glimmering on the periphery of their vision just waiting to be thrown. But his size, speed, and preternatural sense of timing this season make him an ideal target. He finished the game with 4 goals for Ring.
Truck, on the other hand, looked a little frantic with the disc in the first half. Whether it was the fatigue of a difficult tournament, the pressure of elimination play, or the various defensive looks Ring threw at them, Truck had a hard time getting their footing.
"I think we did a good job not letting them get in a rhythm early in the game," said Ring of Fire captain Matt Gouchoe-Hanas. Still, Truck held their own until their fourth offensive point when Ring came down in a zone.
"That zone point kind of threw us out of our game," said Truck Stop handler Nate Prior. "From there it seemed like we got just a bit tentative. Maybe it was like a zone mentality as far as cutting where we wanted to just stand still and not trust each other to move as much, but from there it felt like a little more of a slog."
Ring finished the half with a solid 8 – 5 lead and seemed ready to ride their offense to the semifinals.
There was no shortage of turnovers from either side in the second half. Ring tacked on another pair of breaks early, and before you could blink they had built a seven-point lead. That's when the game started to get weird.
"That's pretty standard for Ring," said captain Sol Yanuck about the kooky finish. Suddenly, Ring were throwing a lot more hucks, and they were missing on a higher percentage of them. Their short game started to betray them, too, as multiple inside break looks and around swings fell to the grace.
What happened? "[Truck Stop] started forcing flick," said Yanuck. "When they were backhand, we threw little inside backhands over and over again up the field until we scored. And when they started forcing flick, we were way less comfortable throwing the inside upline."
Truck scored one break, and then they scored another. "I can't lose sitting down," said Nicky Spiva about the beginning of Truck's comeback. "I can't lose not giving it my all. And then as soon as one guy gives it all, it gets contagious. Other guys start to believe."
Truck nearly made believers out of everybody watching the game, too. What looked like a slam-dunk victory for Ring became less and less certain with every point Spiva, Joe Freund, and Rowan McDonnell played as they brought the game to 12 – 14.
Ring scored to win the game 15 – 12, but it wouldn't have mattered: the hard cap horn had gone off between points. But neither Prior nor Spiva heard it.
They were still believing.
Seattle Sockeye 15 – 9 Minneapolis Sub Zero
Sockeye Beats Up on Sub Zero 
After a reasonably contested first half, Sockeye ran away from Sub Zero with a 15-9 victory to book a place in the semifinals against Ring of Fire. The game promised to present a strength on strength matchup, with the vaunted Sockeye defensive unit taking on a Sub Zero offense that had largely looked unflappable thus far at nationals.
The hallmark of Sub's vertical stack was primarily its dynamic use of lateral space to opening up downfield passing windows, but, just as importantly, their ability to punish an overusing defense back the other direction with a cross-field away throw. The author of the majority of those scores has been Ryan Osgar (who currently leads the tournament with 23 assists) and the first half was no different. Despite Sockeye throwing a variety of defensive sets, Osgar's performance propelled the offense; he finished with 2 goals and assists. However, from the start it was apparent that Sockeye had the defensive firepower to pressure Sub into turnovers.
Sockeye captain Chris Kosednar praised Sub Zero's vertical offense that "they are able to execute at a very high level." Explaining the defensive game plan Kosdenar noted that Sockeye "doesn't necessarily try to do anything super different for various opponents, but rather try to adapt the base defense by emphasizing a concept." For Sub's vertical stack offense, that concept was the force middle set that Sockeye deployed to begin the game, that challenged Sub to attack the weak side space on the far side of the vertical stack.
For all the talk of Sub's offense, Seattle's unit showcased a formidable degree of discipline and efficiency. Save for a few miscues from Simon Montague on poorly executed break shots, Sockeye was largely untouchable when their O-line has possession.
As the teams felt each other out in the first half, both O-lines turned the disc over three times, but Sockeye was able to convert two chances compared to Sub's single break. Sub was obviously aggressive on turnovers, looking to shoot deep but only finding intermittent success. The game entered half at 8-6, with Sockeye up a break.
Out of half, it was a much different story. Sockeye continued to be creative on defense, opting this time for matchup-help scheme instead of more structured junk. The help-heavy style paid off, disrupting Sub's downfield flow and causing reset space clogging that led to 7 O-line turnovers from Sub Zero, that Sockeye converted for four breaks with brutal efficiency (while continuing to endure on offense).
By 11-7, with Sub unable to mount much in the form of defensive pressure, the game felt largely out of reach. Each chance Sub got to seize momentum was answered by Sockeye with a big play like a Trent Dillon posterizing sky or a Dylan Freechild lay out. Sockeye's depth also was on display as they rotated through a 3-deep of players without compromising their performance. While no particular player lit up the scoreboard, the defensive efforts of Matty Russell & Nathan Kwon paired with the offensive prowess of Dylan Freechild and the all-around efforts of the downfield cutting corps kept the game out of Sub's reach.
Looking forward, Kosednar expressed his excitement for bringing the new generation of Sockeye into position to contend for the national title and to develop the confidence that comes with competing and winning a high level. "Sometimes it's hard to know for sure that what you're doing doing is the right thing and trust the thing you're doing, simple or not, are the right things until you're out there doing them and they're working." Sockeye will look to parlay that budding confidence into a place in the finals as they take on Ring of Fire in the semifinals on Saturday.
Chicago Machine 15 – 13 San Francisco Revolver
Machine Out-Muscles Revolver 
Machine held off a determined second-half charge by Revolver to advance to tomorrow's semifinal, where they will face New York PoNY. The 15-13 victory ensured that for the first time in five years (and only the second time in the last eleven) Revolver will not be one of the teams playing on Semifinal Saturday.
The game almost wasn't close. Machine broke multiple times in the first half en route to an 8-5 advantage with all the momentum. Their offense made statements with every bold attack. Between Joe White, Keegan North, Zane Rankin, and Paul Arters, they had no trouble finding throwing and receiving options for high-percentage deep shots. Backing them up, of course, was the legendarily ferocious play of Kurt Gibson. He took the regular season off, but he seemingly hasn't lost a step from his championship years. All of them were winning their matchups with a regularity that was too much for the Revolver defense to control.
Revolver's offense, on the other hand, played right into Machine's hands. "Machine did a really good job of, once they got us on a sideline, trying to keep us there," said Revolver veteran Cassidy Rasmussen. "We kind of got stuck jamming it up [the line]." Revolver waited too long to re-center the disc, allowing Machine's flash poaches that had been lying in wait near the second dump to get blocks and set the team up with good field position on the counters.
Revolver tightened up the line calling in the second half and worked the deep space harder as they began to scrap their way back into the game. Coach Molica Anderson still spread playing time across the whole roster, but she made sure up the workload for Rasmussen, her brightest two-way star. That set up a multi-point battle between Rasmussen and Gibson, who was playing both lines for Machine. It was a spectator's delight.
Rasmussen's deep shots and a renewed energy from the Revolver sidelines gave them the injection they needed to stage a run before it was all over. Byron Liu and Eli Kerns got in on the act to bring the game to 10-11 and 13-14.
They couldn't get over the hump. The last point was a heartbreaker for Revolver; almost a gift for Machine. With Machine just beginning their attack, Joe White made an under cut on the force side. Eli Kerns, seeing the cut unfold from the stack, made a run to see if he could break up the play with a poach. He couldn't make up the ground in time, and he called for help defending the cutter he'd left in the stack, Yiding Hou.
But nobody on Revolver noticed Hou in time. He was all by himself in the end zone when White looked up; all Hou had to do was wait for the backhand to hit him.
Tomorrow's semifinal won't have the same feel without Revolver in the mix. But let's face it: the sheer amount of talent turnover from last year's Revolver team to this one meant that it was always going to be a tougher row to hoe in 2019. Anderson was distraught in the aftermath of the game, but she took a more measured — even rosy — view of it once the shock of defeat had worn off.
"You know what? I think it was a great thing. With Revolver, with our history, a championship is kind of always in the back of your mind. It stings to not get it, but the fact that we were starting to get a couple of breaks back in the end makes me excited about next year's team," she said.
Machine are still focused on seeing how far they can go this year. It's already the deepest run captain Pawal Janas has made at Nationals since he joined the team a few years ago. He felt relief — naturally — when Hou caught the winning score. But there was a healthy dose of confirmation mingled with it. "It felt like we were supposed to be there," he said.
New York PoNY Survives Portland Rhino Slam!'s Joyful Surge
Same situation, different year and opponent. New York PoNY found themselves with their backs against the wall in quarterfinals for the second year in a row. Channeling their championship pedigree, PoNY eked out a 15-14 double game point win over Portland Rhino Slam!
READ: The thrilling tale of New York PoNY's quarterfinals victory. 
BONUS: Relive Portland's Run In Verse. 
Simon Pollock contributed reporting.