Portland Rhino, playing with house money, took the defending national champions to the brink.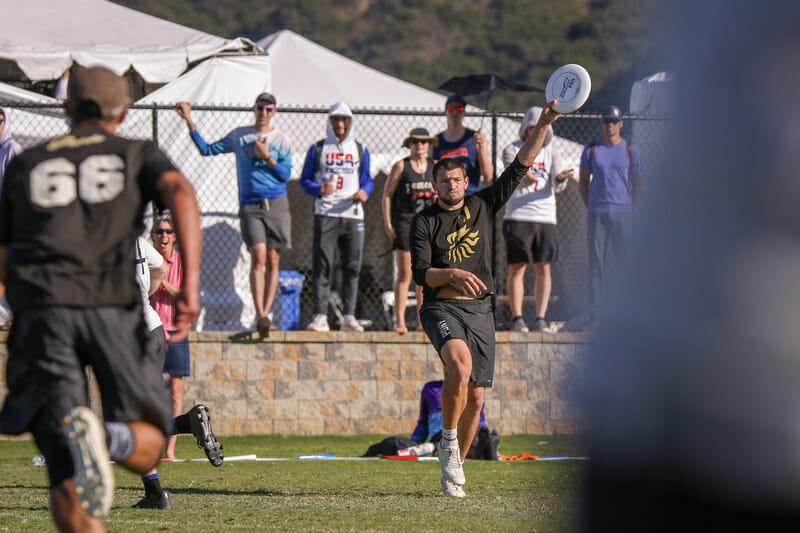 Ultiworld's club men's postseason coverage is presented by Spin Ultimate; all opinions are those of the author. Gear up for your big games, your tournament parties, and everything in between at Spin Ultimate!
Catch up on our full Friday coverage on the Day 2 Liveblog.
SAN DIEGO—Rhino wasn't supposed to be here, and quite frankly, neither were PoNY.
It was 14-14, double game point in the quarterfinal of Nationals, and 16th seeded Portland Rhino Slam! was giving defending champions New York PoNY everything they could handle. New York was on defense and they needed a break to keep their season alive. 2018 Player of the Year Jimmy Mickle was watching on the sideline. Leandro Marx, the game's standout player, hadn't been mentioned in the same breath as a Player of the Year watchlist. It was a weird scene.
This was not a position PoNY thought they would be in against Rhino, because how could a team with a roster stocked with players who had never been to Nationals compete with the galactic constellation of PoNY's talent?
How the teams got this unlikely point was preposterous as it was happening and is only partially beginning to make sense in the hours that follow. A team that lost by 10 points in a pool play game was up 8-4 on the defending champs at the midway point, leading to a wild second half in which PoNY showed why they deserve their accolades with a comeback 15-14 double game point win.
Rhino had been overlooked by just about every team they played this weekend, a placeholder for a W. This hubris proved to be lethal for Austin Doublewide and Boston DiG, as both teams admitted that they had looked past Rhino and on to the next round in the bracket before being eliminated at Portland's hands. It's hard to imagine that, after Rhino felled two contenders, PoNY would treat them as anything less than a serious opponent, but the game's early phases point to a New York team that wasn't ready to execute.
On the game's first point Leandro Marx slashed open side and fired a flick huck to Raphy Hayes, who leapt over two PoNY defenders for the score. This was the same combination that blotted out DiG's hopes on Friday morning in prequarters, and while PoNY may have been prepared for it they didn't do anything about it. The second point wasn't a question of scouting, as a mishandled centering pass by Sean Keegan gave Rhino a free 70 yards for a break.
It was 2-0, but still, no one was starting to buzz. It's just Rhino, it's two fluky scores. The universe will right itself shortly. But on the next Rhino possession they put in a clean hold. And on the one after, Raphy Hayes once again took the roof off of PoNY's defense. Now it was 4-2 and the crowd was starting to get into it. And then all of a sudden it was 5-2, because Harper Garvey put the wrong touch on a forehand to Mickle and Rhino's D-line again took advantage of the short field.
The wind was pushing PoNY's technical throws wide, but not impacting Rhino's direct approach. Marx blew past the five yard cushion he was being given by his defender to collect on an in cut and then lanced a flick huck to Hayes—it was suddenly 6-3 and the excitement for Rhino was real. They were taking it to the champs and PoNY was going to have to do something about it.
"We were trying to play poachy, thought we could disrupt them, but they were comfortable with it and just on fire with their shots," said PoNY coach Bryan Jones. "Their first five or six goals were just flick hucks, flick hucks, flick hucks, so about five or six points in we decided to force backhand, but they were still beating us with around flicks. We went more no around on our marks and it started to work well in the second half."
When PoNY tried to take the easy way out on offense, it generally worked. Rhino's defense didn't have a good answer for Ben Jagt downfield or Mickle behind the disc. The easy scores for PoNY looked easy. Portland's defense was not complicated. They put guys in the lane against a sidestack, waited for PoNY to throw the disc near them, and then bid in that direction. Most of the time, it ended up with Rhino players sprawling on the ground and PoNY off to the races. But PoNY played too close to the flame on enough occasions that Rhino was able to get a few breaks. And with the way Marx and Raphy were playing on offense, a few breaks went a long way.
Hayes was putting the exclamation point on Rhino possessions and Marx was building the sentence. "The gameplan was to back Raphy, we put Conrad Schloer on him but he got beat deep and had to play even further off of him" said Jones. "Leandro beat us more with his flicks and his throws in the beginning of the game, but our plan with Joshua Stevens-Stein and Jibran Mieser guarding him was that he wasn't going to beat us deep much. But he still got his because he's a phenomenal player."
As a member of the U24 national team, Marx was the most notable Rhino player heading into Nationals, but this kind of production on such a big stage was a whole other level. His raw athleticism and aggressive technique came together to make him a nightmare cover in the open field. And his first half throwing performance made the volume of touches he was getting a real problem for PoNY. He put another perfect huck into the endzone on a low backhand that found its way over the stack to the break side for a score that gave Rhino a 7-4 lead.
But merely forcing him away from the disc wasn't a tenable option either. A Lindsley throw that tried to thread a window that wasn't quite there lead to another PoNY turn and Rhino quickly launched a counterattack. Daniel Lee put a disc into space, Marx put on the jets, and suddenly Portland Rhino Slam! had taken half on PoNY 8-4 in the quarterfinals of Nationals.
Rhino's game plan was simple and, for almost the entire game, it was effective. "Run fucking hard. Use our depth. Trust everyone. All 23," said Marx. "We're playing with house money so we [could] just leave it all on the field."
Now no one could overlook Rhino.
"BVH1 said at halftime that we're in a dogfight, here are the exact steps we need to do to win this game, but we need full buy-in and no doubt from everyone," said Jones after the game.
PoNY came out and calmly held to start the second half—it was easy dump swing offense with Sean Keegan hitting Alex Thorne on the cone. But even as the offense was shored up for PoNY, they still needed breaks. And that started with Jeff Babbitt.
An X-factor for PoNY this season, Babbitt's ability to dominate the deep space can change the shape of a game rather quickly. He gobbled up a blady flick huck on the first defensive point out of half for PoNY, and a few throws later Jimmy Mickle was hauling in a goal for PoNY's first break of the game.
But even with Babbitt in the mix, Leandro Marx was still creating space and reeling in scores. Tough pressure from PoNY caused some near misses for Rhino over the next couple points, but Trevor Smith was able to keep the disc moving in the backfield until Marx could create space deep. Two more goals for Marx kept PoNY at bay and put the score at 10-7.
Babbitt's influence could be mitigated for only so long long however and this time he finished off a break. A Rhino cutter bobbled the disc out of bounds under pressure from Jack Hatchett and Hatchett ripped an outside-in flick into the endzone break space. Babbitt got a read and snatched the disc out of the air with an astonishing layout, the ferocity of which was unmatched by any other play in the game.
The gap was now down to 10-9, and the decidedly pro-Rhino crowd was starting to get nervous. Marx didn't flinch on the next point, carving up the PoNY defense for the umpteenth time, fading a flick blade into the soft spot behind PoNY's backline protection.
Marx's final stat line read five goals, four assists, and only a single turnover; deeply impressive numbers in their own right but especially so considering that everyone knew what he wanted to do and still no one could stop it. In the later stages of the game it looked like Marx was the only player cutting on offense for Rhino, with the rest of the team operating to keep the possession alive long enough for Leandro to get open. It sounds more like something a regional level college team employs, but so successful was Marx that it was working in the quarterfinals of Nationals against the defending national champs.
"The feeling was super sick," said Marx. "It's the first team I've been on where we've used our entire depth for the entire Nationals run. Not many teams can say that, which is super sick."
But as effective as Marx, Hayes, and Smith were, the depth of talent on New York's D-line started to turn the tide, pressuring the rest of Rhino's offense into errors. An errant throw from Hayes turned into a break score from Ben Katz to Babbitt that tied the game at 11-11, and a soaring catch block from Mike Drost on a huck turned into a flick bomb from Mickle to Sam Little. It was 12-11 and PoNY had their first lead of the game. The champs had found the groove, and the team flooded the field in celebration of having dug themselves out of the substantial first half deficit.
So many times we have seen an underdog fade away once they lose the lead in an upset bid. The energy and confidence that allowed them to punch above their weight disappears, and they begin to play like the team everyone thought they were. Rhino didn't let this happen. Another huck to Marx lead to another goal and it was tied up again at 12-12. The underdogs still had some fight left in them.
A whole lot of fight it turns out. At 13-13, the Rhino D-line broke PoNY's all-star offense without Marx or Hayes on the field. Mickle hesitated on the end of an in cut, giving Vinh Bui the space he needed for a layout block at the brick mark. Bui then sent a flick blade towards the force side cone with David Sealand marginally in the area. It was a throw no one thought Bui would attempt and fewer people thought would be completed, until Sealand miraculously emerged from a contorted layout with the disc in his hand on the goalline.
It was such an implausible passage of play that many watching on the sideline gaped at each other in disbelief throughout the Rhino timeout that followed the catch. That disbelief turned to giddy excitement as Trevor Smith laid out past Sean Keegan and Mickle for a goal that put Rhino on the doorstep of a truly shocking upset.
But facing another deficit, one that would potentially be fatal, New York showed why they are who they are. As the crowd roared for another Rhino break that would end the game, PoNY's O-line put together a text book point that lead to an easy score for Ben Jagt. That set up double game point, and gave the champs one D-line to defend their title. O-line stars Kocher and Lindsley came over to join Sam Little, Babbitt, and other core defensive players for PoNY. Notably, Jimmy Mickle was watching from the sideline.
"We were confident in the guys we put out there to get a block, and that there would be plenty, with Kocher and Lindsley, to move the disc afterwards" said Jones after the game.
On the other side of field, Rhino's offensive unit that had persevered through so much was a point away from the biggest upset of this, or maybe any Nationals.
Double game points bring unmatched drama in ultimate, and the story of this game had final cruel twist. After smothering handler defense from Sam Little bogged down the Rhino flow, Marx was able to churn his way open on the trap sideline. The backhand from Hayes caught some air and rose at the last moment. Marx couldn't adjust in time as he sprinted full speed at the disc and it bounced out of his hands. It was Marx's only turnover of the game. He had been almost perfect, but against PoNY almost perfect wasn't good enough.
Sam Little hit Chris Kocher, Kocher swung to Lindsley, and Lindsley found Babbitt's mammoth presence with a huck to the break side. PoNY's comeback was complete, Rhino's shot at immortality had come up just short, and the tournament rolled on to semifinals.
---
PoNY coach Ben Van Heuvelen ↩