San Francisco Mischief took down three-time national champions Minneapolis Drag'n Thrust with a stunning defensive performance.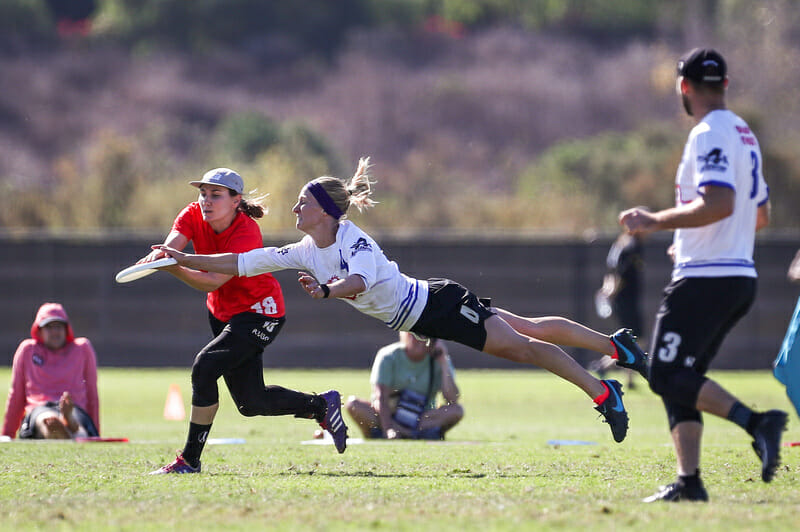 Ultiworld's reporting on the Club Mixed division is presented by Universe Point cleats. All opinions are those of the authors. Please support the brands that make Ultiworld possible and shop at Universe Point!
SAN DIEGO— No. 6 San Francisco Mischief put together a comprehensive victory over No. 1 Minneapolis Drag'n Thrust, breaking Drag'n Thrust three times in the first half and keeping their foot on the gas en route to a 15-10 victory. Mischief's offense was clean and precise, rarely turning the disc over even as the wind picked up. The San Francisco D-line offense was aggressive, pushing the pace to capitalize on their chances. Execution errors proved to be the difference in this game, as Mischief was far more clinical with the disc in their possession.
 Drag'n Thrust Can't Elevate Above Mistakes
So many of Mischief's break opportunities came from miscues by the three-time national champions. It was never one specific type of error, either. One of Mischief's breaks came from an errant first throw from the brick mark, giving Mischief a short field opportunity that they pounced on. Other turns were reset passes thrown behind the handlers, or overly-aggressive throws on the goal line when another swing would have been safer. Overall, the precision we've come to expect from Drag'n was absent. Unforced errors are always tough to stomach, but it was the mental mistakes from the Minneapolis team that really backed them into a corner. Even still, one would expect to see a team as deep and talented as Drag'n Thrust lean on their experience and prevail.
This year, though, the margin for error disappeared. Many of the lower seeds learned that the high risk play is still worth making and were rewarded for it. During those transition moments after a turnover, it always takes offensive lines a few moments to find their matchups and get set. That creates an opportunity for an aggressive D-line offense to find mismatches or open players, and that's exactly how Mischief attacked Drag'n Thrust. Mischief went 5-for-7 on their break opportunities, and three of those breaks came within three throws of the Drag'n turnover.
Jordan Jeffery notched two assists and was a huge throwing threat for Mischief's D-line offense. His hucks and ability to work underneath kept his defenders off balance to the point that he had every option available. With cutters like Lily Steponaitis (1A) and Jacob Smith (3G, 2D) around him on the D-line, who could generate blocks and punish turns downfield, and another dangerous handler with him in Robin Meyers, the San Francisco put together a stellar defensive performance.
Drag'n Thrust went 1-for-10 on their break chances, not nearly enough to stay in contention. Overthrows, missed swings, or hucks caught by the wind all unraveled any progress for the Minneapolis D-line.
"Mischief did well to be cued in to close the lanes whenever we tried to shift position, and then go back to playing regular defense. That also made it difficult for our D-line offense to get into a flow and attack the break side," said Austin Lien after the game. Lien (2G, 2A), Holly Denecour (3A), and Caleb Denecour had standout performances for Drag'n Thrust, but they could not come up with another clinical performance like they had against Seattle Mixtape in the quarterfinals on Friday.
Mischief Rides Team Mentality to Victory
"We've really been honing our mental game coming into this weekend, and all of that prep we've been doing paid off for us," said Mischief D-line cutter Emily Prader. We've seen teams succumb to the pressure of being in a high-stakes game, and today it looked like it was the title favorites who weren't able to put it together.
"Our team is in a really special place. Everything is coming together on and off the field for us, and the themes this weekend for us have been trust and joy. I think both were on display today," said Mischief coach Andrew Berry. It was clear the team was enjoying playing in the moment, keeping loose on the sidelines while also providing energy and active help for their defenders. Quick to celebrate their teammates and lift them up after tough points, Mischief's mentality was a difference maker.
One of the players Berry and captain Gina Schumacher highlighted for his contributions was Matthew Crawford. He put together a huge performance on the field with a goal and four assists and they also called out his other contributions. "Crawford has really stepped up to be a well-rounded player, and what stands out most to me is his mental game. The mental space he was in today really lifted the team," said Berry. "He's a great teammate, he really embodies the values our team has, both on the field and how we make the sport better and more equitable," Schumacher added.
Mischief's stars also came to play today. Schumacher had three goals and an assist, on top of tireless under cuts to keep the offense moving. She caught up to throws that any other player would have let go, and her grab at the end of the game to put Mischief up 14-10 gave the team that final energy boost to break for the win. Cody Kirkland (1G, 2A) put in another high-energy offensive performance, and Lexi Zalk (4G) continued her run of incredible cutting performances. Drawing the Sarah Meckstroth matchup, Zalk did a masterful job drawing Meckstroth into places where she was tempted to help on defense, and took advantage of the new space and her teammates' throwing creativity to break the game open.
Mischief is peaking at the right time, riding an impressive run through the Southwest Region into a big performance here in San Diego. As Berry put it, "one of our main focuses this year is to be our best when we aren't our best." That concept helped the team stay loose and fluid in tense moments, and ride out the ebbs and flows of the game in order to rise to the top.