How, in a matter of hours, Austin Doublewide and Chain Lightning went from bracket competitors to consolation play participants.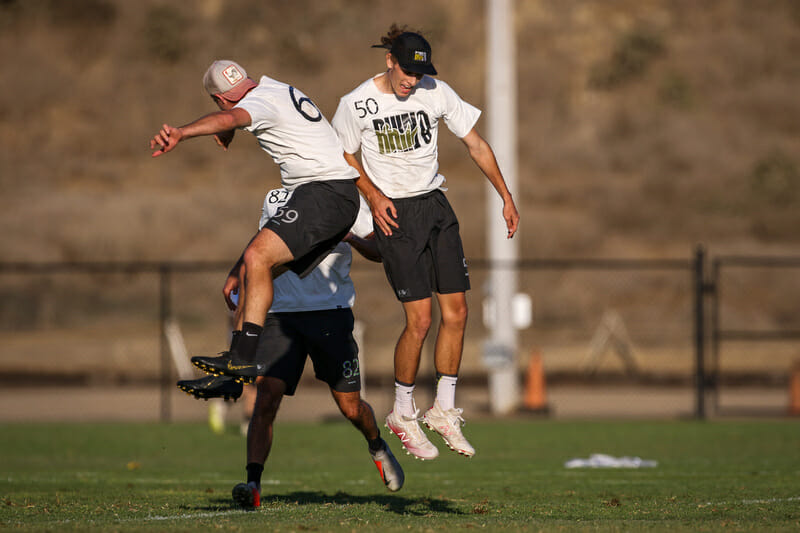 Ultiworld's club men's postseason coverage is presented by Spin Ultimate; all opinions are those of the author. Gear up for your big games, your tournament parties, and everything in between at Spin Ultimate!
Catch up on our full Thursday coverage on the Day 1 Liveblog.
"Wait… Chain beat Machine? What? Is Chain a quarters team? Is John Stubbs a POTY candidate? Who would Chain get in quarters?"
"Oh wow, Doublewide beat Ring! Double game point! Man, just like 2017 people are sleeping on this Doublewide team. Is Doublewide going to win the pool? I feel like they matchup pretty good in quarters, they are definitely a semis team now."
After the first round of play in the Men's division on Thursday, these conversations were bubbling up around the fields. In Pool C, 15th seeded Atlanta Chain Lightning had smacked around title contender Machine to the tune of a 15-12 for an upset, and over in Pool D Austin Doublewide rode an immense performance from Abe Coffin to an exciting win over the pool's top seed and perpetual semifinalist Raleigh Ring of Fire. 
At 11:15am Pacific, Machine were chokers, Ring were frauds, Chain was the most exciting young team in the division, and Doublewide were on a clear path back to the title game. But seven hours later, Machine and Ring were pool winners, while Chain and Doublewide were both headed to consolation play. A lot can change over the course of a point, a game, and a day at Nationals, as Atlanta and Austin now know all too well.
When exciting results, or really any results, come down the pike during pool play at Nationals the immediate reaction is to extrapolate what it means for the big picture. How does this muddle or clarify the bracket math? As spectators, it gets easy to overreact to these results, to plot out future matchups that are still contingent on a lot of unplayed games. For players, it's downright dangerous to do so. For Chain and Doublewide, the early wins seemingly took the pressure off. We'll get through to the bracket, hell, maybe we can win the pool. But now we are looking forward, instead of what is right in front of us. And at Nationals, that can be deadly.
"We were looking past [the game], and it bit us in the ass." That was Doublewide's Jay Froude reflecting on his team's puzzling loss to the 16th seeded Portland Rhino Slam! in the final round of the day, a result which combined with Ring's victory over San Francisco Revolver to end Doublewide's competitive season.
After their momentous morning win over Ring of Fire, Doublewide went toe-to-toe with Revolver, losing by only a single point. They were still in contention for the top spot in Pool D, depending on the outcome of the Raleigh-San Fransisco clash, and after their early successes were not even considering the possibility of being eliminated.
"We came out a little flat expecting to win" said Froude. "We were expecting to win and move on and not really thinking about [Rhino Slam!] too hard." The result gave the lie to Doublewide's approach, which Froude was quick to point out. "You can't take anything for granted here at Nationals. Every team deserves to be here."
Chain Lightning also seemed to have advancement locked up, even after a hefty defeat to Truck in their second game. Truck looked great and were favorites to win the pool in their final game against Machine, while Chain's final opponent GOAT had looked abject. The predicted Truck victory would put Chain through, and even if Truck somehow lost, all Chain had to do was beat a GOAT team that had gotten blasted 15-6 by the same Machine team Chain had just beaten. But the sample size of one or two games can be misleading, and Chain soon found out that they were in for more of a game than anyone had anticipated.
"We definitely entered the GOAT game hoping to determine our own destiny, but they were strong, fit, and skilled" said Chain coach Miranda Knowles. "The definitely outplayed us."
GOAT ended up beating Chain 15-11, which would not be enough to overcome the point differential between the teams if Machine finished 1-2 along with both of them, but after trailing 13-10 Machine roared back to an improbable double game point win. This was bad news for Truck, but far worse for Atlanta. Chain Lightning were eliminated. 
"Someone told us Truck had won… but then we heard the real result," said Knowles. "GOAT celebrated and we were heartbroken. Our goal coming in was to win a game on Thursday this year, but it turns out we won the wrong game."
If Chain had beaten GOAT but not Machine, the pool winners, they would still be alive and playing in the bracket tomorrow. Instead, the early win ended up meaning nothing other than access to a temporary license to dream. For those few hours for Chain, and for Doublewide, the sky was the limit. But by looking ahead and not taking care of the business in front of them, the sky came crashing down.
It's hard to figure how a team that beats Ring or Machine could end up completely missing the bracket. But it's also hard to figure how a team that loses to the 16th seed can be a threat to anyone. Over the course of a round at Nationals, a team can look like world-beaters or a doormat, and then find themselves in the entirely opposite situation a few hours later. The truth of course is that many teams are somewhere in the middle, even though at any given point, it can appear to be two opposite things at the same time. Doublewide and Chain were both today, which of course means that really, they were neither.