Finding edges in level planes.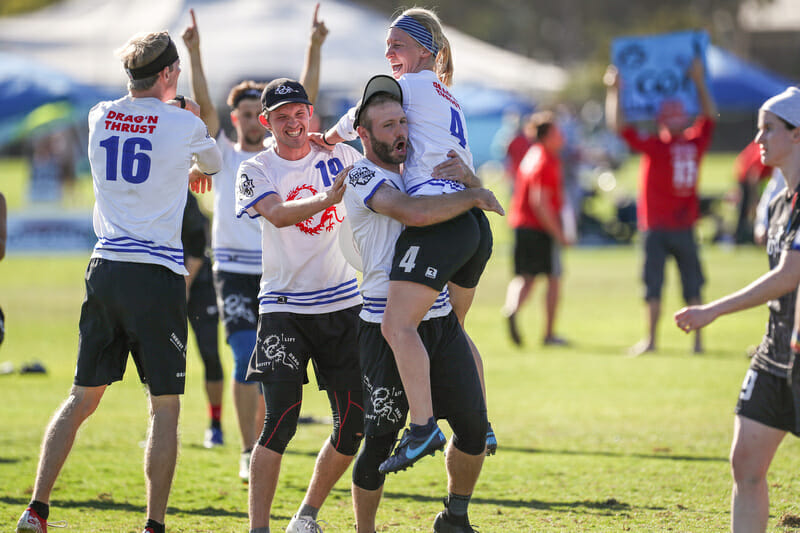 Ultiworld's reporting on the Club Mixed division is presented by Universe Point cleats. All opinions are those of the authors. Please support the brands that make Ultiworld possible and shop at Universe Point!
Despite the chaos of Thursday in the mixed division, Day 2 restored some normalcy as two pool top-seeds and two strong pool winners advanced to the semifinal round. While their paths through Day 1 weren't exactly the same, the division's elite programs flexed their muscles over the first two rounds of the bracket and now square off in a pair of exciting semifinals.
No.1 Minneapolis Drag'n Thrust vs. No.6 San Francisco Mischief
Drag'n Thrust
Record: 25-3
Record vs. Mischief: 2-0 (13-11 and 12-10, both at Pro-Elite Challenge)
Statistical Leaders: Caleb Denecour (5G, 10A, 4D), Tavis Leighton (6G, 7A, 2D), Sarah Meckstroth (6g, 5A, 2D)
Path to Semis: 2-1 in Pool A (defeated Public Enemy, Cocktails) –> 14-13 over Slow White in prequarters –> 15-12 over Mixtape in quarters
Mischief
Record: 18-9
Record vs. Drag'n Thrust: 0-2
Statistical Leaders: Cody Kirkland (3G, 12A, 2D), Lexi Zalk (13G, 2A, 1D), Matt Crawford (3G, 7A, 4D)
Path to Semis: 3-0 in Pool C (defeated MOONDOG, Snake Country, AMP) –> Bye –> 15-8 over Cocktails in quarters
Two classic names in the mixed division are back in the semifinals coming off strong performances in quarters. Drag'n Thrust played a near-perfect offensive game against Mixtape while Mischief dismantled Cocktails. Mischief's comprehensive win continued their incredible run of form as they remain undefeated in the Series, including a win over fellow semifinalists AMP in pool play. Drag'n has had a bumpier road to get here with two double game point wins — against Public Enemy and Slow White — to go along with a surprising loss to BFG. Both teams' mettle will be tested in this one, and it may come down to not just whose stars are shining, but which supporting players step up to take their teams over the line. We'll dive into the Drag'n and Mischief rosters to see where the edges might be for each.
Drag'n's roster includes a number of household names that are veterans of their title run from 2013-2015. Sarah Meckstroth, Brian Schoenrock, and Erica Baken are still some of Drag'n's best players while Pat Niles, Austin Lien, and James Hron have moved into more complementary roles. Meckstroth is our reigning Player of the Year and she clearly hasn't slowed down, while Schoenrock — posting a team-leading five blocks — continues to roam the back end of the Drag'n D-line. Baken (3G, 7A) plays both ways for Minneapolis and is frequently involved in big plays. Those established stars are the base Drag'n has built their around, complementing the old guard with a youth movement.
Eleven of Drag'n's players are 25 or younger, with several stepping into major roles this season despite their precocious age. At the top of the list is 19-year-old phenom Leo Sovell-Fernandez (4G/5A), who plies his college trade at Middlebury and earned this year's D-III Rookie of the Year honors. Sovell-Fernandez has been outstanding all summer and so far during Nationals, particularly during Drag'n's game against Mixtape where he was a key component in their clean offensive performance. Next is Claire Thallon, another new pickup for Drag'n who piled up the stats the last two days with a 6G/3A/3D line. She's provided a consistent downfield presence for Drag'n and came down with the winning score in their pulsating pre-quarter against Slow White. Tavis Leighton is the final Drag'n young gun to have made his impact felt, compiling a gaudy 6G/7A/2D line in the first two days of Nationals. He'll be looking to continue that level of involvement in the semifinal and Drag'n will be hopeful he does.
When looking at the Mischief roster, one thing stands out in comparison to the Drag'n roster: a lack of youth. Only five Mischief players are 25 or younger, and of those, former Harvard star and U24 US National Team player Mia Bladin (5G/2A) is the name that most stands out. Unlike the youth of Drag'n, Mischief's supporting players are mostly in the middle of their careers. Captain Robin Meyers (3G/4A/2D) is a steady presence on the Mischief D-line, while Connie Chan and Lily Steponaitis are expert downfield under and deep cutters, respectively.
In reality, it's Mischief's stars that are really making the offense flow. Lexi Zalk, Cody Kirkland, and Gina Schumacher have been downright dominant through the first two days of Nationals. Zalk was Mischief's big offseason pickup coming over from Boston Snake Country, and she has continued to terrorize opponents through four games in San Diego. Captain Cody Kirkland is the go-to assist-man for Mischief, with his big throws opening up the field and setting up co-captain Gina Schumacher (6G) among others to make plays downfield. Mischief will rely on these three stars to make the big plays to carry them through the semifinal against Drag'n, while their veteran supporting cast continues to consistently play their roles within the team's system.
Which team, then, will find the edge in their roster compositions to make the crucial difference in the semifinal? The conventional wisdom is that experience wins out in high leverage situations, and so Mischief's stable of veterans may be able to lead them through the semifinal. Then again, we are entering our third day of play and younger legs may be more willing and able to run come semifinal morning, giving Drag'n the edge. As for the stars, Drag'n's standouts have been there and done that before and won't let the moment steal their focus. Mischief's three main stars also have big-game experience, but if Drag'n can slow even one of them, Mischief could be in a world of hurt without as many All-Club options.
What we know for sure: the stars will get theirs and some supporting players will make critical plays to get their team the win; we just don't know who yet. Mischief hasn't made a real misstep this tournament and Zalk, Kirkland, and Schumacher have been cruising, so there's a temptation to think that will continue. Drag'n, though, not only has the title-tested stars but is arguably the deepest team in the division with names like Becca Ludford, Kat Ritzmann, and Emily Regan not even mentioned earlier. It's that depth that's gotten them through two DGP wins and a statement quarters victory against Mixtape; along with their infusion of young star talent, it could take them all the way to the title.
No.3 Philadelphia AMP vs. No.9 Fort Collins shame.
AMP
Record: 26-5
Record vs. shame.: 1-0 (14-8 at Pro Championships)
Statistical Leaders: Sean Mott (7G, 10A), Anna Thompson (4G, 8A, 1D), Michael Ing (7G, 5A, 3D)
Path to Semis: 1-2 in Pool C (defeated MOONDOG) –> 15-12 over Space Heater in prequarters –> 13-12 over BFG in quarters
shame.
Record: 21-7
Record vs. AMP: 0-1
Statistical Leaders: Kevin Coulter (4G, 7A, 7D), Nick Lance (2G, 11A, 4D), Kevin Herrera (2G, 11A, 1D)
Path to Semis: 3-0 in Pool D (defeated Wild Card, Slow White, Superlame) –> Bye –> 15-8 over Snake Country in quarters
Hands up if you called this as one of our semifinal matchups. Anybody? That's what we thought. AMP had a rather fraught run to the semifinal, taking a couple losses and narrowly avoiding another before starting to resemble the defending champion powerhouse we associate with the name AMP. In contrast, shame. has been relatively unchallenged in their run through the tournament so far, never trailing by more than one goal. Looking solely at the results, you would conclude that shame. is the stronger team coming into this Saturday afternoon faceoff, and there wouldn't be much more to discuss. However, these two teams are stylistically opposite, which always makes for tight, fun matchups. Let's dig into that and see who might have the edge on Saturday.
The story on offense boils down to how each team deploys their personnel. AMP has long been one of the standard-bearers for equitable distribution of disc touches, heavily involving their women in all facets of the offense. In their vertical stack especially, AMP will regularly have someone like Anna Thompson or Emily Shields initiate the offense on the force side, make a hard cut across the front of the stack and catch a reset on the break side to reposition the defense. This tends to be followed by a strike cut from the handler, or a big gain underneath from a cutter off the back of the stack. With how athletic Philadelphia are, very few teams have the legs and awareness to stop this cut. In the prequarters matchup against Washington DC Space Heater, the Space Heater defense adjusted by planting a poacher in that cutting lane to pick up any strikes and force hucks to be bendier and higher.
Shame. is one of the only teams that can match AMP's athleticism, or at least challenge this cut consistently. Defensively, shame. tend to play strict matchup defense, emphasizing contesting cuts and peeling players off the back of the stack to help on any big deep looks. Shame. have speed to burn, and are more than capable of closing ground on anything less than a perfect throw out in front of a streaking cutter. If they can force a floaty reset, they also bring the aerial skill to outjump players trying to recover position. AMP's offense has seen more than a few weird, inconsistent moments this weekend, and those are the types of openings shame. thrives on exploiting. Which brings us to shame.'s offense.
For years, the scouting report on the Fort Collins squad was all about the deep shot. From whatever position on the field, no matter the conditions, shame. wanted to take a higher-risk huck if it meant making a point as short as possible. Here in San Diego, their deep game has been ruthlessly effective. Shame. realized early on that their opponents did not have the athletes to keep up, and have employed far more structure in their offense to ensure that they could isolate the matchups they needed to win. Bravo defector Owen Westbrook took over the primary handler responsibilities for the shame. offense this year, calmly marshaling a tight vertical stack offense. Against Boston Wild Card in pool play, shame. impressed with their patience at the end zone. That being said, the first option is always to push for the quick score.
AMP regularly deploy strategies to force opponents laterally. The Philadelphia team certainly have some standout athletes, but they are more willing to adjust positioning to take away specific options. Against both Space Heater and Seattle BFG, AMP put on a wide, flat mark that allowed each team to swing from side-to-side, but never get a clean deep look. When a deep shot did go off, the bend and arc of the flight path gave defenders like Luke Ryan time to set up a block.
Shame. have a tendency to look to their women to cut deep. Aubree Dietrich is one of their primary targets, and she has turned into one of the most effective deep threats in the division. The trouble for shame. is AMP can run out several defenders to contest and shut down her deep cuts. Linda Morse is a likely candidate to chase down Dietrich, and their matchup will indicate if shame. is willing to stick with their new structure, or revert to old habits.
Despite winning big over Boston Snake Country, several points ground to a halt with the same three male handlers running a lateral weave with one another while looking off female cutters. When this version of shame. shows up, the offense becomes predictable and easy to shut down. As shame.'s Kevin Coulter put it, their success is tied to how much energy they can bring. A stagnant offense drains energy, and expect AMP to do whatever they can to draw that version of shame. out into the open.
So how will this shake out? Both teams are prone to hot and cold streaks. Shame.'s current hot streak has extended throughout the tournament, but they have yet to be truly tested. AMP battled back from deficits and close scrapes to get where they are, but they needed to dig out of multiple holes of their own making in San Diego. However, the AMP team we saw Friday was a stark contrast to the team we saw Thursday. AMP's willingness to adapt and adjust should give them the edge, and expect them to play with four women on the line as often as they can to emphasize their strengths even more.