The returning champion must overcome a team that already beat them in pool play.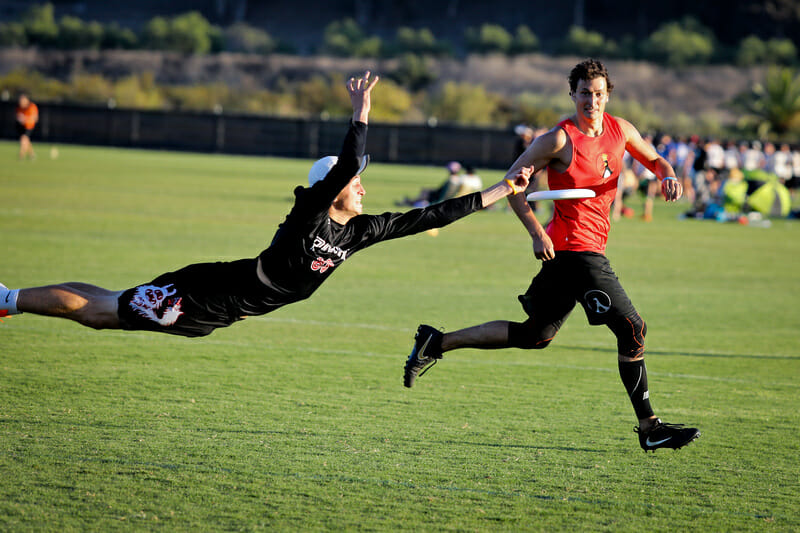 Ultiworld's reporting on the Club Mixed division is presented by Universe Point cleats. All opinions are those of the authors. Please support the brands that make Ultiworld possible and shop at Universe Point!
Defending champions Philadelphia AMP return to the site of their first championship to face an experienced San Francisco Mischief squad that appears in the team's first final since their national championship run in 2006. To get here, AMP held off a dynamic Fort Collins Shame team 15-14 in the second semifinal that ended on a fifteen minute long double game point. Mischief took down No. 1 seed Minneapolis Drag'n Thrust in the first semifinal and looked imperious in doing so, winning 15-10.
The final is a rematch of an exhilarating pool play game that Mischief won with a late second half surge after AMP had taken leads of 10-6 and 12-9 before losing 14-12. Mischief and AMP also played at the US Open in a game Mischief won 15-10 through a similar second half run to pull away after leading by only one at halftime. Those back-and-forth games mean we'll likely be in store for a similar experience in the championship game and the result may come down to who makes that late run to put the game away.
AMP's Quest for Back-to-Back Titles
It was a winding road for AMP to get back to the title game: they barely even made the bracket with a disappointing 1-2 record in pool play. That dropped AMP into prequarters to play regional rivals Washington DC Space Heater, and, while they won, AMP did give up a big second half run. In quarters, they eked out a double game point win over Seattle BFG in a turnover filled game, making a second half surge of their own in that game. In the semifinal against Shame, AMP fell into an early hole that they barely climbed out of with two breaks on the last points of the game. All in all, not many confidence-inspiring wins, but AMP is still in the final, and that's what matters.
AMP consistently changed up their style throughout the weekend, switching liberally from small ball to huck happy O. The semifinal against Shame was particularly notable, as AMP adopted the 'huck first' mentality that Shame is known for and managed to connect time and again with quicker receivers. Philly tossed 20 hucks in this one when all was said and done. It's not their preferred style and at times AMP seemed to shoot without thinking, but it worked out for them this time.
"On the turn, we could've worked it more, we got a little antsy at times and felt the pressure more than we needed to," said AMP star Anna Thompson. "We also have legs all day and like shooting, too." AMP will try to keep their deep game going in the final while trying to balance it with the patient, systematic offense they've been known for.
If you've been following the mixed division in the last few years, AMP's standout names will feel very familiar: Anna Thompson, Luke Ryan, Michael Ing, and Linda Morse. Ing was scorching in the semifinal, scoring two goals, tossing in two assists, and gaining 393 total yards, leading the team in both throwing and receiving yards. Those four AMP veterans lead the stat lines for the Philly squad from the tournament thus far, along with Sean Mott and team founder Raha Mozafarri, and the sextet will be significantly involved come the final. AMP will have to decide their best matchups on Mischief's key players Lexi Zalk, Gina Schumacher, and Cody Kirkland. Behind the stars, AMP has plenty of depth and that should serve them well against an arguably even deeper Mischief side. The reigning champions will continue to run their open lines, will trust the chemistry that has been built over three straight final appearances, and will fall back on the knowledge that they've been here before coming off a double game point semifinal matchup. It resulted in a title and AMP will hope history repeats itself against Mischief.
Mischief's Journey Back to the Promised Land
An undefeated run so far in San Diego won Mischief the top finish of their pool, as they beat Montana MOONDOG, Boston Snake Country, and AMP, although requiring second half comebacks against MOONDOG and AMP. Their 3-0 pool play record, while close, got them into the quarterfinals where they dismantled an overmatched Columbus Cocktails team. In the early semifinal, Mischief was clinical and opportunistic against Drag'n Thrust, which allowed them to establish an early lead and build on it from there on their way to the final.
Mischief brought in a stable of new players this year, including star cutter Lexi Zalk, who leads the division with 17 goals. She, along with captain Gina Schumacher (9G), have been the stalwart receivers for Mischief, and captain Cody Kirkland has been primary provider for Mischief with 14 assists. "I think Cody Kirkland is the heart and soul of the offense. When the disc is in his hands we're unstoppable," said long-time Mischief player Kevin Smith. Kirkland and company continued their stellar play against Drag'n Thrust in the semifinal and for Mischief to win the title, they'll have to do it one more time.
Over the course of the event, one word could describe the Mischief mindset: steady. A team that had previously been plagued with streakiness has hardly been rattled, even when behind and needing a run. Their play has been consistent, their style has been versatile, and their deep game on point, as shown off in the semifinal against Drag'n Thrust by Jordan Jeffery and Matt Crawford.
It's a great sign for Mischief as they try to win their first title since 2006, with Smith as the only holdover from that team. Reflecting on the decade-plus between final appearances, Smith noted the changes and potential of this Mischief team: "We have probably revamped the roster two or three times over those years, but I couldn't be more excited for the group of people that we do have, and seeing all the young folk just step up and play with passion, confidence, and poise."
Mischief will need to keep that poise in the final against a seasoned opponent like AMP, and if they can maintain their steady mindset from earlier in the tournament, they'll be well positioned to finally take back the championship.