6ixers has the head-to-head advantage, but Brute beat 6ixers earlier at Nationals.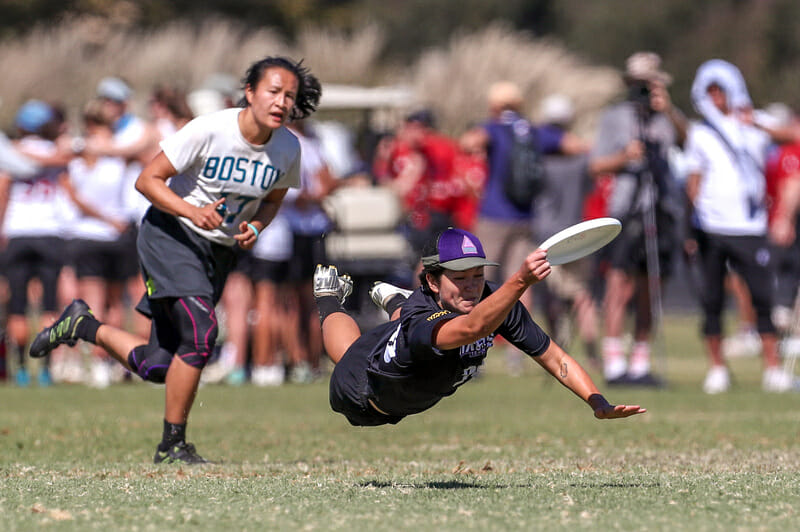 Our coverage of the women's division at the Club Championships is presented by Breakside Strength and Conditioning. Check out Breakside to find out how you can unlock your athletic potential for just $10 a month.
The two teams playing for a national title on Sunday certainly won't be lacking familiarity with the other. When #4 Toronto 6ixers stormed past Portland Schwa and #5 Boston Brute Squad survived against San Francisco Fury in the semifinal round, the two Northeast clubs ensured a fourth and final matchup of the the 2019 season.
6ixers shocked Brute at the Pro Championships with a 12-9 victory in pool play that sent Brute Squad to third in their pool. 6ixers won the second round duel as well to prove the Pro Champs was no fluke and win in the Northeast regional final 14-12.
The two 6ixers wins bore most of the culpability for the growing doubt of Brute Squad's status as an automatic national title contender. The Pro Champs loss could have been written off as a symptom of Brute Squad's Pro Champs slump. But 6ixers stealing Brute Squad's regional crown resulted in serious doubt of the strength of this year's Brute Squad team, particularly on offense, and bolstered 6ixers' resume as a potential new threat to the top four.
Brute Squad seemed to upturn both of those narratives in the third showdown between the two just two days prior to their semifinal victories. Brute Squad raced out to a 9-1 lead in the game to win Pool D, emphatically flipping their newfound underdog label on its head. 6ixers fought back to take nine of the final 15 points, but it was still an assertive victory from the historically more proven of the two clubs.
Brute Squad and 6ixers have seen each other plenty of times before this season, too. Since 6ixers came onto the scene in 2016, they've played each other nine times, with seven of those games coming in the last two years. So there will be few secrets between the two when they face off one last time in 2019.
But that familiarity has not bred contempt between the two. "We've seen them a ton, but we love playing them," said Brute Squad captain Kami Groom. "Both teams have similar style in a lot of ways: both very physical, both exert a lot of defensive pressure. We're just excited to see them again. I think they said it best after the pool play match, it's like who knows what's gonna happen the next time we play each other, because it's just a hard fought battle every time. It's just a privilege to be in the finals against them after seeing them in pool play and after being at Regionals with them."
Brute Squad had not lost to 6ixers before this season, and despite the 6ixers' two wins earlier in the year, the teams will head to the final in more familiar and comfortable roles. "We have been the underdogs for so long and the write-ups always say we're this young team, and we're new, so there's not been a ton of expectation on us. So mentally that's easy – when you go into games that you're not expected to do much and then we do," said 6ixers coach Carla DiFilippo. "I think going into Brute [on Thursday] was the first time playing a top 4 team with the expectation that we should win and I think that was really hard mentally on us because we've never had that before."
The championship matchup between the two will obviously have far more at stake than any of the preceding battles. Brute Squad is now making their fifth consecutive appearance in the final, while 6ixers had never even made semifinals in their only four years of existence prior to this weekend. That presents an obvious advantage for Brute Squad that, for many, will vastly outweigh any advantage 6ixers may have from having the better head to head record this season. But DiFillipo doesn't fully agree.
"I think obviously everyone is gonna be nervous, but a lot of players on our team have been on national teams so…it's not the first time they've played in a final or an elimination type game," she said. "So, yes, it's the first time anyone has played in a USAU final, which is the top level of our sport, so we're so honored to be there, but people are experienced. We do have a lot of young players, but those players are experienced and our vets are really experienced. So, you know, the nerves are normal, we have to enjoy the moment, right? Because who knows if it will ever happen again. We need to cherish it. But I think our team is experienced in that, so it doesn't get to them."
It's the first time since 2011 that we'll have an intra-regional matchup in the national title game.1 It's a unique level of familiarity for two teams playing in the final. On the surface, the 2019 women's championship just another game between two teams that can't seem to get away from each other. But with a national title on the line — either a third for Brute Squad, or a first for 6ixers — Brute's and 6ixers' next battle will be its most intense yet.
---
San Francisco Fury and Seattle Riot, the two 2011 finalists, were both still in the Northwest region in 2011 ↩