Chicago Machine out-hustled and out-played New York PoNY to advance to the final.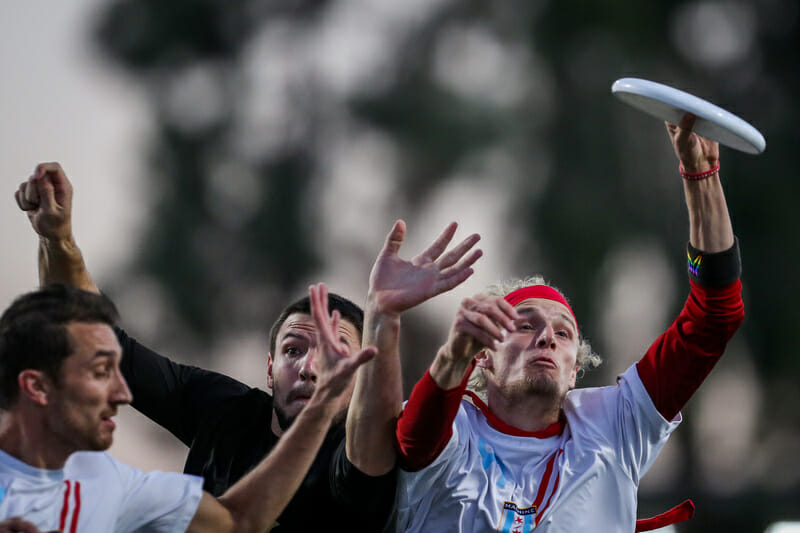 Ultiworld's club men's postseason coverage is presented by Spin Ultimate; all opinions are those of the author. Gear up for your big games, your tournament parties, and everything in between at Spin Ultimate!
SAN DIEGO – Under the lights on Saturday night, Chicago Machine upset tournament No. 2 seed and title favorite New York PoNY with a 15-10 semifinal victory.
Playing in just their second semifinal in program history and against the defending national champions, Machine unleashed a level of efficiency and sophistication (on both sides of the disc) that they had yet to show the division, but that their on-paper talent had always suggested was possible.
Both Machine and PoNY made major upgrades in the summer — Chicago imported a wealth of talent from the defunct Madison Club and High Fives squads (plus a few additions from Boston and Seattle) while New York, as the reigning champ is wont to do, gathered a cadre of high profile recruits. After a tight match in the quarterfinals last year and a double game point game in the finals of the 2019 Pro Championships, it was clear it would be a hotly contested game. Each team had questions to answer: could PoNY find the utterly dominant gear their talented roster was capable of? Could Machine leverage their new roster talent and also reintroduce the recently healthy Kurt Gibson?
The game began under calm conditions, with little wind to disrupt offensive flow. As such, the content was fast-paced from start to finish — even in the face of tight individual defense from both sides. Chicago pulled to New York to start the game and immediately went to the second level of their defensive playbook by throwing their 1-3-2-1 diamond zone, with Johnny Bansfield on the mark and the trio of Tim Schoch, Walden Nelson, and Sam Kanner playing in the off-point and short-deep positions, letting their individual defensive creativity go to work.
"The system is to put guys in positions to make dynamic plays," said Machine coach Andy Neilsen, perhaps selling the schematic sophistication short. And, while PoNY held despite the junk set successfully forcing a handful of tight throws and pressured catches, the intense nature of the first point made it clear that Machine had come to the field ready for a fight.
Machine's offense then took the field for the first point of the night and, after turning an in-system huck look, were efficiently broken by a Sam Little hammer. One couldn't help but wonder if the strong start from PoNY was a signal that they had put the too-tight-for-comfort results of their pool play and quarterfinal rounds behind them. Talented Machine roster or not, would this be the 2018 finals all over again? Machine quickly answered that it would not be, crossing Gibson over to the O-line and grabbing their first hold.
After stopping PoNY's initial salvo, Machine settled on on offense and continued to throw out tricky looks on defense.
Despite New York's recent bout of struggles with zone, Machine shifted into a help-man set (similar to PoNY's own) with heavy doses of switching and help. Of particular note were Machine's willingness to front Jimmy Mickle while guarding him with an athletic deep like Nate Goff or Jeff Weiss, and playing tight on New York deep threat Ben Jagt with stoppers like Michael Pardo. When asked about how Machine effectively neutralized Mickle (who finished with three turnovers) and Jagt all game, coach Nelson explained that they relied on "recognizing some patterns [in the PoNY offense] and some serious stoppers on defense." On top of that, other fronting Chicago defenders aggressively popped off to help in the passing lanes and fluidly passing off their original mark to the last-back defender. Not to be outdone, PoNY continued to play stout help defense, particularly off of handlers, to squeeze the passing lanes in Machine's isolation sets.
Ultimately though, the first half turns didn't come directly from the help defenders or their original marks. For Machine they didn't come at all; after the initial break, the Machine O-line finished the first half with just one turn: a drop by Alex Evangalides that PoNY promptly gave back with a drop of their own. In the face of poach and switch heavy schemes from both D-lines, the respective offenses adeptly moved the disc laterally to reactivate dead spaces on the field and solve the clever poaches.
Instead it was PoNY coughing up the disc, on relatively unforced errors. First, it was a Harper Garvey huck that went too far for Alex Thorne. Next, a Mickle huck that was blocked deep by Ross Barker. A Mickle turfed break. A Lindsley huck overthrow. And, finally, a Mickle drop on an under cut. The commonality between four of the five turnovers? They led to Machine breaks. The Machine D-line, piloted by Gibson and Bansfield (who finished with four assists), converted their chances with brutal efficiency. They simply provided no second chance for PoNY, despite the heads up switching and tight defense provided by an O-line featuring three USA World Games players. Just that like, Machine took half 8-5 on a gunslinging flick from Johnny Bansfield to Joe White, and were set to receive to start the second half.
When Chicago held to start the second half, the mood was tentative. When would the other shoe drop? PoNY had recovered from an 8-4 halftime deficit in the quarterfinals, so surely the adjustment was on its way. Instead, it was more of the same.
PoNY made defensive adjustments, going deeper into the playbook and stacking their lines, but the Machine offense that had wilted in the face of New York's defensive pressure at the Pro Championships held strong. They stayed patient and disciplined and leveraged their considerable individual skill and athleticism to elude PoNY's pursuit. High Five transplant White (3G, 2A, 1D, 1T) stood out in particular, with nobody on PoNY— not Jeff Babbit, not Beau Kittredge, nor anybody else — able to faze him. The Machine offense turned the disc just a single time in the second half (on a contested foul that was overruled by the observers at 14-9, which led to a PoNY second break of the game) and kept New York at arm's length.
On defense, the clinic in efficiency continued. Red zone turnovers from a Mickle out of bounds pass and a blocked Sean Keegan huck were promptly converted into two more breaks, albeit on the back of some huge plays in the deep game by Gibson and Johnny Bansfield. With PoNY never able to gain a real foothold on defense and the Chicago offense staying disciplined in the face of mounting pressure, Machine closed out the game in relatively routine fashion, working an end zone set laterally to seal the 15-10 win.
It's as hard to fault PoNY for their performance as it is easy to praise Machine for theirs. Chicago looked completely prepared for the game up and down the roster, showing tangible progress against New York's defensive style and cleaning up any previous offensive struggles. "It wasn't so much that any player was surprisingly good, it was that at any given moment all seven of their players on the field were playing at a very very high level" said PoNY coach Ben van Heuvelen.
New York certainly made a few errors, but they were punished with incredible consistency. Despite the result, van Heuvelen was still proud of his team's performance on both sides of the disc "I loved the defense pressure we brought all game…[Offensively] sometimes it just comes down to your shots falling…one or two of those balls go our way and it might have been a different story."
With their win, Chicago advances to the first final in program history, looking for their first ever title, to face off with three-time champions Seattle Sockeye who they suffered a 14-13 loss to in August at the US Open Championships.