Get to know some of the players and teams spending the week in Sarasota.
It's been an amazing week in Sarasota at the 2019 Pan American Ultimate Championships. Amidst all the on-field action, we also worked to collect the stories of players and teams who made the trip to Florida to compete at the famed Polo Club. Here are a few of the people we met this week and what they had to share about their personal history with the sport or what it's been like to be at PAUC with their squads.
—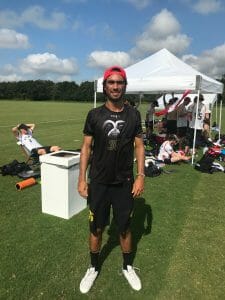 Name: Kevin Nariño
Team: Communidad de Oso (COL)
Division: Men's
Kevin Nariño is the grinning face of Communidad de Oso, one of Colombia's best men's teams. Born and raised in Bogota, Kevin is an ambassador for ultimate in his city and across his country.
He's played with Oso since 2011, joining the club in an effort to make it to the 2012 WUGC in Japan, but he started playing ultimate much before that. "I was like a university project," Nariño recalled. "I started playing when I was 12 years old. There were two guys — Gustavo Herrera and Oscar Hernandez — who started an ultimate project in [my] school. They [started teaching us] ultimate in school, I became team captain, and was totally in love with the game. After a couple months, they invited me to play with their [club] team."
Nariño traveled around the country as a 12-year-old, playing in tournaments with college-aged teammates. "My mother trusted them," he said. "She was like 'okay, take Kevin all around Colombia in a bus to play ultimate.'" From there he grew his game until he made his international debut at WUGC 2012. Only 17 at that time, Nariño still had plenty of growing to do on the field, but he was deeply entrenched in the community of ultimate and in his team.
Communidad de Oso, meaning "community of the bear" in Spanish, has had a successful run so far at PAUC, knocking off their Colombian rivals Evolution in the semifinal to reach the gold medal match. The team got its name from a park in Bogota called "the bear" where the team's founders played pickup 15 years ago. But while the park is the namesake, the community that formed around it is just as integral to their identity.
"[Oso] is more than a team, it's a community," said Nariño with conviction. His goals for the team ("besides being world champions, of course") are to create a program that helps get kids in Bogota involved in ultimate on and off the field. "We don't want players to only come in and learn how to win. It can be more than that. They can come here and find really good friends for life, a family, something that can help them expand themselves and the world. Everything you learn in ultimate you can actually use in your life. Spirit of the game is something you can use in your daily life. We want to make kids great people and great players."
—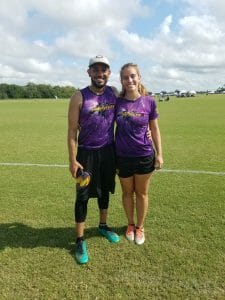 Names: Carlos Alejandro Brea and Camila Cabanne
Team: Hammers Ultimate Buenos Aires (ARG)
Division: Mixed
Not every team gathered at PAUC this week has a decade or more of history that got them to this point. Some are still in much earlier stages of development and happy just to be competing at their first international competition.
"Hammers was created in 2018 after PAUC in Buenos Aires, so we have a year and a half [together]," said captain Carlos Alejandro Brea. "The dream of the team was to come here."
Given the newness of his squad, the affable captain wasn't unrealistic in describing the team's goals for the week. "Primarily, we're here to represent Hammers and the good ultimate of Argentina. To leave the name of the team very high. To get experience from other teams from all over America and take those things back to Argentina to become a better team with better spirit."
Unfortunately, as we've heard from many of the Central and South American teams in attendance, not everyone from Buenos Aires who planned to come to the event arrived in the U.S. "We tried — we have six from Argentina, the others on the team stayed there because it was hard because of the visas."
For their part, the crew in Sarasota have done their best to connect the missing club members to the action. "We are doing stories on Instagram for the team so they can watch the games and stuff," said Camila Cabonne.
While they'd obviously prefer to have their full squad together, both Brea and Cabonne praised the support they've received from teammates back at home. "Their support has been the best part of our week," said Brea. "They are 22 back home and we are only six here, so it is hard for them and for us."
When asked about how they filled out their roster, Brea playfully rolled his eyes and threw his head back. Cabanne giggled, then chimed in with, "friends of friends of friends." With any luck, they'll head home with plenty more friends from their time at PAUC.
—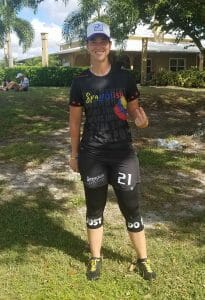 Name: Darly Kittle & Vanessa Tejero
Team: Spanglish (VEN)
Division: Women's
Different teams have different goals this week in Sarasota. While a select few squads still have a title in mind, others — like Spanglish from Venezuela — are looking far beyond just PAUC.
According to captain Darly Kittle, Spanglish started with an explicit goal of trying to play at the World Ultimate & Guts Championships next year. As a brand new team, this would be a momentous step for their country. "If we reach that dream," said bubbly Spirit Captain Vanessa Tejero, "this would be the first time that we'd have a Venezualan [women's] team at Worlds. We already have the spot, this week is only for practice, to get to know our teammates."
That's a harder task for Spanglish than for most other teams. "We are all living across the world. The idea was to meet here so we can get together to start practicing, get to know each other a bit more for next year," said Kittle. "Unfortunately, half the team didn't get their visas, other girls couldn't afford traveling here and then traveling again next year so we had to invite our friends. We have three players from Canada, a couple players from USA, a Colombian girl who lives in New Zealand. We are a little bit from everywhere."
As a result, the team is meshing both a variety of languages and strategies this week. For the former, a majority of the team can speak English, and for those that can't, they have a team translator in tow to ensure everyone is on the same page. As for the latter, they're relying on the experience of the crew they've compiled. "The middle of our team is 35 [years old]," said Tejero. "Also, we're playing an American style of frisbee — it is totally different and I love it."
Regardless of how they finish at PAUC, they're excited for the future of the team and to work back in those who failed to make this trip. Tejero speaks highly of the next generation of players coming up in Venezuela, especially some who come from lower-income backgrounds and are supported by an organization back home to play. "Five of the girls…they come from that program. They are super good players, they all deserve to go to Worlds… We are happy to be here and really looking forward to Worlds next year."
—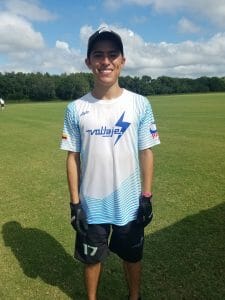 Name: Andres Gomez
Team: Voltaje UC (COL)
Division: Mixed
Andres Gomez obviously takes pride in his team — and he has good reason to. He beams when getting to share Voltaje's record of domestic success in Colombia.
"Voltaje is from a city called Bucaramunga in the north of the country and we currently are the national mixed champions of Colombia," said Gomez. "Our team goes back nine years and we have four national championships."
That sustained competitiveness has provided Voltaje — originally called One Two One Ultimate —with the opportunity to represent their country at a number of big international tournaments over the years, including several in the United States. The base of our team has played at three U.S. Opens as well as participating at WUCC in Cincinnati last summer.
That base was smaller than usual for PAUC 2019, as Voltaje too struggled with the same issues so many others had. "We had an initial roster of 20 people, but had some troubles with visas and in the last few days before the tournament," according to Gomez. "We lost three more players last week, so we brought only 14 or 15 players — we are a short roster, but we are dealing."
Competitive tournaments like this help Voltaje stay on top at home. "We were one of the first mixed teams in Colombia, and now we serve as kind of the reference point [for other mixed teams]," said Gomez. "Almost every team in Colombia is trying to beat us… We are trying to keep our position as the top Colombian team and we're trying to bring home the Spirit of the Game award to Colombia."
Unfortunately for Voltaje, they will not finish as the top team from their country this week. They have been eliminated from medal contention with a 3-5 record through eight games of pool play, including a 15-9 loss to compatriots Macondo Ultimate. But the week hasn't been a total wash for the small-rostered bunch from Bucaramunga.
"We love the beaches — they are awesome," said Gomez. "[We also love] sharing the meals and the games over there [in the tournament-run Fun Zone] with the other teams has been great."