The stage is set for finals day in Sarasota.
On the penultimate day of play at the 2019 Pan American Ultimate Championships, bracket competition got underway in earnest across several divisions. As we enter finals Friday, we take a look at how teams fared on Thursday and who is still in medal contention in each division.
Men's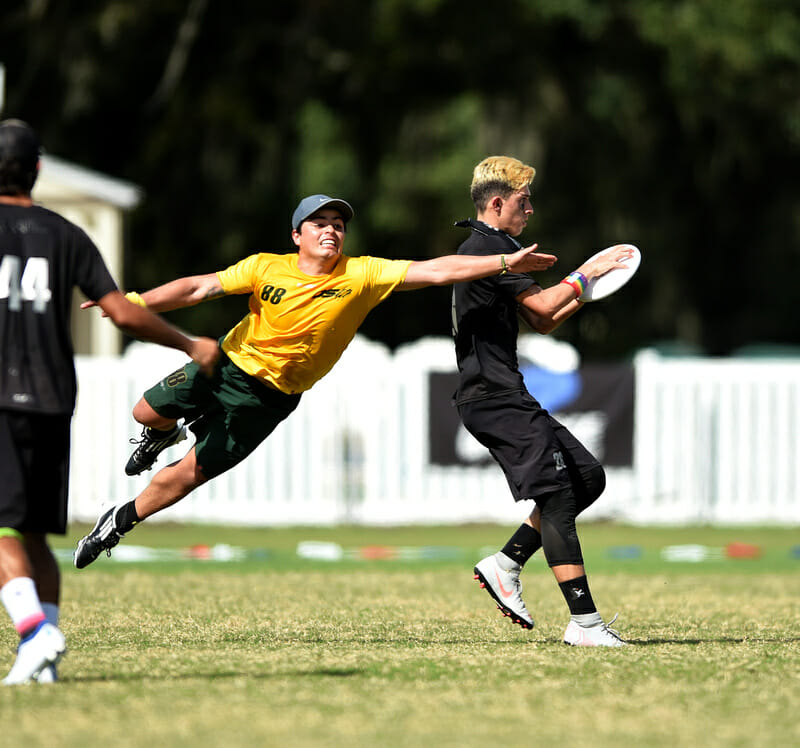 With the semifinal matchups set after pool play on Wednesday, the bracket action in the men's division kicked off in the second round of games this morning.
Colombian rivals Communidad de Oso from Bogota and Evolution of Medellín played out an emotional game full of big plays and momentum swings that ended with Oso on top 14-12. Oso notched two big breaks in the second half behind great play from Kevin Nariño and Esteban Zuluaga, making explosive blocks on one end and aggressive transition attacks down the other. With Oso leading 13-9 and cap on, it looked like the Bogota club would win by a more substantial figure than the tight margins the game had actually been played on. But Evolution refused to roll over, knocking in a hold and two highlight-reel breaks. Medellín came excruciatingly close to a chance at a third break when Andres Agudelo missed a layout block in the endzone by inches, but Ian Castañeda clasped the winning goal to send Communidad to the gold medal game.
Meeting Oso on Friday will be Venezuela Warao, who upset previously undefeated Alberta Flatball Club in the other semifinal, 15-11. With American stars Rowan McDonnell and Matt Smith bolstering an already respectable roster, Warao has been able to beat teams with both flash and hustle. The showier parts of their game stood out en route to an 8-5 half time lead over Pool A winners Alberta, and when the lead had been wiped away at 10-10, the Venezuelan outfit showed real grit to re-establish their advantage. Smart help in the deep space and shifty poaches in the lane limited Alberta's ability to fire hucks off to their big cutters, and crafty handler play pulled apart the middle of Flatball club's 2-3-2 zone.
With Rowan living up to his billing as the best player at the tournament and an athletic defense that can send wave after wave to wear down offenses, Warao should be able to give Oso everything they can handle in the final. The two teams played a 15-14 thriller in pool play with Oso coming out on top, and by all indications the rematch for gold should be just as compelling.
Women's
Placing a team in each of the four women's quarterfinals after pool play, Colombia had a chance to sweep the semifinals spots on Thursday. While Revolution and Aerosoul did their part by notching wins over Canadian clubs PPF and QUB on one side of the bracket this morning, it was Stella and Wicked who emerged victorious on the other side of the bracket, ensuring at least one North American squad would earn a spot in Friday's final.
The all-Colombian semi proved to be a one-sided affair. Revolution got on a roll early, riding their skill and athleticism to a 6-0 lead before Aerosoul got on the board. All-world stars Yina Cartagena and Elisabeth Mosquera continued their rampage through this tournament, proving far more than any of the Bogotans could handle. Maria Paula Santos also contributed some highlights, making an ultimately meaningless but no less jaw-dropping layout grab to save possession on a pick call look as casual as most players clap catching an in-cut. But it wasn't just the big names that delivered for Revo, as the team looked clinical working through everyone on the field, scoring at ease at the end of fantastic team motion. Aerosoul found more success completing some deep shots in the second half, but were never really in the game. The tournament's heavy favorites marched to a 15-3 semifinal win and into the women's final.
One field over, Wicked (USA) and Stella (CAN) were locked in a much tighter battle in the early stages. Just as they had done on the Ultiworld stream against Bamboo in the quarterfinals, Stella's Helen Eifert produced blocks and aggressive downfield cutting while Ann Boulanger confidently patrolled the backfield. A string of breaks on either side of the halftime break gave the Canadians a comfortable lead that they would not relinquish, despite strong play from Courtney Walbe, Grace Castro, and others for Wicked. Maintaining a lead of four or five through much of the second half, Stella's energy rose while the lone U.S. representative in the division looked increasingly exhausted in the oppressive Florida heat. Kaylee Sparks hauled in the game-winning huck goal to book the Ottawans' spot in the final with a 15-10 victory.
Stella will certainly have their hands full on Friday. As expected, Revolution have looked basically untouchable all week, holding every opponent to single-digit goals. They also just smoked an Aerosoul team that earned a double game point victory over Stella in pool play on Wednesday. Even if they bring their best game, it's hard to see the Canadians truly pushing Revo.
Mixed Masters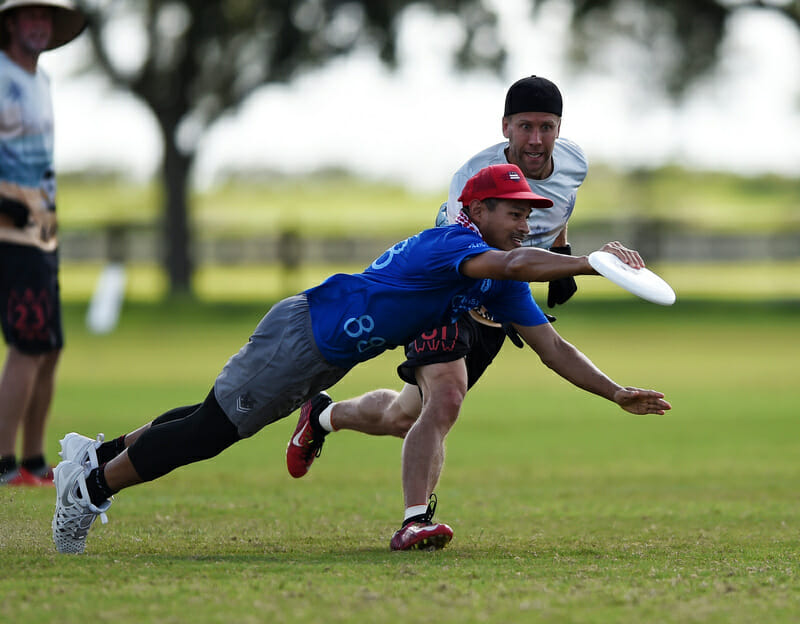 The third division that kicked off bracket play on Thursday was mixed masters, seeing the top two teams from pool play advance to the final, but not before producing perhaps the best game of the afternoon round.
In the first round this morning, both Old Phoagies (USA) and Happy Campers (CAN) coughed up their chance at the bracket by losing their final pool play games, allowing SF Bridge Club (USA) to sneak into the last spot as the top of a three-way tie. Unfortunately for the Bay Area outfit, their luck would run out in the semifinals, as they ran into undefeated Unambiguously Grey (USA). Despite a short roster, the DC squad has ridden solid chemistry and teamwide athleticism through the week relatively unchallenged. Crisp execution allowed Grey to capitalize on Bridge Club mistakes, earning enough breaks to go into half up 8-5. The onslaught picked up in the latter stages and Unambiguously Grey pulled away with a late run to win 15-9 and ensure a medal going into Friday.
Meanwhile, 512 (USA) and Molasses Disaster (USA) battled in a back-and-forth contest in the other semi. The two teams are very familiar with each other at this point, having squared off in the final of last summer's World Masters Ultimate Club Championships in Winnipeg on top of Tuesday's pool play clash. Boston came out of the gates hot, breaking on the first two points. Jeff Smith zoomed around the backfield, appearing to have an extra gear compared to everyone else on the field, picking out receivers like Kirsten Lundquist and Jackie Willwerth to drive Molasses. Neither offense was particularly clean the rest of the first half, as each D-line notched multiple breaks, though Molasses maintained a one-point lead at the half.  It was the Texans who struck first in the second, converting a few break chances early to take a lead. Captain Ryan Pickens marshaled the 512 offense from behind the disc with Kim Sabo and Stephanie Redfern doing solid work as cutters. Down 13-12, Molasses blew a golden chance for a game-tying break with a straight drop in the red zone. 512 went back the other direction to punch in a hold that brought them to the doorstep of victory. After Dan Bush made a great grab on a Chris Waite hammer to close the gap to one, Molasses applied a ton of defensive pressure hunting for a block that could extend the game. Instead, 512 marched it into the slight wind to earn a 15-13 win and advance to the final.
Mixed
Tomorrow's gold medal match between Jughandle and Public Enemy was already set entering the day on Thursday, so today's action was only to determine seeding for the bronze medal match and to enjoy more competition in the Sarasota sun.
Mischief (USA) and No Touching (USA) both went 2-0 to lock up a spot in the bronze medal match. Ávalon (MEX) got a 13-12 win over Charrúa (URU) in the closest game of the day.
Teams have one final round-robin game tomorrow morning before the gold medal match in the afternoon. Tune in for the game on Ultiworld!
Masters Men's
All Bashed Out (USA) and NSOM (CAN) remain on a collision course for the de facto gold medal match on Friday. The two top finishing teams in early round-robin play each got a pair of comfortable wins on Thursday, setting up a winner-take-all game on Friday morning.
All Bashed Out won their previous match 15-9, but Bashed players said privately that they expect a much tougher game in the Friday rematch for a gold medal. Still, NSOM has played much closer games against common opponents this week. All Bashed Out will enter as the favorite as they go for a 2019 PAUC Masters Men's title tomorrow.
Grand Master Men's
Two teams remain undefeated in Grand Master Men's round-robin competition — top-seeded Johnny Walker (USA) and fourth seed Shutdown (USA).
Johnny walked right over their opponents on Thursday, beating Torontosaurus Rex (CAN) 15-1 and Grandmaster Flash (USA) 15-2. Shutdown also beat those two teams, but with more competitive scorelines: 15-7 and 15-9, respectively.
Shutdown has yet to face the toughest teams in the division. Tomorrow, they have back-to-back games against Johnny Walker and Tombstone. A win against Johnny Walker offers up the chance to win gold or, at worst, force a three-way tie for the top of the pool that would go to point differential. Given their other results this week, they have to be seen as a significant underdog against Johnny Walker, but undefeated is undefeated!