New personnel, improved flexibility led to banner year for Machine's D-line.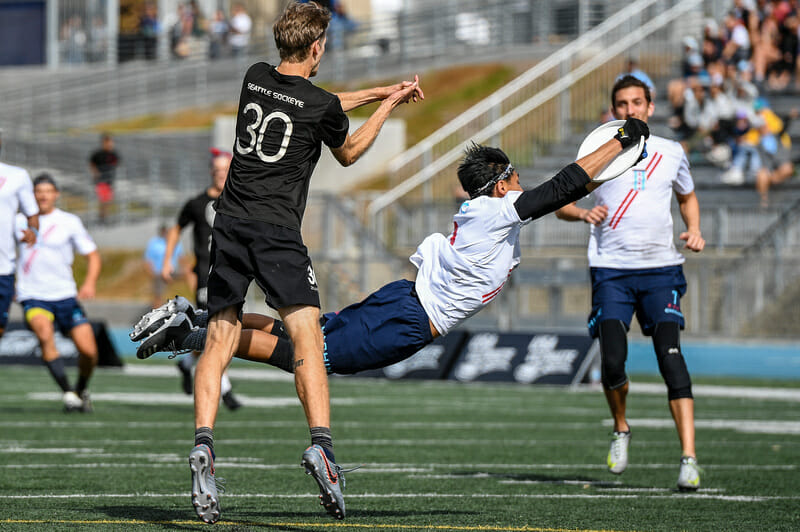 Ultiworld's club men's postseason coverage is presented by Spin Ultimate; all opinions are those of the author. Gear up for your big games, your tournament parties, and everything in between at Spin Ultimate!
It's 11-10, Sockeye, in the men's national championship game and, after having a foul call upheld on Chicago Machine's goal line, Matt Rehder throws a short lefty backhand to Matty Russell to put Seattle one point away from a championship.
Except that's not what happened.
A white jersey flew in and speared the disc to give Chicago's defense another shot to tie the game at 11. It was a game-defining play by Machine veteran Von Alanguilan, a play that would set up Machine's 35th and final defensive conversion of the weekend. Thirty five breaks. That was the aggregate number the men's division runner up had in their six games at Nationals. It's a number that sums up how much Chicago relied on their defense to win and how well their defensive unit operated in the 2019 season. Chicago grew out of the strong offensive mold they've had over the last decade into a team that was able to go pound for pound against the best offenses in the country and beat them.
On The Grind: How Machine's Defense Got The Team To Its First Final is only available to Ultiworld Subscribers
Already have a subscription? Log in
Whether you visit Ultiworld for our reporting, our podcasts, or our video coverage, you can help us continue to provide high quality content with a subscription. By becoming a subscriber, not only do you receive benefits like exclusive articles and full article RSS feeds, you also help fund all of Ultiworld's coverage in general. We appreciate your support!