Winning a championship isn't the only way to come back from Nationals feeling successful.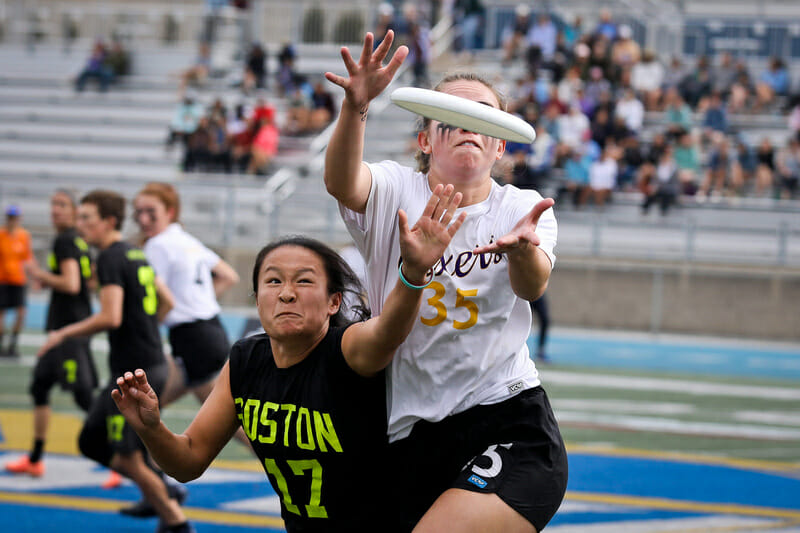 Our coverage of the women's division at the Club Championships is presented by Breakside Strength and Conditioning. Check out Breakside to find out how you can unlock your athletic potential for just $10 a month.
The women's division at Nationals produced stunning upsets, comeback tales, and new stars. With all that went down, it sometimes takes a little processing to have a wider perspective. With the dust settled, let's look back at who came out of Nationals feeling good, and who left feeling dissatisfied.
Winners
Young Stars
Some of the most dominant forces in the division were players who are under 25. Not only did they play with the confidence and maturity of seasoned veterans, oftentimes they carried their teams through high-pressure situations with ease. Angela Zhu for Boston Brute Squad had the most touches on the team by far (41 in their win over Fury!), and drove their offense through every game; she's only 23. Boston also relied more on Tulsa Douglas, Caitlyn Lee, Julianna Werffeli, and Claire Trop on their way a title. Anouchka Beaudry was a centerpiece for Toronto 6ixers at age 21, and Brit Dos Santos, one of the best defensive players in the division, is a mere 19 years old.
Outside of the finalists, 22-year old Anne Worth from Raleigh Phoenix put up nine goals, six assists, and seven blocks during the tournament, and Jack Verzuh from Seattle Riot collected six goals, 10 assists, and three blocks as a Player of the Year Runner-up. Kennedy McCarthy from Boston Siege played lights out for the national newcomers and is only 18 years old. Neither Dena Elimelech nor Alexandra Diaz are 24 yet, but they combined for that many goals to lead San Diego Wildfire. There is no doubt we will be watching these young players dominate for many years to come.
Pool D
When the Nationals pools were released a few weeks ago, Pool D was obviously the most deep and dangerous. Any pool with Brute Squad as the second seed is not one to ignore. But despite predictions regarding how the pool's inhabitants would perform in the bracket, it's safe to say that no one could have predicted that three of the four teams in the pool were going to make it to the semifinals. It was not an easy road to get there: Toronto 6ixers took down Seattle Riot and Portland Schwa stunned Denver Molly Brown on the way. But lo and behold by Saturday morning, only San Francisco Fury remained from Pools A, B, and C, combined. The Pool D teams themselves seemed to really love this fact, and after both the 6ixers vs. Schwa semifinal and the 6ixers vs. Brute final, the teams cheered "Pool D!" in their spirit circles.
Portland Schwa
This one is probably a little obvious. Coming in as the No. 9 seed and finishing in the top four makes you an automatic winner. Portland Schwa's game against Molly Brown was a rollercoaster, where they finished the first half up 8-5, then handed over six consecutive points to Molly Brown, only to rally themselves back into the game to win on double game point. What was particularly remarkable was not just their skills and the result, but actually Schwa's unwavering belief and confidence in themselves throughout the game. Even when they were knee deep in the Molly Brown zone (during their 6-0 run in the second half), the Portland players never looked like they doubted themselves, and they certainly never succumbed to the high pressure situation.
Though their semifinal didn't go as they hoped, Portland Schwa did an exemplary job of basking in their well-deserved moment to shine. They were the embodiment of positivity and pride after their loss to Toronto 6ixers, and recognized all that they had accomplished and worked for. Assistant coach Bobby Gough spoke about their success after the semifinal: "Just in this program's history, reaching semis for the first time in 20 years and having this unexpected success and how we have had a lot of expectations in this tournament that we've surpassed several times over already. Every point in that game, got us to closer to finishing as a top four team in the nation, which is amazing for us."
Toronto 6ixers' Fans
When Toronto 6ixers dismantled Portland Schwa in the semifinal, everyone in the Canadian ultimate community was watching. As the only Canadian team left in the running and the first to be in the final since the Capitals in 2010, it was like the 6ixers were an Olympic team and the whole country was rooting for them. 6ixers coach Carla DiFilippo noted how exciting it was to see a Canadian team do so well at an American tournament. "I don't know what it is about Canada, but it's always great to beat Americans. It doesn't happen very much so when it does happen, we really bask in it. And so, I think everyone from Canada is really excited for us," she said.
Jordan Meron, captain of 6ixers, could feel the support from 2500 miles away. "I feel like the Toronto Raptors right now because we're upsetting these American teams and somehow the entire country is coming together behind us. Whether you live in Vancouver and you support Traffic or you live in Montreal and support Iris, or anywhere else in the country, it really feels like everyone is coming together. On Twitter we get like a 100 mentions every 10 minutes of people just like "we love you", "you're making us so proud", "thanks so much", so it's really cool to be the Raptors right now." #SheTheNorth.
Losers
Teams With Out-Of-Town Pickups
A big story of the division this season was the high number of out-of-town additions some teams had on their roster. Seeing teams pick up new names made roster announcements more exciting than usual and added a new level of complexity to the battles between squads. Scandal was probably the team that utilized this strategy the most, and many people speculated that this method could be their ticket to success this season.
Unfortunately, this did not prove to be the case. Scandal, along with many other teams that added out-of-towners to their roster (either by people moving for the team, or commuting to play with them), did not see the success they were undoubtedly hoping for. What does this mean? It's hard to say. But one thing is for sure: when you're building a roster, there are many things that need to be considered, and team chemistry should be high on the priority list.
Scheduling Of The Women's Semifinals
On semifinals day, the games started at 10:00 AM, as opposed to the 9:00 AM starts on Thursday and Friday. At first glance, this seemed like a nice treat — an extra hour of sleep in prep for a long day of big games. But logistically, this made it impossible for spectators to watch both the women's semifinals in their entirety, because one started at 10:00 AM at the fields and the other started at noon in the stadium.
This meant that, for the start of the Brute Squad vs. Fury semifinal, there were very few spectators in the crowd. Everyone, including Ultiworld writers attempting to report on the women's division, had to depart quickly after the 6ixers vs. Schwa match, and then endure horrible traffic leaving the fields as the whole mass attempted to get to the stadium for one of the most exciting games of the tournament. The stadium definitely filled up as the game went on, but many people missed the first 5-6 points, and with a match like that you want to enjoy every second.
The Big Four Domination Narrative
The hot topic of the women's division this season has largely been whether the "big four" are still head and shoulders above the rest. After the first day of Nationals, it seemed like all our doubts about their dominance was put to rest as Fury, Molly Brown, Riot, and Brute Squad each went 3-0 and looked impeccable. However, everything came crashing down on Friday when Molly Brown fell to Portland Schwa and Riot succumbed to 6ixers in quarters. We are officially entering a new era in the women's division, one of more parity and intrigue.
Jordan Meron, captain of 6ixers, believes that the narrative has been a fallacy for a while and that the entire division needs to recognize that it's now anyone's game. "You know what? We all have to stop feeding into the narrative that there's four women's teams and that the others are just playing for fifth," said Meron during the press conference following the final. She explained she believes that part of the reason the traditional four dominate at times is because people play as if they are untouchable- but that shouldn't be the case. "I think the depth of the field is there and we just have to play as if we could be top four."
When asked about whether the four team narrative is real, coach Ari Jackson put it simply: "If it was true in the past, it is no longer true."
The Hearts of Riot Fans
It's tough to be a Riot fan these days. This really seemed like the year they could end their run of disappointing losses. Seattle Riot came into the weekend as the No. 3 seed, and they breezed through Thursday, earning themselves a bye through prequarters, like any powerhouse should. But on Friday, it happened again. For the majority of the game, Riot looked like the better team. 6ixers stayed in it, but Riot was always a few inches ahead. When the game reached 10-7 in Seattle's favor, it looked like they had finally locked it in, but about midway through the second half, something shifted. Riot started to make mistakes and Toronto started to capitalize on every one of them. When 6ixers tied it up at 12-12, based on the demeanor of each team it was easy to predict what would happen next. Toronto went on to score two more points and win the game.
Unfortunately for the Seattle squad, this tale is starting to become all too familiar. Last year, their demise came in the semifinals, when they blew an 8-5 lead over Fury. In 2017 when they were the No. 1 seed in the tournament, they lost to a massive underdog, No.7 Atlanta Ozone, in the quarterfinals, and in 2016, they blew a 10-8 lead in the final to lose to Boston Brute Squad. Riot is an incredible team — a Club World champion — who consistently earn themselves a strong seed at Nationals, but in recent years they have struggled with the last few pieces of the puzzle despite having some of the biggest names in the division on their roster. This result likely won't cause any Riot fans to stray away from the Seattle crew, but they've probably learned by now to not get their hopes up until the last horn goes.
Brute Squad Doubters
Going into Nationals weekend, everyone — including Ultiworld in several articles — considered Brute Squad a question mark. Boston showed some unusual moments of weakness this year and suddenly everyone lost their unwavering faith in the Northeast team. But, boy, did they prove us all wrong. Perhaps after so many years of dominating the division and missing out on the last two National Championships by a total of two points, the thing Boston needed was something only a difficult season could give them – something to prove.
The Boston Brute Squad we saw in San Diego was the one other teams have nightmares about. Brute Squad's defense was suffocating and their offense was nearly as gritty. Each and every player on the team played as if they were trying to earn a roster spot again; everyone pushed themselves to the next level. Kami Groom, captain of Brute Squad said that the difficulties they faced this season, and having lost the past two National Championships, made the win extra special. "To be here again and to actually complete it, feels good in a lot of ways- it definitely feels different than the past two that we won," said Groom. "It feels satisfying in a way- because we overcame that adversity, it's just a little bit sweeter."