Our top seven in the Men's Division in Europe this year!
Ultiworld's Europe Awards are presented by Tokay Ultimate cleats. With their new Flight cleats, your feet can shine like these stars! Check out Tokay, the cleats you were looking for.
Thanks to Focus Ultimate and John Kofi  for allowing us to use their photos for this article!
With the 2019 season over, it is time for us to consider the individual players who had the best overall season this year. These are the top seven players in the men's division this year. The selections are based on input from the Ultiworld Europe staff. The players are in no particular order. EUC and EUCF were the marquee events this year so performance in those events were considered first but performances in other tournaments such as WU24, EBUC, Tom's Tourney and Windmill were also taken into account. In cases where a player played for different divisions between the EUC and EUCF, the division where they made the most impact was usually where we considered them for placement in these lines and in any disputed cases, the division for the EUC was used. Without further ado, here is our All-Europe Men's line for 2019!
Nico Müller (Germany Men, Bad Skid)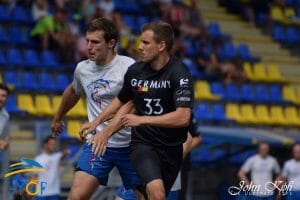 If you are making an all star lineup of European male players, there is simply no way you would do so without Nico Müller. Nico is our POTY and for very good reason. Much has already been said about his offensive contributions for Germany and Bad Skid, but he is also a defensive standout and when Germany's D line struggled to get breaks throughout the season it sometimes took Nico to come out and get key breaks in big moments. He would usually start these kill line points with a spinning pull that would sit pretty in the back of his opponent's defending endzone. After that he would shut down a handler and fluster any offense that he went up against. Of course, once the turn came up on Germany's side the poor opposition would have nothing to stop him from taking over on offense and making sure that the D was converted into a break. Nico was doing it all this year and is an easy lock for our top seven.
-Ravi Vasudevan
Justin Foord (Great Britain Men, Clapham)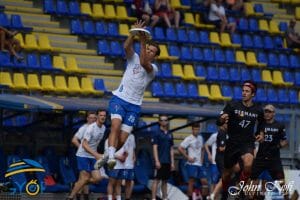 At this point picking Justin Foord for teams like this is almost a cliche. He had what seemed like a reasonably quiet year by his astronomical standards, and still managed to win three European titles and a Windmill trophy with GB, as well as yet another UK national title and an EUCF silver with Clapham. He's still a key part of the GB and Clapham offense, and his all-around skill set means he's a threat that needs to be accounted for both with the disc and without it. He might be a master nowadays, but he's still able to be dominant in any division when needed.
-Sean Colfer
Mikhail Khudobin (Russia Men, RealFive)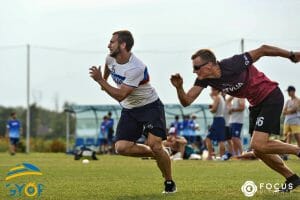 Mikhail 'Bif' Khudobin, our offensive player of the year, is a dominant player on both sides of the disc. In terms of athletic ability, he is dominant. He routinely makes much larger players look foolish when he takes them deep. Even if you start by forcing him in, he is so clever in his movement, and has such raw speed, that it doesn't even matter. In games against Italy, Germany, Great Britain, CUSB La Fotta, and others this year, Bif's performances have been fundamental to his teams' successes. He was often the only player on the field to routinely be an option for his teammates. Not only is he a fantastic deep option and initiation cutter, but his teammates know to look towards him when the stall count gets high. While the Russian National Team and RealFive have a number of excellent players, neither could have reached the same heights this year without Khudobin.
-Ned Garvey
Luca Tognetti (Italy U24 Men, CUSB La Fotta)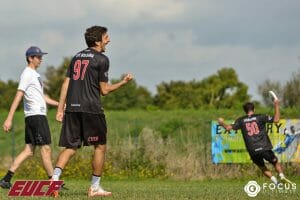 While Giovani Santucci may have claimed the award for best defender in Europe, Luca Tognetti is the best all around player on the La Fotta D-line. Defensively he does not get as many blocks, but he is often tasked with shutting down the biggest receivers in the game like fellow All-Europe players Mikhail Khudobin and Justin Foord. When Tognetti is on defense, his opponents rarely get their first option since he is shutting it down, and there are few players who can claim that. La Fotta's D-line is the best in Europe and part of that is Tognetti's shut down ability and the other part is Tognetti's ability to drive the D-line offense once they force the turn. Tognetti is dangerous with the disc and in the air. He has better throws and cuts than anyone on any D-line in Europe and even better than the vast majority of O-line players as well. With that sort of offensive ability combined with the best shut down defense on the continent, Tognetti is a welcome addition to the All-Europe line.
-Ravi Vasudevan
Steffen Döscher (Germany Men, Hässliche Erdferkel)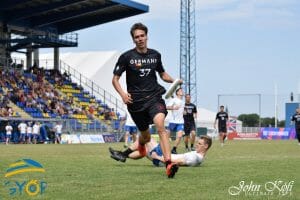 Steffen Döscher is the only player on this list who didn't play the EUCF in the men's division. He was there playing in the mixed division with his club Hässliche Erdferkel, but his performance in the EUC alone was enough to cement himself as one of the top European men's players. On Germany Men he was one of the only players who played fluidly with both the offense and defense lines. When Germany coach Mike Nash was asked why he plays Döscher on the offense line when the Bad Skid boys seem to do fine on their own and maybe saving Döscher's legs for the D line could be advantageous, he simply laughed and said "The O-line boys love playing with him and I have to keep them happy." It's no wonder why. Döscher is a tall figure who can use those talents as a deep threat like any other big man. However, what's most impressive is his quick, explosive, controlled footwork and ability to play a clean give and go game that is essentially unstoppable by even the toughest defenses. He is also a nightmare matchup as a defender and was huge for the Germans whenever they needed to get key breaks in important games. This year was Döscher's first foray into the elite men's division and we hope to see him there for years to come.
-Ravi Vasudevan
Holger Beutenmüller (Germany Men, Bad Skid)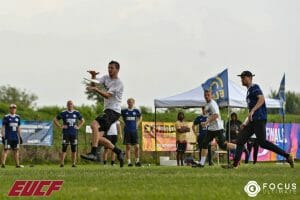 Last year's player of the year was a bit quieter on his German and Bad Skid sides this year but that is because teams consistently planned their defensive strategies around him. His presence was still a huge deal for the German and Bad Skid offenses and it would take him crossing over on defense the biggest points in order for those teams to be successful. In previous years he was more of a pure receiver but this year he also showcased his throwing prowess with big hucks and high release breaks in key games as teams continuously force him underneath. He is still as talented and explosive as ever and we would be absolutely crazy to make a top seven line without Holger.
-Ravi Vasudevan
Ricardo Zanni (Italy U24 Men, CUSB La Fotta)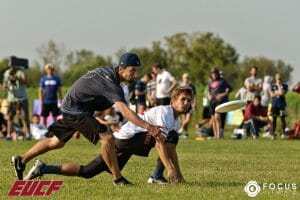 Ricardo Zanni was a standout player on La Fotta's offensive line. He was the stats leader in the EUCF final with two goals and two assists and was a key player on the Italian U24 team. Early in the final against Clapham, Toby Mine threw what looked like the first La Fotta mistake of the game but Zanni skied a pair of Clapham defenders to reel in the errant pass. Zanni was on fire throughout the EUCF and WU24s and along with OPOTY runner-up Michele Angella, made a huge impact whenever his team had the disc. Fiery and young, his defense is also impressive whenever his line loses the disc. Even more impressive is that Zanni got himself on the All-Europe line at the age of 21.
-Ravi Vasudevan