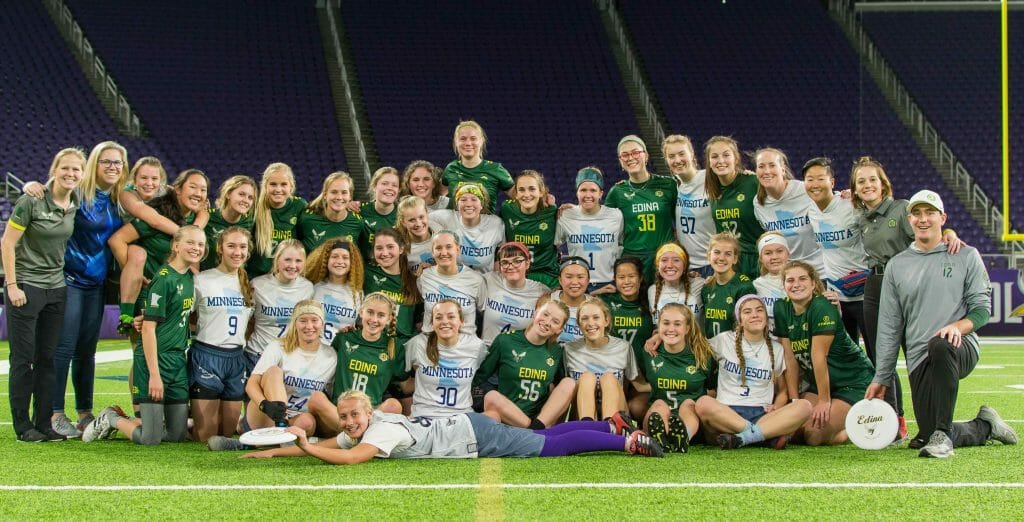 This article was written by Edina boys head coach Nate Wohl.
For the first time Minnesota was able to host two true youth ultimate high school all-star showcase games. The event was played Sunday, December 1, 2019, under the lights at US Bank Stadium in Minneapolis, home of the Minnesota Vikings. The games would not have been able to take place without the opportunity provided by Playbook Sports, a website software company that hosts youth sporting events at major stadiums and arenas across the country. Edina Ultimate was thankful to be the first ultimate program invited to participate in these events.
Ultimate is and always has been a sport of community along with Spirit of the Game, and this opportunity would not live up to those values if it didn't represent athletes from schools across the Twin Cities. Credit goes out to Minnesota All-Star team head coaches Ashley Green and Matt Nelson, both 2019 head coaches for Minnesota's YCC U-20 Girls and Open programs, respectively, for recruiting and organizing talented rosters on short notice. Edina coaches Cloid Green, Ian Andre-Knudsen, and I were able to organize the Edina rosters, recruit announcers for filming the game, and secure a photographer to create a true showcase atmosphere.
The Minnesota All-Star teams were comprised of athletes from 15 different schools, most with previous YCC youth club experience though not all, which helped increase inclusiveness. Seven of the All-Stars were invited to USA Ultimate's U-20 National Team tryouts (Mauricio Baldillo Moorman, Jedi Casas, Eva Fischer, Aiden Lomen, Gunnar Mikko, Jedi Pratt, and Phoebe Stern), and the eighth U-20 tryout invitee participating in the games, Abbi Shilts, is a captain for the Edina girls team.
Two Edina v. Minnesota All-Star showcase games took place side-by-side, filled with talented athletes, allowing for constant action and highlights for the over 400 people in attendance.
The women's game started out as a back and forth scoring affair, ending the first half tied at 5-5. This continued into the second half, as neither team was able to pull away until late when the Minnesota All-Star women received and held to make the score 10-8 in favor of Minnesota and closed it out with the score 12-8 when time expired. The women's game featured big plays from several star players. Shilts and Stern (Hopkins/Breck) traded big skies back and forth, while Fischer (Great River) was getting layout blocks and launching huge backhand hucks. The All-Star handlers, led by Sadie Haas (Roseville) and Daisy Har (Cooper), controlled the tempo of their offense by smartly resetting the disc when appropriate and putting up well-timed deep throws throughout the contest. Edina handler Juge Hengel was able to go huck-for-huck with the MN All-Stars, and athletic Edina cutters Abby Swanda, Ellie Cooper, and captain Suzanne Wandrei made plays in the deep space throughout the game.
Late in the second half, the Minnesota All-Stars adjusted their defense to take away the deep space, led by Alex Maclean (Maple Grove) and Amelia Zdechlik (South View MS), forcing Edina to string together plays underneath. Edina sophomores CeCe Wilde and Charlotte Daly stepped up as the Edina offense responded to the All-Stars defensive adjustments.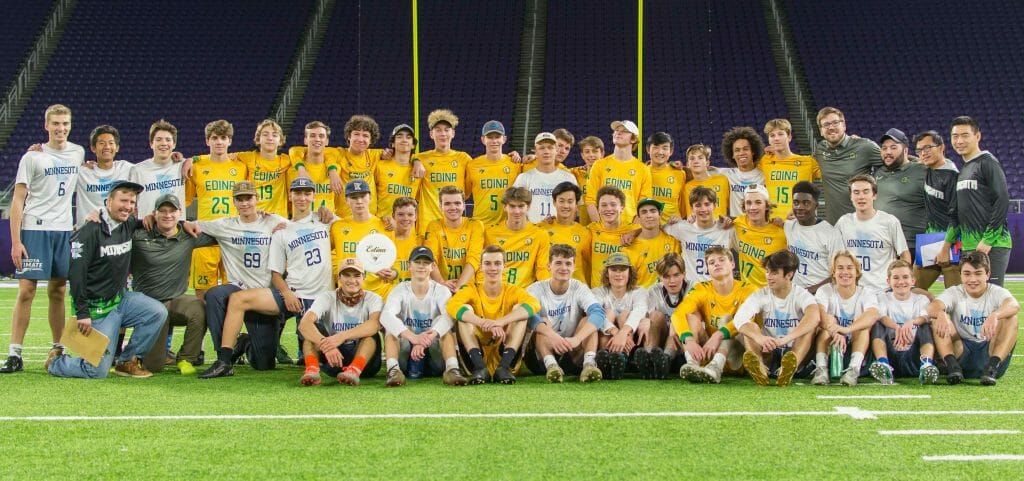 The boys' showcase game started out by highlighting speed and athleticism from both teams. The Minnesota All-Stars were able to methodically march down the field to take an opening hold with Mikko (Great River) connecting to Pratt (Mounds View). The Edina offense responded with a hold of their own, and took their first lead on the following point when Will Brandt threw deep to Mikey Wagner. Both teams thrived in the ideal indoor playing conditions, playing fast on the turf and throwing all sorts of creative throws with no wind. The MN All-Stars were able to use their throwing depth to create many hard-fought possessions, led by handlers Casas (Open World Learning) and Alex Hitchler (Johnson Sr HS). Aiden Lomen (Great River) and Levi Dohman (Mounds View) worked in the underneath space, while cutters Manasseh Williams (Cooper), Tom Hobday (Open World), and Bryan Fugelstad (Maple Grove) made impressive plays downfield.
Edina's offensive chemistry was the difference: the team scored on ten of its eleven points. A turning point in the game was Edina opening the second half getting a hold to take an 8-4 lead on a high deep throw from Matt Kompelien to James Harvey over two defenders. Edina closed out the game 13-10.
Brandt and Kompelien had four assists and a goal apiece, while cutters James Harvey and Charlie Zdechlik each had four goal performances. Edina's Paul Krenik played on both offensive and defensive lines, posting two assists and a goal.
Hopefully, showcase games like this event are a glimpse of what the sport can become. Organizing and marketing these events to maximize attendance is never easy, but everyone involved spread the word and encouraged the community to attend to show support. There were many fans in attendance who saw their first ever ultimate game, and we can be proud that it represented the values of community and Spirit of the Game that make this sport so special.
Here are the game's box scores.