Despite wild format changes, UNC was as good as expected.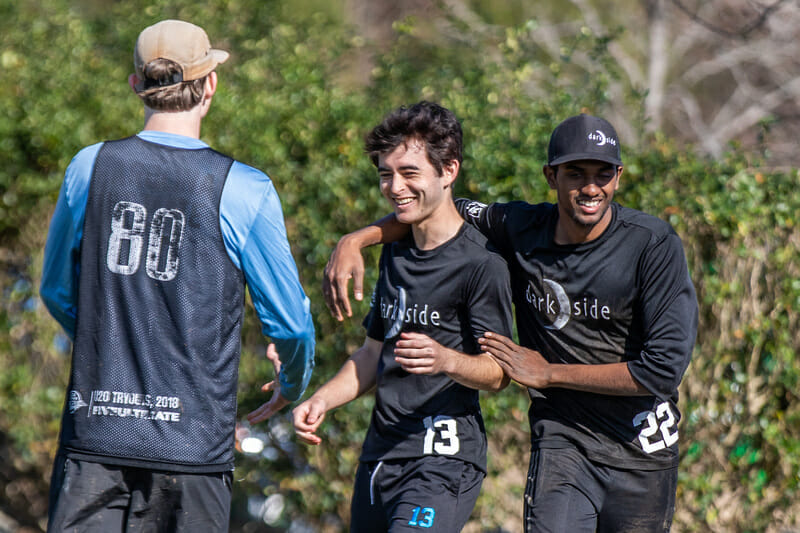 Our 2020 college coverage is presented by Spin Ultimate. Please support the brands that make Ultiworld possible and shop at Spin Ultimate!
CHARLOTTE, NC — A familiar winner topped the field in an unconventionally formatted bracket on Sunday when #3 North Carolina Darkside defeated #12 Georgia Jojah 13-7 at the 2020 Queen City Tune Up. The final had a decidedly youthful feel, as both teams rode the play of their rookies to success all weekend.
Plenty of good early season college ultimate notwithstanding, the tournament had its downsides. Concerns about the condition of the fields following a spate of horrible weather drastically altered the schedule for both days of play, most notably in the necessity of removing the quarterfinal round entirely, a decision which left a few teams feeling unfairly left out of the competition.
Darkside Win the First-Year Fracas
Let it be said first that the Queen City final between UNC and Georgia was not close. The performance of the two teams involved felt exactly as disparate as the 13-7 score would suggest. The second half, frankly, was an utter blowout. Darkside controlled the pace of play, made fewer mistakes, showed more tenacity and discipline on defense, and showed real command of both their deep and short games on offense. Elijah Long has made a fine opening argument for Player of the Year.
But the story of this particular game is more about the narrative of the two teams that came into it than it is about the one that came out on top. Both entered the season with a disproportionate number of rookies on the roster; Jojah (9) and Darkside (11) knew they would have to rely on freshmen if they wanted decent depth at tournaments. And while great performances from established players — Long, Kai Marcus, and Anders Juengst for UNC; Mason Cary, Jon Ross Ingley, and Matt Cook for Georgia — certainly played large parts in each team's success, it was the freshman talent that truly propelled them this weekend.
The last-minute rescheduling meant that it was many hours before Georgia's rookie class made their collective debut on Saturday night. They put away Ohio Valley hopefuls Ohio Trout and Penn State Spank without much trouble before completely showing up Southeast upstarts Alabama Yellow Hammer, who had also breezed through the first two rounds.
The first point in that game, a Georgia break, lasted more than ten minutes. Alabama could only muster a few answers — mostly in the form of brilliant throwing by Nathan Lyle — for Georgia's waves of athletes on defense after that. "It was very noticeable last year on defense how many lines we were able to put out with rookies and still win games," said captain Jon Ross Ingley. "But this year, with the championship YCC kids that came in — we can put a line out there on defense that is six of those guys."
Freshmen Jake Powell, Aidan Downey, Isaac Huntington, and Adam Miller led the way for the D-line, especially after the turn, where the chemistry and throwing prowess they developed as members of the YCC team ATLiens1 often yielded spectacular moments.
Georgia's offense, on the other hand, was mostly rookie-free. It looks much improved from the last couple of years. They've developed a shared kinesthetic awareness that leads to quick clears and quick fills to unexpected points on the field, which in turn lead to more frequent moments to attack the end zone than in years past. Hayden Austin-Knab was a terror in the middle of the field for them, and Mason Cary played probably the best ultimate of his life as a power cutter with a quick huck trigger. They demonstrated impressive resilience in several high-pressure points against NC State in their semifinal.
That they failed to perform at the same high level in the final sours the overall impression of the weekend a little — but only a little. Jojah are going places this season.
If Jojah are going places, UNC are already there, right where they have been for years: hovering around the apex of the division. Darkside have hardly fallen off an inch a season after graduating seemingly irreplaceable Callahan winner Matt Gouchoe-Hanas. The team has simply spread the many hats he once wore across a wider array of heads.
The O-line was mostly untouchable in the final, and one glance at the personnel is enough to see why. Juengst might have been the best pure cutter at the tournament, and he handles at least half the time. John McDonnell has absorbed UNC's red zone offense so completely that he basically embodies it at this point. Liam Searles-Bohs, for the most part, did only as much as was necessary and hung back, but he was his typical indomitable self when he elected to step into the fray. But we knew all that heading in.
Matthew McKnight, a freshman from the DC area, is the major newcomer to the Darkside offense. The side stack-heavy sets they featured this weekend seemed tailor-made to show off his skills. He's got a classic ultimate frame: enough height and muscle to be a deep threat, but broad shoulders and long arms that let him step into low hucks around the reach of most marks. His play on the weekend came with a shooter's share of mistakes, but UNC seemed more than happy to trade assertiveness on offense for a turnover here and there.
They brought a little zen into the equation, too. Gouchoe-Hanas, part of the coaching staff now, explained, "One of the keys to success for any good offense, ours included, is playing at our pace and playing at a level of emotional intensity that's sustainable and consistent. So we were trying to be calm and present in the moment, regardless of what the score was and what the defense was doing." So far, they're hitting their marks on that front. They did not play a perfectly tight game. But in contrast to Georgia, who looked equal parts bewildered and desperate in the final's second half, UNC never let their feathers ruffle. That meant that none of the little mistakes ever snowballed into a series of bad points.
Elijah Long made a few cameos for the offense, but spent most of the weekend leading the tournament's best calibrated D-line to retake as many breaks as the offense needed, and then some. Sophomore Andrew Li and junior Mukil Guruparan2 were sharks after the turnover. Even without ace match-up defender Tommy Williams, who sat out the final, Darkside overwhelmed a suddenly hapless Georgia O-line.
Far from being hampered by the youth on the roster, North Carolina has reloaded on the fly and appear, once more, to be in contention for a national title.
NC State, Ohio State Come Up Just Short in Semis
The other two semifinalists, #10 NC State Alpha and #9 Ohio State Leadbelly gave Georgia and UNC a run for their money on Sunday, but in both cases came up a few mistakes short of the big win.
Alpha outplayed Georgia for the first eight points in their match, although the score stayed on serve. Rhys Gretsch, Michael Lee, and the rest of the NC State defense left Georgia with little to work with but presence of mind as they scrambled to try to find space in the claustrophobic schemes. The fact that Alpha could bring such consistent pressure without star defender Austin Von Alten — who hopes to return to action soon after having missed the team's first two tournaments — should worry the rest of the division.
The offense, meanwhile, looked untouchable at the outset, scoring in fewer than three throws on three of their first four points. Veterans Conor Chickos and Hunter Shumaker played well for the O-line; so did Matt Tucker, who has bloomed into one of the division's true deep threats. The biggest part of NC State's success on that side of the disc, however, was Trevor Lynch's stalwart performance as the center handler… and as their most dynamic cutter… and as their most aggressive hucker. He bears an absurd load, but he bears it gracefully.
When Georgia refused to crumble, though, NC State started to show some faint cracks. Their reset game was less than reliable, leading to a few poor turnovers. Even though the team is veteran-heavy, many of the players are still new to their respective lines. A few dozen more practice reps might nip those issues in the bud. Until then, though? The team has shown a propensity to shoot itself in the foot. With a chance to tie the game as hard cap blew, Shumaker and Chickos got crossed up on the centering pass, resulting in a laughably easy Georgia callahan to end it.
Wisely, Alpha aren't going to worry too much about that one. "I am fairly confident in saying that plays like that are not going to be too common for us," said Lynch after the game.
Ohio State, on the other hand, are all chemistry. Lots of teams showcased fast individual players this weekend, but no team pushed the pace quite like Leadbelly. Try to picture Brown's or UCSD's legendarily methodical upwind weaves in Austin at Nationals last year: now veer in the opposite direction to a kind of seat-of-your-pants, flash-cut small ball, and you'll have a good idea of how Leadbelly's offense looks at its best. "That's one of the big things we've been focusing on this season: hitting open hands and trusting the receiver," said captain Sion Agami. "We think that if you hit open hands and change the point of attack, it's really hard for the defense."
It was, as he said, really hard for the defense. Agami, his brother Axel, Noah Krumme, and Zach Braun kept the disc moving early against Darkside, changing the angles regularly, albeit sometimes by infinitesimal degrees. The result was that they scored more first-half points than any other team could against UNC, often by flipping easy continues to one of the front cones before the defense could hunker down for a stand, and bringing a tidal wave of sideline energy into the end zone as they did. UNC had the lead at half, but the game was on serve.
Whether fatigue or excitement began to creep in, though, Ohio State strayed a little from their standard game plan in the second half. "We weren't moving the disc fast enough," said Agami plainly. As if comparing notes with North Carolina, they held the disc a little longer and shot deep more aggressively, letting go of a lot of break chances in the process, and giving up a few of their own. In doing so, they ceded their main offensive advantage.
We'll see what kinds of lessons they take from the loss next month at the Smoky Mountain Invite, where they'll have to stay disciplined for a much longer Sunday of play than just the one bracket game they played at Queen City.
Wilmington's Weather Woes
There are things you can control, and there are things you can't. #15 UNC Wilmington Seamen got a taste of each in what turned out to be a very disappointing end to an otherwise solid weekend.
Just to rehash: the Charlotte area, like much of the Southeast, has had a rainy winter. The Queen City fields were already soaked when a major weather system rolled through last week that brought a few tornadoes and more than three additional inches of rainfall. In order to keep the tournament afloat, the directors split the number of field sites from one to four, and then split the number of pools from four to five. The original plan for the bracket at that point was to seed the five pool winners by point differential and then bring in three second-place teams.
Then came Saturday. The forecast called for partly sunny skies and a high in the low-50s. In reality, it snowed for three hours and misted well into the evening, which added more moisture to the already-saturated fields. There would not be nearly enough playable field space to institute an eight-team bracket, so the call was made to go straight into semifinals. You follow? That meant only four of the five undefeated pool winners were playing for the tournament championship on Sunday.
Just guess which team was left out.
Wilmington played as well as any of the other top seeds on Saturday — and possibly better, given that they had to play a strong William & Mary side who might have been the best team at the tournament who did not win a pool. And then, through no fault of their own, the Seamen were relegated to the fifth-place bracket. They were understandably disgruntled.
If you can't have a tournament where a 3-0 team can win don't have a tournament. Just make it a round robin to ensure no potential over lapping. #FTB

— Connor Russell (@crussell052) February 9, 2020
Once they were in the fifth-place semis, they promptly dropped a game to Notre Dame, who were anything but competitive in a game against Wilmington's rivals, NC State, in pool play, to finish the weekend tied for seventh.3 It's weird, because it wasn't a game they ever thought they would be playing.
What a strange turn of events for a team who justifiably thought they were in contention to win the tournament. Connor Russell was untouchable on Saturday; Ethan Ylizarde has turned into a fearless thrower. The all-out assault they led more than took care of a formidable Merry Men team with a pair of top players and big dreams in the Atlantic Coast this year. In Wilmington, we have a talented team; we have a determined team; we have a volatile team. They'll be hoping for a steadier go of it at Smoky Mountain Invite — and for better weather.
Quick Hits
#21 William & Mary Merry Men showed that they deserved their Top 25 ranking, finishing the weekend 3-1 with a solid win over Alabama in the fifth-place semis. As expected, Johnny Malks and Gus Norrbom ran the offense. Whether they could have carried the team to an upset in the bracket remains an unanswered question. The lack of a quarterfinal hurt their opportunity to prove themselves even more than it did Wilmington.
Alabama Yellow Hammer are in that funny position just outside Top 25-level play, although they flashed signs of it. Against lesser competition, they played like world-beaters. They couldn't keep up the illusion against the likes of Georgia and William & Mary, though, who exposed their lack of depth — they run basically two full lines, and that's it — and their dearth of big-game experience.
Notre Dame Papal Rage had the big win on Sunday over UNCW, but Purdue Undue may have been the most impressive Great Lakes team in attendance. I would have liked to see them head-to-head. Joe Byerly and company are delightful on offense, and Matthew VanDokkenburg was one of the better defenders I saw at Queen City.
An unexpected contender has arisen for the title of third-best team in the Ohio Valley. Temple Alert arrived with confidence and competence to get the better of Carnegie Mellon Mr. Yuk in pool play in what was the most entertaining game I saw all weekend.4 Jake Butrica, Brandon Lamberty, and Paul Anouna are bold in all the best ways. Temple will almost certainly factor into the OV bracket this spring.
All-Tournament Line
Sion Agami (Ohio State)
Mason Cary (Georgia)
Elijah Long (North Carolina)
Nathan Lyle (Alabama)
Trevor Lynch (NC State)
Johnny Malks (William & Mary)
Connor Russell (UNC Wilmington)
---