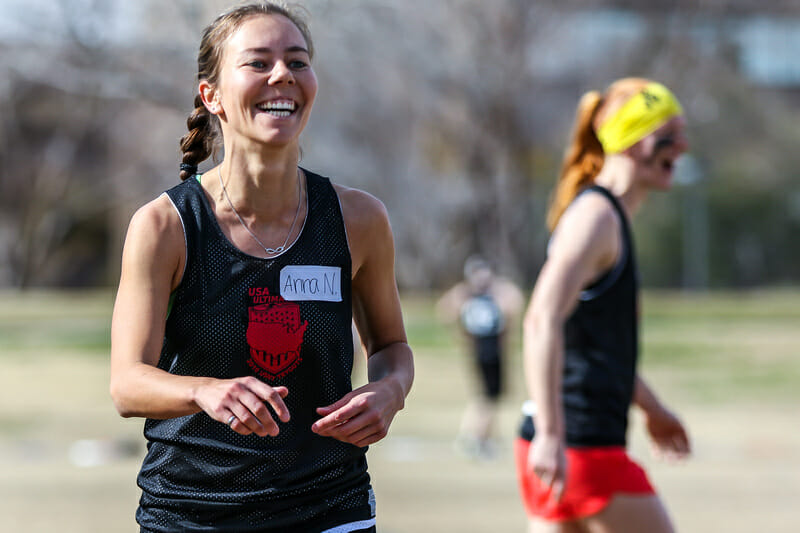 SANTA CLARITA, Cal. — It's hard not to get weighed down by the gravity of the moment when you only have two days to differentiate yourself from 100 of the world's best players. Needless to say, the air was thick with unbridled energy at the start of Team USA's World Ultimate Championships tryouts this weekend in southern California. Even though the coaches quite firmly stated that players wouldn't be evaluated during their warmup routine or initial throwing drills, no one wanted to make a mistake with so much on the line, and even the warmups were a tense affair, filled with scattered chatter that masked the anticipation.
There wasn't much of a change in intensity when warmups organically progressed into drills, either. No one had to 'flip a switch' or 'change gears' to lock in –they were already there from the offset. With only really 12 hours of ultimate to play throughout the weekend, the players knew they had to make an impact early. The effort from the players did not go unnoticed.
"The intensity started high and I think it stayed there all day," said Alex "Dutchy" Ghesquiere. "We saw good reps early and that was maintained all the way through."
As the coaches only had around six hours to evaluate the players on day one, they wasted no time in dividing the tryout attendees into three separate mixed groups and rotating them through mixed and single-gender fields for drills. With three stations in place, Team A and B would start on the single-gender fields while Team C got their reps playing mixed, and then it would rotate every hour for one of the teams to play mixed while the other two faced off on the single-gender fields. By the end of the morning, every team had run through a set of mixed drills and two sets of single-gender drills.
"In the morning sessions, we had small ball, full-field 4v4, wide-field drills — situations where every player could show off their strengths when the time was right, and we saw that mainly," said Ghesquiere. "By all accounts, the level remained very high across all fields."
The Difference in Drills Between Divisions
While every station may have had a different focus in their drills, there was a very clear symmetry and pattern to the skills that the coaches were trying to bring out of their players. They naturally built off each other to display the talent of the competitors on the field.
Men's
On the men's field, this mainly took the form of structured scrimmages, forcing players to compete in systems that they might not be comfortable with and seeing who could adapt and build chemistry quickly in the roles that they were given. On Saturday, the men ran a small-ball handler weave on a full-width field, a two-on-two cutting drill emphasizing high percentage hucks, and a four-on-four full field scrimmage, which highlighted defense. Players with a variety of throws stood out, especially in the transition from playing small-ball to throwing full field standstill hucks.
Abe Coffin stood out both for his throws and his impressive timing as a cutter downfield. Raphy Hayes starred as someone able to get open at will: he also owned the airspace. Dylan Freechild probably played the best individual defense of the men at the tryout. He stifled any under cuts and maintained impeccable body positioning.
In the full field, four-on-four scrimmages, matchup defense was highlighted. Players like Brian Schoenrock and Cole Jurek dominated their matchups downfield. The extra space on the field also allowed throwers to shine. Jonathan Nethercutt was a very confident thrower, at one point dropping a half field hammer to the break side for a score. Ben Lohre, Nethercutt's teammate on Denver Johnny Bravo, also threw a hammer in the same scrimmage. It was fun to watch players adapt to other teams' styles.
The men's coaches also made a point to build team chemistry. Men's head coach Ben Van Heuvelen told the team that the day would be a success if they feel like teammates. He noted that it may feel weird to cheer for people who the players are actively trying to beat or who they may have competed against in the club season. With three simple words, he made his point clear, "get over it."
Women's
The women's field was similarly intense. They started out running a two-on-two half-field cutting drill, with an emphasis on the initiating cut. Players who could get open for unders and shut down their mark while they were rotating in on defense stood out. Ronnie Eder was probably the most impressive player on the field. She never looked overmatched and was able to dictate where her matchup went. Sarah Griffith played confidently and seemed very comfortable even matched up against talented defenders.
The women then transitioned into a four-on-four possession based drill with teams of four players getting one chance to score. Operating out of a horizontal stack, players who could stretch the field with their throws and utilize the break space stood out.
Carolyn Finney had excellent footwork on her cuts and Beth Kaylor was difficult for defenders to stop. Jesse Shofner similarly buzzed around the field without a sense of fatigue. On defense, Lexi Garrity and Marika Austin stood out as players who never gave up an easy throw. Opi Payne probably had the best all-around performance, impressing as a thrower and on defense.
Mixed
For mixed, the focus of the morning sessions was to see how players could operate in tight spaces, moving the disc even when there wasn't much room to operate. This mainly came in the form of breakmark drills that quickly flowed into 3v3 and 5v5 scrimmages where players would get plenty of touches with the disc and show their ability to move the disc with a shorter stall count. For the players, this also meant they had plenty of opportunities to make stellar defensive plays, and it didn't take long for the highlights to start rolling in. Early in the day, Seattle Sockeye's Billy Katz had a layout block on a centering pass that sent the sideline into a frenzy, only for the sideline to once again light up a few plays later when Kaela Helton made a stunning layout block of her own.
Especially in the 5v5 scrimmages, it was clear that there were some players more comfortable with the small ball style than others. Unsurprisingly, Oregon alumni had an affinity for this style of play, particularly in the case of Beth Kaylor and Dylan Freechild, both of whom had little difficulty in taking over for their teams as necessary. Kaylor was comfortable at any position on the field and generally stood out on day one as the type of player who could fill any role the coaches gave her.
There were others that shined in specific roles, too. Joel Schlachet thrived on the smaller field; his crafty cutting and excellent footwork led to multiple goals in quick succession. It was also clear that mixed players were comfortable in this format, as Anna Thompson established herself as perhaps the best female thrower at the tryout. Caleb Denecour and Tommy Li were equally impressive, and showed a lot more touch with their throws than many other male counterparts.
That said, even at the mixed fields, it was hard to parse out if there were any players that stood out of the pack. One pod, in particular, had great success as a team, with Jesse Shofner, Jonathan Nethercutt, Caleb Denecour, Jacob Janin, and Eva Popp dispatching their opponents with ease for most of the mixed scrimmages. However, even that group had racked up a few losses by the end. There was simply too much on the line for any team to allow themselves to get rolled, and the effort shown by every group was enough to keep the level of play at a fever pitch. This included players that had put a single-gender team as their only option, as they were still expected to participate and contribute in the mixed scrimmages.
As noted by Nancy Sun, an assistant coach for the Mixed Team, regardless of the division preferences that the players had put on their application forms, the expectation was still that they would perform at their peak in every drill on the mixed field: "At this level, where the margins between players are so small, team dynamics matter. That's one of the reasons why we have coaches from every division watching the mixed scrimmages. You only have so many chances to impress the coaches this weekend, and if you're not going to perform on the mixed field, that's something we will notice."
Matty Tsang, the Women's head coach, reiterated a similar sentiment later in the weekend: "We aren't taking anyone based on their legacy. Their past performances, their history, is what got them this invite. How they perform at every station, with every drill, that's what is going to get them on a roster."
The Player's Closing Arguments on Day Two
After recovering over Saturday night, all the tryout attendees were eager to finish the weekend strong. The coaches were happy to let them do so, and went straight into more scrimmages almost right out the bat on Sunday. There was time given for warmups and basic plyometric drills before the participants were thrown right back into the thick of it.
For what it's worth, Sunday morning might have been the highest level of ultimate played in all of 2020 so far, and perhaps for the rest of the year. With all respect to the international ultimate community, this tryout featured around 100 of the world's best ultimate players desperately competing against each other for a shot at representing Team USA, and there's nothing like desperation for bringing out the best in people. Yes, there are the East Coast tryouts happening in a few weeks, but after watching the standard of ultimate being played on Sunday morning, it seems almost unfathomable that there could be another day that matched the level of competition on display.
Once again, offensive efficiency ruled the day on the men's field, but this time it was matched on the mixed and women's fields, too. Errors were scarce and blocks were hard-earned. There were a few players fighting fatigue, illness, and injury, but when they were on the field, it hardly showed.
"The intensity level was exactly where we wanted it to be," said Ghesquiere. "Nobody was tentative. Everybody came to play and make their statements and their cases to be on the team."
There were plenty of moments where players made statements, probably too many to list. On the women's field, within the first five minutes, Kaela Helton made a chase-down layout block in the endzone that couldn't help but cause a reaction in the otherwise stoic coaches. Dena Elimelech also looked much more comfortable in these scrimmages, as she had plenty of room to get open downfield when she wanted. There was no player on the women's field that really could contest her for a floating huck when she had position on the disc.
The highlights weren't only happening on the women's field, though. Just a few feet away, on the men's field, Billy Katz made another beautiful layout block, establishing himself as a menace to the handlers he marked. He was also fitfully composed on offense, slotting in passes right where they were needed and hardly ever contributing to a bad play on the field. Still, the most dramatic moment of the morning came from Markham Shofner, who caught a pass in stride at the front of his own endzone, only to power the most beautiful full field huck you've ever seen into the eager hands of his receiver. Shofner really shone on day two, as his fakes and pivoting gave him plenty of opportunities for downfield shots.
Of course, just when the players thought they were comfortable and in rhythm, lunch rolled around, and the afternoon brought a wrinkle that did just enough to keep things interesting.
The Shifting Priorities of Ultimate in a Howling Wind
Put simply, the final three hours of the tryouts were hampered by a raging wind that threatened to derail everything. Along with sun tents and snack tables being blown over, the gusting wind frequently changed directions, forcing the players to adapt on the fly to the new conditions. Granted, the wind did allow the coaches to see another aspect of their players that they might have missed.
"What we started looking for in these conditions was longevity," said Patrick Sherlock. "The players had plenty of chances to show how quickly they could end a point. Now we have a chance to see how they deal with multiple turnovers and being worn down by long points."
Not every field adapted well to it off the top. Where once the men's field was a paragon of efficiency, suddenly the cracks started showing. Players were trying to power throws through the wind to no avail, and many of the deep shots that had once opened the field fell short. The coin flipped the other way and now defensive intensity was what came to the forefront.
It wasn't all bad news, though: the mixed field was surprisingly clean with the wind — a pleasant surprise to the coaches watching — and there were plenty of players that capably dealt with their new environment. This was really where handlers had their time in the spotlight, setting up players like Steph Lim and Alika Johnston to show how well they could move the disc in any condition. Eli Friedman also kept his cool at this time, showing an array of throws that met little resistance in the wind.
All things considered, Matty Tsang was fairly happy with the change in conditions. "I thought it was very informative!" he said. "It helped show separation in terms of skill levels for some folks. And on our team, we're going to need players ready to compete in wind or really tough defense."
The players may have been frustrated by the wrinkle in the game plan, but it didn't affect the level of play. After adjustments, throws still looked crisp, cuts still developed well, and the status quo of high scoring games returned. By the time the final whistle sounded, and the coaches were done with their evaluations, most attendees didn't seem relieved to be off the field: many still wanted to keep going.
It wasn't just that there was so little time for coaches to evaluate talent. For a host of the players at these tryouts, this was the highest level of ultimate they'd been able to play with teammates who could match their talents. Not every competitor has the fortune of competing with a team like Fury or Sockeye on a continual basis, and the taste of Worlds level competition is hard to drag yourself away from. Nevertheless, as players left the field, spirits were high and many broke off to congratulate each other on their performance throughout the weekend. There was a very real respect from everyone at the tryouts that permeated into the festivities afterwards. Even for those that won't end up making the team, this weekend validated the blood, sweat, and tears that they've given to the sport. No one looked out of place on the weekend; they had clearly all earned their spot on the tryout list.
Closing Thoughts and Quick Hits
Players were allowed to complete their own warm up routine, but both the men's and women's teams went through a Game Point Performance warm up. The men were led by GPP founder Goose Helton. Stephanie Lim and Cree Howard led the women. Very few players (maybe one or two each field) deviated from the warm up.
Before warm-ups on Saturday, Dutchy introduced himself to every new player at the men's tryout. He asked the players if they had a strategy for the tryout and made sure they knew that they had a role on the team if they played well enough to earn it.
Walden Nelson went up to Dylan Freechild as they were unpacking their bags and in place of a greeting said, "congrats on winning."
Jay Froude was particularly excited to play outside, claiming that he hadn't seen the sun in about a week before flying to California.
In the first set of drills, the men and women mostly stayed separate, but in the second set, when players who had first been on the mixed fields before rotating to the single gender fields, players would watch the other field during their water breaks. Caleb Denecour was particularly vocal in cheering on women during their drills.
Nobody was a more vocal, active, or excitable sideline presence than Husayn Carnegie. He was a terrific motivator and looked like he thoroughly enjoyed the tryout experience.
There is going to be at least one surprise on the roster (a la Henry Konker in 2016). Players who might not be locks to make the team but who stood out include Matty Russell, Kieran Kelly, Allan Laviolette, Eva Popp, and Charlie Eide.
The mixed coaches started their weekend reading a powerful equity statement to the players about what they were looking for in the mixed team that they were taking to the Netherlands. It set the tone for their fields and was reiterated at the start of day two.
At one point on the weekend, Jay Froude had to take an injury sub after landing on his wrist. As he walked off the field with it hanging gingerly, Joel Schlachet immediately went in for the high five on the injured wrist.
An interesting wrinkle in the tryout was that some players actively poached under, hoping to bait a deep shot and show up with a massive block. For the most part, this met with disaster, as they were baiting the best throwers in the world and similarly capable receivers. However, that kind of defense can generate turns for Team USA at the Worlds level and could be part of an effective scheme. How will the coaches consider that decision making?
Below, some additional insights from the scrimmage at the end of Saturday.
Bonus Content for West Coast Players Make Their Case At USA National Team Tryouts is only available to Ultiworld Subscribers
Already have a subscription? Log in
Whether you visit Ultiworld for our reporting, our podcasts, or our video coverage, you can help us continue to provide high quality content with a subscription. By becoming a subscriber, not only do you receive benefits like bonus content and full article RSS feeds, you also help fund all of Ultiworld's coverage in general. We appreciate your support!