The full regular season schedule for the Western Ultimate League.
February 13, 2020 by in News with

0

comments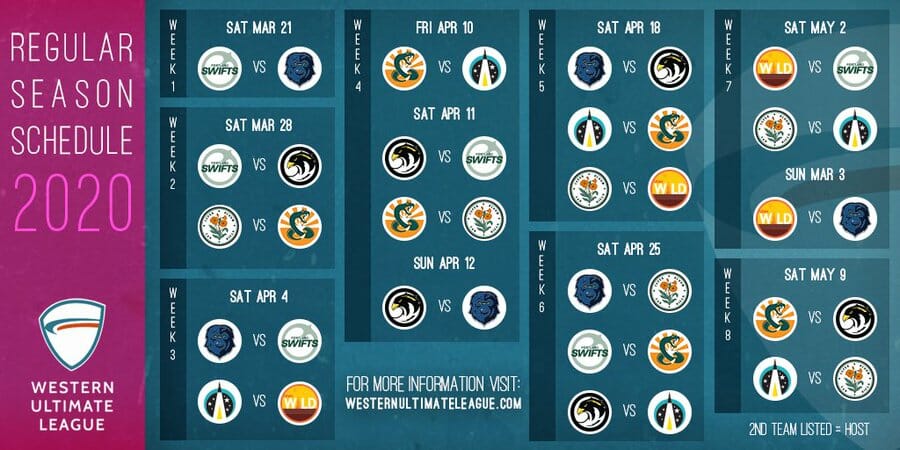 Yesterday, the Western Ultimate League released their 2020 schedule for their pilot season. Six of the seven teams will have play six games — three home and three away — while the Utah Wild will have an even split of their four total games. The league opens play on March 21st, with the Portland Swifts visiting the Seattle Cascades. The season spans eight weekends from March to early May, with most games occurring on Saturdays.
There are a couple of quirks in the schedule. The league's fourth weekend includes a game Friday and a game Sunday; the only other game that isn't on a Saturday is March 3rd. There are two instances of teams playing back to backs: San Francisco visits both Portland and Seattle in Week 4, while the Wild pull the same doubleheader May 2nd and 3rd.
The league has yet to announce plans for the structure of competition.
The Western Ultimate League Regular Season Schedule
March 21st
Portland Swifts @ Seattle Cascades
March 28th
Portland Swifts @ San Francisco Falcons
San Diego Superbloom @ Arizona Sidewinders
April 4th
Seattle Cascades @ Portland Swifts
Los Angeles Astra @ Utah Wild
April 10th-12th
Arizona Sidewinders @ Los Angeles Astra (4/10)
San Francisco Falcons @ Portland Swifts (4/11)
Arizona Sidewinders @ San Diego Superbloom (4/11)
San Francisco Falcons @ Seattle Cascades (4/12)
April 18th
Seattle Cascades @ San Francisco Falcons
Los Angeles Astra @ Arizona Sidewinders
San Diego Superbloom @ Utah Wild
April 25th
Seattle Cascades @ San Diego Superbloom
Portland Swifts @ Arizona Sidewinders
San Francisco Falcons @ Los Angeles Astra
May 2nd-3rd
Utah Wild @ Portland Swifts (5/2)
San Diego Superbloom @ Los Angeles Astra (5/2)
Utah Wild @ Seattle Cascades (5/3)
May 9th
Arizona Sidewinders @ San Francisco Falcons
Los Angeles Astra @ San Diego Superbloom