Another US Open final will be live on ESPN2; Pro Championships coverage dropped.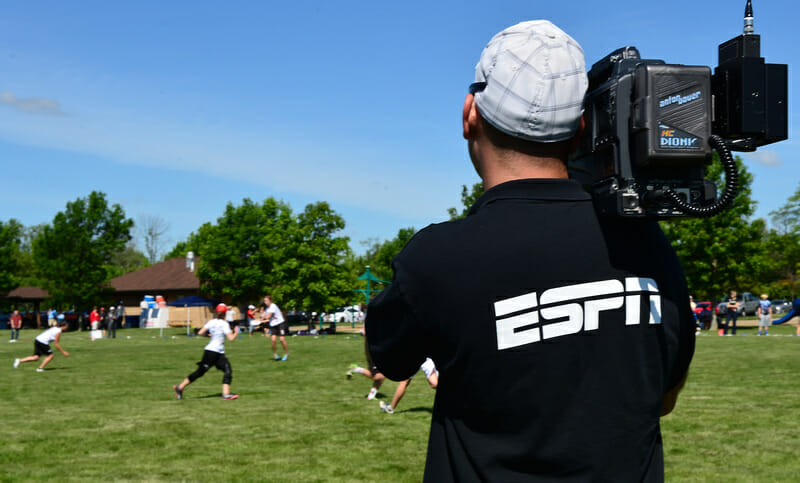 USA Ultimate and ESPN have agreed to a renewed three-year partnership to carry live games from the National Championships, College Championships, and US Open on ESPN2, ESPNU, and ESPN3.
Much of the broadcast coverage will look the same as in past seasons, but ESPN2 will now show two of the three finals live from the US Open in early August, rather than just one.
College Championships finals coverage will continue live on ESPNU, the organization's college-focused TV network.
All other coverage — including all semifinals games and finals from the National Championships — will air online only on ESPN3.
In total, ESPN will air 20 games a year, and across the three year deal will feature an even split of men's and women's division games (23) as well as 14 games of each of the three club divisions.
"We are very pleased to continue our relationship with ESPN," said USA Ultimate CEO Tom Crawford in a statement. "This deal takes us beyond 10 years as partners and we very much value the positive evolution of the relationship. This agreement increases our linear exposure, allows us to explore a variety of international distribution channels and provides for a significantly improved economic model on which we can capitalize the partnership and commercialize the broadcasts. It gives our sponsors and advertisers a great opportunity to reach millions of homes across the country. And finally, I love that it puts our phenomenal athletes on sports' biggest stage and lets the world see how amazing they are in a 100% equitable fashion."
There are indeed more options for USA Ultimate to get the ESPN coverage out to an international audience, which, in some cases, cannot access the broadcasts. "We negotiated better terms that give us the ability to either license or simulcast the content internationally," said USAU Director of Marketing and Communications Andy Lee, who added that they are exploring the logistics of international distribution.
Coverage of the Pro Championships — something that was a feature of the previous deal — is being dropped this year. Lee said that the Club Working Group has been considering changes to the event every year, and that having ESPN cover the finals necessitates a three-day event. "We didn't want to lock in the format for that event for the next three or four years," said Lee.
The arrangement remains a barter deal, with USA Ultimate and ESPN sharing production costs and splitting sponsorship and advertising revenue. "We have more commercial assets than we've had before to be able to go out and capitalize on and monetize," said Lee. "This is the best financial relationship we've had with ESPN for sure."
Earlier reports that online-only coverage would move to ESPN+, the organization's new subscription streaming service, didn't pan out. "When you look at the sheer numbers of availability, ESPN3 is still crushing it compared to ESPN+," said Lee. "So I think it's still a few years off for it to be a compelling shift." ESPN3 is available to over 120 million subscribers with a TV subscription or select high-speed internet providers. It's also free for anyone watching from an on-campus (.edu) or on-base (.mil) network.
Expect to see familiar faces on the broadcast. "From a talent standpoint, we're really happy with Evan [Lepler], Ian [Toner], and Megan [Tormey] and expect them to be back," said Lee.
ESPN also has a unilateral option to pick up a fourth year of coverage under the current terms.