Which catch will be crowned 2019's greatest?
Ultiworld's 2019 Catch of the Year bracket is presented by Friction Gloves; all opinions are those of the author. Want to make highlights of your own? Try Friction Gloves!
One of our most popular series to begin each year, it's time to look back at last year and let our readers decide some of the top plays of the year.
Now it's time to decide the champion of our Catch of the Year bracket. We watched many hours of game footage and highlight reels to hunt down the catches, completions, grabs, snags, and everything else; believe us, there were more than enough options to fill up this bracket, so even some worthy nominees were left on the cutting room floor. Over the next week, we're inviting you, the Ultiworld readers, to vote for your favorite of the finalists selected.
Check out all of the nominees and vote below, then check back to see which clips advance for another opportunity to participate. The first round of voting starts now and closes on Thursday, March 5 at 12 PM Eastern.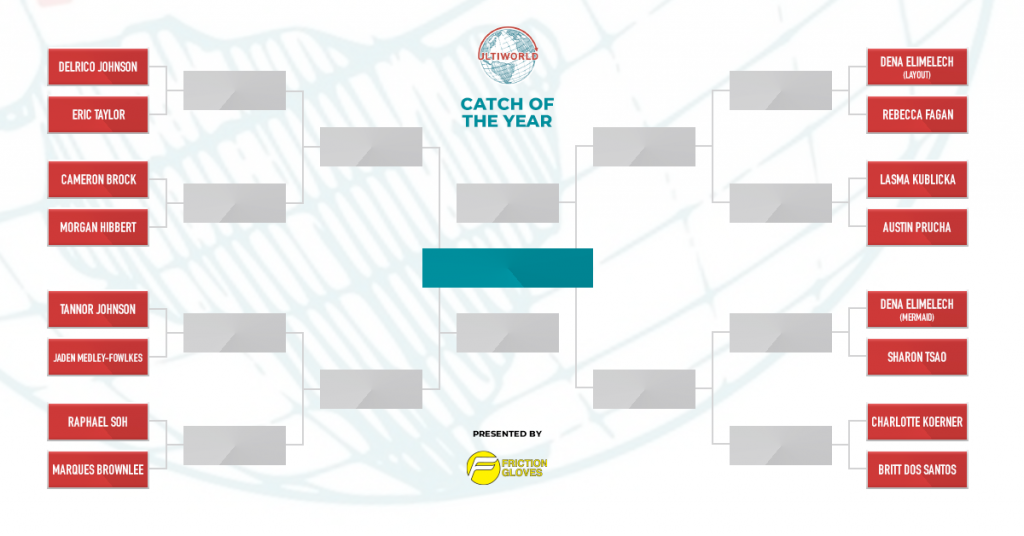 Men's
Good Defense, Better Offense: D. Johnson vs. Taylor
Offensive plays so good that even good defense had no chance.
Delrico Johnson – Team Tuba (Color of Ultimate Showcase)
While the Color of Ultimate showcase game in Atlanta was about so much more than the ultimate, the ultimate made itself hard to ignore. No more was that the case than when Delrico Johnson swung around his limbs in a controlled fury to pluck a disc from the sky that seemed destined to be a turnover. The rare hybrid of a sky and a layout, Johnson's improbable catch was the play of the game on a highlight-filled evening.
Eric Taylor – Raleigh Flyers (AUDL)
In a much anticipated matchup with rival Dallas, Raleigh's Eric Taylor made this spectacular grab despite intense pressure from the defense and the deficit. The double layout offers a striking visual, and this bracket is no stranger to that, but the amount of air Taylor gets on this score is something to behold.
Over The Top: Brock vs. Hibbert
The brutality of verticality.
Cameron Brock – Indianapolis Alleycats (AUDL)
Cameron Brock comes into this with a feature no competitor has had before: a league record breaker. This catch is worthy of admiration on its own merits as Brock elevates over the defense and punctuates the play by sticking the landing. But after 499 other such endzone-bound grabs, this snag made Brock the first to reach the 500 mark in semi-pro ultimate history.
Morgan Hibbert – Vancouver Furious George (Club Men's)
Hibbert is the only competitor on his side of the bracket to appear in both the block and catch bracket. Like his block, Hibbert's length has not relented during his career, allowing him to make huge plays normal players simply can't. Despite this throw being a complete jump ball, was there any doubt?
High Degree of Difficulty: T. Johnson vs. Medley-Fowlkes
Don't ask how they did, just be glad they did.
Tannor Johnson – Boston Slow White (Club Mixed)
This is quite the acrobatic save from Tannor Johnson, who reacts almost instantaneously to revert a turnover back to a goal. Johnson's come down with his share of skying grabs, and while he came up short this time, he made up for it with a spectacular dive to recover the Ultrastar before it met its earthly destination.
Jaden Medley-Fowlkes – Atlanta ATLiens (Youth Club)
Speaking of saves, perhaps Medley-Fowlkes' thrower owes him lunch after he reeled in this hammer turnover and landed a goal for his troubles. The trailing edge catch is harder. Want to amp up the challenge? Turn the disc over and have it coming in hot!
Superhuman Saves: Soh vs. Brownlee
Daring acrobatics that make "grit and grace" seem appropriate.
Raphael Soh – Singapore Mixed (U24 Mixed)
Singapore Mixed was the surprise of this past U24 cycle, a highlight machine nobody knew would come flying into the bracket. Soh pulled out the somersault for this one, looking like an action hero as he peeled this disc from the molecules above the grass.
Marques Brownlee – New York Empire (AUDL)
Yes, that Marques Brownlee. He's more than just an online influencer. Brownlee displayed his athleticism and ability to apply his length with this championship-level save on the way to the New York Empire's first AUDL title. Now that's influence.
Women's
To Great Lengths For Collegiate Glory: Elimelech vs. Fagan
Pure examples of one of the most iconic plays in ultimate: the full extension layout.
Dena Elimelech – UC San Diego (D-I Women's)
Game on the line on universe point? Nationals? On the way to a title? Gathered crowd of onlookers? This one checks all the boxes, including helping lead to a national title during an iconic run at the College Championships. It speaks for itself.
Rebecca Fagan – North Carolina (D-I Women's)
Prior to Elimelech's emergence, Fagan was staging her own takeover of the college division, almost exclusively through titanic layouts. There are many, but none quite as resounding as this trailing edge snag of a blade from Queen City Tune Up.
Extending The Field: Kublicka vs. Prucha
When the field you've been given just isn't quite enough, sometimes you've got to use your body to get a little extra.
Lasma Kublicka – Latvia Salaspils (EUCF Mixed)
It was quite a year for Kublicka, our 2019 European Club Mixed Player of the Year for Salaspils. When you see plays like this, is it any wonder she's being talked about so highly and invited on Eurostars Tours? This insane leaping under-duress toe-in score from the European Ultimate Club Final1 is emblematic of her starpower.
Austin Prucha – Washington DC Scandal (Club Women's)
Prucha's appearance in our Block of the Year bracket was short-lived, but she has a chance at redemption here. Not unlike how she redeemed this out-of-bounds crossfield look with a tip-toe catch on the back sideline for a score. She may have a reputation for defense, but the catching radius, athleticism, and hand-eye coordination make her pretty dangerous on O, too.
Making Miracles: Elimelech vs. Tsao
The odds of successfully making one of these improbable catches may be low, but never tell these two the odds.
Dena Elimelech – UC San Diego (D-I Women's)
It's pretty rare to make it into this bracket, rarer still to make it twice in your career. But twice in one year? Preposterous. And not just because our selection process discourages it. But with two plays like this, how could we leave out Elimelech's clutch hands-free possession-saver from double game point of the national championship? It was magic.
Sharon Tsao – Austin Showdown (Club Women's)
I was there to witness this catch in person, and I was truly mystified by how Tsao managed to get over the defenders to gain possession. Outnumbered and outpositioned on this throw, Tsao lined up the perfect leaping reach to claim this one for one of the scores of the season.
Launchpad Layouts: Koerner vs. Dos Santos
Bids so bombastic that they could probably thrust through the Earth's atmosphere.
Charlotte Koerner – Pittsburgh Alloy (Club Mixed)
One of our most liked tweets of the year featured this wild layout catch from Koerner at Select Flight Invite East this season. I've seen it a thousand times, and each time, I'm still not sure she's going to catch up to this disc before it gets away. But then she does, with two hands for safety!
Britt Dos Santos – Team Canada (U24 Worlds)
I'll just let U24 World Championships commentator Benjamin Reese describe this for me: "Brittney Dos Santos, you are ridiculous! I thought there was no way she was going to catch that. When the throw… went up, I thought she led her too far…but somehow — I don't know how –…what a sensational layout snag, full extension, completely horizontal, millimeters off the grass, just an insane play. What a grab that is!"
And the commentator's final thoughts?
"I am breathless."
---
Correction: a previous version of this article erroneously identified this as the championship match, but this was from the pool play game between the same two teams. ↩