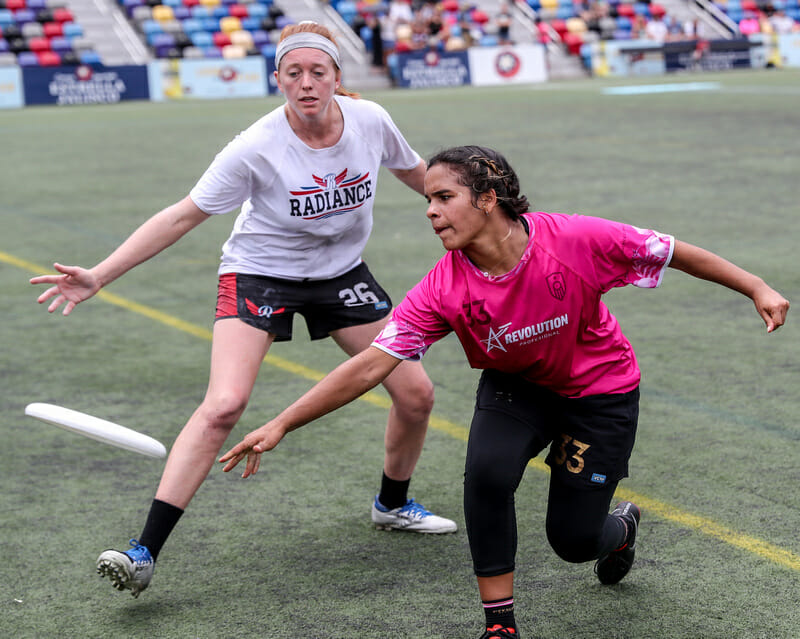 Our 2020 coverage of the Premier Ultimate League and Western Ultimate League is sponsored by Five Ultimate. Find out how you can get $50 full subs this month at FiveUltimate.com, a proud support of womxn in ultimate.
The Premier Ultimate League's roster reveal came as their Player Sponsorship Program launched at 5:00 PM ET on March 2nd. With four new teams in the league, and the franchises in just their second season, there was much to learn about the teams' additions and subtractions. After poring over the rosters, getting distracted by the new kits, and sponsoring a player, I've got thoughts on some of the moves.
Italicized names indicate players that were on the team in 2019 but did not play in a game due to injury, being a practice player, etc.
Medellín Revolution
In: Lisa Pitcaithley, Jesse Shofner, Michelle Phillips, Levke Walczak, Karen Rico, Laura Ospina, Emily Berman, Carolina Angel, Andrea Bustamante, Luisa Sanchez, Inbal Haviv, Analy Maya
Out: Calise Cardenas, Kaela Helton, Laura Arango, Carolina Arcila, Estefania Carvajal, Roxana Gonzalez, Valentina Santa, Carolina Londono

The reigning champions produced quite a haul of imported talent this offseason. Americans Lisa Pitcaithley and Jesse Shofner should fit in well with the high-touch and fast-paced Revolution offense. Eurostar Levke Walczak brings athleticism and has shown the ability to integrate with new players. Mish Phillips likewise is a veteran of playing with varying groups, but she'll be very comfortable with the Colombian style given her past experience with Revolution from the World Ultimate Club Championships. Colombians Karen Rico and Laura Ospina have also been added; Ospina was technically on the team in the pilot season, but she missed the entire year with injury. Rico is a versatile piece to have, and Ospina's reputation was a speedster is well-earned.
PUL 2020: A Look At The New Rosters is only available to Ultiworld Subscribers
Already have a subscription? Log in
Whether you visit Ultiworld for our reporting, our podcasts, or our video coverage, you can help us continue to provide high quality content with a subscription. By becoming a subscriber, not only do you receive benefits like exclusive articles and full article RSS feeds, you also help fund all of Ultiworld's coverage in general. We appreciate your support!