Round two begins now!
Ultiworld's 2019 Catch of the Year bracket is presented by Friction Gloves; all opinions are those of the author. Want to make highlights of your own? Try Friction Gloves!
One of our most popular series to begin each year, it's time to look back at last year and let our readers decide some of the top plays of the year.
Now it's time to decide the champion of our Catch of the Year bracket. We watched many hours of game footage and highlight reels to hunt down the catches, completions, grabs, snags, and everything else; believe us, there were more than enough options to fill up this bracket, so even some worthy nominees were left on the cutting room floor. Over the next week, we're inviting you, the Ultiworld readers, to vote for your favorite of the finalists selected.
Check out all of the nominees and vote below, then check back to see which clips advance for another opportunity to participate. The second round of voting starts now and closes on Wednesday, March 11 at 12 PM Eastern.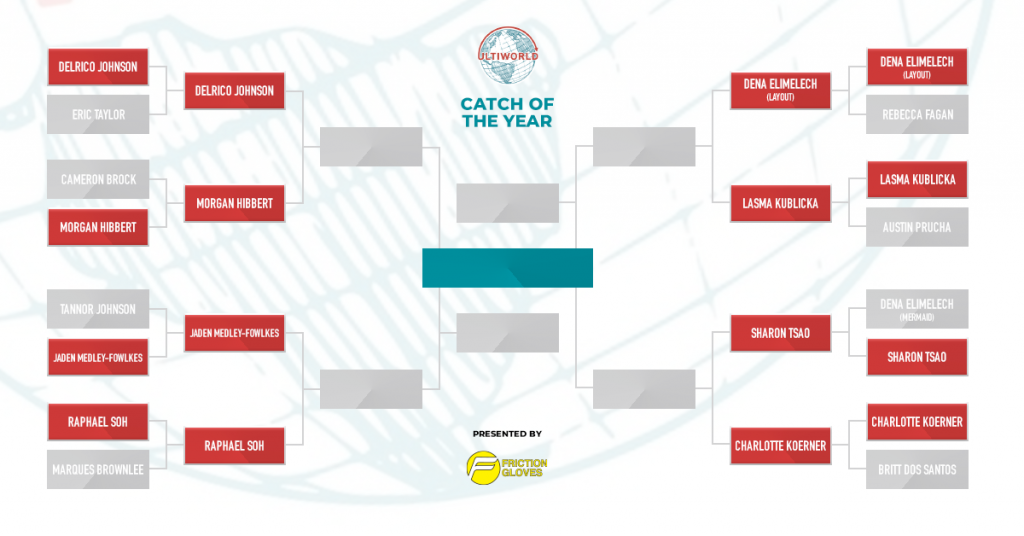 Men's
Up, Up, and Away: D. Johnson vs. Hibbert
Time to put hops, timing, positioning, and long reach to work! Hibbert is working uphill, as Johnson had the third largest round one margin of victory in this year's bracket, and tops on the men's side. But the Canadian big man earned an upset, and could overcome Johnson for another one. Two great catches, so the voters have a tough decision ahead.
Delrico Johnson – Team Tuba (Color of Ultimate Showcase)
Morgan Hibbert – Vancouver Furious George (Club Men's)
Daring Dives: Soh vs. Medley-Fowlkes
These two may have not been as well known as their round one opponents — Soh conquered MKBHD and Medley-Fowlkes garnered more support than Tannor Johnson — but now they will face off! Each made a wild diving catch that inspired teammates and voters alike. Soh had the largest voting total of anyone in the first round, but Medley-Fowlkes' catch earned some social media plaudits.
Raphael Soh – Singapore Mixed (U24 Mixed)
Jaden Medley-Fowlkes – Atlanta ATLiens (Youth Club)
Women's
Saves From Superstars: Elimelech vs. Kublicka
The top two percentage of vote earners from the first round come face to face in the second round. Kublicka's 81% outpaced even Elimelech's 78%, making for a tantalizing competition. It's not a long limb to climb out on to say Elimelech's catch is the bracket favorite, but many hadn't seen Kublicka's incredible toe-tap yet. This could be the biggest battle of the entire bracket!
Dena Elimelech – UC San Diego (D-I Women's)
Lasma Kublicka – Latvia Salaspils (EUCF Mixed)
Select Flight Highlights: Koerner vs. Tsao
Both of these catches made it to round two beating out some awesome competition. Koerner's layout slayed Brit Dos Santos' similar catch with 63% of the vote; Tsao's super-sky upset Elimelech's Mermaid catch with a confident 66% of the vote. One of these two will go on to the semifinals, and it'll be a tough choice between two incredibly athletic plays from Select Flight rosters this past club season.
Charlotte Koerner – Pittsburgh Alloy (Club Mixed)
Sharon Tsao – Austin Showdown (Club Women's)