Who will win the bracket?
Ultiworld's 2019 Catch of the Year bracket is presented by Friction Gloves; all opinions are those of the author. Want to make highlights of your own? Try Friction Gloves!
One of our most popular series to begin each year, it's time to look back at last year and let our readers decide some of the top plays of the year.
Now it's time to decide the champion of our Catch of the Year bracket. We watched many hours of game footage and highlight reels to hunt down the catches, completions, grabs, snags, and everything else; believe us, there were more than enough options to fill up this bracket, so even some worthy nominees were left on the cutting room floor. Over the next week, we're inviting you, the Ultiworld readers, to vote for your favorite of the finalists selected.
Check out the final two nominees and vote below on the winner, then check back to see who won the Catch of the Year. The final round of voting starts now and closes on Friday, March 20 at 12 PM Eastern.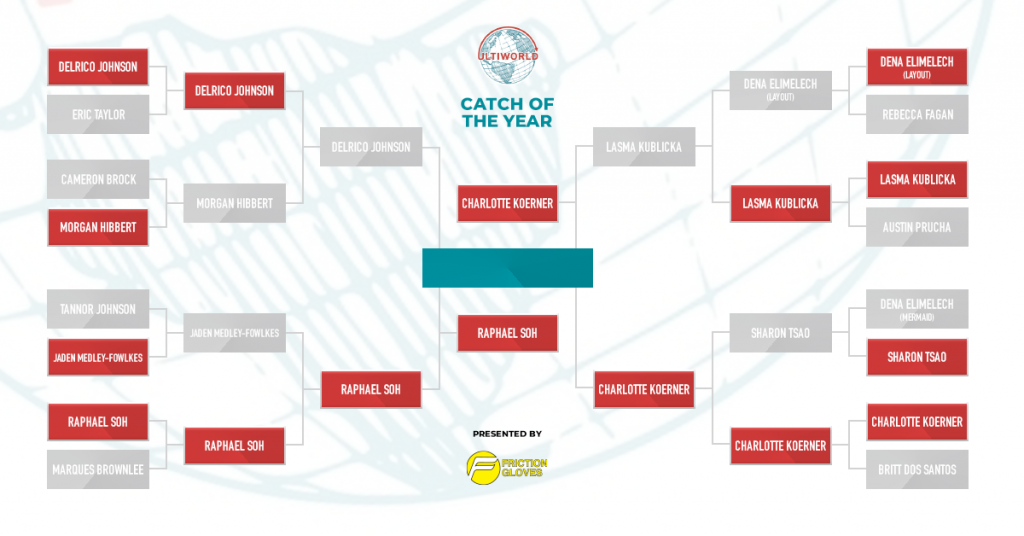 The Final
Catch Of The Year: Koerner vs. Soh
The upsets continue as two more high seeds go down. Raphael Soh's somersault snag comfortably sent Delrico's Johnson's Color of Ultimate candidate catch packing with two-thirds of the semifinal vote. For her part, Charlotte Koerner edged Lasma Kublicka in one of the most competitive comparisons of this bracket. Neither player seems like they are likely to make their respective catch when it goes up, and the same could be said of making it to the final. Now one will be crowned our winner!
Charlotte Koerner – Pittsburgh Alloy (Club Mixed)
Raphael Soh – Singapore Mixed (U24 Mixed)