The Catch of the Year goes to...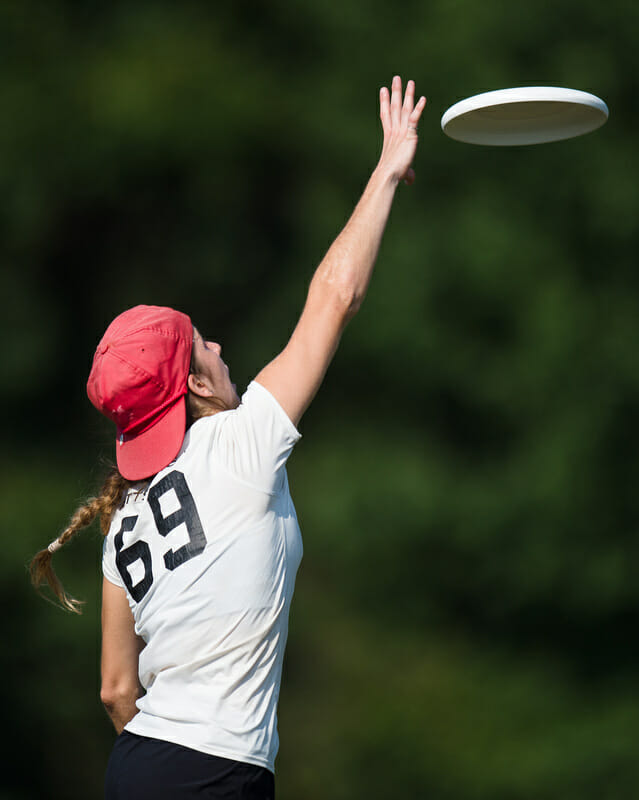 Ultiworld's 2019 Catch of the Year bracket is presented by Friction Gloves; all opinions are those of the author. Want to make highlights of your own? Try Friction Gloves!
One of our most popular series to begin each year, it's time to look back at last year and let our readers decide some of the top plays of the year.
Now it's time to decide the champion of our Catch of the Year bracket. We watched many hours of game footage and highlight reels to hunt down the catches, completions, grabs, snags, and everything else; believe us, there were more than enough options to fill up this bracket, so even some worthy nominees were left on the cutting room floor. Over the last few days, we've invited you, the Ultiworld readers, to vote for your favorite of the finalists selected.
The votes have been counted! After four rounds, we have arrived at our winner of the 2019 Catch of the Year…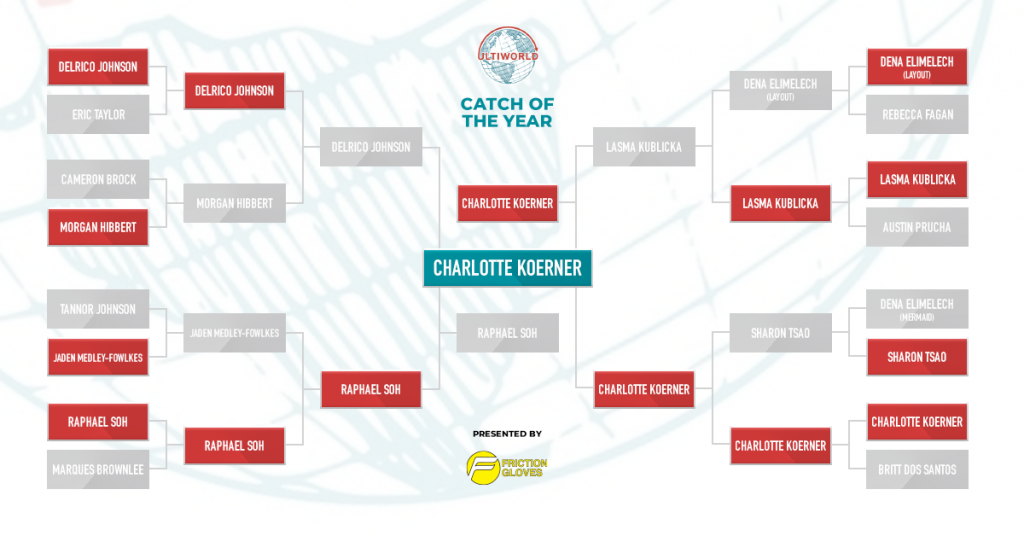 Charlotte Koerner!
With her team, Pittsburgh Alloy, tied at 6-6 against neighboring Columbus Cocktails, at Select Flight Invite-East, Charlotte Koerner took over. She got a block on a would-be assist after switching to help cover up a cross-matched receiver. To begin the ensuing full-field offensive possession, Koerner ejected from the vertical stack and slammed down this incredible catch on a sailing forehand huck. She jumped up to celebrate a goal, pumping her arms in celebration, before being informed she was not in the end zone. Two throws later, Alloy scored and Koerner resumed her much-deserved celebration.
Koerner, a long-time Pittsburgh player and former captain at West Virginia, beat out Raphael Soh in the final, winning with 54% of the vote. Prior to facing Soh, her catch topped Lasma Kublicka's toe-in catch in her closest call of the tournament, Sharon Tsao's sky over two defenders, and Brittany Dos Santos' U24 layout catch.
Congratulations to Charlotte Koerner from Ultiworld and Friction Gloves, as well as to all of the selections for our bracket.
Ultiworld Catch Of The Year
2019: Charlotte Koerner
2018: Pranav Rajan
2017: Theo Kuhn
2016: Himalaya Mehta